Kenneth Copeland - Choose God's Divine Health Plan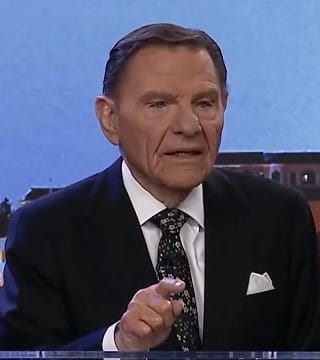 TOPICS:


Now, let's go over to the book of James 5th chapter, verse 11. "We count them happy which endure. Ye have heard of the patience of Job, and have seen the end of the Lord; that the Lord is very pitiful, and of tender mercy". There's tender mercy again. "And above all things, my brethren, swear not, neither by heaven, neither by the earth, neither by any other oath: but let your yea be yea; and your nay, nay; lest ye fall into condemnation. Is any among you afflicted? Let him pray". Now that's not sickness and disease that... he started off with test, temptations and trials. So he's back over to that. "Is any merry? Let him sing psalms. Is any sick among you? Let him call for the elders of the church; and let them pray over him, anointing him with oil in the name of the Lord: And the prayer of faith..." Faith in what? In the name. In the name of the Lord.

Now, the oil doesn't do it. But the oil is a point of contact. And I gave you my testimony about this little malignant dot here. And for those of you that didn't hear, I'd like to give it anyway. It's just about the size of a grain of rice. I went back and looked at different TV footage to see it and try to put a timeline on it and there's some, particularly at our prayer cabin. I could see that little white spot and it began to itch and I scratched it a little bit, kind of whelped up and it got to where it hurt when I scratched it. So we had it looked at and biopsied and sure enough, it was malignant. And so I called my pastor and Pastor Terri and Gloria was there in our kitchen and then John and Kellie were on the phone. And Gloria's good friend Bebe and well that's her name is Brenda June. But when she was young, her brother called her Bebe and she called him boy.

So that's what they called each other. And I still don't know what boy's name is but anyway, I thought they were saying, boy, it didn't come out just boy, she called him Boy and he called her Bebe. Anyway, they're all there in agreement. So I called for my pastor. And so George and Terri were standing right here. He was, let's see... where were you? Yeah, I was standing, right in our kitchen there we have a kitchen breakfast bar that comes over the end. And so we were standing there, he was standing here, Terri was here and Gloria was here and Bebe was there. John and Kellie on the phone and so he opened right here and we all prayed and he took the oil bottle and that right here. And he went through this exactly. This is important now, this is a covenant matter.

So you do exactly as the articles of the Covenant say. When it says, "Any two of you shall ask, both of you ask". It's extremely important to follow the directions of the covenant. So he took that oil on his finger. And as he prayed, he touched that. And when he did a shock went through me and it just flew out my mouth, you know, ah ah, glory to God, that did it. So, I mean, went through the thing, you know, and then they anyway came back and they said, of course you had to go to another doctor and so they came in and said, "Well now a doctor will take a little shave in there and you maybe need to stay 30 minutes to maybe a couple of hours until there's no sign of any cancer cells". So we're up there in a waiting room. They came back in and she came back in about 30 minutes and she said, "Well, Mr. Copeland, there's no sign of any cancer cells. So you can go back over there and let the other guy sew it up".

So... I just want some witnesses, you can hardly see the scar. Isn't that good? My God did that, my Jesus did that. The Word of God did that because the Word is God in the flesh. This Word, this Holy Scripture, these holy covenants. Jesus is seated at the right hand of the Father. And so are we. We've been raised up together and made to sit together with him in the heavenlies, glory to God. Read the book of Ephesians. That's what this is all about. Hallelujah. It'll work if you all work it. Prayer does not make faith work. Faith makes prayer work. Hallelujah. Yes sir, I will. Open your Bible to the book of Joshua. Actually, it's the same word translated Jesus. Thank You Lord. Thank You Lord. Joshua 1:8. I wrote here at the headline. God always has a plan of victory. He always has a plan of victory.

"Now after the death of Moses the servant of the Lord it came to pass, that the Lord spake unto Joshua the son of Nun, Moses' minister, saying, Moses my servant is dead; now therefore arise, go over this Jordan, thou, and all this people, unto the land which I do give to them, even to the children of Israel. Every place that the sole of your foot shall tread upon, that have I given unto you, as I said unto Moses". Notice this: I've given this to you, but you have to possess it. I have given this to you, but you have to go possess it. I hear him saying, "I have given and provided your healing. Now you have to receive it". Amen. It's not based on feelings. It's based on what you believe. Amen. Praise God. "Even in the wilderness," so forth. Verse 5. "There shall not any man be able to stand before thee all the days of thy life: as I was with Moses, so I will be with thee: I will not fail thee, nor forsake thee".

Did you get that? I will not fail you, nor forsake you. Just go check out some time, get your good concordance and see how many times he said, "I will never leave you nor forsake you. I will never leave you, nor forsake you. I will never leave you, nor forsake you". I used to say, "Well, you know, be with us Lord, glory to God". And I'd get in the airplane and I'd say, "Well be with us on this trip, well be with us on this trip". And he got tired of hearing that. And he'll kind of wait and catch you off guard, you know, some time when you're not thinking about it. And I said that, I said, "Be with us on this trip". He said, "Are you going"? "What..." "Are you going"? "Well, yeah. I mean, I'm sitting here with the engine running... Yes, I'm going". He said, "Well, I'm over there where you're going. I'm here when you left and I'm only inside of you".

Now, don't ever say be with me again. I had to believe that he was there. Just be with me was not, it was an empty shell of a prayer. It had no authority whatsoever. I never said it again. I began to say, "Glory to God. Come on, Lord, let's go". And he brought me to a place very quickly to pray this... I plead the blood of Jesus over this airplane for protection against every evil thing, every evil person, every evil plan of the devil is bound and stopped and thwarted. Ministering spirits lift us up in your hands lest we dash our foot against a stone and keep us in all of our ways according to the 91st Psalm. And bless our partners all over the world, wherever and whomever they are. Thank You Jesus, let's go. And I pray, I have the mind of Christ and I have the flying mind of Christ. He's taught me many things about flying. He invented flying. He invented birds and we copied the birds.

Do it when you get in your car, just lay your hand on the car. Say Father, I plead the blood of Jesus over this car, and according to the 91st Psalm, I plead the blood of Jesus Christ over this car for protection against every evil spirit, every evil person, every evil thing. Nobody will bump this car and it'll bump nobody as long as it's in my possession. You needed to do that when you got the car and you dedicate it, put your hands on it and do that. Then you don't ever have wrecks, on everything, whatever you own, pray it over your lawnmower. Everything. Everything we have belongs to him. But, you know, all of it belongs to him. Not unless you dedicate it to him, it doesn't. Thank You, Lord Jesus. Now look at the 8th verse. "This book of the law shall not depart out of thy mouth; but thou shalt meditate therein day and night, that thou mayest observe or see how to do according to all that is written therein: then you shalt make thy way prosperous, and then thou shalt have good success".

Or deal. One translation, I believe it's the Amplified that says, "You will deal wisely in all the affairs of life". Hallelujah. Have I not commanded thee? Do you see the question? He didn't say, "I command you", no, he said, "Have I not commanded you? Be strong". Okay I'm strong. Of good courage. Yes. Be not afraid. I'm not afraid. Neither be dismayed. I am not dismayed. For the Lord my God is with me wherever I go. But meditating in it day and night is really something. Just put your mind on him and think about him and think about that cross and think about him going to hell and think about him being raised up. And you begin to confess it, I have a covenant of blood with the Savior of the world, my Lord and my God. Bless the Lord, Oh my soul. Straighten up, soul and bless him. Stop being afraid of what's at hand in the day. Glory to God. I always have more than enough. I always have more than enough. I have more than enough in inflation, I have more than enough in prosperous times, I have more than enough. I serve the God that created it all in the first place. Hallelujah. I live for him. I live because of him. And he lives for me.

I got up on the treadmill one morning, I'll tell you just really ready to go. My... What do you call it? My routine. I get up early and before breakfast, get on the treadmill, and I do 32 minutes. And in that 32 minutes, only the first five and the last two are without incline. One is to warm up the other two are to cool down. And so just get on there and just have a wonderful time and I stepped up there one day and this came up in my spirit, Kenneth... now see he asked me if I would stay in the earth until I'm 120 years old. And I asked him why. And he began to talk about the anointing and he's talking about preaching the Word of Faith. And he said, "I need that in the earth". And he said... he went up ten by ten by ten. He said, "When you get to 90, I have so very few. And when you get to 100, I don't have any. And 115 and 120". He said, "I need you. My body needs you because at that point the prophet's ministry will have grown to a place where it can reach its potential".

So I stood there that morning and he said, "Kenneth, I sacrificed my body for yours. Now you're sacrificing your body for mine". Oh... glory to God. It just fired me up even more. Well, I was doing that on the 12th of February, which is Gloria's birthday. And I got up early that morning and got on the treadmill and she wasn't up yet. And so I hadn't had a chance to... I told her happy birthday the night before, but I got on the treadmill before she got up. And I'm watching her on Healing School, which I watch her, I learn so much from her and so I'm watching that. And I heard this big, I mean, just big on the inside of me. This is the next phase of your healing ministry. This is the next phase of your healing ministry. Well, then he went ahead and began to talk to me about some things and if we have time I'll share those with you before we're done. But this is it.

This is the next phase of this healing ministry. Glory to God. Well, she was out of healing ministry there for a while, but she's coming back and it won't be very long, glory to God. But now God always has a victory plan. Amen. So that's what he does. So now... hallelujah. I want to go to Proverbs 3. "My son, forget not my law, but let thine heart keep my commandments". Keeping the commandments just because it's a commandment. No, but when you keep it with your heart out of respect in honor, those commandments were not given to make it hard. No, now the ones that received the commandments made it hard. But if you read those commandments, if you go back and actually read them, the blessing is tied to them.

In other words, he's saying "Don't covet another man's wife, I'll give you one better looking than she is. Don't go to them, come to me. Don't be stealing stuff. No, I'll prosper you to the point where you're a giver, not a stealer. And don't be lying about things, don't do that. I am the truth, the way and the life. Stay with me. Speak my words. We're in covenant together, which means I have reached down and picked you up and brought you to my equal. Walk with me". Hallelujah. And then Jesus said, "You come to me, My yoke is easy, my burden is light and I will give you rest". Amen. But that's what those commandments were about. Then they came up to him and they said... they were tempting him and they said, "What is the greatest commandment of all"? Listen to what he said. "Love the Lord thy God with all your heart, all your soul, all your mind and all your strength. The second is like unto it. Love your neighbor as yourself. On these two commandments hang all the law and the prophets". What? Love, love, love.

Then he said, "I give you a new commandment that you love one another as I have loved you and all men, all people. They'll know you're my disciples, by the way you love one another". Walk in love, keep that commandment, isn't that outstanding? Now let's put that up in the Classic Amplified please, "My son, forget not my law but let thine heart keep my commandments:" Keep going... "For length of days..." Are you listening? "For length of days and years of a life worth living and tranquility inward and outward and continuing through old age till death, these shall they add to you". Somebody shout Amen. Glory to God. Now that right there... But now we have to do our part.

There was one woman came to Brother Hagin. She came first to Oretha Hagin, and she said, "I don't understand it". I said, "What"? She said, "Well..." and she was just huge. She said, "There were some people cast the spirit of gluttony out of me". But she said, they said, "Well, now you can just go ahead and eat anything you want to eat". That doesn't work. "Let not mercy and truth forsake thee: bind them about thy neck; write them upon the table of thine heart: So shalt thou find favour and good understanding in the sight of God and man. Trust in the Lord with all thine heart; and lean not unto thine own understanding. In all thy ways acknowledge him, and he shall direct thy paths. Be not wise in thine own eyes: fear the Lord, and depart from evil. It shall be health to thy navel, or medicine to your navel and marrow to thy bones". Hallelujah. Thank You, Lord. That's his plan, divine health is his plan.