Kenneth Copeland - Covenant Healing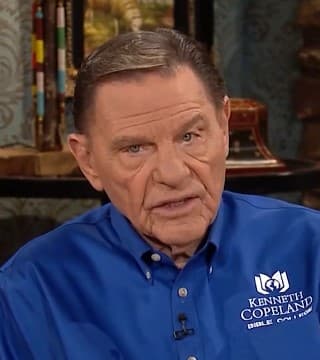 TOPICS:


Kenneth Copeland: Hello everybody and welcome to the Believer's Voice of Victory Broadcast. I'm Kenneth Copeland, and we're here again today with Professor Greg Stephens of Kenneth Copeland Bible College and associate pastor at EMIC and does the news. What else do you do?

Greg Stephens: Whatever I'm asked.

Kenneth Copeland: Good. Greg on the 12th of February, I was up to my usual routine and it just happened to fall on Gloria's birthday this year and I was up early and I got on the treadmill and I was watching her Healing School and the Word of the Lord came to me and he said, "This is the next phase of your healing ministry". Well, then things began to take place in the laying on of hands. Now back in the day when... 1977, at camp meeting in Tulsa, Brother Hagin was closing the service. Now he started that night. He preached on the bones of Elijah and he said the bones of Elijah, the bones of Elijah. And he was just sitting there on the platform. He said, "I don't know what I'm going to say about the bones of Elijah, but I'm going to talk about the prophet". And he preached on that and he said, "If the anointing in a prophet's bones is powerful enough to raise a man from the dead, then there ought to be enough anointing on a living prophet". And I have experienced that twice. I've failed several times too. But there were two specific instances where the dead were raised. And anyway, and then he said... He's already started giving the invitation. And then he said, "Yeah, yeah, yeah, that's it right there. Yeah, yeah, that's it. I understand that. I understand it. Yeah, I understand that. I understand. Yeah, I'll tell him. Yeah. Ken Copeland", he said "You're going to have to stir yourself up now. You're going to have to move over there into the healing ministry a little faster than you thought you would, because, you see, the time is short. There was a time that you could wait and sort of get ready for some things. You're not jumping out ahead of God. You're keeping step with God, and you're going to have to put some more emphasis and some these areas in which, you know, to do so, particularly in the area of the healing ministry..."

Greg Stephens: Yeah, I understand that, Lord.

Kenneth Copeland: "...Whether you want to or not, you're going to operate in the ministry of the Prophet, the seer, the seer standing right in the pulpit. You see it right in front of your eyes like you saw it run off on a television screen. You'll be able to minister to the people. Now you're going to get a lot of persecution from some friends. Some are going to draw back from you. But those fair-weather friends are not worth it. Go on with God. Jesus is coming. It's better to stand in his presence and say, 'I've not been disobedient'". Well, that was in 1977. Now in God time, that's just few seconds.

Greg Stephens: Right... Absolutely.

Kenneth Copeland: Well, and of course, I've been in the healing ministry ever since then. But this next phase, the new phase and let's look in the 10th chapter of the book of Matthew and it names his staff, the 12. "These 12 Jesus sent forth" in the fifth verse "and commanded them, saying, Go not into the way of the Gentiles, and into any city of the Samaritans enter ye not: But go rather to the lost sheep of the house of Israel. And as ye go, preach... preach saying, The kingdom of heaven is at hand. Heal the sick, cleanse the lepers, raise the dead, cast out devils: freely ye have received, freely give".

Greg Stephens: He didn't say pray for the sick, he said, "Heal the sick".

Kenneth Copeland: Heal the sick. Now go over here to Luke Chapter 10 where he brought in... he ordained 70 more. The crowds got so big, then the huge Jordan Valley campaign and so he brought in 70 more in the 10th chapter of Luke. "After these things the Lord appointed other seventy also, and sent them two and two before his face into every city and place, whither he himself would come". So he set up an advance team.

—Yes, he did.

—And he said, "Go your ways. I send you forth as lambs among wolves. Carry neither purse, nor scrip, nor shoes: and salute no man by the way". And people say, "Well, see, there they were all broke. Don't take anything". No, you just read the whole text. He said a workman is worthy of his hire. He did that at the very beginning. He said, "You're working for me". And right here in the book... okay they came to the end. He said, "When I told you to not take anything, did you lack anything"? They said, "No, Lord, we lack nothing". So the very idea that they wore the same clothes for three and a half years is ludicrous. Now, when I said that in a prison in Mississippi not too long ago, somebody shouted out and said, "We do". I just lost it there, I forgot where I was. It was amazing. Anyway. And we had quite a meeting there. It was wonderful. But I want you to notice that. "And if the son of peace be there, your peace shall rest upon it: And in the same house remain, eating, drinking" and so forth and so on. And look at that 8th verse. "And into whatsoever city..." Don't leave out any city wherever you go. "and they receive you... And heal the sick that are therein, and say unto them, The kingdom of God is come nigh unto you". You could say the Kingdom of God is adding to you. You preach that. "Even the very dust of your city, which cleaveth on us, we do wipe off against you: notwithstanding be ye sure of this," and so forth. Now, verse 16. "He that heareth you heareth me; and he that despiseth you despiseth me; and he that despiseth me despiseth him that sent me. And the seventy returned again with joy, saying, Lord, even the devils are subject unto us through thy name. And he said unto them, I beheld Satan as lightning fall from heaven. Behold, I give unto you power to tread on serpents and scorpions, and over all the power of the enemy: and nothing shall by any means hurt you". Now, we had, Gloria and I both, when we started out, well, we had the new birth and the baptism of the Holy Ghost up here. But healing was down here somewhere. And we majored here and on faith. But this changed that. If you're going to follow the Master, you're going to put it right up there with it. And you've heard her say many times, "If I had to choose..." but when you chose Jesus, you got it all. We received the whole package.

—Yes, she did.

—And put healing and people's health because the Bible proves that God wants his people well...

—That's right.

—... In both covenants, it's major in both covenants.

—Look at verse 17. "They are subject unto us through thy name". Faith in that name. So the faith in the name and the healing go together.

—Well, James chapter 5. "Is any sick among you? let him call for the elders of the church; and let them pray over him, anointing him with oil in the name of the Lord: And the prayer of faith..." Faith in what? The name. Faith in that name.

—And the power that backs it. Shall say... Same word, healed... "the sick, and the Lord shall raise him up; and if he have committed sins, they shall be forgiven him. Confess your faults one to another, and pray one for another, that ye may be healed. The effectual fervent prayer of a righteous man availeth much". The Classic Amplified says, "Makes much power available dynamic in its working". Praying for one another. What? That you may be healed. Well, when I was on the flight crew for Oral Roberts University and Bob DeWeese was a mighty man of prayer. I mean, anyway, he talked about this. He said now, "You pray for one another, that you may be healed. We pray that for one another, but we receive healing while we pray it for one another". I mean, this is a healing Book.

—Yes, it is. Well it's our covenant. So let me encourage you for a moment, if I could, about this. You called this next phase. Not that the other phase was bad. It wasn't. It was glorious, I was told, did a little research when you first told me. But you call me about this, that you were on the treadmill. And I was told that Gloria Copeland taught Healing School for 40 years. Now 40 in Hebrew Alphabet has a numerical value. Mem the middle letter of the Hebrew alphabet. Mem has a numerical value of 40. The first letter Aleph, the last letter, Taw. You combine it with that middle letter, the first, middle and the end, I say from the top to the bottom and all the way around the middle. It creates a word called Emmet. Emmet means truth. So 40 is an important number. It's a transition number in scripture. It's an ascent number, it's a sending from one level to the next level. That's what's happening.

—That's what's happening.

—Not that the previous was bad, it wasn't. Rained for 40 days with Noah. Moses is on the mountain in the glory of God for 40 days, 40. 40 years they were in the desert. Then they entered into that Promised Land. That was the next phase. Jesus was on the earth 40 days after his resurrection before he transitioned, he transitioned to the Holy Spirit being with us because he couldn't be with us forever. The punishment for breaking Torah was 40 lashes, but then they would say, "Well, we're going to be merciful. So we'll only give you 39". They'd like that one less. But you see that with Jesus 39. So in second Corinthians 11 it says of Paul, of the Jews, "Five times I received 40 stripes save one". In other words, they would, by showing God's mercy, do 39. But 40 is that transition. 40 was either punishment that didn't work, but it's a transition. So there's a transition happening.

—From whom did he received those lashes?

—Roman soldiers.

—That's what I thought. No, there's two different motives there. One, the law of God. Before Jesus came and ratified those covenants and mercy became the law of the land, the law of the spiritual world. It was so vitally important that God keep them under the umbrella of his protection to keep them from being destroyed because the devil was trying to wipe them out. The reason it was done under Roman law was to keep you subjected under Caesar. One of them was a motive of love, and the other was, well you judge it for yourself. There's a huge difference there. And another thing...

—Even God's correction is done by love.

—Yes, it is.

—Because he's love.

—Now, once Jesus took the Roman lash on his back for our healing, it was over.

—It was done. The blood had been shared. That curse had been reversed.

—It was over and he took the Roman lash so that nobody else had to do that. That was over.

—That was done. Acts 10:38 says, "How God anointed Jesus of Nazareth with the Holy Ghost and with power, who went about doing good, healing all that were oppressed of the devil for God was with him". Now, Brother Hagin would always say that he didn't want to tell people he was anointed because he felt like it brought attention to himself and Jesus had a vision and Jesus rebuked him, saying, "You have to tell them you're anointed. Because I had to tell them I was anointed". He would say, "The Spirit of the Lord is upon me because he has anointed me". And so you have to tell them that you have that healing anointing.

—That's right.

—You have to it. It won't work unless you do.

—Because faith comes by hearing it. So... and I'll explain this after I read it.

—So the Holy Ghost is those fivefold ministry gifts and Prophet being one of those. Power is in that name.

—Yes, it is. June 28th, 1980 12:07 a.m. I'd gone to the prayer cabin and praying out a lot of different things. And this came and I was uncomfortable with it. And I prayed about it for a long time, and I just was not ready to announce this. I just didn't have a good witness on it. And once you hear it, you will understand why. Now, that's 1980, Brother Hagin departed the Earth in 2003. So you can see the time spread there. And I was praying, worshiping Jesus. His presence filled my spirit. He began speaking to me. He ministered to me and then began answering questions for me about some of the things that I had prayed about and there were some conditions involved in this. And so certain questions will... now this goes back to this far. Will you train your flesh and put it in top shape? It goes back that far in this. And for a long time I failed at that. And anyway, no use to read the rest of that. Stand up right on your feet. I commission you to lay hands on the sick with a special anointing. Lay these hands on the sick. No sickness or disease shall be able to stand before you. Your words shall be my words. Your thoughts shall be my thoughts. Receive my anointing and then, will you go to only one if I ask you to? There's a lot of conditions in this which I don't need to read that. But now that was so close to what the Lord said to Brother Hagin. And I just held on to it. Well, now the time has come for that. So it's rather like starting over again because it's on a different level. And now I have to... the Lord is going to have to train me in what to do with this. And I noticed some things in the last meeting that we had, that anyway, and he said the next phase... Well, every time that's happened in times past... there was one time he said, "I'm putting you now into the third phase" and so forth. But every time it happened, the anointing increased, every time.

—Well, it starts with the Holy Ghost, that's the gifts of the Spirit. Power, that's that special anointing. And so that special anointing, this transition that's happening, you have 40 years of Word going forth concerning healing. Now there's going to be demonstration. Now we have a responsibility and I'm talking to our little studio audience, I'm talking to you right now. When you go to the meetings and you didn't tell me to say this, I just feel impressed to do it and I'm willing to be corrected if I'm wrong. When you go to the meetings, you draw the anointing. You draw the anointing, you come prepared and you come ready, and you bring your supply in prayer. That's why you always have prayer before your services. And you be ready. And if you're sick and you need healing, you need to get to one of his meetings because he is anointed for this phase of his ministry. And audience in here you need to be ready to draw from it. And Brother Copeland by watching just by observance with Brother Hagin, it would happen at different times. It wasn't always at the end of the service. You know that and that's what you're beginning to sense. There is a transition that's happened to a higher level. I'm so excited about this and I believe it's needed in the hour that we live in...

—Well it's like starting over again. Now this happened in Omaha, Nebraska, and we had a meeting there in the Hilton Hotel, it's a new hotel. And I had received a message in the Word of the Lord that this was the beginning of a new phase and era. Well, at first I didn't really see any different, but, oh, people started falling out under the power of God, and they just stacked up on the platform. And they weren't just kind of falling down like this and I'm backing off, trying to get out of the way. And I turned around. There was a pile of people, I mean, a pile of people here, and this guy fell over like this, before he hit the ground, before he hit the platform and landed on a stack of people here. His body turned this way and he landed in a spot where there was no body.

—Supernatural catcher.

—Yeah, there wasn't any catchers, I mean they just started piling up. And it wasn't so much like it is now. There was one man came up, Gloria started lay hands on him. He just got down, lay down on the floor. She said, "What are you doing"? He said, "I thought, this is what you were supposed to do". It wasn't that at all. And I tell you, we had such a meeting there and it was just... the impact was tremendous. Well, back then, I didn't know it was going there. I don't know where this one's going.

—No, we don't.

—Amen.

—Brother Copeland as you were talking, I wrote this down. This rose up in my spirit. We've seen healing evangelists before, but I'm going to jump out here. I'm painting with a broad brush. Not since Brother Hagin have we seen healing at the level of a prophet. That's what's happening.

—Praise God.

—I'm ready for it. I'm receiving it.

—I'm excited about it, praise God and well, we're out of time. Praise the Lord. Well, let's give him a praise. It's his business. Hallelujah.