Kenneth Copeland - Find Your Identity in The Word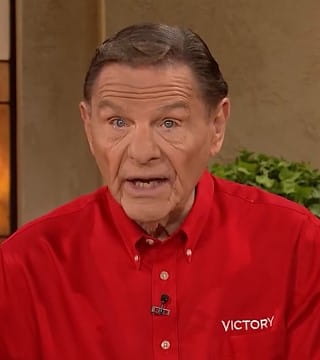 TOPICS:


— Hello, everybody I'm Kenneth Copeland. Would you join me again today in welcoming this beautiful couple to this broadcast. Praise God. His name is...

— What's his name?

— Mark, Mark, Mark. I was introduced like that one time. The guy really introduced me. One of my best friends. Our... our evening speaker... Anyway, I won't go into that... And we were talking about earlier the, in him, in whom. The scriptures that let us know who we are in Christ and who he is and us because he's in us as well as we're in him. And when the revelation of that comes, the fact that you are a spirit being. And once you accept Jesus as your Lord and Savior, then you have become a new creature. One translation says a new species of being. You're born again. That's actually the truth. It's actual thing. But what happened from the cross to the throne? Well, cause he is seated now. The Book of Hebrews tells the entire story. That's the reason you need to study that book probably more than any other book in the Bible because it is all there. The blood of animals, the blood of Jesus seated at the right hand. And that blood cleansed all the heavenly utensils of worship. And you find it then here in the book of Acts. Now, the blood of animals atone, the sinless blood of Jesus remitted sin, remission of sin. And that's what Peter preached on the day of Pentecost. And to remit it as if it never happened before. And then one of the articles of our covenant is right over here where we have the covenant right to come to him and his blood cleanses us from all sin. And we repent of our sins and believe we receive that because he's faithful and just to forgive us when we confess it.

— And cleansing us.

— And cleanse us from all unrighteousness. Then you go down in the 2nd chapter of first John, we have an advocate with the Father. We have an attorney.

— Yeah, and he's never lost a case.

— No, no, no. Amen. But what happened from the cross to the throne? Now, Peter began to preach and... Peter standing up in the 14th of the second chapter of Acts. Peter standing up with the 11 lifted up his voice and so forth. So now they had just been all filled with the Spirit of God. And the scripture says, "The tongues of fire set on them". I've seen pictures with this little thing here. No, no, that means he sat on them... fire himself. Then it came out of their mouths, and I believe they actually saw it. It was such a manifestation. And because in the last Passover meal, that's what the Master promised them. The Spirit that's coming. But you go to Jerusalem, you don't do anything else till you receive it. Don't do anything else. Then let's begin to read here. Oh, in the 24th verse of the second... "Whom God hath raised up, having loosed the pains of death: because it was not possible that he should be holden of it. For David speaketh concerning him, I foresaw the Lord always before my face, for he is on my right hand, that I should not be moved..." Now look at verse 27. "Because thou wilt not leave my soul in hell, neither wilt thou suffer thine Holy One to see corruption". Come down to the 31st verse. "He seeing this before spake of the resurrection of Christ, that his soul was not left in hell, neither his flesh did see corruption". Now that's in the Apostles Creed. And we need to get back to that. Now, I've had more people fuss with me over that. All you have to do is read the book. And you go back to that Apostles Creed of what we believe. It uses the Holy Catholic Church, but the word Catholic just means universal. It's not talking about the Roman Catholic Church. It's talking about the universal. The whole body of Christ is what it's saying in the Apostles Creed that we believe he went to hell. We believe he's the Son of God.

— You know, it says he descended to the lowest place.

— Let's go back over to the Book of Ephesians.

— And then he ascended to the highest places.

— And once we do this, now Jesus said... Look at the 3rd chapter of the Book of Ephesians "And greater works than these shall you do". Well, that's been, you know, debated and so forth and not any of it wrong. But now what happened to you happened to me on that. I just kept after that and kept after that. I wasn't satisfied with it. I was just... There's more than that. So then it's right here in the 3rd chapter of the Book of Ephesians. And you come down the 12th verse. "In whom we have boldness". Okay, we have boldness. We ought to be bold. That's spiritual boldness. Not natural boldness. "And access with confidence by the faith of him. Wherefore I desire that ye faint not at my tribulations for you, which is your glory. For this cause I bow my knees unto the Father of our Lord Jesus Christ, of whom the whole family in heaven and earth is named". We are named after him.

— Yeah, whole family. "That he would grant you". Here we go. Now we got a heavenly grant coming in here. I want to know what it is. "That he would grant you, according to the riches of his glory, to be strengthened with might", that's "dunamis" right there... "By his Spirit in the inner man; That Christ, the anointed one in his anointing, may dwell in your hearts by faith; that ye, being rooted and grounded in love, may be able to comprehend"... understand, have insight to it, comprehend it. I comprehend how to fly an airplane. Anybody can ride in one, but I have an advantage because I did what it took to get trained. Anybody can do that. But I comprehend that. I comprehend the laws of lift. Had to. And did it for a long time. "May be able to comprehend with all saints what is the breadth, and length, and depth, and height; And to know, Ginosko, have an intimate relationship..."

— Woah ... "with the love of Christ, which passeth knowledge, that ye might be filled with all the fulness of God..." here it is. "Now unto him that is able to do exceeding abundantly above all that we ask or think, according to the power that worketh in us". Jesus said, "It's the Father within that does the works". Here it is. The greater works. Exceeding, abundantly, above all we can ask or think. If I can ask it or think it, there's something else out there. That's what happened from the cross to the throne. Jesus sat down on that cross, and he said, "I finished it. Family, take over". You do it, you do it.

— That's really a part of our identification in Christ.

— Oh it is.

— So the word identification means to consider our treat as one and the same. So our identification in Christ simply means everything, in the mind of God, everything God did in Christ. he did it for us, sent to the credit of our account like we were there. We used to sing that song on Easter. "Were you there when they crucified my Lord. Sometimes it causes me to tremble". So Paul's revelation, Paul says I was there. We were there. He says, "I was crucified with Christ. Nevertheless, I live. Yet not I, but Christ lives in me and the life which I now live in the flesh, I live by the faith of the Son of God who loved me and gave himself for me". So Paul said I was there. We were there. Everything God did in Christ, he did it for us. So Arthur S. Way said it this way in his translation of Paul's letters. Arthur S. Way said, "The key to the gospel is in the prepositions. The English language was not constructed for a preposition to carry the kind of weight that the gospel calls upon it to carry". So the prepositions break down under the weight and go almost unnoticed. So he said, "Little words like for, with, in, through and by are the key to the gospel". That means everything Jesus did, he did it for us in our behalf. I mean, you take Hebrews 9:12 where is says, "Neither by the blood of goats and calves, but with his own blood he entered in once into the holy place having obtained eternal redemption for us". And verse 14, "How much more shall the blood of Christ who through the eternal Spirit offering himself without spot to God, purge your conscience from dead works to serve the living God"? So what Jesus did in our behalf as our substitute, the preposition "for", he did it forus. He redeemed us from the curse. He was made a curse for us. Romans 4:25 says that, "He was delivered up because of our sins and was raised for our justification". Man, that means he was not raised from the dead until you were declared not guilty. And you were declared righteous. So what happened from the cross to the throne, now because he did it in our behalf, we were with him, that we were crucified with him. We died with him. We're buried with him. We're made alive with him. We're raised up together with him, seated together with him. And now in preposition, we are now in him.

— We're now in him and he's in us.

— Joined to him. One with him.

— It's our spiritual DNA that counts. We're his offspring.

— Interesting because, you know, our grandson had leukemia. Dylan. Three years they, you know, did treatments and stuff, and they said, "No, we're going to have to do a bone marrow transplant, which would be a stem cell transplant". So for that to happen, they had to find a donor that would match Dylan. So they found his three older brothers and then they picked one of them who was Gavin. They said, "You're going to be the donor". No Gavin was not that happy about that because they were going to take his blood for four days and then they're going to take his stem cells and then they're going to engraft Gavin's stem cells into Dylan.

— Now, that's what I was talking about yesterday on yesterday's broadcast. You actually experienced a blood transfer.

— From Gavin, from one brother to the other. And they said when this happens, they said, "Dylan, it will change his DNA so much so that if Gavin committed a crime, Dylan could be convicted for it because they have the same DNA and so much so that they said, "Dylan, from this day forward, you have two birthdays because when this stem cells from Gavin are engrafted into Dylan, you'll be a different person. And so when that happened, then Gavin's stem cells went into Dylan and they watched his blood for the next three months and here's what they said. They said, now, three weeks later, "You're 50% Dylan 50% Gavin". Three months later, "You're 75%". Three months later, they said, "Now Dylan is 100% Gavin". In other words, there's nothing left of what it used to be. So imagine when you make Jesus your Lord...

— I'll tell you the first time I heard him tell that, I just couldn't sit down. I mean, it put me on my feet.

— So when you made Jesus, your Lord, imagine who your donor is. You got the blood of Jesus engrafted into you, which makes you a new creature in Christ.

— It's that real. It changes your identity.

— And the Scripture says, we've been circumcised of the heart. I'm completely convinced because of all of the rest of the Scriptures and so forth, I'm convinced the devil can see that. He can see that cut. He can see it. In the Spirit he can see the cut. We carry a mark on our spirit man.

— In Christ means you're engrafted into Christ. So actually the word engrafted, there is no grafting without wounding. In other words, the stock is cut, the branches cut, inserted together. And so what happened in Christ...

— It's an identical cut.

— It's an identical cut. They must have identical cut and engrafted together. So when Isaiah 53 says, "But he was wounded for our transgressions. He was bruised for our iniquities. The chastisement of our peace was upon him. And by his stripes, we are healed". So when he was wounded, we were engrafted into him so that we have the same identical death and the same identical resurrection and same identical life. That is our identification and our union with Christ. We are now in him, in Christ, which you transliterated it. Christ is not Jesus last name, it's the Anointed one. And so when you are now in Christ, there's 35 of those Scriptures in Christ then now you're engrafted into the anointed one and his anointing. So every touch of the anointing breaks every previous identity that you may have, every touch of the anointing connects you to who you are in Christ. Every touch of that anointing.

— Well, now, hey, go to the 4th chapter of Luke.

— All right, you're going to go to Luke chapter 4. I'm glad we're going to Luke Chapter 4.

— That's the anointing.

— There it is right there. And here are all of the specific anointings that are available to us. "The Spirit of the Lord is upon me. He has anointed me". Now let's put this over in our terminology. He has christened me.

— Yeah.

— I can see that.

— See that's where it is. He has anointed me to preach. Most Christians don't know he's a preacher. They just think he kinda walked around and went... and healed somebody and y'all passed away anyway. And so he's anointed me to preach. To preach what Jesus? "The good news to the poor. He has sent me to heal the brokenhearted, to preach deliverance to the captives. And preach recovering of sight to the blind and to set at liberty them that are bruised and to preach the acceptable year of the Lord". Now that supernatural debt cancellation is great Jubilee. So there's the gospel right there.

— Now here's what happened to me when I was praying the Ephesians 1 prayer. I'm asking the spirit of wisdom , revelation, eyes of understanding, that I may know what God did in Christ with the power that raised Christ from the dead. So I can see it. So what happened, I was reading Luke chapter 4 verse 18, but I read verse 17 and it said, "Jesus comes into the temple, opens the book of Isaiah, found the place where it was written".

— 61st. He found the place where it was written.

— So he found himself in the Word.

— You got it.

— That's in the Book too.

— So that's what I saw, I said, "Jesus found Himself in Isaiah 61". So today, you and I, as believers, we should be able to go through Ephesians and say, "That's me right there, I've been made alive in Christ". Find yourself in the Word and you find your identity in the Scripture and Jesus literally found himself and then he declared it.

— And I'm sitting in a place of...

— And that's where I'm seated.

— High authority.

— He declared... actually, if you'll study the four gospels, Jesus was constantly declaring his identity. I am, I am. I am, I am. And he would declare his identity and his destiny. So if you're going to follow Jesus, you must find your new creation identity, who you are in Christ, your identification in Christ, and declare your new identity. And then that will determine your destiny. So your identification must be said and declared, that you're confession.

— And spend time listening. Listening. I learned it a long time ago but Gloria put it into words. You haven't prayed yet till you listen. I mean, Brother Hagin said it. Do more listening than you do anything else. And I'll tell you, if another thing struck me one day, I was just almost overwhelmed with the authority and so forth. And I just fell over on my knees and I see it in my mind now. And it got all over me. My God. My God. I'm yours to command. Your will and my will are one. I'll make my will subordinate to yours. I'm yours to fight your battles. And to win, I'm yours to command. But this Book has just come alive to me and this one's worn out. But I... now you've heard me tell this before. I was in the book Hebrews. In fact, I was... I'll find it here in a minute... right here with David Barton, he said, "Where do you get a white highlighter"?

— Everything is highlighted in that Bible.

— I said, "I only highlight the good stuff". But when you get into here, particularly this 10th chapter "that it was necessary that the patterns of the things in heaven should be purified with these, but the heavenly things themselves with better sacrifices than these". The heavenly utensils of worship had to be cleansed with his blood. When he said to Mary, "Don't touch me, I have not yet ascended to my Father, your Father. Now you go to tell"... So then he went into Heaven. Now put this through into your mind. The one thief, Lord, remember me. Today you will be with me in paradise. Now, once each one of them left their bodies, the body's still hanging there. Each one of them left their bodies. Paradise was the upper region of soul where the first Covenant saints in the bosom of Abraham. Jesus taught about that and we're out of time. But they went through there. He stopped off at the bosom of Abraham, and then he watched Jesus in hell defeat the devil himself. He was one of them. Don't you know the devil's throwing a fit. They watched it. They watched it. And he left captivity captive.

— Oh he spoiled principalities and powers.

— Made it show... We'll be back in a few minutes or however long it is. Glory to God. Hallelujah.