Kenneth Copeland - Dwell In Love, Dwell In God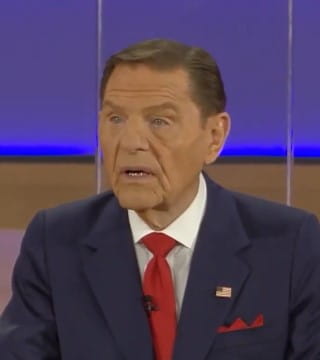 TOPICS:


Turn with me to First John. Well, you know, I'm going ahead and read five. "Whosoever believeth that Jesus is the Christ is born of God: and every one that loveth him that begat loveth him also that is begotten of him. By this we know that we love the children of God, when we love God, and keep his commandments. For this is the love of God, or loving God that we keep his commandments: and his commandments are not grievous. For whatsoever is born of God overcometh the world: and this is the victory that overcometh the world, even our faith". And then I heard and found out from here in First John and chapter four, verse seven, "Beloved, let us love", if you haven't underlined it do it already. "Beloved, let us love one another: for love is of God; and every one that loveth is born of God, and knoweth God. He that loveth not knoweth not God; for God is love".

Now that "knoweth", that's the same word, that's the same Greek word Ginosko. They have no end. We're like, no, no. "He that loveth not knoweth not God; for God is love". He is love. He has faith. We know that. So in the beginning, love created. Hallelujah. So... And 2. Look at this. Praise God. "Hereby know we that we dwell in him, and he in us, because he hath given us of his Spirit. And we have seen and do testify that the Father sent the Son to be the Saviour of the world. Whosoever shall confess that Jesus is the Son of God, God dwelleth in him, and he in God. And we have known and believed". There is that word known again. We have an intimate relationship "And believed the love that God hath to us. God is love; and he that dwelleth in love dwelleth in God, and God in him".

Let's talk about believe the love, believe that known and intimate. Well, when you got born again, that's as intimate as you can get because his Spirit recreated your spirit and you became a new creature in Christ Jesus. I didn't know that. I just knew and sure thrilled about it. A very little more than I knew. And it was true. I told Gloria, I said, "All I know how to do is fly airplanes". And, you know, like I told you, I said, "You know, we go up there to that school, we're going to starve out". She said, "Kenneth, we're starving now. We might as well starve in the will of God is out".

We didn't know anything. Her parents loved God. Wallace Babe Neece went off to war. First Infantry Division, and God saved his life. They put him aboard ship first in the Big Red One, put him on a ship to go to Sicily. He had an abscessed tooth. They took him off ship. The Big Red One... Liked to got wiped out when they went to Italy. First time they'd been engaged in combat. They took him off and fixed his tooth and put him back on the ship. And he went to England and trained there, went through all of his training, went all the way through D-Day. We have pictures of him and on the back of that, that picture of D-Day, six June. And it shows he was a sergeant major. He was a sergeant with a diamond in the middle, which mean he was an outstanding leader of men all the way through the Battle of the Bulge before he got home.

Well, nobody ever heard of PTSD, but he had it so he began to drink, trying to get that out of his mind. But some years later, and I talk to him, talk to him about tithing. Didn't know about that. And so anyway, but he had a heart attack and they rushed him... Now, he and Mary divorced, he remarried, Mary never did. She just came to Fort Worth. And I mean, she was one of the very first ones to help Gloria and me in the office. Everybody called her Ma Dear. Anyway, so we rushed to Texarkana and Pastor of the First Baptist Church in Nashville, Arkansas. And so we were there. And he came over there and of course he knew very well who I was. He said, "Copeland, I want to tell you something". He said, "I stayed with him night and day, just stayed here with him the whole time. I mean, he had bypass surgery and he said, I just stayed with him right until I knew he was... at the right moment there". And he said, "I led him to the Lord".

He never took another drink. It was over. The PTSD was gone. And he went home in 1999, a happy born-again man. God is a faithful God. Amen. Thank You, Jesus. Faith works by love. We know that. Love never fails. Turn with me... Let's go back here to the 13th chapter of the Book of John in that 12th chapter. "Then Jesus six days before the Passover came to Bethany, where Lazarus was, which had been dead, whom he raised from the dead. There they made him a supper; and Martha served..." Now you just keep reading through the 12 and all the way down, verse 49, "For I have not spoken of myself; but the Father which sent me, he gave me a commandment, what I should say, and what I should speak. And I know that his commandment is life everlasting: whatsoever I speak therefore, even as the Father said unto me, so I speak".

"Now before the feast of the Passover, when Jesus knew that his hour was come that he should depart out of this world unto the Father, having loved his own which were in the world, he loved them unto the end. And supper being ended, the devil having now put into the heart of Judas Iscariot, Simon's son, to betray him; Jesus knowing that the Father had given all things into his hands, and that he was come from God, and went to God; He came from love and went to love. He riseth from supper, and laid aside his garments; and took a towel, and girded himself. After that he poureth water into a bason, and began to wash the disciples' feet, and to wipe them with the towel wherewith he was girded".

And, you know, Peter argued with him there a little bit. "For he knew who should betray him;" verse 11. "Therefore said he, Ye are not all clean. So after he had washed their feet, and had taken his garments, and was set down again, he said unto them, Know ye what I have done to you? Ye call me Master and Lord: and ye say well; for so I am. If I then, your Lord and Master, have washed your feet; ye also ought to wash one another's feet". Now, to us, I mean, we all wear shoes. They didn't, at the best they had sandals. It was nasty. That's the reason Peter said, "No", he didn't understand what Jesus was doing. I mean, it is filthy. You just walked around dodging all different kinds of things in the street.

And here they had gone to this place at night, in the middle of the night. It was dark and artists don't read the Bible. They just make up stuff, that big long table with everybody on it. And Jesus in the middle, no, they were on the floor. Any table would have been mats and so forth on the floor. It was night and it was lit by oil lamps, it was dark in there, very intimate. And they were just all piled in there together. And Jesus was serving that last Passover meal. Oh, all kinds of things that he did. He took Messiah's Cup and turned it up. And the linen napkin with matzo bread where you take out Abraham, put him back, Isaac, put him back, Jacob and so forth. And you take out Isaac and break him, why? He didn't do that. He took the middle one and broke it and he said, "This is my body broken for you".

Notice what he said here, verse 20. This is a book of exchanges, you remember I said that. "Truly, truly, I say unto you, he that receiveth whomsoever I send receiveth me; and he that receiveth me receiveth him that sent me. When Jesus had thus said, he was troubled in spirit, and testified, and said, Truly, truly, I say unto you, that one of you shall betray me. Then the disciples looked one on another, doubting of whom he spake. Now there was leaning on Jesus' bosom one of his disciples, whom Jesus loved". He believed the love, that the reason he wrote what he did in the letter in first John. He knew it and he believed it. And he's the only one that lived a long, long, long, long, long, long time. Nobody could kill him. They boiled him in oil and he didn't stay boiled, so they threw him away, threw him out on a horrible place called Patmos. And he wrote the Book of Revelation.

And you come down to the Book of Revelation, it says "The End". The end, yes. I've been rereading it. It's a letter. Don't get all over into the weeds. Just start out, it says, "Blessed is everybody who reads this". Okay, just take that and go for it. It's a vision. Anyway. Oh, let me ask something else. Do you ever wonder why Luke's account of the birth of Jesus is so more detailed than the others? I did, but I just thought, oh, well, until Rick Renner sent me his book, Christmas, The Rest Of The Story. Well of course Luke went to Ephesus and interviewed Mary, and John was there, so John didn't see any use to writing another one. I'll tell you that's a marvelous book. You just need to get one or two or three or four and everybody pass them out during Christmas. And all of the art work is done by a Russian Jew that's very, very close friend of Rick Renner's. It is magnificent.

Now, I found out that the reason everybody in Nazareth knew him at that little town of Nazareth never had over 120 to 150 people in it. Why we know that young'n, too familiar. The word "Carpenter" from the Greek word "techno", technician or technologically advanced. There wasn't a whole lot of wood for him to be a carpenter of because everything was built out of rocks and stone. But he was a very, very advanced man and he was wealthy to start with, and so was his wife.

So Rick went into the background of both of them. This poor carpenter, he wasn't poor, he never was poor a time. He became poor when he just dumped everything. And none of his disciples were poor. Anyway. My mother always had Christmas tree up before my birthday and in December the 7th, 1941, I just turned five the day before. Nobody knew where Pearl Harbor was in Abilene, Texas. Abilene, a little small town named after Abilene, Kansas, it ended up country railroad, cattle town. And at the time, there was only 20,000 people in Abilene. They built Camp Berkeley and the first load of troops in there, there were 23,000 troops. There were more troops, and there were a people.

Well, everybody got pretty disgusted at that because only the first three day they passed, they bought up everything in town. And we'd drive downtown, you park this way. We'd drive in... So my mother and her younger sister, who went to Drawnes Business College and took the full stenographer course because my dad worked there. Well, we'd go people watching, watch all the people, full in the streets. That wasn't the only thing to watch. There were little things you hung in the window. They had a little gold braid around it. You had that ment you had someone in the service. As long as there was a Silver Star, everything's okay. But it was a gold star, either killed in action or missing in action. So everybody was checking out the windows all over town.

And so and I remember thinking boy, they messed up a real good birthday party for me because my mother always had the Christmas trees... She loved Christmas and she'd have the Christmas tree up by my birthday. She thought that was wonderful. It was pure torture for me. December the sixth, thinking if 25 will ever get here. But she thought it was wonderful and I did too because she's pretty wonderful herself. All of these things are important. This book of covenants and history, the good, the bad, the ugly, the wonderful. But all of it a Book of Love. "One of you shall betray me. Then the disciples looked one on another, doubting of whom he spake. Now there was leaning on Jesus' bosom one of his disciples, whom Jesus loved. Simon Peter therefore beckoned to him, that he should ask who it should be of whom he spake".

Can you see this now? I mean, they're all tucked in there together, and Peter looks over and says, "Ask him, you ask him". John saying, "I'm not going to ask him". "No, you ask him". Peter, James and John. It says a lot for Mr. Zebedee. Amen, a lot. Peter, James and John. So the one that stayed with Jesus all the way through the whole thing, he didn't get out away from him at all. Not any time through the trial, through everything else, all of the terror of it all. He was there. He stayed right with him. He wouldn't leave him. Because love casts out fear, he had no fear of it. And he had fallen in love with this man. He loved him so. Followed him all the way to the end. And he stayed all the way to the end. He was the last one and he died an old man. They tried to kill him, they tried everything they could do to get rid of him. But the apostle of love, faith works by love, the apostle of love.