Kenneth Copeland - God's Faith Brings the Future Into the Present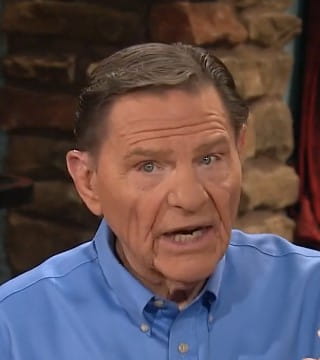 Kenneth Copeland: When the Body of Christ any born again, Spirit-filled, any born again person departs this earth, we should be very careful not to grieve because they are in our future. And once that becomes a reality... My mother, August the eighth, 1988, and I missed her. The next day was, well, Sunday we went to Southwest. We went downtown Fort Worth for staying there, you know, for the Southwest Believers' Convention. She slipped out in the night, but it had already... I was driving down the freeway here and I knew she was ready. I just man, I just wanted to be with her, you know, pretty heavy on me because I kept thinking about her and all the times that she and I had together when my dad traveled. And it was just the two of us and all that. And the fun our family had together, was driving down the freeway, thinking about it, Greg. And all of a sudden, just suddenly I was just driving along there then suddenly I said, "Fly, little bird, fly"! and it was gone. And people said, "Well, you're not going to do her service, are you"? What did you say? You think I'm going to turn this over to someone else. So I was sitting with my dad, it was here at EMIC. And so we have the beautiful portrait of her with her head back. And I still... and... it was a family deal and my dad's pictures anyway, I had that sitting up there and turned over and looked at him. And I said, "Now Dad, that's who you're looking for? That's her" and my dad smiled and said, "It is", and I said, "Yes sir, that's her". Now, a few days before that, we were standing over her bed. He was on that side, I was on this side and she was here and she wasn't suffering, she's just lying there, but my dad said, "Kenneth I have loved her a long time and I love her more now than I ever loved her in my life". Now that's what counts, not the grief and the sorrow. She was in his future and now he's with her. So then I made up my mind I'm going to be with him. Well, we were in the West Coast Believers' Convention. This is Kenneth before jets. Man, I had that Cessna 421. I was really pushing it. We'd been in the West Coast Believers' Convention and coming by. Our daughter Terri was with him and he was at a place, beautiful care home. And the way my dad went, he was an early riser, he just kept sleeping late. He slept a little later and a little later. And one afternoon, they couldn't wake him up. And I missed him, but it's a sweet thing. We must be very, very aware. You say, "Well Brother Copeland, I really don't know whether my folks are saved or not". Listen, God is a good God. And you love them. So don't start this why me... the devil will get involved in that and break your heart. Don't let him have it, he's a thief, he'll steal your peace. Thank You, Lord. Now let's turn to the Book of Hebrews.

Greg Stephens: Yes.

Kenneth Copeland: Now the people say, "Well, we really don't know whether the Apostle Paul wrote that or not". Oh, yes, we do. First of all, it's his style. Second, he talks about Timothy.

Greg Stephens: He does mention Timothy, and nobody else does. Even if he didn't, I know there's some very learned people that I respect that would disagree with me, I believe he wrote it. I believe that Galatians and Hebrews were once connected.

Kenneth Copeland: I can see why.

Greg Stephens: Because it just goes from one to the other. And he said, "See, what long letter I wrote my own hand in Galatians". Well, if you combine Hebrews with it, it would be longer.

Kenneth Copeland: Galatians is not that long.

Greg Stephens: It's not that long, but one written to the Gentile or the nations, one written to the Jew.

Kenneth Copeland: Now, when Brother Hagin was caught up into heaven and where Jesus put his finger in the palm of his hands where they burned like coal. And Brother Hagin in heaven, talking to Jesus face to face, he asked him, "Did the Apostle Paul write the book of Hebrews"? He said, "Yes, he did, there was nobody else qualified to write it".

Greg Stephens: That's true.

Kenneth Copeland: Because he set at the feet of Gamaliel.

— Yes, he did. He had all of this information, plus the fact he had been called up to heaven himself.

— And Gamaliel is the son of Hillel, one of the greatest rabbis' minds that ever existed. So Paul was...

— Anyway.

— Anyway, in his writing in this, even if he didn't with his own handwriting, let's say Apollos wrote it, he's influenced it, he's the guy that Apollos would have been writing, I agree.

— Here we are, he does the same thing, we could read it like this. In the beginning God, "who had at sundry times and in divers manners spake in time past unto the fathers by the prophets, Hath in these last days spoken unto us by his Son, whom he hath appointed heir of all things, by whom also he made the worlds;" Then here you are again... "Who being the brightness of his glory, and the express image of his person, and upholding all things by the Word of his power, when he had by himself purged our sins, sat down on the right hand of the Majesty on high: Being made so much better than the angels, as he hath by inheritance obtained a more excellent name than they. For unto which of the angels said he at any time, Thou art my Son, this day have I begotten thee? And again, I will be to him a Father, and he shall be to me a Son? And again, when he bringeth in the firstbegotten into the world, he saith, And let all the angels of God worship him. And of the angels he saith, Who maketh his angels spirits, and his ministers", but here it is. Here's what he said that raised him from the dead. Here are the words... "Thy throne, O God, is for..." Now here's Jesus suffering in hell for your in my sins and sickness and disease and being made a curse for us. "Thy throne, O God, is for ever and ever: a sceptre of righteousness is the sceptre of thy kingdom. Thou hast loved righteousness, and hated iniquity; therefore God, even thy God, hath anointed thee with the oil of gladness above thy fellows. And, Thou, Lord, in the beginning hast laid the foundation of the earth; and the heavens are the works of thine hands: They shall perish; but thou remainest; and they all shall wax old as doth a garment; And as a vesture shalt thou fold them up, and they shall be changed: but thou art the same, and thy years shall not fail. But to which of the angels said he at any time, Sit on my right hand, until I make thine enemies thy footstool? Are they not all ministering spirits, sent forth to minister for them who shall be heirs of salvation"? Again he will be a son unto me.

— And then that son, what he did over in chapter two, verse ten, Four it became him for whom all things, and by whom? All things in bringing many sons unto glory. Because he brought him to that place seated with him. I have been brought to that place seated with him. Now I have to use my faith for that, positionally I'm there, you're there right now. Physically, we're still here. But I have to use my faith to that. That's in my future, talking about times that I literally am in that position right now. I got a glimpse of that one day what that looks like. They're not sitting like this audience is sitting like this. They're sitting like you and I are at an angle. They're side by side, he said at the right hand. But they're setting like this so that Jesus is always in front of his face, which means Greg is always in front of his face. Which means Kenneth Copeland is always in front of his face.

— At the throne of grace.

— At the throne of grace, so he's interceding on my behalf, and he's right there in the face of the Father as a man, a glorified man right now sitting in the Godhead doing that. That's my position. Now I have to use my faith for that when I'm driving the car sometimes.

— That's right and this is the way it came across to me for several times and then I realized what it was saying. He ever makes intercession for me and that there's times that he'll say, "Kenneth is using my name. He's using my... Father, he's using my name. You remember what I said, 'That whatever he asks in my name, you'd do it'. I need you to do that".

— And the Father says, "Amen".

— Yes and amen.

— That's exactly what happens. And I had, I've told you the story, matter of fact after it happened I called you one night in the middle of the night. I heard my name called and I set up. I was wide awake, I sat up on the side of the bed, and he was right there. I didn't see him, the lights were out. I didn't turn the lights on. Someone said, "Why didn't you turn the lights on"? I didn't think about it. And he said, "Greg". And I said, "Yes". And he said, "I do not have to convince..." I'd been meditating on him interceding on my behalf and sin. I had lost, you know, lost my temper on couple of things and frustrated about some stuff. And he said, "I don't have to convince my Father... Our Father". That's what he said, "I don't have to convince our Father where you are concerned with sin. The very fact of where I sit is proof that you're okay". And I remember saying this Brother Copeland I said, "Jesus, that's cool". And he said, "It is cool". He said, "Go back to sleep". And I said goodnight. And I lay back down. Somebody said, "Why didn't you turn the light on," I didn't think about it. I really didn't, standing right there and I was wide awake.

— I, even I, am he that blotteth out Greg Stephen's transgressions for my own sake, and we'll not remember his sins. So Greg, put me in remembrance and let us plead together. You declare that you may be justified.

— That's it.

— I struggled with that back and forth for my own sake, I said, "No, no, no. No, you did it for my sake". No, he said, "I did it for my sake". That just really bothered me. And I kept coming back to it. I'd go away for a few days and kept coming back and finally, he got frustrated with me. Do you want to remember bad things about your children?

— No...

— Well he said, "I don't want to remember bad stuff about you either, I blotted it out". Now he said, "Let it be blotted out, then put me in remembrance". I said, "Of what"? He said, "Of my word, it goes forth out of my mouth and it'll prosper into the thing whereunto I said it". He said, "You've got a clean slate boy. Now fill it in by faith. Fill it in financially, fill it in..." Why does he start with the finances? Because more of his people suffer financially than any other thing. Because the devil has taught it and expressed it so much that to be a real good... that Jesus, you know, was poor.

— You're supposed to be like him. No, I am supposed to be like him. So therefore, I don't like any of the curse because he became the curse for me.

— But fill in the blanks with Scripture. Well, good, yes amen. The blessing of the Lord it maketh rich, he adds no sorrow and toiling with it.. By his stripes I was healed. Fill in the blanks with Scriptures to find the promises.

— Book of Hebrews, I wrote right here at the very beginning, I said, "This is the third in the trilogy of Habakkuk. The just shall live by faith alone". This is another reason I believe Paul wrote it because Habakkuk is quoted in Romans, "The just shall live by Faith". It's quoted in Galatians and it's quoted in Hebrews, trying to get a point across to these Jews, these Hebrews and to the Gentiles that we have to live by faith. Romans 4:16: It is by faith that it might be by grace. Those things are tied together. And so I have to use my faith in this new covenant reality beyond my timeline of where I will be and what I'm doing. And that he had this planned before the Earth was ever created. There's verses in Hebrews.

— You know Greg, now that you bring that up and all the class members have all heard this, when I declared publicly that the Lord had called me specifically to live to be 120 years old, to live to 2056 and to specifically preach the Word of Faith. That didn't come in just a few days, there was a process of that and it began with when I heard Keith Moore talk about. And there was days and months and months and months and different little mini visions and things that had been put together over a long period of time. The Glory Riders left Anaheim early one morning. And then we wound up on Highway 50. Life magazine called it the Loneliest Highway in America. It's across the desert but it's high desert. I had been for a long time, while I was preaching, I would see these road signs and they were different places of time and ministry. And a service was over with. I couldn't remember what the road signs were. And there was one time I preached way too long trying to hang on to them, long enough to see... and the congregation really suffered because of it. But it didn't make any difference, just go away. We were going across there and you could see that highway just until you just couldn't see it anymore without any turns in it. And I told Gloria over the intercom, I said, "Gloria, now look at this highway". I said, "There were phases of ministry down this highway" I said, "That's what it looked like in the Spirit". Those were real. Now, Brother Hagin spoke the Word of the Lord over me. And the Lord said, "I have maneuvered you like a captain maneuvering a ship through the harbor". And he said, "And there's coming a day when I will knock you into the place where you belong. And you will say, 'I thought this day would never come.'" And then I found out what it was. That roadside went out 120 years. That's what all of that was about. It took months and some years.

— He's giving you glimpses of it.

— I saw glimpses of it and they were little road signs there, and I could read them while I was preaching. Now, that's frustrating, they were quick and they'd go away. But they're spiritual road signs. And now I'm there and now things are happening again. There's another phase of my healing ministry that's come. I'm not ready to announce yet what it is. I don't know that much about it, but that's part of it.

— Well, I'm excited to see it. Hebrews Chapter 11. You see people walking in this. "Now faith is the substance of things hoped for, the evidence of things not seen". That's the future, That's what you consider as roadsides.

— Yes

— Out there. "For by it the elders obtained a good report. Through faith we understand that the worlds were framed"... Took us all the way back to Genesis one there, "The worlds were framed by the Word of God, so that things which are seen were not made of things which do appear. By faith..." And then he starts talking about all these different heroes of faith. Those people, Brother Copeland, their faith allowed them to reach down that road to reach into a future covenant, in some cases with Moses. Sarah herself received strength to conceive because she judged him faithful, that promise. She looked back and got faith for what was coming in the future. So if you lose your faith, use your faith, learn how to use it like a tool. You said that so many times. It'll allow you to look back, to go forward and go forward to pull here. That's what all of these people in chapter 11 did. You get over here at the end and some of them and these all verse 39, "Having obtained a good report through faith, received not the promise: God having provided some better thing for us, that they without us should not be made perfect". We have received the promise, he's talking about, they were living at a time before the promise. Jesus said, "Abraham saw my day". They got so mad at him because he used the Word, before Abraham was I am. They picked up stones to stone him. They knew what he was saying when he said that, he was identifying who he was right then. And our faith allows us to tap into that, to tap into that throne room presence where he's using my name.

— And what we lose. They knew, the word was out that he was illegitimate, that she was pregnant before they married. And they slandered him every way they possibly could. They would bring it up and say things just nasty to it. They said, "We know who our father is".

— "But who's yours".

— That's what they were implying. And don't you love this Book?

— I do. By faith.

— Now verse 12, "Wherefore seeing". Now all of that, now we see something. "Seeing we also are compassed about with so great a cloud of witnesses, let us lay aside every weight, and the sin which doth so easily beset us, and let us run with patience the race that is set before us, Looking unto Jesus the author and finisher of our faith; who for the joy that was set before him endured the cross, despising the shame, and is set down at the right hand of the throne of God. For consider him that endured such contradiction of sinners against himself, lest ye be wearied and faint in your minds".

— Not in your spirit, in your mind. That's why you got to renew your mind to this Word. This is my identity. This is who I am. Somebody said, "Do you ever see Jesus"?

— Yeah, everyday when I look in the mirror.

— What did you just say? I said, "That's my goal, is that every day I look in the mirror, I recognize him in me and me in him. I want to become that close Brother Copeland, that's why I asked to be a disciple because they said, 'Oh, he's been with him, he knows him, you know, talks like him', But this has to become our identity because like those pictures we showed yesterday, that image begins to lose and will keep that image before us that I was crucified with him. I was buried with him. I was resurrected with him. And now I am seated with him. And now I reign with him in life by Christ Jesus".

— There's not enough preaching... Now there are denominations that go overboard on it because water baptism is all they preach. We're not preaching it enough in our churches.

— You're right. And we're out of time again today. But tomorrow is coming. Don't let anybody tell you tomorrow never comes. It does around here. We'll be back in just a moment.