Kenneth Copeland - Exposing the Enemy's Plan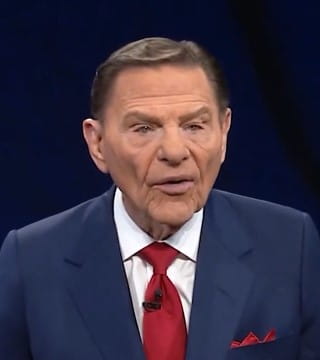 TOPICS:


It's time for the wild bunch again today. Heehaw! Welcome to class at Kenneth Copeland Bible College... what's the matter with that group. I'll tell you what's the matter, the joy of the Lord is our strength. And we're learning things concerning his Word and his bond. And his words and our words and his thoughts and our thoughts. You remember, there's a verse by the Spirit of God through the Prophet Isaiah, "My ways are higher than your ways. My thoughts are higher than your thoughts". Well, why would the Lord say that? Well, if you go ahead and read the rest of that... But he said, "My Word goes forth out of my mouth and it will prosper in the thing whereto I send it. It will not return unto me void".

How does his Word return to him? When you pray it, pray the Word, not ideas. When you need healing, pray healing scriptures. So you start with the answer to the prayer. By his stripes you were healed. Amen. I thank You Lord, that I'm healed now that I know I'm healed. Glory to God. It's just wonderful to be up walking. It's just wonderful. Glory to God, I'll never have the flu again hereafter forever, I'm healed, I'm well and well people don't need healed chairs... wheelchairs, Heal and wheel are too close together. All right, glory to God. Thank You, Lord Jesus.

Now, when we closed yesterday, we were here in the book of First John and we talked about some things in the book of Hebrews that the devil has been brought down. He has been brought to naught. That's zero. He's been paralyzed and destroyed by what Jesus did on the cross. And the fact... Now and here's where you draw a lot of criticism from lovely people that just haven't been taught. Jesus went to hell and suffered there. The scripture says it, Peter preached it, used those words. Then he said this, "Why look you upon us as though by our holiness this man was made to be strong". The man at the Beautiful Gate. By faith in the name of Jesus made this man strong. Whoa, faith in the name, because Jesus said in my name, in my name you go do it, in my name you'll do the same works that I do and greater works than thee shall you do in my name.

Well, what in the world could be greater works than he did? Not in quality, he did not have satellites. We do, and we're preaching to countries and nations around the world in some nations that are enemies to our nation and they are there online. Where we go, both China and Taiwan, United Arab Emirates, Singapore, Australia, Canada, Finland, Guam, Germany. All hearing the same message at the same time. Praise God, all 50 states in the Washington, D.C. area, people online gathering it up, feeding on the wonderful, magnificent Word of the Living God. And he is what he said to Abraham. I am El Shaddai. I am the God who's more than enough. And then the 91st Psalm who abides under the shadow of Shaddai. Whoa, amen.

So now we've learned these things in first John in the fourth chapter. Thank You, Jesus. Well, since this is faith class, we look over here in the fifth chapter, "Whosoever believes that Jesus is the Christ is born of God and everyone that loves him, that begat loves him also that's begotten of him. By this we know that we love the children of God when we love God and keep his commandments. For this is the love of God or this is loving God, that we keep his commandments and his commandments are not grievous. For whatsoever is born of God, overcometh the world. And this is the victory that overcometh the world, even our faith. We have world overcoming faith because Jesus said, 'I have overcome the world.' In the world you will have tribulation, but fear not. I've overcome it". Amen. Hallelujah.

All right now then, let's go to the sixth chapter of the book of Ephesians. The letter to the Ephesians. "Children obey your parents in the Lord, for this is right. Honor your father and mother, which is the first commandment with promise that it might be well with thee, and that you may live long on the earth". Well, what about if you had a bum for a father? It says what it says. I'm not speaking to him. Well, that's your fault. You're going to have to obey that. Or, you're already in trouble. You're already in trouble anyway, if that's the deal. Cause there's strife between you and where there's strife, there's confusion and every evil word.

Call him, call him. Don't call him anything but Daddy. Daddy, I just need to talk to you today. You're my daddy, and I apologize and I repent for the things between us. And because of what the Bible says to honor you. I honor you, sir. And I will never speak of you like that again as long as I live. 99 times out of 100, he'll say, no, no, no, baby. No, no, no, no, no, no, no, no. It's my fault, I should of known better. Get it together. But even if he says I don't want to hear anything from you again, you say, "Well that's bad because you're going to be hearing from me. I'm going to write letters to you. I'll send you a Valentine every February. I'm going to be calling you, sir cause you are my Poppa". Amen. "And I love Mama, I honor you. Now I can live long on the earth".

Oh yeah. See, now I can't live long on the earth. And when we would correct our children, we use that scripture. I don't want do this but read that scripture. Kellie with her children, she used a big wooden spoon, go in there and get my spoon. Now I'm gonna tell you something about my dad. My dad would say, "Kenneth you do that again son, I'm gonna spank you. I'm going to give you a whipping". And I did it again. And he said, "Remember what I told you, I gonna give you a spanking". That was it. When? It maybe three or four days later.

And then one day he'd come in and say, "Come on boy". He that spares the rod, hates the child, my daddy loved me. Two reasons. One, he wanted to impress me with the fact that he didn't lie to me and two, if ever something made him mad, he wanted to cool off and then correct me, not beat me. My mother was a switcher. Just take a little old head off of a hedge somewhere and just switch my little legs. But she just kept that up until pretty big size boy. And she got one of my daddy's belts and came at me and I said, "Oh, Mama," and took that belt. That was a terrible mistake. I want you to know she landed in the middle of me. She yanked that belt to rave me. And she took authority over me. I was about 14 years old. She took authority over me. I'm telling you. She whipped me, knocked me down and took that belt. "No, Mama, no, no, no, no, no, no". Well all right then. "Yes ma'am. That was the end, I never did that again".

They had dominion over me. And of course, they're my heroes now. I wouldn't think anything for it because they impressed things on them. The main thing he impressed on me was the value of his Word. Anyway, so now here in the sixth chapter, "That it may be well with you. Fathers, provoke not your children". Now there's the other side of it. "Provoke not your children. Servants, be obedient to them that are your masters according to the flesh, with fear and trembling in singleness of your heart, as under Christ. Not with eyeservice, as menpleasers, but as servants of Christ doing the will of God from the heart".

Now this take in the employ in your congregation, working in a place that is uncomfortable just makes it hard. Well, I'm just going to get me another job. Well, maybe so, but not without praying about it... not without praying about it. There is strong evidence from the Bible here that the Lord may have put you in that place to be salt. You may be the one that turns the union argument around. I had two partners, both in the same company, one on the side of management, one on the side of the union. And they were going back and forth, back and forth in the union meetings and all of that. And the arguments were going on and they were sitting there looking at one another and smiling and just loving one another back and forth and listening to each side of all that argument.

And finally, they worked it around where they were over there close together, and they got their Bibles out and they're over there talking back and forth. Finally somebody said, "What are you two doing"? And one of them said, "Well, we have the answers to all of this". Well what is it? And they began to read these scriptures, management and labor. Both of them are here. Management... some of you are pigs to work for and some of your workers are lazy as an old hound. Let's get it together. We can do this without a strike. We can do this without bringing this company down and make it hard on our customers. Let's get together and pray about this thing and we'll come up with a proper contract and everybody will be happy and everything is fine. And they worked it out on those scriptures right there.

Isn't that good? Well, we're having trouble like that in the nation right now. Amen. But there's the answer to it. "With good will, doing service as unto the Lord and not as men pleasing, knowing..." Here's a big one, knowing this, that "Whatsoever good thing any man does, the same shall he receive of the Lord, whether he be bond or free".

Now listen to me. What do you do in your every day little things practice in the public. Many years ago, believing for prosperity in this ministry. I'm talking about financial prosperity. That scripture right there, I have a red finger pointing to it. Whatever good thing anybody does, same shall he receive of the Lord. And the Word of the Lord came to me. He said, "When you go in the men's room, do housekeeping, clean up after yourself. Don't use any more of the towels than necessary. And because somebody had to pay for those towels. Wipe the counter clean before you leave for the next person that comes in there, wipe the counter clean".

I was in a restaurant just a few oh, a couple of weeks ago was all, and I was in the men's room. And so there was another young man that was over here washing his hands. I was here washing mine and I just took two towels down and handed it to him. I didn't even look and I dried my hands and turned around and he said, "Brother Copeland, now you think that wasn't good"? There was a brother there and I handed him the towels and I met a new brother.

Those small things that you do all the time, staying in hotels, which I stay a lot, as you can imagine, very rarely ever see the front door of one. And we go in back entrances and that sort of thing. And I clean up so that when the housekeeping people come in, I don't leave the towels in the floor and stuff all over, take the used towels and put them up here and the wash clothes and so forth. Put them up on the cabinet, not on the floor. I don't know how many times she bends over all day long before she gets to my room. Fix it where she doesn't have to do this. Amen. And be ready. Be ready to give, amen. And leave nice things behind so that every time you come back they say, woohoo there's that bunch again.

Glory to God, that's that old man gave me $200 because that happened just recently. I walked past her and the Word of the Lord came and said, "Give her $200". Well, I don't usually have money with me, but David... he always keeps my money with him because this happens a lot. And I stopped there and I said, "David, give me two $100 bills". I walked back to her. And I walked over there and I said, "Now, sweetheart, I know the Lord told me to bless you with this", and I handed her that money. She said, "Oh, he always knows. He always knows". And she just began to weep. He always knows. He always knows. And I was blessed with the opportunity to do that. Amen, that's one of the biggest verses in the Bible.

All right. Where's the time going? All right we'll get right on into this. "Finally, my brethren"... finally... he's saying, this is the last thing I want you to get and get this good. "Be strong in the Lord and in the power of his might," his dunamis, miracle power, "Put on the whole armour of God that you may be able to stand against the wiles of that devil. For we wrestle not against flesh and blood, but against principalities, against powers, against the rulers of the darkness of this world".

Those are the ones that possess people, rulers of the darkness of this world. Hmm. Hmm, hmm. Praise God. Thank you, Jesus. "Having done all to stand, steadfastly resist"... you can, put that... Steadfastly having done all the stand, "Stand therefore, having your loins girt about with truth, having on the breastplate of righteousness". Now that puts knowing you're the righteousness of God right up front... "Your feet shod with the preparation of the Gospel of peace". We know that the Gospel is the power of God under salvation, and the word translated salvation there also means healing and delivers from calamity and soundness of life... "Your feet shod with the preparation of the Gospel of Peace. Above all," this has a double meaning.

Put it first, "but above all, taking the shield of faith wherewith you shall be able to quench all the fiery darts, or all the arrows of the wicked. Take that helmet of salvation and the sword of the Spirit, which is the Word of God. Praying", hallelujah, "and praying, always with all prayer and supplication, all kinds of prayer". One translation says, "all manner of prayer". The prayer of faith is not all of it. There's the prayer of dedication. There's prayers of worship. What is a prayer of dedication? Father, your will be done. Your will, your will is my will. And I came to that place one day. I stood up and came to attention and I stood there at attention. I said Sir, I am yours to command. Your commandment is my will and we're out of time. Well, we'll get in here tomorrow. We'll be back in just a moment.