Kenneth Copeland - Believe God Loves You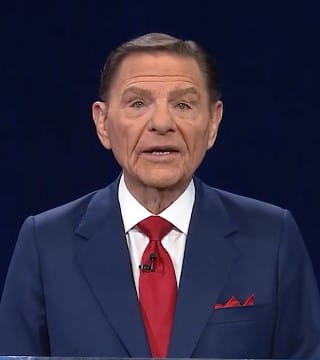 TOPICS:


Good morning, good afternoon, whichever time it is with you, here it's morning. And we're in morning class. Kenneth Copeland Bible College. And don't you like the way that Keith Moore brings you in the class. And he says sit down. He is so sharp, but I think Phyllis does all that. And he just takes credit for it. No, but isn't that good, he has an empty seat there. We don't have any empty seats. But you're here. You're in class with us today. Praise God. And so we could... Hallelujah. I'm excited about this.



And, Father, we thank You again today for Your presence here. You know, we are Your students, we will be Your students, as long as we're on this earth and we come to Heaven, we'll still be learning from You because we know what the Scripture says about it. And we praise You. And thank You for that in the name of Jesus. Amen.



Now we're talking about... Jesus said Jerusalem, Jerusalem that kills the prophets. So Jerusalem which kills the prophets in the 13th chapter of Luke. Now let's turn now to the 10th chapter of Luke, 17th verse. Now, you remember what happened here. Let's go back here. After these things, the Lord appointed another 70. What does appoint mean? He ordained them. Another 70. The ministry got so huge that 12 couldn't handle it. He had to have 70 more. But he said the same thing to them, the way he ordained them. He said and ended one whatsoever. Said city you enter, receive you, eat such things as set before you, heal the sick that are therein and the kingdom of God has come nigh unto you and so forth and raise the dead and kingdom of God... And so he ordained that 70.

Now look at the 17th verse, "And the seventy returned again with joy, saying, Lord, even the devils are subject unto us through your name. And he said unto them," now look at this, class. Watch this. "Beheld I saw Satan as lightning fall from heaven". I saw it. I was there. I'm on the earth now. But I was there. My father and I sought to it. We kicked him out, he was a covering cherub. Now, from what I read in the Book of Revelation, wouldn't hurt for us to turn there. This what I like, I've read the back of the Book and we win. "The Revelation of Jesus Christ, which God gave unto him, to shew unto his servants things which must shortly come to pass; and he sent and signified it by his angel unto the servant of John".

Lucifer means the bright and morning star. Well, he didn't name himself, and he turned to the 54th chapter of the Book of Isaiah. And God said, "I created the waster that destroys and I'll take care of him and no weapon formed against you will prosper". I created him and I'll be responsible for him. Well that was back before the cross, and he took him down right there. Glory to God. And we see it in that last Passover meal, one will betray me. And he said, "Woe under the one that betrays me. It'd be better for him if a millstone had been tied about his neck and cast into the sea".

The minute he took that morsel, the devil entered into him. Then in the presence of Jesus for three and a half years, he was his treasurer. He was a thief. He was stealing things from the bag. Well, he had seen Jesus all the time, just walk out from the midst of them. I'm satisfied that he had the idea that he would do it this time, because, after all, he's going to restore all of this and kick Rome out. I'll put money back in the bag, and when he restores the kingdom, my books will balance. But you go back to the first covenant and you find out not so. And he made a huge mistake. He committed suicide in that condition.

So every day he's looked back on it. Every day he looks back on it. Why was I stupid enough to do this? And I'm in this tormented place, and it's like Jesus said "Woe to me, I'd have been better off if I had been drowned in the sea". Why? If you've been drowned in the sea, it wouldn't been suicide. But he killed himself in that condition. He killed himself full of the devil. Jesus gave him every chance. He called him friend. That's a covenant term. He knew exactly what that meant. He gave him a chance to repent. He always gives you a chance to repent. I don't care who you are. Amen. So now we see. "I gave unto you power, authority to tread on serpents and scorpions over all the power of the enemy. And nothing shall by any means hurt you". I saw him fall. I mean, you know, so I mean. So what the devils are subject to you in my name. I mean I saw him fall. He's a nobody. He's a zero.

Now in order to establish this, let's go to the Book of Hebrews. Praise God. And I'll remind you another place in the Book of Revelation, they overcome who? They overcame him, talking about the devil. They overcame him. "And I heard a loud voice saying in heaven, Now is come salvation, and strength, and the kingdom of our God, and the power of his Christ: for the accuser of our brethren is cast down", that's who he is, "and accused them before God day and night. And they overcame him by the blood of the Lamb, and by the word of their testimony; and they loved not their lives unto death". Glory to God. They overcame him by the blood of the lamb and the word of their testimony. That's the reason it's so marvelous to testify of every little thing, every big thing that God's ever done for you. Tell somebody about it all the time. Just testify all the time. I'm well today. Glory to God. Hallelujah. Thank You, Jesus.

We're here in the Book of Hebrews, I want to... well I was... but now I am, the second chapter. Go there with me, please. Hebrews chapter two. And let's read verse seven. "You made him a little lower than the angel. You crowned him with glory and honor, then set him over the works of your hands. You put all things subject under his feet for and that he put on subjection under him. He left nothing that was not put under him. But now we see, not yet all things put unto Him, but we see Jesus who was made a little lower than the angels," actually... Well, Satan is a fallen angel. In one area in the Psalm said he made him a little lower than God. Jesus had to go there. The serpent in the wilderness.

And I said, "Lord, what"? That looked like the nature of the devil. And the Lord said, "Well, he was allowed to take him over at the cross". He was lifted up on a pole. But healing came from that uplift, anybody that would look at that would be healed from those deadly snake bites. They were responsible. Their disobedience brought the snakes in there. And that's part of the curse. But by looking on that pole, oh, glory to God. By looking on that cross, you can receive your healing, glory to God. Hallelujah. Isn't that wonderful. But now, wait a minute, whoa, whoa, whoa. "We see Jesus, who was made a little lower than the angel for the suffering of death, crowned with glory and honor that, by grace of God, should taste death for every man". This is marvelous. He tasted it for us. And praise God, a born again child of the Living God. Think of it. You can't taste it when you die. You can't hear it. You can't see it and you can't feel it.

Now Gloria's little brother, Stanley, was asleep in a pickup truck with a friend of his, you know, there in Arkansas, just a little ways from our prayer cabin. And I know the curve. And he was asleep and the young man that was driving was driving way too fast. And there's a curve that should do this to bank a little bit. But it doesn't. It does this. It's an adverse bank and you really need to slow down. And that pickup just flew, hit the trees and burned. Well, Gloria was at a women's conference not too long after that. Now, I need to tell you something about Stanley Niece. Now, Stanley... Stanley was a rock and brick mason and he just couldn't stand shirtsleeves. I bought him a new shirt, a new white dress shirt to go to something, I don't... church or somebody's homegoing service, whatever it was. First thing he did, a brand new shirt, he cut sleeves out of it and he put his coat on it. And it felt good.

Well, Gloria was at a women's conference and this woman was giving... she spent some time in Heaven. And she said she went into this great hall and gorgeous meeting room. And the choir was singing the anthems of the church. And everybody was there and they were in Heaven. And Jesus walked out on the platform and the ceiling were angels, and they all flew away. She said, "It's magnificent". But then after she told all about the mansions and so forth. But then afterwards she came up to Gloria and she said, "Gloria... we've never met". But she said, "I want to tell you something now. In Heaven, the catching away of the church is the next great event". Then she said, "They're preparing for it."

And we were in this huge dining hall and people were putting down place settings and she said, "there was a young man there", and said, "he put down his things and walked over", and said, "Would you tell Gloria, I was not in that truck when it burned," thank you. Went back and she said, "But now, Gloria, the strange thing about him, he's the only one that had no sleeves in his garment". So we knew it was Stanley. Yay! Whoo! God is faithful to his people I'm telling you, it killed the grief right there. Just slayed grief. He's in Heaven. Glory to God forever more. And now Mary and Babe are back with Stanley and Doug and the whole family, glory to God, is back together. Thank You, Lord. Isn't that marvelous? So now, thank You Lord Jesus.

Let's continue to read this. "For it became him, for whom are all things, in bringing many sons unto glory, to make the captain of their salvation perfect through sufferings". Now let's turn the page there and I want to show you something. "And again, I will put my trust in him. And again, Behold I and the children which God hath given me. Forasmuch then as the children are partakers of flesh and blood, he also himself likewise took part of the same; that through death"... Say through death. "Through death Jesus might destroy"... the word there is paralyze, might paralyze him that had the power of death, "that is, the devil; And deliver them who through fear of death were all their lifetime subject to bondage".

The fear of death, that is the master fear. The fear of dying. You're not afraid of flying, you're afraid of dying. What is fear? It's faith reversed, it's faith in death. Faith in an animal's ability to hurt or kill you. Faith in a storm. When you actually have authority over the storm and over the animal, amen. But you have to train yourself. How do you train yourself? I'm glad you asked that. So we'll go to I John... Hebrews and James, Little John. Thank You, Lord. We find out in the fourth chapter of the eight verse that God is love. "In this was manifested the love of God toward us, because that God is sent not only sent his only begotten Son into the world, that we might live through him. Herein is love, not that we loved God, but that he loved us, and sent his Son to be the sacrifice for our sins. Beloved, if God so loved us, we ought also to love one another".

Now, for the sake of time, look at this 16th verse. We have known "Ginosko", intimate relationship. "We have know and believed the love that God has to us. And he that dwells in love, dwells in God, God in Him. Herein is our love made perfect, or mature, that we may have boldness in the day of judgment: because as he is, so are we in this world. There is no fear in love; but mature love casteth out fear: because fear hath torment". There is none, there is no fear in love. Well of course not, God is love. But we have to know and believe the love.

Well do you believe God loves you? Yeah. You just ask any Christian. Yeah... I dare say you don't believe it. Why did you let that come on me? I remember the time, everybody was a baby Christian at one time. Some of them are still babies and they've been Christians 50 years. Get all upset just, then, don't desire the sincere milk of the Word. You just heat their milk up a little bit and you just have a fuss on your hands. Oh, I'll tell you the pastor don't come and visit me anymore. You whiny baby, you ought to be out visiting people yourself. I know you're not like that. And you're not going to be after today. Of course not. But that's the reason for a college like this, to know these things, by the time you get out of here and you go on to advance your education or you go on into your ministry, you go on and found the church that God called you to do.

You go on into the mission field. Wherever your calling is, you go into it as a continual growing believer. Continual growing believer. And we're helping the babies, helping the babies. And when I first began to preach the Word of Faith... Well, you know, I was preaching to people that been born again longer than I was old. But I'm preaching adult Christianity. Why that young whippersnapper come in here telling us about the righteousness of God? Can you imagine that. There's none righteous, no not one. Don't the Bible say that, brother? I mean... I'm not kidding you, it happened but I used to have question and answer sessions on Friday. Oh, that was the first one that came up.

Well I had go back to the fourth, fifth, sixth chapters of Romans and then II Corinthians five, "He who knew no sin was made to be sin for us that we might be made the righteousness of God in him". And I had disc jockeys, Christian disc jockeys. I had songs about "We've been made the righteousness of God" and they wouldn't play my songs because I said we've been made the righteousness of God. Well, he's a little baby Christian disc jockey... Knows nothing about the Bible when it comes to these kind of teachings. You can be so involved in music.

That's the reason we have an advantage where the Psalms are concerned. We don't sing them all the time. They're not that familiar to us. Jesus called them Scripture. To us that's what they are. Well of course they are to them too. And I'm not criticizing that. But they talk about us reading those Psalms and standing on them. Well, that's the way you Christian... Yeah, that's the way us Christians do it. Yes, it is. Thank you very much. Amen. We have a lot of good songs in our songbook, but we have some in our songbook that should be ripped out of the book. Spare me nothing you bore for me on the cross if it'll make me closer to you.

Oh, dear Lord. And I went to one church. This guy would sing that every time I was there, and the pastor said, "I keep telling him not to sing that anymore". And the next time I was there, he got up and here he came. I said, "Shut up and sit down. I'm not going to come up here and preach after you get through with that thing embalmed with unbelief. Now just sit down over there and hush". So he finally decided not to sing that any more when I came to that church and we're out of time, can you imagine that... Woohoo! Let's give the Lord a praise.