Kenneth Copeland - Unifying and Edifying the Body of Christ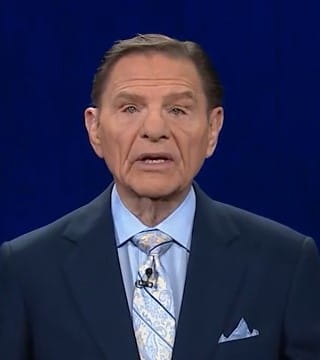 TOPICS:


Hello, everybody. It's Wednesday on the Believer's Voice of Victory broadcast. Every believer has a voice and it is the Voice of Victory. Praise God. Victory should be in everything we think. I'm a poor loser. Well, I get mad when I lose. Cry cakes. Don't. I was playing football and I don't like to lose, didn't much... I had a very interesting experience. I went to high school in Fort Worth here in Fort Worth, Texas, Poly High School. And the team that I was on that went on B-Squad. We decided we were going to win district when we got on the A-Squad. Well, we did because we decided to, we worked harder and we won district, got beaten by district. Well, the next year we went to the semi-finals for the state of Texas Crown.

I was born on the 6th of December, 1936, in Lubbock, Texas. Six weeks later, 19 oh, January of 1937, we moved to Abilene. Well, I went to South Junior in Abilene, Texas. North Jr. No, no, no. We played North Junior. But I wanted to be an Abilene Eagle. Oh. And my dad came in and said, "We're moving to Fort Worth". What? Guess who we played in the semi-finals. H.P. Hawkins was their quarterback. He was also a pitcher on the baseball team. And I was his catcher, Jamie Biggs, the linebacker. The first time they handed me the ball, Biggs says, "Copeland got it". And they piled on me. They beat me up. Oh. And that was... They had a guard by the name of Thomas. He came from North Junior, so I didn't know him. But I was a fullback back and power back. And Hunter gave me the ball and we just... We just stopped dead-still right there.

And the people in the press box could hear our pads come together. And it was a cartoon. It came out calling me "tractor". We got beat 46 to nothing, but since it was my buddies that won, it tickled me. And after the game, then we're slapping one another around. And they went ahead and won the State. But it took State champions to beat us. Amen. Hallelujah. You know, that's the way we need to be with the devil. Glory to God. Win every battle. Win every victory. Praise God winning, with the Word of the living God. Father, we thank You again today for this book. And we look for divine insights and ideas and concepts coming from Your heart, Your mind. And Lord Jesus, we receive it. We thank You that You are the Lord Advocate General of the Church. You're our commander. And we give You praise and honor today for it by Your Spirit.

So if you would open your Bibles to the fourth chapter of the book of Ephesians. "I therefore, the prisoner of the Lord, beseech you that ye walk worthy of the vocation wherewith ye are called". Well, okay. What does that mean? Well, it'll tell you before we get done here. "With all lowliness and meekness, with longsuffering, forbearing one another in love; Endeavouring to keep the unity of the Spirit in the bond of peace. There is one body, and one Spirit, even as ye are called in one hope of your calling; One Lord, one faith, one baptism".

Now wait a minute. Over in the book of Hebrews, the same name, baptisms. So which is it? Both and at his writings. Baptism in water. Everybody should be baptized in water. I was baptized as a little boy. Gloria was baptized as a little girl. But Harold Nichols, our pastor, baptized Gloria, John, Kellie and me in water. So I qualify, okay. Water baptism, then baptism of the Holy Spirit. Immersed in the Spirit of God, opening the door to the gateway to the supernatural through the speaking in other tongues or language you didn't learn in the natural. And three being baptized into the body of Christ. So when we accepted Jesus as Lord and Savior, really, whether we understood it or not, we were immersed into this body.

So baptisms. Amen. So it's one baptism in three parts. All right. "One God and Father of all, who is above all, and through all, and in you all". Say, "In you all". So he's in me. "But unto every one of us is given grace according to the measure of the gift of Christ," the Anointed One. "Wherefore he saith, When he ascended up on high, he led captivity captive, and gave gifts unto men. Now that he ascended, what is it but that he also descended first into the lower parts of the earth"? There it is again. "He that descended is the same also that ascended up far above all heavens, that he might fill or fullfill all things. And he gave"... Who? Jesus. "He gave some, apostles; he gave some, prophets; He gave some, evangelists; and some, pastors and teachers;" Why? "For the perfecting of the saints, for the work of the ministry, which is the edifying of the body of Christ: Till we all come in the unity of the faith, and of the knowledge of the Son of God, unto a perfect or a mature man, unto the measure of the stature of the fullness of Christ: That we henceforth be no more children, tossed to and fro, and carried about with every wind of doctrine, by the sleight of men, and cunning craftiness, whereby they lie in wait to deceive; But speaking, speaking, speaking the truth and love may grow up into him in all things".

Grow up into Jesus. Glory to God. Quit being a baby Christian. Well, he forgot my birthday. I wonder why. Was it worth remembering? Oh, on the 13th day of this month, amen, Gloria and I will have been married 60 years and eight months because when she and I were married, I didn't know it at the time because I was scripturally illiterate. So was she. We were born free and no religious background. Glory to God. But her unconditional love changed my life completely. Before I met her, depression was a way of life. Bitterness. She turned it all around. Then six months later, both of us accepted Jesus. And second day of November, 1962, glory to God. So there you have it. So then we wound up to Oral Roberts University, and I was 30 years old and I didn't know the significance of that at the time. But in praying about it because we were broke in debt and Gloria said she'd marry me before she found out the debts that I had, anyway. But the Lord taught us how to get rid of that by faith.

And so I just pray and just pray in my heart out. The night before I was supposed to register and I just stopped and I thought, well, I was praying in tongues just as hard and fast as I could. I thought, well, if I'd be quiet, wonder if he'd say anything? And only inside when it's about time I couldn't get a word in edgewise. Get on your feet, man. I mean, I hit a military brace, I'm standing, I'm shaking all over. He said, "I called you here and I'll take care of you here. You're not... They can't make a minister out of you. I've already made a minister out of you. All they can do is train you. Your ministry starts now. Not after you get out of school". So the 24th day of January, glory to God, will be 56 years. Well, I mean, you know, you stumble up on a few things. In 56 years, I had some outstanding teachers, amen.

Now notice, I want to see this now, all these ministry gifts. "Till we all come in the unity of the faith, and of the knowledge of the Son of God, a perfect man, unto the measure of the stature of the fullness of Christ:" Of the Anointed One. "That we henceforth be no more children, tossed to and fro, and carried about with every wind of doctrine, by the sleight of men, and cunning craftiness, whereby they lie in wait to deceive; But speaking the truth in love, may grow up into him in all things". If it took apostles, prophets, evangelists, pastors and teachers, then to perfect the body of Christ, God doesn't change. It takes all five now. And in the Baptist Church where I was, it wasn't but 2, pastor and evangelist, I thought that's what I was. That's what Oral Robert was. And he is, even though he's in heaven, he is a powerful picture of the New Testament evangelist. Win souls, miracles, power, amen.

Hallelujah, but the devil still after the prophet today just the same as he was then. He hasn't changed either, except he had the slats kicked out of him and he lost the authority that he gained from Adam. Adam was literally the God of this world because God created it. So what's the first thing that you and I need to do? Well, the first thing we need to do is go back to Genesis 1:1 In the beginning God. Well, what does that mean? What does it say in the book of Hebrew, in the beginning, Elohim, plural, plural. Who? It records God and his Spirit. Let us make man in our image, the Father, the Son and the Holy Spirit.

Now I can take the Bible and prove it to you. You can prove it to yourself. The Father spoke to Jesus. Jesus did the speaking. He's the power of a man. He's destined to live in this planet as a man, God manifested in the flesh. Through him all things were created by him, through and by him were all things created. So it was his voice. Is this fun or not? And I've already brought up enough today to get you into a lot of trouble. You just go around talking to most Christians about this, praise God. And, you know, people get all upset about the way you baptize somebody in water. So I just covered all the bases and I baptize you in the name of the Father and in the name of his Son, Jesus. And in the name of the Holy Spirit.

Now, what gripe do you have coming now? I don't dunk three times. But maybe... Like that fellow that claimed he is a deep-water Baptist and his son brought his bride to be and he said, "Daddy. Oh, we are in love with one another". He said, "Well, I don't blame you. She's pretty". And he said, "She'd been baptized"? But in her church, you know, they sprinkle... No, no, no, no... You've got to be under the water. I'm a deep water Baptist. So he went through this whole rigmarole. Well, he said, "Well, you know, maybe it just... Just a little bit". No, no, no, no. Not Deep Water Baptist. He said, "What you mean is she got to get wet all the way up on top of her head". He said, "That's it". He said, "Well, that's fine. She's already been wet on the top of the head. She qualified". But that's just how... bent out of shape people get over nothing. The word baptize means to immerse. That's what it means.

So I had the honor and the privilege of baptizing a serial killer in the Bexar County Jail in San Antonio, Texas. Stephen Morin, baptized him in water. By his own admission, he had killed 21 women and he kidnapped a woman, and the police were after him then. He kidnapped her with her car and he kept telling her to shut up. She kept telling him, you're not going to kill me. You're not going to kill the only person that love you. He said, "Woman, if you don't shut up and you don't know who I am and I will kill you". She said, "Well, is it all right if I listen to my tape"? He said, "I don't care what you listen to, as long as you shut your mouth. She had one of my tapes in her tape deck in her car". He slammed on the brakes and he said, "Who said that"? He looked over in the backseat. She said, "What Stephen"? I heard these words. Stephen, this is your last chance, son. She said, "That was the Spirit of God".

Well, she just led him to the Lord right there. And he said, "You think I could surrender to Brother Copeland"? Anyway, she dropped him off in a hotel... in a post office, just dropped him off there in the post office and let the police know where he was. She said, "Stephen, I'm not gonna lie for you". He said, "I wouldn't expect you to". Him and I became very, very close friends. And I told him he said, "I don't want life in prison. I want to be executed. I want to go home and be with Jesus". He said, "Nobody... My family, my little boy is five years old, I just want to get out of here". But it was an amazing journey with a man that had been a serial killer. But is now a new creature in Christ Jesus. Hallelujah. So now he became in prison on death row. I told him, I said, "Stephen, you have an opportunity to become an expert on prayer. You get into the Bible and you learn it". He said, "I will".

So while he was on death row, I mean by being an expert in prayer, he began to teach prayer and he prayed for everybody that came in there. He got them all saved. Oh, you got around, Stephen Morin, you're going to get saved. He saw to it. He'd see to it that you got baptized in the Holy Ghost. So see, the perfecting of the Saints for the work of the job of the ministry, which is the edifying of the Body of Christ. It worked right there in the Walls Unit of the Texas State Penitentiary. And during that time, a revival broke out there in that prison and developed the prison ministry of this ministry, which now Mike Barber is head of in his own ministry, amen. And we have partners in prison today.

They get the Partner Letter, amen, glory to God. I'm telling you, the perfecting of the Saints for the work of the job of the ministry, which is the better building, the edifying of the body of Christ, whether you're in jail or not. I walked out one night. A man, the only Bible he had was a great, big, wide coffee table Bible. That thing was... And he walked me as far as he could go. And in Huntsville, there's a big, large past polished brass gauge right there. It's an old prison. And he walked up there and he said: Copeland, I want you to know I'm freer now in here than I ever was when I was on the bricks. He's a free man. And later on, I ask Warden Harvey about him. He said he's out preaching the Gospel. He had 700 years, by the way, and we're out of time again today. And hear me, edifying the body of Christ, that's your job. We'll be back in a few moments.