Kenneth Copeland - Expect Your Healing Miracle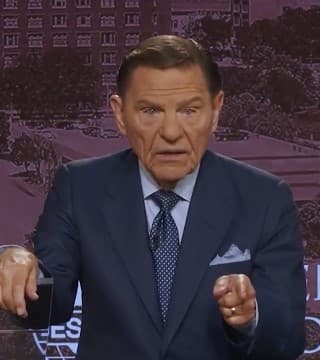 TOPICS:


Turn with me to Exodus 23:20. Exodus 23:20. "Behold," or look "I send an Angel before thee, to keep thee in the way, and to bring thee into the place which I have prepared. Beware of him, and obey his voice, provoke him not; for he will not pardon your transgressions: for my name is in him. But if thou shalt indeed obey his voice, and do all that I speak; then I will be an enemy unto your enemies, and an adversary unto your adversaries. For mine Angel shall go before you, and bring you in unto the Amorites, and the Hittites, and the Perizzites, and the Canaanites, the Hivites, and the Jebusites: and I will cut them off. Thou shalt not bow down to their gods, nor serve them, nor do after their works: but thou shalt utterly overthrow them, and quite break down their images. And ye shall serve the Lord your God, and he, your angel, will bless thy bread, and thy water; and I will take sickness away from the midst of thee. There shall nothing cast their young, nor be barren, in thy land: the number of thy days I will fulfill".

Now I'd like to put those last two verses there up in the Classic Amplified because of something I want you to see here. "None shall lose their young by miscarriage or be barren in your land. I will", so you want to know the will of God in this, "I will fulfill the number of your days". And I will do that. I've been meditating this. I've been meditating it, meditating it, meditating it. And it began to grow in me. I mean, I had used it to minister to other people, particularly where miscarriage and so forth was concerned. And this right here came up. I will take sickness away from the midst of thee. And I stopped the car and just shouted. He's taken sickness from the midst of me. I'll never be sick again hereafter for the rest of my life. Glory to God. Four years and 38 days away, I'll be 90 years old and I'm not sick.

Now, listen. Now, listen, listen. I didn't say that just to get you to clap or something. I want that to sink in on you... Now during COVID and all that, our whole team. Personally, I tested negative five times. You can't give me that flu or any other kind of flu. This is my flu shot. Amen, sickness has been taken away from the midst of me. But now you have to activate this. I do take supplements, and the only prescription drugs that Gloria and I have, have to do with you know, things like thyroid supplement and that kind of thing. But we know no arthritis birth'itis or any of the "itis" group. But the Lord has taught us things over the years, just little simple things that do things to get inflammation out of your body.

I learned years ago that there is a product called Bob's Baking Soda. They use no chemical in extracting that. Some companies use aluminum stuff, but just water extraction. Well, you know what baking soda does? It's a neutralizer. So one half teaspoon in my water and breakfast. No stiffness, no arthritis pain, isn't that simple. And people will say, that stuff... Well you can say what you want to. Now, I'm not totally, completely pain free. I have soreness, particularly in the back of my legs from working out and a few days ago. I've been off for a number of days there where I was traveling so much I just didn't have time to get on the treadmill and so forth. And then oh, I miss it. And I do it first thing before breakfast or anything else. And I wear this little dude right here that counts my steps every day. And 32 minutes on that treadmill gives me about 36 to 3700 steps. Well, I got through and just feeling so good and I got down on the floor and just doing my stretching and I down on my knees and bent completely over where my heels would touch my rear end. And I'm down there like that, and I'm doing my stretching and I went, uh oh, okay that'll be all right.

And by the time I cooled off, my right knee wouldn't hold me up. I tore the meniscus in that right knee few years ago because I got all excited and ran across the platform. So a doctor by the name of Dylan fixed it. So I went back over there to see him and he examined it, x rayed it and all that. I had to fight not laughing because it was like the old joke. I mean, he went through all this thing and he said, "Now Kenneth, my advice to you is don't do that anymore. Not until you're not... to let that right knee hold you up". Then he said, "Ease back into it". Okay. So you wait till I get home because it is working so good. Hallelujah. Amen. I said that to encourage you and to testify to you. It's amazing what faith and little baking soda can do for you... Amen. But use that Bob's deal if you're going to do that because it's water extraction and it's good to bake with. So let's look now in the 14th chapter of John. John chapter 14...



Father, we thank You today for all of the miracles that will happen here and online, we ascribe all of the glory to You, Jesus. You're our healer and we just praise You and thank You today, because this is going out in many, many, many, many places. And there will be many, many miracles today and healings and encouragements and strength through joy for the joy of the Lord is our strength. And we thank You that that's true and we praise You and for all online and anyone that has any kind of grief in your life today. Today's the day that it goes away.



Shirley Boone, Pat Boone's wife, she's in heaven today. And Pat and I became friends. I was 18 and he was 21. And we're still so close today. Her dad was Red Foley, Shirley Boone's dad was Red Foley. And so she called me and she said, you know he passed away a long, productive life. Wrote a lot of wonderful music honoring God. And of course, Nashville's turning out for him. She said, "Kenneth, I don't know whether I can do this or not. My sister and I are supposed to be in a parade downtown". I said, "Shirley, smile right now. You're an actress, force it". So she said, "Okay, I'm smiling". I said, "You feel better already, don't you"? I said, "The joy of the Lord is your strength so you fix that smile on your face and you fix it there because you're a representative of the Lord Jesus Christ. And you fix that smile. You fix it there where you walk down that street, that smile is there".

She called me later and she said something like this. She said "Kenneth, I forced that smile on there and now I can't get it off my face". And now I can't get it off my face. Oh Lord Jesus, praise God. 14th Chapter of John. Now, I want to reiterate this. John is the one that spends detailed writings of the last Passover, the last Seder meal, right before he went to the cross. And John was the one that stayed right with him the entire time. He didn't back away, betray him in any way.

John 14:1 "Let not your heart be troubled: ye believe in God, believe also in me. In my Father's house are many mansions: if it were not so, I would have told you. I go to prepare a place for you. And if I go and prepare a place for you, I will come again, and receive you unto myself; that where I am, there ye may be also. And whither I go ye know, and the way ye know. Thomas saith unto him, Lord, we know not whither thou goest; and how can we know the way? Jesus saith unto him, I am the way, the truth, and the life: no man cometh unto the Father, but by me. If ye had known me, ye should have known my Father also: and from henceforth ye know him, and have seen him. Philip saith unto him, Lord, show us the Father... Have I been so long time with you".

Now listen very very carefully and particularly those of you online, now let's listen to this. "Have I been so long time with you, and yet hast thou not known me, Philip? He that hath seen me hath seen the Father; and how sayest thou then, Show us the Father? Believest thou not that I am in the Father, and the Father in me? The words that I speak unto you I speak not of myself: but the Father that dwelleth in me, he doeth the works". Now Jesus is the healer. Now you remember what Peter preached in Cornelius's house just before he said that message that began from the very beginning, that Jesus preached, beginning with the baptism of John, how God anointed Jesus Christ of Nazareth with the Holy Ghost and power, who went about doing good and healing. What about doing good and healing all that were oppressed of the devil. Amen.

So now there it is, for God was with him. How was he with him? He was in him. Jesus didn't claim to do the work at all. And when he said to Cornelius, I'll come and heal your servant, expecting the Father to do whatever he said. But he said, "I came to do the will of him who sent me". Peter said, "I perceive that God is no respecter of persons. If it was his will to heal then, it is his will to heal now". And a lot of people now... a lot of people wonder if it's God's will to heal and are hung in that area. Faith begins where the will of God is known. He would not write something in his Word that was not his will. What did we read last night? I am God, I change not. If he was ever Jehovah Rapha, he is Jehovah Rapha now. For healing to pass away, God would have to change his name.

Jehovah Rapha is the God that heals. I'll take sickness away from the midst of thee and the length of your days I will fulfill. What is the length of those days? Genesis 6:3: The days of man shall be 120 years. Well I don't have all that far to go, but I have to do those things to stay in good shape, be very mindful of my diet. I didn't try to make up a diet. I didn't know what to do back there when I left Fort Worth to go to Oral Roberts University and I was 30 pounds overweight, more than that really, but I had 30 I needed to get rid of right then. So the only thing I needed to do that first day I just ate nine boiled eggs. Just get all the protein I could get. But then now I have a young man that's his dad was my trainer and nutritionist for years and his dad went back with the Olympic Committee and now his son is right there with me and his wife. And both of them have a degree in nutrition. In fact that's where they met was in college. And now they're both with the ministry.

The amazing thing you see about him, he's never been out of shape in his life ever, because his dad wouldn't allow it. His dad spent 18 years with the Olympic Committee, so you see the value there. But he studied it and I stay right on what he tells me to eat. He fixes it for me and it sits in front of me. And it's good and I weigh 100 pounds less than I did the highest I ever was... I'm in good... I'm in the best physical condition I've ever been in my life. And there's healing in there. So is it God's will? All right, turn to Matthew 8:2, Matthew chapter eight, the second verse, read from the first. "When he was come down from the mountain, great multitudes followed him. And, behold, there came a leper and worshipped him, saying," now listen what he said... "Lord," now he called him Lord. "If you will, you can make me clean. And Jesus put forth his hand, and touched him..."

Now when he did that, he broke the law. It was against the law to touch a leper. The leper broke the law. But Jesus said, "I didn't come to condemn the law, I came to fulfill it. I will be thou clean". And immediately the leprosy was cleansed, immediately the leprosy was cleansed. Mark Chapter one. "There came a leper to him, beseeching him and kneeling down to him and saying unto him, 'If you will, you can make me clean.'" Now notice this one. "Jesus moved with compassion, put forth his hand, and touched him and saith unto him, 'I will, be clean. I will, be clean.'" His will. Well, if it was God's will, then it's God's will now. He is God and he changes not. He is Jehovah Shalom, he's God our peace. Well if we don't take Jehovah Rapha, that's the word used when God said, "I am the Lord that healeth thee. I am the Lord, I am the Lord that heals you," well he changes not. So if we can't receive him as Jehovah Rapha, why don't we have any business receiving him is our peace. So that we won't harp on that any longer, we just settle that, that it is the will of God.