Kenneth Copeland - Jesus Is Your Key to Freedom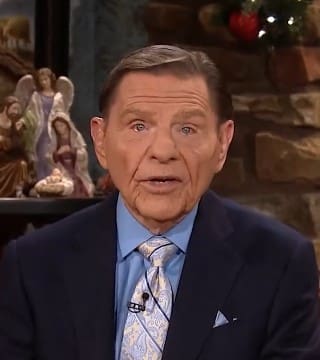 TOPICS:


— Hello, everybody, welcome again today to the Believer's Voice of Victory broadcast. And for those that are just coming on board today, this is our beautiful daughter Kellie and we're thrilled with her, as always, and she mentioned something about this.. it was either Monday or maybe yesterday. And I was getting ready to correct her. Now, the difference between Kellie and John. I'd say, now John you did this.

— Yeah...

— I'm going to spank you.

— All right. And I'd say, now Kellie, and she'd say, "Dad now you don't do anything you're going to regret, now wait just a minute..." I mean she'd start pleading her case. It is all I could do to keep straight face. I said I gonna do it, I had to do it. No, no, no, no, no, no, no, no, no, no. Start running around in a circle.

— I remember one time we were in the car and he told us when we got home, we were getting a spanking. And I said, "Daddy, I'm believing in the name of Jesus that you won't do that". He said, "Kellie, it doesn't work that way". She didn't know it but it really did.

— I didn't get a spanking. I remember that part too, it did work.

— I took her into her closet one day. I had her by the hand. She's about this tall. I said, Kellie, look at this mess. You're going to have to clean this closet up. She took her hand out and said, "That's not my thought". Well, we're going to make it your thought, you understand? But that taught me something, if it's not your thought, there's not any way anybody can... They may force you to do something, but it's still not your thought. So she needed her mind renewed. Anyway, praise God.

— Not so anybody gets it wrong. I got a lot of mind renewal... A lot. Let's go back to the Gospel of John here in the eighth chapter to our Golden Text for this week. And then ... in the 31st verse, "Jesus said to those Jews which believed on him, 'if you continue in my Word...'" There is a key thing... "If you continue". I remember and you've heard Gloria say this a lot of times, this was back in the day when I was a student at Oral Roberts University. Well, she was at home with Kellie and John, and they were small, and she was listening to Brother Hagin's tapes. I came home from school one day and she said, "Kenneth look at this on this tape, on the name of Jesus. I have backed it up. I have in my notes, I have copied down the whole tape".

And the Lord said to her in the middle of it, in consistency lies the power. What you consistently do all the time, what you consistently think all the time, what you consistently say all the time, there in lies the power. Jesus said it right there. You shall know the truth and the truth will make you free. Now we only have today and Thursday and Friday. So let me go down through this outline in case we and we'll come back in another teaching. But let me go down through this and you can make some notes. Yesterday we talked about what Jesus prayed in John 17:15 through 20. My third point is the written Word is the truth, not a truth, not my truth, not my idea of truth.

Point number four, continue in his Word. His Word is absolutely final authority. The Word is God's wisdom. Luke 11:45 through 54. Romans 1:15 through 25 and II Corinthians 4:1, 2 and 13. Galatians 2:14. Truth of the Gospel. Ephesians 4:21. The truth is in Jesus. Ephesians 6:10 through 14. It's part of our armor. Amen. The truth. Now, I want to demonstrate something here to you. Let's turn over to the book of Philippians in the Apostle Paul's partner letter. Thank You, Lord. Let me back up here... Now, if you were to ask someone, tell me about your finances. Well. Oh, my Brother Copeland, I have got all this credit card debt and a mortgage we can hardly pay. No. Tell me the truth about your finances. Well, I just told you. No, you didn't. The truth about your finances. But my God shall supply all your need according to his riches and glory by Christ Jesus. That's the truth about your finances.

— Can I show them something real quick?

— Please do.

— Okay, everybody close your eyes. Now say I love you, Jesus. Now I know for sure you heard him say I love you, too. Or I love you. Or some response you heard him say in response. So we're checking that voice out. So now I want you to keep your eyes closed. And after reading that, say, Jesus, what's the truth about my finances?

— I will meet all your needs according to my riches and glory.

— Did you hear him say, like a response back. And it comes with such force from the inside out. It's so easy to do, you read the Word. Say, what's this the truth to that...

— And I've done this many times where it's just really hard and it's just things that compounding in my mind and just go somewhere and just shout those verses just as loud as I possibly can. And there's a break, and I promise you, because of the experience that I've had with it, you cannot do that without breaking out into a laugh. You've just shouted just loud as you can, and before you're done shouting, you'll start laughing about it. And I said it and said it and said it and said it and said it and said it. It didn't do all that good, but just go and just rare back and let it have it. And I mean, the devil will get on out of your hair. You'll begin to laugh and glory to God, that's the joy of the Lord.

— Really all of those things open a portal for what's in you to come out. That's whether you do it like that or ask him a question. Or you like just giving your battle cry or your heart's cry, it opens the door, and that's what comes up and out of us because that's what's in our spirit.

— So let us apply some of this now... Now that we're right here. Let's look here in the book of Colossians and verse nine. "For this cause we also since the day we heard it. Do not cease to pray for you". Glory to God, the apostle is praying for me... "and to desire that you might be filled with the knowledge of his will in all wisdom and spiritual understanding". Well, don't start that... don't start that. That's the truth. That is the truth. That's where you start with the prayer. That's where you start praying is with the answer. I was praying one day, and it rose up inside me so strong, he said, "Kenneth, let my Word fight its own fight". Let it fight its own fight, yes. So let's do that, let's go to the sixth chapter of the book of Ephesians. Amen.

Oh, I got ahead of it again. Ephesians six. "Children obey your parents in the Lord, for this is right. Honor your father and mother, which is the first commandment with promise that it might be well with thee that you might live long on the earth". Well, you know, you don't know what my parents did to me. That doesn't make any difference, you said honor them... Well, they abused me... Yeah, but you're breathing because of them. Maybe it wasn't all their fault, but obey this. This is truth. Obey it? So it might be that you need to call somebody and repent and say, I want you to know something, papa. I honor you and read that verse, because that is the truth. So you come on down.

— Dad, you can ask the Lord, how do I do that?

— Yes, you can.

— Because there's some people that you can't honor them with your presence. You can't be in their day to day life because of how some people are. But the Lord can absolutely show you, Lord, how do I do that? He's done that for me so many times because he'll show you the right way. And this way always makes a difference to you, for sure. And many times to the other person if they'll let him.

— And like Bill Winston said, it may not make sense, but it sure makes faith.

— It does. It does.

— And that's powerful. Now, then this one, verse seven, "Doing service as unto the Lord and not to men, knowing that whatsoever good thing any man doeth, the same shall he receive of the Lord, whether he be bond or free". That's the truth, it may not look like it at the time. Now the Lord stopped me on that one day. And had me to start meditating that whatever it is, wherever you are, whatever you're doing, always be listening for that. Always have an ear towards it particularly as he prospers you and just not too long ago, Dr. Weeter and I were in a hotel and we left the hotel. And, you know, the way we do things, we go down through the halls and sometime through the freight elevator to get where we're going. A lot of hotels I never hardly see the front door. But anyway, there was a young woman. She was a housekeeper. And I don't carry any money with me when I'm preaching like that. But David always has my money with him. And I walked past her and I just stopped.

And so I said, "David, give me a hundred... no, give me $200". So I walked back around to her and I said, "When I walked past you, the Lord arrested me and had me come back and give you this money". And she stood there and Kellie she began to weep. She said, "The Lord knew all the time". It met a need in her life. Well, now I qualify for that verse, because that's the truth. And that truth blessed that woman in a time of need. Over the years, you can't keep up with all of the times that that's taken place. Now, another time I had read over there where John wrote to Gaius, but he actually wrote it to me. Brother... King James says, Wish the words actually pray. I pray above all things that you prosper and be in health even as your soul prospers.

Well, now, what about my soul, my mind, my will, my emotions? Do I have so much stuff in my closet that I don't need that somebody could be using? Maybe I better do something about this. But the truth is this. And that happens. And there is a scripture in the first covenant that says, "When you go through your olive trees, don't go back the second time, leave some for people that need it. As you go through your corn, ox and so forth. Leave some for people... leave some..." Well, that means toothpaste tubes, every last breath of it. Like you're never going to get another toothpaste tube in your life... Well, the toothpaste is not... This is an attitude toward the truth. I am a very prosperous man. And you and your husband fuss over the toothpaste, get two tubes.

— Well, the truth underlying, not underlying, undergirding Ephesians 6 is you don't do any of that by yourself. You don't do because you many times... Listen to how the passion says that about the employer, Dad. It says, "Serve your employers wholeheartedly and with love as though you were serving Christ and not man". So you're serving him as you're doing that. Be assured that anything you do that is beautiful and excellent will be repaid by our Lord... because you are serving Him, repaid by our Lord. Whether you're an employee or an employer... What happened... you never know that girl. You were an instrument of God to pay her, repay her for who knows? You don't know what she did in her life that the Lord said, "I owe her money". And even I saw it here with the children the way it says in the Passion.

It says, "Listen to your parents and do what they tell you and the Lord..." In the King James says, in the Lord, obey your parents in the Lord. But this says, and the Lord will help you. So obeying them in the Lord means you're doing it in him. It's the same underlying through all that, that you're not forgiving by yourself. You're not being kind. When he tells you, you may be an instrument of repaying someone else on behalf of the Lord for what they did, that they saw no return from that person. If we lived our life like that, if we'd quit going in and out of the gospel and you say, "I'm going to live every day like that". So when I honor somebody or I forgive somebody or I, you know, respect somebody that I disagree with, then I'm doing that as unto the Lord, not as unto man, but it makes an open door in that man for God to reach him.

— That's right.

— It's really clear if you think about well, my father's been this or my mother's been that, but you're open door or a closed door for the Lord to reach in and absolutely change that person.

— You don't know the backgrounds.

— This is freedom though. This is true freedom where you're not living... nobody else is controlling how you feel. Do you know what freedom? If the Lord is your thermostat about how you feel or you have a rough feeling about somebody and you can go, alright Lord, what was that? His Word come to you and you're like, Oh, my word. Yes, that's the truth. I've had that happen. And being free from all of that makes you free from Satan's leash, his hanging rope that he just wants to get around your neck. And that's how he does it. He's yanking is this way and this way.

— Well like we learned last week about Christmas and all of the poverty that the devil tried to sow into that holy family when you came down to the bottom line, poverty is a curse. Now, why? I don't know. And under heaven's name, the Almighty God put the Savior of the world in a household that didn't have money enough to raise him.

— Or not take care of his Son.

— Absolutely.

— God wouldn't not take care of his Son and he wouldn't not take care of us either.

— Now look what the Spirit of God said through the Apostle Paul finally, verse ten. "Finally, my brethren, be strong in the Lord. And in the power of his might," Dunamis... put on, you do it... "Put on the whole armor of God that you may be able to stand against the wiles of the devil. For we wrestle not with flesh and blood, but against principalities, against powers, against the rulers of the darkness of this world, and against spiritual wickedness in higher places". Those are political devils... Oh, yes, thank You, Lord. Yeah, I'll do it. We're going to have a class on that one day... "Wherefore you take onto you the whole armor of God that you may be able to withstand in that evil day. And having done all the stand, stand, stand there for having your loins girt about with truth," hallelujah, "and having on the breastplate of righteousness". The fact that you in right standing with God and the devil is not. That's the truth. "And your feet shod with the preparation of the gospel of peace, which is the power of God".

And you're going to be walking in power in this full suit of armor... "Above all, taking the shield of faith wherewith you shall be able to quench all the fiery darts of the wicked, take the helmet of salvation, the sword of the Spirit which is the Word of God, praying always with all prayer and supplication, in the Spirit watching there unto with all perseverance and supplication for all saints". Glory be to God. Now, that's where the Lord had me. He said, "That's my armor. Put it on, put it on". I stood there in that room and suited out. I suited up for prayer battle. Oh, thank You, Lord, for reminding me of that. And you know, that breastplate of righteousness. It's God's righteousness. So it fits. And you see that armor? You don't ever see an armor suit with a big belly on it. No, the armor is always got a six pack, even if it hurts on the inside. Puts your big belly in that armor. Makes you look good. Take my picture while I have this on. Now he said that helmet of salvation put it on and I put it on. He said, "Now this is armor".

— Yes, sir. He said, "Put the faceplate down". Now he said, "The devil can't tell that it isn't me inside that armor. Now, don't say something stupid. Don't say something in fear, speak in faith. And he cannot tell the difference between you and me". Glory to God, hallelujah. Let the Word fight its own fight. And we're out of time, glory to God. But we'll be back.