Kenneth Copeland - Healing From Grief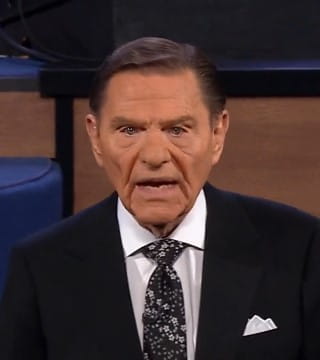 TOPICS:


Let's look at Psalm 31:10, verse nine. "Have mercy upon me, O Lord, for I am in trouble: mine eye is consumed with grief, yea, my soul and my belly. For my life is spent with grief, and my years with sighing: my strength faileth because of mine iniquity, and my bones are consumed". First Thessalonians Chapter four, verse nine. "But as touching brotherly love ye need not that I write unto you: for ye yourselves are taught of God to love one another. And indeed ye do it toward all the brethren which are in all Macedonia: but we beseech you, brethren, that ye increase more and more, in love; And that ye study to be quiet, and to do your own business, and to work with your own hands, as we commanded you; That ye may walk honestly toward them that are without, and that ye may have lack of nothing. But I would not have you to be ignorant, brethren, concerning them which are asleep, that ye sorrow not, even as others which have no hope".

Now that sorrow not, the Greek word is lapeo, grieve not. We are not a people that have no hope. Don't get into grief. Grief is death's companion. I learned that ministering to people. I saw it over and over and over again. He said sorrow not and I went to a home going ceremony, a funeral. I don't like that word. Anyway and the word of the Lord came to me. Well, I might as well tell you the rest of the story. This woman, I was ministering to her and I told you she had a covenant of healing. She had cancer, and she'd just get so excited and she just... Oh, she just... Oh, I'm a covenant woman and I'm healed. I'd come back to town and oh, Brother Copeland you come and pray for me. Okay, okay. Well, and it just went on and on and on. I found out later that she had some friends coming over there and talked her out of everything that I told her from the Word.

Now, you don't need to be listening to him. He'll get your hopes up high and just crash her. Well, finally she did crash and I was out of town. I came. Well, I went. Her husband, name was Bill, sweet and a lovely man. But I mean, this is his wife for many years. And he came over there to me and he said, "Now, Brother Copeland, she's already been embalmed now, don't be messing raising her from the dead". I said, "Okay Bill," but the Lord had me said, watch this... And then people started coming to him saying, "We're so sorry. We're so sorry. Oh we're so sorry you lost her". Well, then I began to watch for it and I went into it. So places where I was ministering and people would come up say, "Oh, I'm so sorry".

People came up to me when my mother went to heaven. We're so sorry you lost your mother, I said "Don't pass that sorry on me". She's not lost, and neither am I. I know exactly where she is and she knows exactly where I am. All she did was leave town, besides that, she wanted to go. And the Lord said, "Don't pass the sorrow around". And he said, "I don't want you using that word to express yourself anymore. If you're going to apologize to somebody, say I apologize, don't tell him I'm sorry". He said, "Are you sorry? Is there something wrong with you? Just a sorry man"? I said, "Well no". He said, "Well quit saying you are..." "Okay I got it... I apologize. Well, that says it, but I had to break the habit. I'm so sorry. Well... Oh, sorry, sorry, sorry, sorry. He bore my grief and carried my sorrows, but I'm sorry. This is important, words count. Well anyway..." And I'll get right on in to this, he said, "Don't do it".

So grief, I've noticed this then and I've watched it over the years and home going services where people begin to grieve and they openly show the grief, openly show that grief. And so I had the Lord just watch it. Just watch it. And he pointed out this particular woman... He said, "Now what's going to happen to her"? Well, I had already seen it before. He said, People are going to gather around in the house. They're going to bring all the food right after that service is over. They're going to bring all the food in there. And everybody is going to try to find something to say to her. And all they know how to do is say, "We're so sorry". And you know, you see people that say, "We're sorry for your loss". Well, they're doing the best they can. Then he said, "Now what's going to happen to her and when all the potato salad is gone..." Nancy, you tell me. All the potato salad and Ed's home going was sudden, unexpected.

Now she's left by herself. The potato salad is gone. They're all gone home. They cleaned up the kitchen. Yeah, but now she's cried herself out, and there's nowhere else to go. And people would tell her, "Oh, sweetheart, the time will take care of it," no it doesn't... no it doesn't. Somebody like Nancy, she knew what to do... she's trained. But people are not. What happens? Grief doesn't go away. This is the reason God said don't be doing that. It just stays there. And you get over it. And then there's the picture. Oh, no, I got to hide the picture. Why? It's still in there. And the Lord said to me, he said, "I have whole churches full of it because the pastor didn't do anything about it, and weep and wail".

One pastor, one of my heroes, he's the man that said, if that doesn't set you on fire, your wood's wet. And he's a black man. And the majority of his congregation was black. And they had a funeral in there in the congregation and began to weep and moan and cry and try to fall all over that coffin. And he just shut it down. He said, "You stop that. We don't do that in this church. Now get up from there and go sit down in your seat till I get through preaching to you". Oh... okay. He would not let that grief get in his church, it couldn't hang around. And if you're dealing with that this morning, there's joy on the other side of it.

Now, Shirley Boone's dad was Red Foley. I mean, this is a hero country guy in Nashville, Tennessee, and that was her dad. And they used to sing with their dad. And she called me. She said, "Kenneth what do you think I aught to do"? And so I shared some scripture with her, I said, "Now Shirley, let me tell you what you do now, you know, the Word of God said 'The joy of the Lord is your strength.'" So I said, "Get a smile on your face, get in front of the mirror and practice it. When you get that grief show up, you say no, oh, no. The joy of the Lord is my strength. The joy of the Lord is my strength". So she told her sister about it, the joy of the Lord is my strength. And they practiced smiling. So they went downtown. The streets were full of people. And she said, Kenneth our faces were frozen in a smile. And people, they thought something's wrong. Because they didn't grieve when their dad went home to be with the Lord.

Well, Brother Copeland, I don't know whether he is saved or not. Well, that's just it. You don't know. And besides that, he's already gone. And not anything you can do about it. But you can trust God. God is a faithful God and there are evidences where it is happened that once somebody just stepped over on the other side and Jesus appeared to them and said, "You don't want to do this right now, you need to accept me as your Savior". And this one situation was on the 700 Club. The man had a bad heart. His wife kept praying for him and he wouldn't pay any attention to her... Nah, he just laughed her off... claim to be an atheist, well he wasn't. And he was in his pickup and had a terrible heart attack and dropped his head down on the steering wheel. And when he hit that steering wheel with his head, suddenly he was in the Spirit. And when he got in the Spirit there was Jesus and there was heaven and there was hell.

And the Lord said, "Take your pick". "No, no", He said, "I want you". Oh, and he woke up healed... If you have any grief in you at all right now, you just say no, no, no, that doesn't belong to me. He bore mine. So let's go to the 53rd chapter of the Book of Isaiah... In the King James. Oh, the book of Isaiah. Did you know the book of Isaiah is a mini Bible. There are 66 chapters. There's 66 books in the Bible. So Isaiah 53 but you start in the 52nd 13th verse, "Behold, my servant shall deal prudently. He shall be exalted and extolled and be very high, as many were astonied at thee, his visage or his form was so marred more than any man, and his form more than the sons of men". He's talking about Jesus here marred until he no longer looked like a man.

Now Jesus was so slapped and so beat, his face was so swollen that he no longer looked human and by the time he hung on that cross, he was so disfigured. Well, then you move on from that. And chapter 53, "Who has believed our report and to whom is the arm of the Lord revealed? For he shall grow up before him as a tender plant, as a root out of dry ground. He has no form nor comeliness. And when we shall see him, there's no beauty that we should desire him". Now he's a good looking man, well he would have to be. He's perfect specimen of a man. But if you met him in the street, he's just good looking Jewish man. And meet him in the street, talk to him very kind, very loving, did no miracles, none until he was 30. Well, he's of the tribe of Judah, not Levi. And that was on the blessing mountain. So we are of the Tribe of Judah, we're joined heirs with him.

Now, I want you to look at, watch this now carefully, "Despised, rejected of men, a man of sorrows, and acquainted with grief: and we hid as it were our faces from him; he was despised, and we esteemed him not. Surely he hath borne our griefs, and carried our sorrows: yet we did esteem him stricken, smitten of God, and afflicted. But he was wounded for our transgressions, he was bruised for our iniquities: the chastisement of our shalom was upon him". Nothing missing, nothing broken. I mean, he was broken. Not a bone in his body was broken, but his heart was broken and then pierced with a spear. "All we like sheep have gone astray; we have turned every one to his own way; and the Lord hath laid on him the iniquity of us all. He was oppressed, and he was afflicted, yet he opened not his mouth: he is brought as a lamb to the slaughter, and as a sheep before her shearers is dumb, so he openeth not his mouth".

Now look at the ninth verse, "And he made his grave with the wicked and the rich in his death". My King James cross reference has a number one by death. Does yours? Deaths plural. Well, what does that mean? He was separated from God, so he not only died physically, but he had to die spiritually. In order to give our spirit life. And when I started preaching that, you can't imagine how much flack I got for that... Gave me all kinds of grief for it. But there it is. And besides that, he was manifested in the flesh, but made alive in the spirit. Well he was manifested as the Son of God in the flesh. He's born of Mary and the Holy Spirit. Amen. But then when was he manifested in the Spirit? In hell.

Read the 22nd Psalm. Read the book of Acts. You'll not suffer my soul to stay in hell. Neither will you let my body see corruption. And when he came out of that tomb, he had borne every sickness, every disease, everything. All of it. He bore it. He bore it. God laid it on him. He bore it. He was made a curse for a 61st verse of the 28 chapter of Deuteronomy. And every sickness and every disease not written in this law is under this curse. So I don't care what it is. Covid? Well, yeah. But when the flu started, John and Kellie were small. So I told Gloria what we're going to do. And so I came home and she got the children, we had this large ottoman, big green ottoman, so we got it out in the living room floor. I said, "Alright kids, we're going to take our flu shots..."

John's eyes got big, looked over there at me. So I took the 61st chapter, 61 verse, 28th chapter of Deuteronomy and Galatians 3:13, Christ has redeemed us from the curse of the law. Now, let me show you, because we're going to do this. Turn back over there. "But it will come to pass if you will not hearken unto the voice of the Lord thy God, to observe and do all of his commandments and his statutes, which I command this day, all these curses will come on you and overtake you".

So it's not a matter of God cursing you. He's not cursing anybody. It's the devil that's doing the problem. They had to learn their covenant. They just come out of Egypt. "Cursed shalt thou be in the city, and cursed shalt thou be in the field. Cursed shall be thy basket and thy store. Curse shall be established in the basket. Cursed shall be the fruit..." Now, look at this one. "The Lord will make the pestilence cleave unto thee until you've been consumed". 22nd verse, you'll be smitten with a consumption. What is that? Tuberculosis. With a fever, with an inflammation. With an extreme burning, with the sword, with the blasting and mildew. And pursue you until you perish. So we just sat down there and I read "You will have fever," bad fever. I said, "That's the flu, isn't it"? Uh huh...

So I just had it like that. And flipped it over there to that book of Galatians, Christ has redeemed us from the flu. He's redeemed us from it. So we're not going to have it. So I just kept going back and forth like that and let them read it. Well, John wasn't big enough to read but the Kellie could. And so we just read it back and forth, back and forth and back and forth, back and forth. They never did have the flu. Kellie came in from school one day with it and she was in high school. She came home. She said, "Daddy, I've had flu symptoms on me all day long. I really feel sick right now". And the Spirit of God just came up out of my mouth. I said, "Kellie, we are not the sick trying to get healed. We are the healed and the devil's trying to take your health away from you".

I said, "He's trying to give you the flu". She said, "Well, I won't take it. I'll be back". Walked into her bedroom and closed the door and she stayed in there for a while and came out for supper. No symptoms, no fever. She attacked it... They never did have it. And then they got out and Kellie started having children, Gloria said, "Now you're going to have to teach these children" and they know the same thing. See, that's the way this works. What do we resist? We resist everything that Jesus bore for us on the cross that's our identification. He bore our sins in his own body on the tree that we being dead to sins should live unto righteousness. By whose stripes you were healed. Well, we resist sin. And we resist sickness. We resist disease.