Kenneth Copeland - Receive Your Healing Today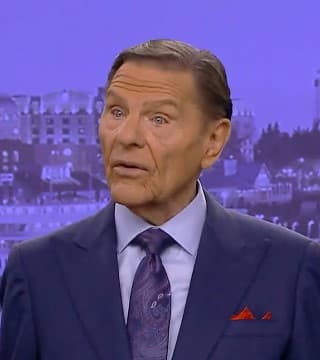 TOPICS:


Now go to the eighth chapter of the book of Matthew. Matthew chapter eight. I suggest you do the same as... I do this every morning when I'm at home. I walk into my bathroom, there's a sink here and a little cabinet here and so forth and so on where my electric toothbrush stands over here and so on. And I tape these. I take Scotch tape and a little ruled pad and write out these scriptures and Scotch tape them and then just go through them every day, every day. But then there's times you need to go get the book. Amen.

Matthew 8 verse 13, "Jesus said unto Cornelius, go your way. And as you have believed, so be it done unto you and his servant was healed in the selfsame hour. And when Jesus was coming to Peter's house, he saw his wife's mother laid and sick of a fever". That Luke 4:38 said, "A great fever". This was not the flu. This was something on the order of typhoid. I mean, this was deadly thing, a great fever. And he touched her hand. Dr. Luke said, "He rebuked the fever". Fevers can hear. He touched her hand and the fever left her and she arose and ministered unto them. This is the close of Sabbath. She got up fixed supper, totally healed. When I get to heaven, we're going to find out her name.

And the woman with the issue blood, I'm going to search her out. Girl, what is your name? I'm tired of calling you woman. She's going to say Gloria. No, because Gloria's never suffered like that. Never will. And anyway, now get this. "When evening was come, they brought unto him many that were possessed with devils and he cast out the spirits with his Word and healed all that were sick that it might be fulfilled which was spoken by Isaiah the prophet saying," so this is fulfilled. Say fulfilled. "Himself took our infirmities and bare our sicknesses". So now we know what sorrows and griefs actually said. He took? And? Bore? Our sicknesses.

Let's put up Hebrews 11 again, and let's look at it from the Amplified. We have to take hold of it. And so we meditate in these scriptures until this comes. Faith is the assurance. I am assured that I'm healed. It is the confirmation, the entitled deed to my healing and my deliverance from pain or anything else of the things... I hope for this. I just hope for it. I am eagerly expecting it. But it's the proof of things we do not see and the conviction of their reality. Faith, this power proceeding it, real fact what's not revealed to my senses. I am healed whether my body knows it or not, and I'm not moved by what I feel. I'm not moved by what I feel. I'm moved only by what I believe and I'll continue to believe it. Praise You, Jesus.

Proverbs 3:5, "Lean on, trust in and be confident in the Lord with all your heart and mind. Do not rely on your own insight or understanding. In all your ways know, recognize and acknowledge him. He will direct and make straight in plain your path. Be not wise in your own eyes, reverently fear and worship the Lord and turn entirely away from evil. It shall be health to your nerves and sinews and marrow and moistening to your bones". You nervous today? Well, quit it. What'd he say? Don't be wise in your own eyes. Well, Lord, what am I going to do in that lawyer's office? Forget about it. Reverently fear. In the words of the Lord, turn entirely away from evil.

"It will be health to your nerves and sinews and marrow and moistening to your bones. Honor the Lord with your capital and sufficiency from righteous labors and with the first fruits of your income. So shall your storage places be filled with plenty and your vats shall be overflowing with new wine. My son, do not despise or shrink from the chastening of the Lord, his correction by punishment or by subjection to suffering in trial, neither be weary or impatient about or loathe or abhor his reproof. For whom the Lord loves he corrects even as a father corrects the son in whom he delights. Happy, blessed, fortunate, enviable is the man who finds skillful and godly wisdom and the man who gets understanding, drawing it from God's Word and life's experiences". And I rest my case. Amen.

Are you ready? Ready to pray the prayer of faith? Stand to your feet, please, with a smile on your beautiful face. Amen. Yes, sir. Smile, glory to God. Say it: "This is my healing day. This is my receiving day". You ought to get up with that every morning: "This is my receiving day. I am a receiver". Now my grandson, Jonathan, is an outstanding quarterback. He's no good without a receiver. An incomplete pass is just that. You need a good receiver. And I've seen him just turn and just throw that thing. And the young man that was his receiver just went like this. He needed a receiver. God needs a receiver.

Therefore, I say unto you whatsoever thing you desire when you pray, believe that you receive it and you shall have it. Receive means to take. The Lord dropped that into Gloria's heart. You have to take it. You have to take it. That's all over the New Testament. You have to take it. This is a life game and it's life or death. Not any of us going to get out of it alive. Some of us are just going to stay longer than others. Did you notice in the Bible they don't talk about burying the body, they talk about burying the bones because the body decays, but the bones are still there. You remember what happened? They took a dead man looking for a place to bury him. The Midianites came over the scene and so they just threw him in there and hit Elisha's bones. And there was enough anointing in that dead prophet's bones to raise that young man from the dead. The bones of Elisha. The bones of Elisha.

That's what Kenneth E. Hagin was preaching on July the 30th, 1977 at Camp Meeting. He sat down up there and he said, "I was sitting here and I just kept getting the bones of Elisha, the bones of Elisha. So I'm gonna preach on the bones of Elisha". And he's preaching on prophets. And he was giving the invitation that night and he began to call my name. And he said, finally, he said, "Ken Copeland, you're going to have to move over into that healing ministry a little faster than you thought you would because Jesus is coming. And whether you want to or not, by the direction of the head of the church, whether you want to or not, you're going to walk in the office of the prophet, the seer. Seer. Standing right in the pulpit, it'll roll off in front of you like you saw it on a TV screen".

And he compared that with the bones of Elisha. And I thought, "My bones". Well, my bones are still in action. Praise God. And your bones are healed. Your bones are healed. Praise God, forevermore. Thank You, Lord Jesus. Praise You, Lord Jesus. Now, here's what Brother Hagin would say. He would say plug in with faith, make an effort. That's what the Lord told Brother Hagin when he was completely paralyzed on the bed and he'd been there 17 months and he got on Mark 11:23 and 24. And he said, "I knew somehow that my healing was in those verses". And with sustaining prayer he just flat wouldn't quit and he just kept on and kept on and kept on. He said, "I finally saw it. I have to believe it before I feel it". It was that simple. He kept trying to feel in his heart. And he said, "No, I'm not going to feel of it anymore".

And it came in his Spirit. The Lord said, "You believe you're healed"? He said out loud, "Yes I do". And he said, "Healed people ought to get up this time of day". So he got up. His legs were completely paralyzed. So he pushed his legs out onto the floor. He said, "It felt like two chunks of wood". He said, "I couldn't feel it". But he said, "I grabbed the bed post," and he's hanging there. He said, "I want to announce to God the Father, God the Son and the Holy Ghost, all the angels in this room and every devil of hell that I am healed from the crown of my head to the soles of my feet and I'll walk". And he said, "Sudden".

Now he was born so premature that his whole chest cavity, his heart and everything else. He said, when he drinks something hot or cold, it felt like it'd go way over here before it ever got down to his stomach. A deadly blood disease. And he said, "I felt needles in my legs. It was those nerves coming to life". He said, "It hurt". And he said, "I was laughing and crying all the same time". He said, "I didn't care about bad it hurt. I could feel it. I could feel it. I could feel it". And then he said, "In a few seconds, I was standing up straight and I was walking around the room". He said, "I only weighed 89 pounds". And he walked off, glory to God. And he preached this gospel till he was 86 years old. Now, I want you to lift your hand. If you believe this gospel that I have preached to you this morning and you're ready to take and receive the power of God unto salvation for your spirit. Are you ready? All right. Do it like this. Say this:



I believe the gospel that I have heard And I'm ready to receive the power of God unto salvation now for my spirit, for my mind, my body. I'm standing on my feet right now.



Now anybody that can't stand up, you stand up in your heart and mind. Amen.



In the name of Jesus I'm going to say something here. I take authority over all sickness, all disease, over all devils. Now you shut your mouth and you get out of this room.



Say it:



I'm delivered. The gospel that I have heard is the power of God unto my salvation. I confess Jesus Christ as Lord over my life, Lord over my spirit, Lord over my soul and Lord over my body. I receive the power of God to make me sound, whole, delivered, saved, healed. Now I act on the Word of God, and receive the power of God. Sickness, disease and pain, I resist you in the name of Jesus. Sickness, weakness and pain you are not the will of God for me. I enforce the Word of God on you. I will not tolerate you in my life. Leave my presence now. Get out. I will never allow you back. My days of sickness and disease are over. I am thee saved. I am thee healed. The power of sickness has been broken forever over my life. Jesus bore my sickness, weakness, and pain. I am forever free. Sickness shall no longer lord it over me. Sin shall no longer lord it over me. Fear shall no longer lord it over me. I have been redeemed from the curse of the law. I proclaim my freedom in Jesus' name. Today the gospel is the power of God unto me unto salvation. I receive the gospel. I act on the gospel. I'm made whole in Jesus' name.



Now act on it, move, do something. Praise God. Walk if you can't walk. Run if you can't run. Bend over. Oh, glory to God. Glory to God. You are healed in your feet and your toes. You're healed in your legs and the calves of your legs are strong. Oh, and your thighs are strong. Ooh, and say, my liver is strong. My eyes are strong and I can move and hear. Glory to God. Hallelujah. My jaws are healed and well. Thank You, Lord Jesus. Do what you couldn't do. I mean, just get loud about it. I'm healed. I'm healed. I'm well.