Kenneth Copeland - Honor God and Protect the Anointing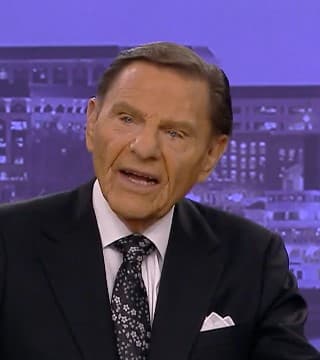 TOPICS:


Now we talked about core values. This should be the core value of every born again, Spirit-filled believer. Put the Word of God first place. We live by faith. We walk in love. Love makes faith work, praise God, because faith works by love. We're led by the Holy Spirit, praise God, Romans 8:14 through 17. Now, tonight we pray about everything. Here is a place in First Timothy in the first chapter, in the 18th verse, "This charge I commit unto thee, son Timothy, according to the prophecies which went before on thee, that thou by them mightest war a good warfare, holding faith and a good conscience, which some having put away concerning faith have made shipwreck".

Now there's something to remember. This man, Timothy had the apostle John and Mary the mother of Jesus in his church. That's good, and in some ways it's dangerous because there's a lot of people really would've liked to kill them. They tried. They had a nasty way of doing things. They just put somebody in boiling oil, take a grappling hook and pull their bones out. They did that with John, the apostle of love, and they pulled him up and it didn't kill him. So they threw him away and put him on the isle of Patmos and he wrote the Revelation. So that really says something to me. Any instructions that the apostle by the Spirit of God gave Timothy makes it double important because of what he was facing. "Of whom Hymenaeus and Alexander, whom I've delivered unto Satan, that they may learn not to blaspheme".

Now notice, "I exhort therefore, I exhort therefore that first of all, supplications, prayers, intercessions and givings of thanks be made for all men, for kings, for all that are in authority, that we may lead a quiet and peaceable life in all godliness and honesty, for this is good and acceptable in the sight of God our Saviour, who will have all men to be saved and come under the knowledge of the truth. For there is one God," or this is knowledge of this truth, "that there is one God and one mediator between God and men, the man Christ Jesus who gave himself as a ransom for all to be testified in due time".

Now go to the Ephesians, the sixth chapter and come down. "Finally, my brethren, be strong in the Lord and in the power of his might. Put on..." The understood subject of the sentence here is you. Nobody can put this armor on but you. "Put on the whole armor of God that you may be able to stand against the wiles of the devil, and for we wrestle not against flesh and blood, but against principalities". Now this is the authority of the kingdom of darkness from the bottom up. "Principalities and powers, rulers of the darkness of this world," those are the ones in this world that possess people, "against spiritual wickedness in high or heavenly places". Those are the ones that are political devils, high places.

As I've said before, read the book of Daniel. It's right there. Daniel fasted for 21 days. Then Gabriel came and said, "We heard you the first day you set yourself in prayer". He was on a partial fast. He said, "Fear not, Daniel. We heard you the first day. But the prince of Persia withheld me. I called on Michael, the archangel of war. He came and did battle with the prince of Persia. And when he's gone, the Prince of Greece will come". Devils assigned to governments. Amen. Serious business. This is serious prayer business.

Now notice, stay with me now. "Take unto you the whole armor of God that you may be able to withstand in the evil day and having done all, to stand, stand. Stand therefore, having your loins gird about with the truth, having on the breast plate of righteousness, your feet shod with the preparation of the gospel of peace, above all taking the shield of faith, wherewith you shall be able to quench all the fiery darts of the wicked. Take the helmet of salvation, the sword of the Spirit, which is the Word of God, praying always with all prayer and supplication in the Spirit, watching thereunto with all perseverance and supplication for all the saints, and for me for utterances".

That's prayer armor. Suit up. Amen. Pray the sword of the Spirit. Every prayer based solidly on prayer promises, prayer facts, things that were exceeding great and precious promises is what Peter called it. Dear Lord, I love it. We always honor God. Always. Oh, First Samuel 2:30. Thank You, Lord Jesus. Verse 30. "Wherefore the Lord God of Israel saith, 'I said, indeed, that my house and the house of thy father should walk for me forever.' But now the Lord saith, 'Be it far from me, for them that honor me, I will honor, and they despise me shall be lightly esteemed.'" Verse 35, "I will raise me up a faithful priest that shall do according to that which is in my heart and in my mind. I will build him a sure house, and he shall walk before mine and mine anointed forever".

Now that's a type of Jesus, but it's for us. We honor God. I'm going to say it to you again. I wrote right in the front of this Bible, I put this Bible in operation May the 9th, 2009, "Always stay on the God side of everything". Everything. "Well, I don't understand what it is". Well, so what. Stay on God's side because he's on your side. And whatever it is, he's already fixed it, once you find the promise of the fact, whatever it is, spirit, soul, body, financially and socially. And that's why. So always honor God. I honor him.

Number seven. We protect the anointing. Protect it. You can talk the anointing off yourself. Just talk, talk, talk, talk, talk. Particularly if you're in the ministry or Sunday school teacher and just go out, and just go out and go to the sporting goods store and go look at things all over town. Just enjoy it. Never have been in this town before.

"Oh, the service starts in about an hour. I better go get dressed". I'd just as soon you'd stay in the sporting goods store. Now people may receive from what you're preaching, but protect that anointing. Because there are things, it might have been in God's plan for you to say some things that you just did not hear. I know what I'm talking about. I was in Oklahoma City, no, not Oklahoma City, it was a city in Oklahoma. And now it wasn't a case of that kind of thing. But I stood up, and the Word of the Lord just came up out of me. And then when it did, I didn't like it. I didn't like that but I didn't say anything about it. I just kept it to myself. I thought about it, and I meditated on it, and it was just scratching at me. I didn't like what I said.

So the next afternoon, I was downtown and I was going back there. The church had a very, very nice mobile home, a nice one. So a guest speaker, that's and I was staying there, so I went to town to get some things. And I stopped at a signal. I had started to walk across the street, to go back to where I was staying. And the Word of the Lord came to me. It was strong. He came up in me and he said, called my name, he said, "Kenneth, you were correct. What you said was not quite right". He said, "That was me scratching around on you". I didn't use that word but he said, "That was me". But he said, "Because you honor me, I will not let that word fall to the ground". Then I realized he told Samuel that one time. He said, "I will not let that word fall to the ground" because I honored him. I didn't say it trying to worm something out of somebody. Honor him. Honor that anointing. Protect it. Protect it. I'll say this again.

I learned that when I was assigned to be co-pilot on the Oral Roberts Evangelistic Association airplane. Bob DeWeese took me out to the airport. The first thing he did was showed me the pre-flight, the walk around and all, and showed me how to climb up on the wing to check the oil. And you didn't check it in quarts, you checked it in gallons. And that was exciting to me. And how to get it there and open up the top of that engine and all of that. And all of the pre-flight, everything like that. And we walked around, and we stopped right there at the beginning of the interior to walk up in the airplane to check me out in the cockpit. He said, "Now, Kenneth, the reason we have this airplane is to protect the healing anointing on the Reverend". He said we couldn't fly airlines anymore because everybody wanted to bother him and talk to him.

And when he gets focused on the Word of God, I have seen him sit at another table when Evelyn Roberts was there because he didn't want to talk to her at the moment. And he's about Evelyn like I am about Gloria. He wanted to talk to her all the time. But sometimes he'd just have her sit at another table to protect that anointing. Because that's... Do you remember what Jesus said, "It's the Father within me. He does the work". Amen. Luke chapter four, "The Spirit of the Lord is upon me for he has anointed me to preach". Protect it. Sometime you get up in the morning, you're planning to go somewhere that day, and something comes up on the inside of you. And the Lord says, "When you go down there, there's somebody there that I want you to minister to".

A young woman in San Antonio started out the door, headed to town. She stopped, went back inside and got her cassette tape. It was one of my tapes. She just had a leading, put it in the tape deck. In the parking lot, a man kidnapped her by the name of Stephen Morin. He was a serial killer. And he just got in that car, shoved her in her right side. And the police were all over the place looking for him. He just calmly drove her out of there and got her all the way out in the country. She kept telling him, "You're not going to kill me. You're not going to kill the only one that loved you". And he said, "Lady, if you don't shut up. You don't know who I am". She said, "I don't care who you are". "Just shut up". She said, "May I listen to my tape"? "I don't care what you listen to".

So she put that tape in there. And he slammed on the brakes. They're out in the country. He said, "Who said that"? She said, "What, Stephen"? He looked in the back seat. He said, "Somebody said, 'Stephen, this is your last chance, son.'" She said, "Stephen, that's the Lord". He bowed his head and gave his heart to the Lord, just because she went back in there and got that tape and put it in that car. Had she not heard, she very well may have died that day. Because he wouldn't have had any qualms at all about killing her. The anointing. There is an anointing to preach, but there is an anointing to live. You'll find that in First John. Over there it's called unction. In Spanish, it's uncion. Anointing. It's the same thing.

Now number eight. Those are the seven core values. Now the exhortation. First Thessalonians chapter five, verse one. "But of the times and seasons, brethren, you have no need that I write unto you. For yourselves know perfectly that the day of the Lord shall cometh as a thief in the night. For when they shall say, 'Peace and safety,' then sudden destruction cometh upon them, as travail upon a woman with child, and they shall not escape. But you, brethren, are not in the darkness, that that day should overtake you as a thief. You are all children of light. And children of the day are not... we are not of the night nor darkness".

So just start saying that. "I am a child of the light, devil. You can't put this darkness on me. That's who I am". "Therefore, let us not sleep as do others, but let us watch and be sober. For they that sleep, sleep in the night. And they that be drunken are drunken in the night. But let us, who are of the day, be sober, putting on the breastplate of faith and love and for an helmet the hope of salvation. God has not appointed us to wrath, but to obtain salvation by our Lord Jesus Christ who died for us, that whether we wake or sleep, we should live together with him. Therefore, comfort yourselves together and edify one another, build one another up even as also you do. We beseech you, brethren, know them which labor among you and are over you in the Lord and admonish you and to esteem them very highly in love for their work's sake and be at peace among yourselves.

Now we exhort you, brethren, warn them that are unruly, comfort the feeble-minded, support the weak, be patient toward all men". This is instruction. "See that none render evil for evil unto any man, but ever follow that which is good, both among yourselves and to all men. Rejoice ever more". So you're going to have to start doing that. "Rejoice ever more". "I don't feel like rejoicing". Just shut up and rejoice. And here we are now. "Pray without ceasing. Pray without ceasing". How can you do it? In the Spirit. "In everything, give thanks, for this is the will of God in Christ Jesus concerning you". "No, no, you don't give thanks for the bad stuff".

There's power in thanksgiving and praise. Power in thanksgiving and praise. And we will close it right here. "Pray without ceasing. In everything, give thanks, for this is the will of God in Christ Jesus concerning you. Quench not the Spirit. Despise not prophesying. Prove all things. Hold fast of that which is good". And Brother Hagin say, "Be like an old cow. Eat the hay and spit the steaks out". "Abstain from all appearance of evil". All of it. Don't play with it. All of it. You be so protective of yourself and other people.

The young woman that's done my makeup for years, TV makeup, just wherever, when she's doing my makeup, and she's looking at my face and looking at, I don't ever make eye contact with her, and she would never make eye contact with me. When she's looking at my makeup, I look off some other way. I'm not doing it. No, no, no. One more thing here. "Abstain from appearance of evil. And the very God of peace sanctify you holy. And I pray God your whole spirit and soul and body be preserved blameless unto the coming of our Lord Jesus Christ. Faithful is he that calls you who also will do it. Faithful is he that calls you". You put this in place, get your core values right, and stay with them.