Kenneth Copeland - The Spirit of Power Working In You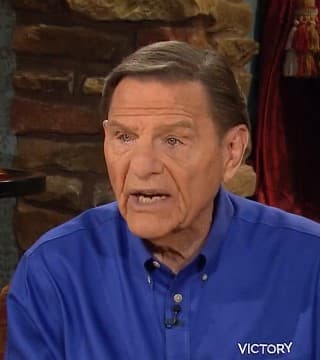 — Hasn't this just been absolutely delicious? Praise God. The wonders and the workings of the Spirit of the living God. And now, I'll give my testimony. I was a student at Oral Roberts University and I was studying the gifts of the Spirit and listening to Brother Hagin and the tapes that I received and just totally immersed myself in them. And I heard him say, I'm going to preach this gospel and you know... And so, and I was reading. Now concerning spiritual gifts, brother, and I would not have you ignorant. You know that you were Gentiles carried away under these dumb idols, even as you were led. I was right here. I was reading this. Wherefore I give you to understand that no man, no man, no person. See? No mankind person speak of by the Spirit of God calls Jesus accursed. That no man can say that Jesus is the Lord, but by the Holy Ghost and I said it, Jesus is Lord.

— Yes.

— And I started writing it down. I wrote it on everything. I fixed this little business card that says, "Jesus is Lord". I said, Jesus is Lord over me. He is Lord over my whole family. He's Lord over the church. He's Lord. He's savior to a lot of people, but to a lot of Christians, he's not Lord. But if he's Lord, you do what he says. And I just wrote it all over everything and I've been saying that for 55 years, Jesus is Lord. That's where that came from. That's the reason I have it underlined in bright red. Right here in the manifestations of the Holy Spirit. He is Lord.

— Lord. Yeah.

— That's it.

— He talks about the power of this Spirit if you're looking at the same passage.

— Yes. Yeah.

— No man speaking the Spirit of God called Jesus a curse and that no man can say Jesus is Lord by the Holy Ghost. Now there are diversities of gifts, but the same Spirit. Or I could say it this way because we've been talking about the Spirit of power and in Hebrew, you can say Spirit of power. There are diversities of gifts, but the same power.

— Yes.

— And there are differences of administrations, but the same Lord. So even when you're flowing under this power and by the Spirit, you're flowing with the same Lord. You're flowing in Jesus.

— Now... What do you mean differences of administration? Well, what if Sampson had been put in the lion's den? He'd have killed the lions.

— Dead lions, right.

— It's the same Spirit.

— Right.

— But Daniel was put in there and Daniel said that his angel put the lions to sleep.

— I like that.

— Differences of administrations by the same Spirit.

— So let me ask you this then, an evangelist and a pastor could preach the exact same passage, exact same sermon, but it'll come out different based upon their calling.

— Yes.

— And then a prophet would preach it differently again, but it would be the same passage, same Spirit.

— According to the calling.

— And the callings are without...

— Repentance.

— ...repentance.

— He never changes his mind about it. So, now go over here to Thessalonians. First Thessalonians, chapter five, you need to read the whole fifth chapter. Now at first, God, who is a Spirit, has not appointed us to wrath, but to obtain salvation by our Lord Jesus Christ who died for us, whether we wake or sleep, we should be... Live together with him. How? By the Spirit. The Spirit of power.

— That's it.

— And comfort yourselves together and edify one another even as also you do, we beseech you brethren that you know them... Come on down. Now we exhort you. Now this is an exhortation, this here. You brethren, warn them that are unruly, comfort the feeble minded, support the weak, be patient toward all men, see that none rendered evil for evil under any man, but ever follow that, which is good. Both yourselves, all men rejoice ever more, pray without ceasing. How? In the Spirit. In everything, give thanks.

— This is the will of God?

— This is the will. The thanks is the will of God. Not whatever it was that happened to you. This is the will of God and Christ Jesus concerning you. Quench not the Spirit.

— Quench, not the power.

— That's right. Same word. Despise not prophesying, prove all things, hold fast that which is good, abstain from all appearance of evil and the very God of peace, sanctify you... Set you apart... Wholly and I pray God, your whole spirit and soul and body be preserved blameless into the coming of our Lord, Jesus Christ. Faithful is he that calleth you who also will do it. Who? He, Jesus.

— He's going to do it.

— He's the one that called you. All right. Now the fourth chapter of the book of Ephesians. Now then, therefore the prisoner of the Lord's, slave of the Lord beseech you with all loneliness, meekness, long suffering, bury one another in love, endeavoring to keep the unity of the Spirit and the bond of peace. There is one body, one Spirit, even as you're called and there's one Spirit. One Lord, one faith, one baptism, which is in three parts. One God and Father of all who is above all, through all and in you all. But under every one of us is given grace according to the measure of the gift of Christ. When he says, when he ascended up on high, he led captivity captive and gave gift son to men. Now that he ascended, what is it? He first descended first into the lower parts of the earth. He went to hell first.

— Yes.

— And then when he was resurrected and sat down at the right hand of Father on high, he gave some apostles and some prophets and some evangelists and some pastors and teachers, for what? For the perfecting of the saints, for the work of the ministry, for the edifying, the building up of the body of Christ till we all come in the unity of the faith and of the knowledge of the Son of God, unto a perfect man, unto the measure of the stature of the fullness of the anointing. Glory to God.

— Yes, there he is.

— He did that.

— Yes he did.

— He chose them, his callings.

— So that same word, perfecting of the saints for the work of the ministry. That same word that's used there in the Greek is the exact same word when he saw them mending their nets and having caught nothing. So the work of the ministry was them mending their nets. He saw these guys mending nets to go out to fish again and it caught nothing. So he's doing the exact same thing. He's giving gifts unto us to go do the work of the ministry.

— Yes.

— That's the only reason you have it.

— That's right.

— It's for his ministry. For his work. He is the source of all power. It's his power. He's the source. He upholds everything. Hebrews, chapter one, verse three, he holds up all things by the word of his power. And what he's really saying is the whole universe is held up by that same power that called you.

— That's right.

— That dwells in you.

— That's right.

— And so, when he speaks to us, he speaks to us in our spirit. That's where the communication...

— The candle of the Lord.

— Yes. So, there's been a lot of confusion, a lot of people and I'm hearing a lot of folks nowadays, they don't fully understand this. We had the privilege of sitting under Brother Hagin and different ones.

— Oh yes.

— We have a human spirit. It has a voice. But now I've been given and the people we all talked about before, the feeding of the 5,000, the man lowered to the roof, these guys are setting in the power and don't know it, but they don't have the Spirit in them yet. This is why he said, "Don't you dare leave Jerusalem until you received this power". Now, we've received that power. So Brother Copeland, how do I know the difference between my spirit and his Spirit talking to me? How do people learn how to decipher? Because there's three voices. Well, there's my voice, but I know that the Father has a voice. I've learned it. I've heard that maybe once or twice. The Holy Spirit has a voice. Jesus has a voice. I've been able to hear his voice. It's wonderful. Beautiful. But what's the difference between me and when he's speaking to me? His Spirit? I know I've got the word. Is that it?

— Not completely. It's the inward witness.

— Okay.

— Now when we were in Tulsa and I was still... I was frightened. I said, Gloria, we have these two little children here, we go up there at that place, we'll starve out. She said, "Kenneth, we're starving now. We might as well starve in the will of God as out". Now, that was the voice of God.

— Okay.

— I said, okay. And it worried me. I could hardly sleep. And it's the day before I was supposed to register. And I fell in the... I told Gloria, I said, "I'm going in here. I don't care if I have to pray all night long". I fell in the floor and I began to pray in tongues because I just, out of it in my mind. I didn't know then what I know now about these things. And I heard the voice of the Father. No doubt about who it was. I'm in the floor there in that little house and I was just going as hard and fast as I could. And those of you that have ever prayed in the Spirit, you know you can pray because it's not coming out of your mind and you can and think at the same time. And I thought, "well, I wonder if I be quiet, he'd say anything to me". And I heard the voice of the Father. I mean, it roared on. "Well, it's about time. I haven't been able to get a word in edgewise. Stand up on your feet". I mean, I came out of the army. I mean I stood up, I hit a brace. I was shaking all over, standing there at attention shaking. He said, "I called you here and I'll take care of you here. They can't make a minister out of you. All they can do is train you. I have made a minister out of you. I have called you". And I relaxed. Now that was the voice of the Father. It shook me. I could hear it, it roared. Sometimes I like to say, I mean, my hair heard it. Just, just consumed my being because it came out of my spirit with such a roar that it was just... like but that much being audible. To me, it just on the inside but still it was. But all of a sudden, everything's okay. I don't care anymore because he said he would take care of me here.

— Yes.

— And so, I was ready.

— I was rebuking my mind for a period of time. Well, far too long. One day of it was too long, but I was rebuking my mind all the time. I rebuke you. I rebuke those thoughts. I'm not going to have those thoughts. I'm rebuking those thoughts. And I was spending all my time, rebuking thoughts and Brother Hagin helped me on this. He says, "I can't stop a bird from flying over my hair head, but I can stop one from building a nest in my hair". He says, "Well, amen". He says, "Your head's doing what it was created to do". And he said, "Quit rebuking your head. Your brain was created to come up with why it won't work. You're thinking of flesh. You're thinking carnal. You're thinking natural. It's exactly what they did with the feeding of the 5,000.

— Yes it is.

— I don't have enough money. If we had enough money...

— There's too many. We can't do this.

— But that's the carnal mind. And so, what I hadn't learned yet is I hadn't learned the difference between my carnal reasoning, my natural reasoning and learning to go inside and listen to my spirit man. Because when I learned how to do that, that's where the supernatural power and that's how it manifests in my life. When I'll learn to speak from this place, rather than from this place, then tremendous power is made available. That's what being double-minded is, back to what we talked about on...

— Well, it's right here in the second Corinthians chapter 10.

— All right.

— And if you'll do this, I learned originally to do this with my Bible in my hand. Now I, Paul myself, beseech you by the meekness and gentleness of Christ, who in presence am base among you, but being absent am bold towards you. But I beseech you that I may not be bold when I am present... Verse three, for we walk in the flesh, we do not war after the flesh. For the weapons of our warfare are not carnal, but mighty. Dunamis. Power is the Greek word. They're mighty through God to the pulling down of strongholds. Now I have strongholds in my mind. There are things that I don't know, some people, this never happened to me, but the people that say, "Well, sometimes I think I'm called to preach and sometimes I'm not". Well that's wavering. I learned a long time ago there's some things I don't pray about anymore. The moment that the Lord revealed that to me, that I'm called to preach, I don't pray about that.

— That's over.

— That's over. That ended right there. And then, when I learned to walk by faith, I don't pray about that. Do I do this in faith? I do everything by faith, everything. So you do this by faith, too. Casting down imaginations or reasonings and every, every, every, E-V-E-R-Y, every high thing that exhausts itself against the knowledge of God or against what you know is in the Word and in the knowledge of God. You know better than to be judging people. You know better than that. I know better than that. Bringing into captivity every thought to the obedience of Christ and having in a readiness to revenge all disobedience of thought, when your obedience is fulfilled. That you can do that by the Word of God.

— Yes.

— And by doing that, you bring those thoughts. You don't beat them up. Phil Driscoll told me that this less than wise judge allowed the jury in his jury trial over his tax exempt status as a minister of the gospel. And what they accused him of didn't become against the law until after his trial. And yet, they sentenced him to a year. So he wound up being a convicted felon over something that wasn't even illegal. That's terrible. But he lived in that right there. He lived in it, in order to keep from judging those people and to keep them forgiven. Keep them forgiven. Keep them in place. They treated him like a dog. This one guy just called him everything you could think of and just dragging him, when they first put him in, they transferred him from the jail to prison. And there was another young man come walking down the way he said, "Phil? Phil Driscoll, is that you"? And this placement that had called him everything. He said, "You are the Phil Driscoll that blows the horn for God"? He said, "Yes, I am". He got around and got on his knees in front of him. He said, "I am a Christian man and I didn't have any business talking to you like that. You convict me of my sin".

— Oh my goodness.

— But Phil had to live in this area right here and keep that off his mind.

— Right.

— He knew he was convicted of something that was not it, but the judge said, "We are just going to make an example out of him. We know that he's a good man and all that, but we're going to give him a year in prison".

— Well, if he don't repent of it, he'll answer for that one.

— Yes he will.

— Ephesians chapter three, going to that same thing.

— Oh, it is.

— Ephesians chapter three, verse 14. For this cause, I bow my knees under the Father of the Lord Jesus Christ, of whom the whole family in heaven and earth is named. That's why we watch what we say about the family. That he would grant you according to the riches of his glory to be strengthened with might by his Spirit, in the inner man.

— In the inner man.

— Strengthened by might in the power in the inner man. That's where the power resides.

— Yes.

— Power doesn't reside right here. It's in here. That Christ may dwell in your hearts by faith, that you be rooted and grounded in love, may you be able to comprehend verse 18 with all the saints. What is the breadth? The length? The depth? The height? That you may know the love of Christ, which passes knowledge. You might be filled with the fullness of God. Brother Copeland, I wrote this down. This is the power that enables me. This is the power that enables me to do what the word demands.

— Yes.

— The word has demands for me.

— Yes it is.

— But it's the Spirit that gives me the power to do what this book demands, because this is the will.

— Right there. Now you remember, in that last Passover meal, Jesus said the works that I do shall you do also. Greater works than these shall you do because I go to the Father and I'm going to send the Spirit to you. Paraphrasing. The greater works than these is right there.

— Yes, sir. Every miracle Jesus did was depending on that power.

— Listen to what he said. Now unto him, that is able, unto him. Look now.

— Yes.

— Unto him that is able to do exceeding, abundantly, above all that we ask or think according to the... power that works in us. That's the great miracles. That's it right there. I can think pretty big and every year I live, I think bigger, larger than that. So look what he said. To do exceedingly abundantly above all that we ask or think. When I first started asking and thinking was 55 years ago at Oral Roberts university. And it's expanded all these years and I'll say it again. I came home from school and as I said, threw my briefcase down. I said, Gloria... No, I said, "Glo, the Lord's been talking to me all day long and I'm just going to walk across the street here to the river bed and I'm just going to pray. I'm going to find out what he's talking about. He's talking about nations and nations in a day and nations this and nations that. I don't know and understand this. I knew I was supposed to have large crowds then... Oral Roberts had big crowds and that as far as I could go. That's only what I could ask or think.

— Look at it now. What started with Jesus is Lord went from the top of the world to the bottom all the way around the middle. And it's come to pass. You're on networks now. You're on...

— And I have preached... Praise God. On five continents.

— Praise the Lord. The islands of the sea.

— Yes, I have.

— All because you were just faithful...

— I've preached everywhere but Antarctica. It's cold down there, man. And there's not many people there.

— They got satellite. So...

— But I don't know that this message is not down there. The Lord says it, I'm on my way. I would gladly go. That's what they make coats for.

— Right, right.

— Amen.

— Amen.

— But back then, I had no concept. I didn't know what we... Mark, chapter four, not rooted and grounded, what? In love. And we're out of time, but at least I had the opportunity to tell everybody watching and listening where Jesus is Lord came from.

— Yes, sir.

— That I didn't just hook up to that one day. I saw it in the Word. I've been saying it ever since.

— Became your assignment to teach it to us.

— Yes it did.

— And thank you for doing that. Thank you for teaching us.

— I was glad to do it.

— I'm glad to hear it.

— Praise God. Well, did you get anything out of this one? Praise God. God is good. Isn't he? Thank You, Lord Jesus. Oh, we could just sit around here and soak where are we on the time? Well, he said this. Okay. We'll be back in a minute.