Kenneth Copeland - Healing According to God's Power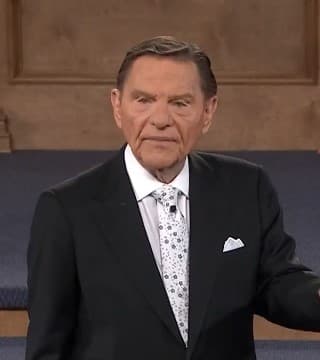 TOPICS:


Now, let's go to the 10th chapter of Luke. Let's go down there at that 19th verse. "I give unto you power to tread on serpents and scorpions and over all the power of the enemy and nothing shall by any means hurt you". Not withstanding in this, rejoice. Not that the spirits are subject unto you, but rather rejoice because your names are written in heaven. In that hour, Jesus rejoiced in the spirit. He rejoiced in the spirit and said, "I thank thee oh Father, Lord of heaven and earth, that you have hidden these things from the wise and prudent and revealed them unto babies; even so Father, for so it seemed good in your sight. All things are delivered to Me of my Father and no man knows who the Son is but the Father and who the Father is, but the Son and He to whom the Son will reveal Him".

And I wrote out beside that, "That would be me". That would be me. Now 14th chapter of John, and I'll remind you again. John Chapter 13, 14, 15, 16, 17 is what is known as the last supper. The last Seder meal. Now look in this 14th chapter. "Let not your heart be troubled". You have to read the 38th verse first, 37th. "Peter said unto him, 'Lord, why cannot I follow thee now? I will lay down my life for thy sake.' Jesus answered him, 'Will you lay down your life for my sake? Verily, verily, I say unto you, the cock shall not crow till thou hast denied me three times. Let not your heart be troubled: You believe in God, believe also in me".

Now come down to the 10th verse. "Believest thou not that I am in the Father and the Father in me? The words that I speak unto you I speak not of myself: but the Father that dwells in me, He does the works". Verse 12, "Verily, verily, I say unto you, he that believeth on me, the works that I do shall he do also; and greater works than these shall he do; because I go unto my Father". Did you get that? Then what did he say? Then the 16th verse, "I'm going to send the comforter to you". It's the Father within me that does the work. Well, it's the same Father in me this morning. It's the same Father in you this morning. Amen. Glory to God.

Now people have struggled with this. "The works that I do shall you do also; and greater works than these shall you do; because I go to my Father". And well, it could, but would you like to see in print? Go to the book of Ephesians, Chapter 3. If this doesn't set you on fire, your wood is wet. You can receive healing right now with this. Ephesians, Chapter 3. Praise God. The 13th first, "Wherefore I desire that you faint not at my tribulations for you, which is your glory. For this cause I bow my knees unto the Father," said the Father, "I bow my knee unto the Father of our Lord Jesus Christ, of whom the whole family in heaven and earth is named," we're named after the Father. Amen.

"That he would grant you, according to the riches of his glory, to be strengthened with might by his Spirit in the inner man; that Christ may dwell in your heart by faith; that you, being rooted and grounded in love, may be able to comprehend or have working knowledge with all saints what is the breadth, the length, depth, and height, and to know the love of Christ, which passes knowledge, that you might be filled with all the fullness of God. Now unto him that is able to do exceeding, abundantly beyond all that we ask or think according to the dunamis that works in us".

There it is. There it is. It's the same God in us that was in Jesus when he was on the earth who can do exceeding, abundantly beyond all we can ask or think according to the power, have God anointed Jesus of Nazareth with the power. Amen. Exceeding, abundantly, beyond all we can ask or think. I don't care what's wrong with your body. I don't care what's wrong with your feet. I don't care what's wrong with your eyes. I don't care what's wrong with your ears. I don't care what's wrong, anything in your body, He is able to do exceeding, abundantly beyond all you can ask or think. Glory to God, hallelujah. That's it right there. We just need to keep asking and thinking and just let it get bigger and bigger and bigger and bigger and bigger.

I'll give my testimony again. I had that little grain of rice sized, little white spot right there. I went back and looked at some video and you can see it. At our prayer cabin one time, I looked at that and I could see it on there. Just right there. I didn't pay attention to it. That little wart itched a little bit and I scratched it and it got sore. So I told David Weeter, I said, "I think we need to have this looked at". He checked out, being a chiropractor, he had places where he could look and see the best man in the field, in our area. That's who we went to. When I walked in there, a man of color, and I said something like, "I'm Kenneth Copeland". He said, "Oh yeah, Brother Copeland". He said, "I know who you are". He said, "My grandparents are your partners". I think, "I'm in good hands here".

Well, and then he checked it, and got the report back. He said, "Yeah, it's malignant". Malignant didn't mean a thing in the world to me. I just didn't care. I said, "Well, okay, what do we do now"? Well, then I had to go over to another doctor. But in the meantime, I called my Pastor, George Pearsons. He and Terri came over to the house, in our kitchen. Gloria was there and her friend Bebe was there. We had Kellie on the phone and John on the phone. Everybody's praying. Everybody, this is happy, but we went to James 5. And when you do that, don't start with the fifth chapter. Start with the first chapter. All the instructions before you get there. Then call on the elders of the church. Anyway, so we prayed in the Spirit and praised God. And so, George put his hand in that oil bottle and he touched that and this little electrical shock shot through my hand. I went, "Hahahaha". That did it. I didn't think about it anymore.

Well, we had to go over to the other doctor. His specialty then is to go... of course, they opened that area of my hand up and go in there. I remember I was in the chair and he has opened that all that up and everything. I just looked around this young woman standing there. I say, "Do you know Jesus"? "Uh-huh". I didn't want to pay attention to him. I just needed to talk about the Lord. Anyway, here were the instructions. You come back at this certain time and you intend to stay up to several hours, whatever it was. Because he is going to take a fine shave of the area, and he will continue to do that, testing it until there are no more cancer cells. We obeyed them and took everything. They took a sample.

I was in there about 20, 30 minutes, and they came out. "Mister Copeland, there are no more cancer cells". I wanted to say, "I knew that already, lady". But they sewed it up and that's the end of it. Brother Hagin said it like this, "When you know, as well as you know two times two is four, you just know it. God said it, that settles it. I believe it and that settles it". Now, if that is a problem, then you just get those scripture promises and you start meditating and you meditate and you think, and you mutter and you talk. Praise God. Amen. And you just stay with it till faith rises up in there and you get the joy of the Lord, and you start laughing about it.

I suggest you start laughing about it first. Hahahahaha. Hahahahaha. Cancer, hahahahaha. Stomach ulcers, hahahahaha. Praise God. Thank You, Jesus. Unto Him that is able to do exceeding, abundantly above all that we ask or think according to the power that works in us. Under Him, be glory in the church by Jesus Christ throughout all ages, world without end, amen. You notice he just ended that right there. Praise God. Well, that's what we should do. Well, that just ends it. I'm healed and that's all there is to it. Praise God. Thank You, Lord. A bladder infection has just been healed, praise God, whomever that is. Thank You, Lord Jesus.

Now, then Jesus ordained 70 more. Told them the same thing. And we know healing comes by teaching and preaching. Well, what do you think I'm doing? But now, let me ask you this. Do you believe that I'm anointed? Well that settles that. If you don't, then you can't receive me. And I'm quoting Jesus because He said this to them. "If they don't receive you, they don't receive me; and if they don't receive me, they don't receive him who sent me". So those particularly watching online, deal with that. Amen. But now, whether you believe me or not, everything I've said is in the book.

Now, Jesus made remarks like that. Believe me for the very work's sake. Well, you believe what the book says. That's what's necessary. You believe this covenant. What is a covenant in the first place? A covenant is the joining of two. Most people don't know anymore about covenant. They don't even know what it means. I don't know, maybe a neighborhood covenant. You can't paint your house pink or something. But that is a covenant. Some guy wants to paint his house pink, so what does he do? Pink. That's Texas, isn't it? Pink. Pink. Anyway, still sounds right. So, what does he do? Gets him a lawyer. "I'm going to paint my house pink whether they like it or not".

So, the covenant didn't mean anything to him. A marriage covenant, and that change of name comes from when God changed Abram's name to Abraham and put His name in the middle of His name. "You'll no longer be called Abram, but Abraham," and the H is Hashem in Hebrew, which is The Name. So He entered in covenant with this man and made him the father of many nations because He had the authority to do it. Now here was this man, a faith man. Isaac was born. Sarah died. Now when this all began, he was a hundred years old and his body was now dead. He remarried and had six more sons and lived to be 175 years old.

Now that's what faith will do for you. That's what faith will do for you. Now I'm not talking about some you old guys getting all, "You don't know". Like my dad said, "That's every old man's dream". Just forget it. Glory to God. That meant you had to have an old woman too, so just don't be doing that. But what did Abraham do? I'm paraphrasing. He said, "Old woman, you don't count. Old man, you don't count. Only what God said, that's the only thing that counts". He said, "As it is written". That's what counts. The Word of the living God. The power is in His Word. The power is in His Word. I'm going to say it again. The power is in His Word. Glory to God. It's in His covenant promise. It's in his covenant fact.

Now let's get over into that. Let's go to the book of Isaiah, please? 52nd chapter, Verse 13. "Behold, my servant shall deal prudently; he shall be exalted and extolled and be very high. As many were astonished at thee, his visage, his form was so marred more than any man, and his form more than the sons of men". He's already talking about Jesus right here. Jesus was beat and whipped. His face was so swollen. His head was so beat that he no longer looked human. It'd do you good just to read all of that.

And you come right on there on the 53rd chapter, "Who have believed our report? And to whom is the arm of the Lord revealed? For He shall grow up before Him as a tender plant, and as a root out of the dry ground. He has no form or comeliness; and when we see Him, there is no beauty that we should desire Him". Of course, He's a good looking man, but He's not going to be so beautiful. He'd just walk right by you on the street. As a young man, very intelligent young man at 12 years old, he was about his father's business. He knew who he was, but he didn't look any different than the other children.

There's stupid stuff about Him healing birds and stuff when he was little. If you run across that, put it at the bottom of a bird cage. You do whatever you want to do with it. You stick with the Bible. The scripture said He did no miracles until he was 30 years old. Anyway, but good looking man. But there wasn't anything about Him except possibly the way He loved and so forth, but He didn't look any different than anybody else. He had a beard like the other men and there you have it. "He is despised and rejected of man, a man of sorrows".

Now, not there, the Hebrew word there is pain. "A man of pain and acquainted with grief. And we hid, as it were, our faces from Him. He was despised and we esteemed Him not". Surely, say surely, "Surely He hath borne our griefs and carried our sorrows". Now would you put that up in the Classic Amplified, please? That verse right there, let's look at that. "Surely He hath borne our grief, sicknesses, weaknesses, and distresses, and carried our sorrows and pains of punishment". This is simple. He bore our sicknesses and carried our pain. Well, there's no use of bearing.