Kenneth Copeland - Suit Up In God's Armor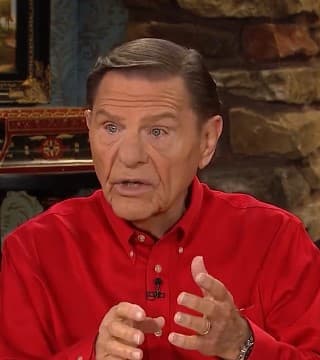 TOPICS:


— Hello, everybody. I'm Kenneth Copeland. This is the Believer's Voice of Victory broadcast. Now, when we closed yesterday, we were talking about knowing and believing the love that God has for us. So let's go back over there in 1 John. In Verse 13 of the fourth chapter, "Hereby know we that we dwell in him, and he and us, because he's given us of his Spirit". That's what we're talking about, is the Spirit of power. He's already said, "You're of God's little children and greater is he that is in you than he that is in the world". So then he comes right onto, "Whosoever should confess that Jesus is the Son of God, God dwells in him, and he in God. And we have known and believed the love that God hath to us. God is love; and he that dwells in love dwells in God, and God in him". Now, if you ask Christians: What is our commandment? Now we know, in the last Passover meal, 13th chapter of John, "I give you a new commandment, that you love one another as I have loved you. All men will know that you're my disciple if you love one another". A commandment. That's just as much a commandment as thou shall not kill. I mean, it's commandment because it covers all of the others. Now notice this, "Know and believe the love". Believe it. Believe the love. When did we know the love? The moment we accepted Jesus as our Lord and savior. For God so loved the world that he gave his only begotten Son and that only begotten Son went to the cross, went to hell and paid the prize, and became the firstborn of many brethren. He's no longer the only begotten Son of God. And so, love did it. We are new creatures because of that love. But I want you to notice this, "Herein is our love made mature, that we may have boldness in the day of judgment: because as he is, so are we in this world. There is no fear in love; but mature love cast out fear; because fear has torment. He that fears is not mature in love". We love him because he first loved us.

— That's it.

— But what about believing the love? Peter said, "Master, don't you care that we perish"? There's a double-minded man. He called him master. He didn't have any revelation, but you notice in all of those situations, John never opened his mouth. It was Peter. But Peter is the one that walked on the water too, so don't criticize him.

— He had a boldness about him.

— Yes, he did.

— And that's what got him in trouble sometimes.

— But then it was always Peter, James and John. It was never John, Peter, and James.

— Well, see, even Peter will tell Jesus who he is, and he'll say, "Nobody told you that, but my Father told you that".

— That's when his name changed. Now, when Jesus called him, he said, "You will be called". But when he said, "You're the Christ, the Son of the living God," and from that day forward, he was called Peter. Not Simon Bar-Jonah. So, believe the love. Oh, God, don't you care? Come on now. Uh-uh. Uh-uh. He loves me. I want you to turn to the 17th chapter of John. The great prayer of Jesus. I had just learned about the prayer of agreement. I was a student there at ORU. And the power of that prayer. I read it, but then I heard Brother Hagin teach on it and the power of, so I thought, I'm going to agree with all this. "These words spoke Jesus, lifted up his eyes to heaven, and said, Father, the hour is come," and so forth. I just went down through and I began to agree. Oh, yes. Oh, I agree. In verse 20, I said, oh, look at this. "Neither pray I for these alone, but for them also which shall believe on me through their word". I said, oh, that'd be me. Oh, that'd be me. "That they all may be one; and thou, Father, art in me, and I in thee, that they may also be one in us: and the world may believe you've sent me. And the glory, which thou hast given me". I stumbled a little bit on that one. Oh yeah, well, okay. "I in them, and thou in me, that they may be made perfect and that the world may know that thou hast sent me, and hast loved them as loved ..". What? God loves me as much as he does Jesus? I said it out loud. I'm just walking around that little room there with my Bible, man. I said it out loud. I said, that can't be so. There's no way God loves me as much as He does Jesus. If it hadn't been written in red, I wouldn't believe it. See, I didn't believe the love. I stumbled with it. I said, well, I'm going to say it. I was shaking. See, the love was not mature.

— You have to use your faith for it. You really do.

— I walked around that run. I said, God loves Kenneth as much as He does Jesus. Well, I was trembling. But my spirit took hold of it and I began to say it. God loves Kenneth as much as he does Jesus. God loves me. God loves Kenneth. God loves me. God loves Kenneth. I walked around that room and I said it and said it and said it. All of a sudden it flooded on the inside of me, and I said, well, of course He does.

— You renewed your mind to it.

— Yes. I said it out loud. He went to that cross because He loved me. It got so big in me. It got so real on the inside of me, Greg.

— Well, he said it right here. "I'm sanctifying myself for them".

— Yes, he did.

— And if you go, I'm going to show you right back here in 1 John 5 again, Verse 13, "These things I have written unto you that you believe on the name of the Son of God; that you may know that you have eternal life, and that you may believe on the name of the Son of God". He said it again. "And this is the confidence that we have in him, that if we will ask anything according to his will, he hears us: And if we know that he hears us, whatsoever we ask, we know that we have the petitions that are desired of him. So, do you believe ... and this is what rose up in me in John 17. Do you believe that the Father heard Jesus in that prayer? Did He hear him? Did He agree with that prayer? Did the Father say amen to that prayer? That's the will of God.

— That's what I didn't get until I received it. I never thought about the power. If this is Jesus praying, it had to be true. And I said that if it hadn't been written in red, I wouldn't know how to handle this.

— So, this is Jesus praying for me. Because we have that in that verse. This is the way He sees me. This is the way He wants me to be. And the Father said amen to that.

— Yes, He did.

— And so now I can believe. And now, because of that name, that name is attached to me. Praise God. Now I have confidence to ask anything.

— Now, take it over into this 5th chapter. We just said in the 15th verse, if we know that he hears us, whatever we ask, we know we have the petition we desired of him. Now, come down to the 18th verse. "We know that whosoever is born of God sinneth not; but he that is begotten of God keeps himself, and that wicked one touches him not". So don't get hung up there. Go back over and start reading it first, this little book again.

— That's right.

— We're world overcomers by faith. I was reading in it, he sinneth not. Well, he doesn't habitually practice sin. He missed the mark, but he started the book off. What do you do with that? You repent.

— That's right.

— He's faithful and just to forgive you when you repent. Not when you feel good about it. But look, go back and read it like that. I drew a little red square around that. "We know that whatsoever is born of God sinneth not; but he that is begotten of God keepeth himself in love; and that wicked one touches him not. We know that we are of God and the whole world lieth in wickedness. We know that the Son of love has come and has given us an understanding that we may know Him that is true and we are in Him that is true, even the Son of Jesus Christ. Even his Son, Jesus Christ. This is the true God and eternal life.

— So now, there's the answer to 18.

— Yes, it is.

— Right there below it. And I do that by faith. I confessed that over myself. John confessed it, the disciple.

— He kept saying it.

— He had never said that about him.

— I kept saying that day and it did took me a few seconds. I spent a goodly amount of time that day, but it got in me so deep and stayed there. Just stayed there. We get to where you depend on that love. That was the problem in the wilderness. They never did believe that God loved him.

— No, never did. That was the problem even in Jesus' day. They didn't believe. That was the problem with Saul of Tarsus. He was trying to keep them from sinning. He was trying to keep the nation from following after some strange God. He thought he was doing the right thing, but he's doing the wrong thing. It's because they didn't understand the love. Love was standing right in front of them and they couldn't see it. The three that bear witness record in heaven, the Father, the Word, and the Holy Ghost, these three are one. That's right there, and that's what was happening in you.

— That's what was happening in me.

— They were bearing witness with you until that became a reality in you. Now, you don't doubt the love.

— Well, it was 55 years ago, and it's been a major part of Gloria and my lives. And as it grew over the years and we began to judge ourselves in the light of that. It protected us from sickness, disease, a lot of really bad stuff. Right in the very beginning I had the Lord say this to me. Right in here and I'm telling you, it was so strong. He said, "Kenneth, I love you. But I don't like you very much". Why? "You're too high tempered". He said, "Someone just says something and criticizes you, you get mad about it". He said, "I can't expand your ministry any further. But if you want my will for you, don't ever from now on read anything about yourself in print ever, good or bad. Because the bad stuff, it takes too long to get it out of your mind and out of your thinking; and the good stuff, you have a tendency to believe it too much". He said, "Let it alone".

— You were probably a lot like Paul and he had to forget those things which were bad.

— I did.

— And he had to mature in it. You did too.

— And then shield myself from it.

— Right.

— Oh, there was some nasty books written about me and about this ministry. I just surely, surely has sense enough not to read that. Because then you have to deal with it. It'll get in your thinking and it just goes, and then you think all the stuff you wish you could tell this guy, and you'd get... You're not walking in love.

— No. Let the Word do it. You said it well.

— Let the Word fight its own fight. But you're better off just to not have to have something you have to put away in the first place. Walk in love towards everybody and forgive all the time.

— So you are thoroughly convinced of Gloria Copeland's love for you.

— Yes.

— Because you've matured in that. You don't have to remind yourself or remind her.

— But we do.

— Or confess... you do because it's now a natural expression of it.

— She and I all the time. All the time. But now if someone else were to come up and challenge that, I wouldn't listen to that 30 seconds.

— That's right. So that's the way we get with this.

— Really, and let me say this to the audience. Practice His love. Practice His presence. Practice it. Talk to Him all the time. All the time. He is the very last that I speak to at night. I tell Gloria good night every night, and I tell her good morning every morning. But He's the last one. I love the Lord, my God, with all my heart, all my soul, all my mind, and all my strength, and I love my neighbor as myself. Then I go through my mind, now who's my neighbor here that I... And there's one popped up last night. It just came across my mind and I just hadn't thought about him a long time. A long time. I was like, I love him. Not anything bad between us, but I love him. Just different things that you think of. If you'll ask the Lord to take care of that, then somebody's face will come up in front of you.

— That's right.

— Oh Lord, thank You. I forgive them. I've said this more than once. Certain politicians have come up forth in my mind, and I'll say, Lord, I can truly pray. Forgive them for they know not what they do.

— Right. And they don't.

— They don't. And they don't know what's righted against them.

— No, they don't even know what voice they're listening to.

— No, they don't know the kind of spirits. They're just oblivious to it.

— So what you're describing is you've become presence driven. Everything that drives you is His presence. He brings things to your spirit and to your mind for you to deal with. Whether you even have a problem with Him or not, He's using you to either intercede for them or speak to that. He could trust you now to be an inhabiter of his presence. Jesus didn't stay in Jerusalem. He stayed with Lazarus and Mary's and Martha in Bethany, because they knew how to host the Spirit of God. They knew how to honor, is what they do. They knew how to honor and host the presence of God. And that's what you've learned.

— They treated Him with respect. Even when Martha argued with Him, she treated Him with respect. He was in her house.

— That's right.

— They loved Him. There was great rapport in that family for Him.

— David learned how to host the Spirit of God in the tabernacle of David.

— Yes, he did.

— And there's something to what you're saying, is learning how to host Him and be driven by His presence rather than by energy. And it's going to be the Word because the Word and the Spirit agree.

— If things disturb you, it gets to a certain point. Go take communion. It's all right there. Paul wrote about it. The Lord showed it to him. Just go take communion and settle it in your heart, and settle that love every night. Every night, every night, I love my neighbor as myself. And as you said in the 13th chapter of John, the commandment of love, and with your help, I'll walk in it. Oh, it changed me inside and outside. It changed the way I treat my physical body. It'll change everything. It'll change your diet. It'll change the way you think when you begin to realize this body needs to live here as long as it can, as a witness. And the older you get the greater witness you are. Amen. And I'm not eating to please my flesh. I'm eating to keep this thing alive and keep it healthy and strong. I didn't always know that. It changed everything.

— But that's living inside out rather than outside in.

— That's the key to the whole thing.

— My grandfather used to have a statement and I'd talk about, the old saying, that guy gets my goat. That guy gets my goat. He said, "Well, quit telling him where you tie it up". In other words, quit allowing every little thing to push you, to anger you, to stress you.

— Now you mentioned it to me before we came in the studio. Sticks and stones may break my bones, but words will never hurt me. That's the biggest lie any child ever heard.

— That's right.

— That is a life from hell. Words will do more than sticks and stones.

— Words created.

— They'll break your heart or build your heart.

— Well, it kept the whole nation of Israel from going into their Promised Land. The whole generation had to die off because of words. It says their heart melted. Exactly what you're saying. Their heart melted within them over ten bad reports versus two good ones. We do that same thing. Instead of speaking the Word. Sometimes the best thing, one of the greatest thing I learned from Brother Hagin was, "Shut up. Be quiet". In other words, don't say anything when you don't know what to say. If you got to have to say something, then pray in the Spirit.

— He'll say you already know everything you know.

— Right. Listen.

— Listen and you'll find out something.

— When you said this, you haven't prayed until you've listened. That's one of the best things you can do is Father I've prayed everything based on the Word. Now I'm going to trust the Holy Spirit to pray through me concerning this. Then just listen.

— Well, let me give you an idea. This morning, as I was getting dressed, I was there in my closet. I just sat down there putting my socks on. I said, "Now, Lord, where do we start this this morning? Six chapter of Ephesians. All right. Oh, yeah. We got to suit up. But the power of the Spirit is in that armor. We need to suit up. Praise God.

— Amen. Now more than ever believers in the time and the days that we live in need to know how to suit up. For your family's sake, for your country sake, for your churches, for your pastor's sake. Suit up and get in the game.

— Get the prayer armor on and start to pray. Pray. Pray for the peace of Jerusalem. Then pray for the peace of Ukraine. Then pray for the peace of Washington, DC. First of all.

— And protection on the Supreme Court for those judges and for all the state Houses that are going to be making decisions. See let's pray for those in authority over you like we were told to do, but we also forget about another side of authority. There's spiritual authority. Fight for ministry gifts. So pray for your pastor. Pray for the prophet. Don't stop with just government leaders. Do the kingdom leaders.

— Universities leaders.

— Oh, absolutely.

— We're out of time.

— We're out of time.

— Well, but we'll be back in just a moment. Give the Lord and pray.