Kenneth Copeland - Pray in Faith and Stay in Love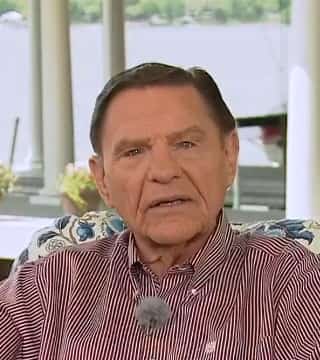 TOPICS:


Welcome everybody, to the Believer's Voice of Victory broadcast. Here we are Friday. And let me remind you now, get the study notes all last week, all this week, so you can study them, look up all of the same scriptures, and then you look up other things that have to do with prayer and study those, teach from them and bring the family in and learn these things together. So, I want to remind you again, Oral Roberts said this and the first structure at Oral Roberts University was the prayer tower, the first one. So the first person that this ministry... the first person we hired was Billie Adams and her husband, Dane Adams, and Dane was on the board.

Dane Adams was the one that called me in and said, "Kenneth, there's a piece of property out northwest of town. I need you to see, I think you ought to see". Well, I had flown in at late one evening landing at Meacham Field, and I heard the voice of God audibly coming to you from the Revival Capital of the World. Well, know, I went through all that, but anyway, and stepped out here on this property and just a barbed wire fence around there. I pulled it up, Gloria crawled through the fence and then Dane and I stepped out on this and I heard it. "This is the Revival Capital of the World, and you're going to build it". I thought, "What in the world with"?

Anyway, and supernaturally the Lord, put it into our hands, this whole 1500 acres of property. A lot of things have happened over the years and now this ministry is preaching all over the world, but I wanted you to see this. We hired Billye as our first employee and her job was to pray all day. She said it was a struggle at first because we really didn't have any prayer requests coming in. She just spent most of her times in tongues and she just prayed all day every day. She said, "Finally, it got easy. And that's all I wanted to do was just pray all day". And she did.

Well, the first structure that we built cause of what my father in the faith said and did at Oral Roberts University. And when I was 30 years old, which was the first year of ORU, that prayer tower, magnificent structure. Inside of it, it's just gorgeous with an eternal flame right out the top with that flame representing prayer, going to God, hallelujah, just magnificent. So, we built a prayer chapel, the very first thing, first little structure. Then we had our minister's conference in there. And then we started having church in there and Keith Moore preached in that little chapel that you could cram 500 people in there, just pushed them in there. Anyway, but that's where we started this ministry in prayer because prayer is the backbone of Christian endeavor.

Now, we have certain weapons in prayer. The name of Jesus, we've already talked about that. He said, "Whatsoever, you ask the Father in my name He will give it you. And whatever you demand in my name, I'll see to it or I'll back it". Then you're going to find it in the third chapter of the Book of Hebrews. "He is the apostle and High Priest of our prayers". Glory to God, amen. So now, let's look in the eighth chapter of the Book of Romans, the gospel according to Paul. This book of Romans. Now listen to this, in the 14th verse ... No, let's start at the first. "Therefore now, no condemnation to them, which are in Christ Jesus who walked not after the flesh, but after the Spirit. After the Word for the law of the Spirit of life in Christ Jesus". There's a law. "The law of the Spirit of life in Christ Jesus has made us free from the law of sin and death".

I have preached that in prisons to prisoners and just see the light come. Now, now your past doesn't mean a thing it's dead and gone, fix it. Repent, make Jesus the Lord of your life. And it's over. There's now, every time you say it, it's now, that the law of the Spirit of life in Christ Jesus has made me free from the law of sin and death. Now, come on over here and we'll start reading the 15th verse. "We have not received the spirit of bondage again to fear". You hear that? "We have not received the spirit of bondage again to fear, but we have received the spirit of adoption, whereby we cry. Abba, Father". Abba is literally daddy in the Greek.

My granddaughter, Jenny founded an orphanage in Thessaloniki. We call it Thessalonika, and she named it Abba House. Well, they knew exactly what the name of it is. Oh, they've found children out out in the dumps and there's no love at all and bring those little guys in there and teach them the love of Jesus. And there's been more than one that the people have said, "You've saved the life of these children". Well, she married a fine, young Greek man and I married them and she said she was always going to get married at our prayer cabin. There's a little cut out there. It's square, we don't know what was there before. This little square place. And she said, "I'm going to get married right there and my Papa's going to do the wedding". But she lives in Greece, but she came home, amen. And was a little cool out there, but we did it anyway and it just turned off gorgeous right in an evening time, and it was so pretty.

So, I wadded up some money and put it in my pocket and these two kids and ... So, I walked up there and he's tall, straight. His name is Elias. Yes, he's in the Bible. Glory to God. And I handed them, I just put that money in their hand, I just stuffed... She said, "Oh, Papa, thank you". And she turned around and handed it to Elias and said, "Pray". So, he began to pray in English, but then he said, "May I pray in Greek"? And he prayed in Greek. And I thought glory to God I've been praying for in the mother tongue. It's the first time I ever heard it with my ears. Now they have a little boy. Gloria and I have a great-grandchild that's a Thessalonian. Yes, we do, hallelujah. Glory to God, anyway. Thank You, Jesus. Thank You, Lord because we're about to turn, there's a reason I said that. Praise God.

Chapter eight, "We've not received the spirit of bondage again to fear. We cry Abba, Father, the Spirit himself bears witness with our spirit that we are the children of God. And if children then heirs of God, joint heirs with Christ. If so be we suffer with Him and we may also be glorified together". Now, let's go over there to first Thessalonians and we'll turn to the fifth chapter. Now, this is also on your Partner Letter, read the whole fifth chapter, but today we'll go on down. And we've come down here to the 13th verse or 12th verse. "We beseech you brethren to know them, that labor among you, who are over you in the Lord and admonish you to esteem them very highly, in love for their work's sake and be at peace among yourselves. Now we exhort your brethren", listen now, "we exhort your brethren, warn them," warn them, just warn them, "that are unruly or disorderly, comfort the feeble minded, support the weak, be patient toward all men. See that none render evil for evil under any man, but ever follow that, which is good. Both among yourselves and to all men, rejoice, ever more".

So start rejoicing. "Brother Copeland, I don't feel like..." He didn't say when you feel like it, rejoice ever more. He was in a mess when he wrote this, "Rejoice ever more. Pray without ceasing". There it is. How can I do that in the Spirit? In the Spirit, pray at lunch. I mean, well, bless this food. No, that isn't it. Every meal, we pray for our partners. And then we do what the apostle Paul said in First Timothy two. "I exhort therefore that first of all, supplications, prayers, intercessions and giving of thanks be made for all men, for kings and all that are in authority, that we may lead a quiet and peaceable life in all godliness and honesty, for this is good and acceptable in the sight of God, our savior, who will have all men to be saved and come to the knowledge of the truth, that there's one God and one mediator between God and men, the man Christ Jesus who gave himself a ransom for all to be testified in due time".

We do that. Amen. We pray over our meal and we're very, very grateful to You for this food. We thank You and we praise You, and we pray for our partners and their welfare right now. And particularly in this time of inflation to provide everything and more that they need. And we thank You for all of our partners all over the world and especially our partners in Ukraine. Glory to God. And our latest report, thank You, Jesus, Velodia and his wife and his family are still... They're in Lviv. Our office is in Lviv, our churches are in Lviv, glory to God and they're well and our partners that have escaped to Poland have still been sending money back over to Lviv to support the ministry there. Whoa, glory to God. Faithful partners. Well, we just pray that kind of thing every time we sit down to a meal, and we pray for our government.

Now, listen to what he said. "Rejoice evermore, pray without ceasing. In everything give thanks, for this is the will of God in Christ concerning you". "Brother Copeland, how can I give thanks for that mess"? No, that isn't what he said. "In everything give thanks". The giving of thanks is the will of Christ and not the mess. The giving of thanks. You can give thanksgiving right in the middle of the biggest mess you've ever been in all your life. You can just right then begin to praise Him and worship Him and give thanks. When I have this thing blow up in my back because of my disobedience, I didn't do what God said and that disc blew up and that left leg.

Oh man, I got out there in my backyard and I just started praising God. I had two heating pads and just the heat turned up on them. All I could do is started shouting. I was right out there. I can see where I was from here. I was right out there and I got my chair and I set it out there and I was just screaming and praise of God, just loud as I could. "Glory to God, my other leg doesn't hurt. Glory to God my fingers don't hurt. My back and my side and oh my ... Oh, I don't hurt anywhere but my leg. Glory to God, I got another good one over here that doesn't hurt. My fingers don't hurt". Think about that. And I noticed when I'd stopped praising God, oh back here. "Oh thank God for the trees. Thank God for the lake. Thank God for... Oh, thank God for the grass. Thank God for anything. I just thank God".

Just shout and praise and thank God. And I made up my mind I'm not doing surgery here. No, I'm not going to do it. I'm not against surgery. I just made up my heart and mind I'm not going to do this in the name of Jesus. I had a lot of help. I had a lot of help. Dr. Weeter, Dr. Colbert. I had a lot of help from Gloria and praying and all and laying hands on me and praise God, and just go for it. Just go for it. Just praise God all the time, all the time. I am here today to announce to you that I have no pain in my body. Glory to God, hallelujah. The praise cure was a big part of it. Thanking God. It was not His will that that disc blow up in my back. He told me years before, "Start walking and don't quit".

If I'd have done that, it wouldn't have happened in the first place. Anyway. "Quench not the Spirit". How do you quench the Spirit? In strife. "Well, I just don't see why God let this come on me. Don't He know how bad I hurt"? But you're not doing yourself any good at all. Now you've become double-minded and you're acting to everybody else like you're in faith. "Oh, I love God". No, don't quench the Spirit of God. Stay in faith and stay in love. Walk in love. I don't care how you feel, you realize that that is a commandment. It is not a suggestion. It is a commandment. Jesus said, "I give you another commandment that you love one another as I loved you, and all men will know you're my disciples by the way you love one another".

And then John that wrote that, wrote in First John, he said, "We have known and believed the love that He has for us," because perfected love casts out fear. This good stuff, isn't it? "Despise not prophesyings. Prove all things". How, by the Word? "Hold fast to that which is good. Abstain from all appearance of evil". Listen, listen. I mean, you abstain from all appearance of evil. There's an old saying, and it's the truth. You let the devil in the back seat, he's going to want to drive and he'll get in the front seat every time he can through your mind, through your thinking, your thinking. "Well, how do I do anything about that"? I'm glad you asked. Second Corinthians. Praise God, the 10th chapter. It's all right here.

"Now I, Paul, myself beseech you by the mercies, the meekness and gentleness of Christ, who in presence am I a base among you, but being absent and bold towards you. But I beseech you that I may not be bold when I'm present the confidence wherewith I think to be bold". Now, verse three, "For though we walk in the flesh, we do not war after the flesh," not human weapons, "For the weapons of our warfare", the weapons in prayer, of our warfare, "are not carnal, not of the flesh, but mighty through God". That mighty there is dunamis.

"How God anointed Jesus Christ of Nazareth with power", dunamis, "Who went about doing good in healing all that were oppressed of the devil. But our weapons of our warfare, they're in the Spirit. They're mighty through God to the pulling down of strongholds". Listen, "Casting down imaginations or reasonings. And every high thing that exalts itself against the knowledge of God, bringing into captivity every thought," bringing into captivity every thought, put it in prison, "Bringing into captivity, every thought to the obedience of Christ and having a readiness to revenge all disobedience of thought when your obedience is fulfilled".

I got under the care of it in the TV department and all these big bills and I... Oh Lord, we got $6 million behind. And the Lord said, "Look at that, every department but the one you were worried about had the best year they ever had". I didn't know that. He said "You've been carrying the care of that". I flipped my Bible open there to First Peter five, and I said, "I roll all the care of this six million over on you and I'll never pick it up again. I will not touch that in my thought life again". There it is right there. And it would come up and I said, "No, no. I don't think that, I put that thought in prison". And I shut the door on it. No, I don't. No, no. I don't think that. I'd go to bed at night. I said, "No, I don't think about that. Thank God, that's paid. Thank God it's paid". I don't touch that. I don't touch that in my thought, no, no, no, no. You don't put that on me. No, no, no, no, no, no, no, no, no.

After about a couple of weeks, I didn't think about it as much and three or four weeks and it was just gone. It'd drift through my mind and I'd say, "No, that's gone. You're gone. It's paid". By faith, that $6 million is paid. By faith, it is paid. They told us it's going to be probably a year because you have to receive that $6 million and the TV bill was a couple of million a month, something like that. That'll keep any guitar picker picking. But so anyway, I just rolled the care of it over and I called George and I said, "Look, I just rolled the care of all that over on God". He said, "Well, I do too". Praise God.

That bill was paid and $6 million was paid and we're paying the regular bill all the time. What was it, Tim? Two months? Two, three months? And the next month was the first time we ever paid the whole bill at one time. So, when I got out from under it and let Jesus have it, I just rolled the care of it over him, said, "That's not my care". Nope. And like Brother Jesse, Brother Jesse, take a bill like that. He'll say, "You have mail". He does it. We've learned how to do that. But don't pick it back up because it is my care and I'll pick it back up. I mean the Lord will just pitch it back over there to you because it's yours. "You did it, now here". No, leave it with him. Jesus Christ of Nazareth, thank God, is my care taker. Isn't that good? Because I've put all the care over on him. Amen. Because it's not his will for you, for me, to be anxious and worried and full of care and the anxiety over anything.

I don't care if it's high gas prices. I don't care what it is. It is not his will for you to worry and sweat about it. It is his will, according to the third chapter of the Book of Revelation, he said, "I'm knocking on the door of your heart. Open the door and let me in and I'll sup with you". Well, this is an Eastern book and Western minds have trouble with it, but you have to remember, this is a covenant book. And if he said he'd do it, he'll do it. So when he said that and he said that, "I will come in and I will sup with you. I stand at the door and knock. If any man hear my voice and open the door. I will come into him and will sup with him and he with me. He that overcomes will I grant to sit with me in my throne. Even as I also overcame and sat down with my Father in his throne. He that hath ear, let him hear what the Spirit saith".

Now, what that means is in covenant speech, he is saying, "I will come in and I'm the senior here in this covenant. I will come in and I will take care of everything in the house. I'll take care of all the food. I'll take care of everything as long as you'll let me stay there with you. I will take care of everything. I will see to all the food. I will see to everything you need in that house and in your business because you're an over-comer. And if you'll continue to overcome all your life, then I will grant you to sit with my throne as I sit with my Father in His throne". Dear Lord, my old gray, oh glory to God, hallelujah. And we're out of time. Okay, I'll be back in just a moment.