Kenneth Copeland - How To Pray and Receive God's Promises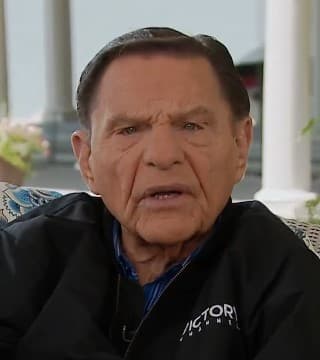 TOPICS:


— Hello, everybody. We're Kenneth and Gloria Copeland. Welcome again to the Believer's Voice of Victory Broadcast. Father, we thank You again today for the revelation of the Word, Your Word, Your bond. You keep Your Word, and when it is taken in faith, then we join together as partners in Your Word, and thank You for it. We praise You for it. Thank You again, in the name of Jesus. Amen. Now, we've been talking about this week, this meal, right at the close of Jesus ministry on earth. He would leave this place, go right from there into the Garden of Gethsemane, and that's where Judas would come up. And Jesus, at that point called him friend. He gave him every opportunity. Well, we know he was very remorseful about it, and he went and threw the money back at the people. But in that state of remorse, many things had been said about him in the Bible. Would've been better for him if he had a millstone tied around his neck and cast into the sea. Some people said, "Well, don't you think that Jesus forgave him"? No. He gave him every opportunity, but in the midst of all of that, he hung himself. And he hung himself on a tree that was no good, and he fell and burst himself open. And that was prophesied in the first covenant. No. Now, of course, I could be wrong. Oh, I pray to God that I am, but I don't believe I am because I spent a lot of time studying it and praying about it and so forth. But I just wanted you to see Jesus in that condition, in his goodness and care. But then here in this meal, he began to talk about prayer. He began to say things like, he that hath my commandments and keepeth them, he it is that loves me. And he that loves me shall be loved of my Father and I'll love him and I will manifest myself to him. Now, he just got through saying, a new commandment I give unto you. Well, what he just said is based on that. But then there are commandments in this book. And when he said, don't let your heart be troubled, to me that's a commandment. So right then, I began to study that and think about that. How can I stop this from happening? How can I take command over my heart? Well, the first thing I need to do is renew my mind. Now the Apostle Paul, by the same spirit talked about the renewing of the mind. Well, how do you renew the mind? You take God's thoughts and think them. He that hath my commandments, keeps them, he it is that loves me, and he that loves me loves my father, and I'll manifest myself to him. Okay. Now, that's Jesus. And that's a thought. So yeah, I need him to manifest himself to me. And I began to meditate on that and you could just... Meditation... To meditate on the Word means to spend time thinking about it, that you take a verse and you begin to think about it, and you think about it. I took this one in the 12th verse. Verily, verily I say unto you he that believeth on me, the works that I do shall he do also. And greater works than these shall he do because I go unto my Father. Well, he said, I'm going to my Father to send the same spirit because it's the spirit within me that does the works. But how can I do greater work than this? And I just meditated on that, I'm talking about for a long, long, long time. But Jesus said it and I believe it, and meditated on that, and meditated on that, and just thought about it, and thought about it. And I've heard people talk about it and explaining it, but I somehow just wasn't satisfied with that. And then one day the Spirit of God through the Apostle Paul, it rose up on the inside of me while I was reading it. So let's go to the third chapter of the book of Ephesians. Ephesians 3, and you come down in verse 10 to the intent that now unto the principalities and powers in heavenly places might be known by the church to manifold wisdom of God. What? But then you come down to the 14th verse. For this cause... He said, in whom we have boldness and access with confidence by the faith of him, wherefore I desire that you faint not at my tribulations for you, which is your glory. For this cause, I bow my knees unto the Father of our Lord, Jesus Christ of whom the whole family in heaven and earth is named. We have been named after the Father. We're still in the earth, but we're named after the Father. Glory to God. That he would grant you according to the riches of his glory, to be strengthened with might by his spirit in the inner man. Glory to God. I receive strength in my inner man that Christ may dwell in your heart by faith. Glory. Yes. Amen. That you're being rooted and grounded in love, there is the commandment. Rooted and grounded in it. That means you spend a lot of time thinking about it. And you and I have spent a lot of time over the years talking about it and teaching the Word, teaching... here particularly teaching healing. And you just start in on the love of God and the goodness of God and just preach it until somebody got healed.

— Praise God.

— Amen.

— That's right.

— And faith works by love. Well, that Christ may dwell in your heart by faith, rooted and grounded in love, that you rooted and grounded in love may be able to comprehend with all saints what is the breadth, and length, and depth, and height, and to know the love of Christ which passes knowledge that you might be filled with all the fullness of God. Now, here it is. What are we talking about? The greater works. Now to him that is able to do exceeding, abundantly, above all that we ask or think according to the power, according to the dunamis, how God anointed Jesus Christ of Nazareth with dunamis power, we get our word dynamite from that same Greek word. Glory to God. He is able to do exceeding, abundantly above all that we ask or think according to the power that works in us, unto him be glory in the church by Jesus Christ throughout all ages world without end. Amen. There it is. He is able to do exceeding, abundantly above all that we ask or think. I go to his Word. I can ask it. I can think it by faith and meditate on it, and meditate on it, and believe it, and believe it until it comes to pass. Well, now I can ask or think that, exceedingly... Well, now it's going to go beyond that, and now it'll go beyond that, and now it'll go beyond that. Amen. Glory to God. So there it is. You're just exceeding, abundantly above all we can ask or think and go and go and go and go. Amen. Hallelujah. That's it right there. So, now above what you ask or think. Now that takes us over here. And now you know good and well, wherever I go and whatever I do, if I'm going to wind up on faith. Well, sir, that's my job. And there are other ministries that are praise specialists, and that's what they major on. There are other ministries that major completely on healing. Oral Roberts, he stuttered so bad. And stuttered so badly that he couldn't... he'd stand up in school and he couldn't even say his name. And the night he was healed of tuberculosis, that night on the way he was just skin bones. He was nearly dead from TB. And his older brother and sister took him over to Brother Munsey's tent meeting. And on the way he said, the Lord said to him, you're going to take my healing power to your generation. That night, he said that. And then as most of you know, I had a long, long time relationship with Oral, Evelyn, Roberts, and Richard and Lindsey and Roberta. And he got so hungry for that healing ministry. Well, he taught and preached faith. But in that healing ministry, that was his specialty. And he finally got to the place he was pastoring a small church in Indian, Oklahoma. And can you imagine Oral Roberts house selling sheet music on the street in order to get money enough to live. And anyway, he... But he just got to the place where he just finally just fell on his face in the kitchen and cried out to God where, and when and how? And so his special calling was healing. There are people that are specially called to teach and preach praise. And that's what they teach and preach on the glory of God. Kenneth Hagin heard the audible voice of God say, "Go teach my people faith". Well, Gloria and I learned faith from him. And I began to question the Lord about it. And because it fed our hearts and mine so much from the tapes that we listened to while I was a student there at ORU, that it got into our hearts so indelibly and I began to question the Lord about it. And that's when he brought it up to me on the inside. He said, "You are a faith specialist, that's what I've called you to do". And he said, "I want you to teach faith. I want you to preach faith, always keeping one hand on the love of God. You teach and preach the love. You teach and preach the absolute trustworthiness of my Word. And you teach faith". He said, "Whatever you teach, you teach on love. You teach on faith. If you teach on healing, you teach on faith". And so as you know, everything... because nothing works without it. Hebrews 11 says it's impossible to please God without faith. Why? Because... Well, it goes ahead and says why. But without faith it is impossible to please and be satisfactory to him, for whoever would come near to God must necessarily believe that God exists, and that he is the rewarder of those who earnestly and diligently seek him out. Well, we earnestly and diligently sought him out by listening to those tapes. And Gloria and I spent a lot of time discussing these things together. I came home from school one day, she was listening to Brother Hagin on the power and authority of the name of Jesus. And she was there with the kids. And I want to tell you what she did. She read Matthew, Mark, Luke and John, and the book of Act three times in 30 days in the Amplified translation, because that's what Oral Roberts did. And he said, when he got through with that in 30 days, he knew him more intimately than he knew any in personal life. So Gloria just did it. I came home she said, "Kenneth, I want you to listen to this". And she turned that tape recorder on, and it was on the name of Jesus. And she said, "Now look at my notes". She said, "I have stopped that recorder and made notes. I've copied down this whole tape". Now she's a note taker. I'm not. I'm a rememberer. And... But I listened to it over and over and over and over and over and over and over and over. We went to bed with those tapes. We got up in the morning with those tapes. And like somebody said, we were tape worms. And they did us a favor and made CDs, and can you do that with a CD? Not hardly. What do you do? You'd copy it off on a tape and do it. Well, you can stop it and start it and listen to it again. But that's it. And let me show you now the definition of faith from the Classic Amplified. Now, faith is... Faith is now, hope is in the future. Now faith is the assurance, the confirmation, the title deed of the things we hope for. Now, hey, don't put hope down. Being the proof of things we do not see and the conviction of their reality, faith perceiving as real fact what is not revealed to the senses. Receiving as real fact, whether you feel it or not. Amen. And when Jesus appeared, Thomas said, unless I put my finger in the holes in his hand, thrust my hand in his side, I will not believe. And then Jesus appeared there and he said, Thomas, put your finger in the hole of my hand and thrust your hand in my side. Well, that spirit went. And quit being faithless. And then Thomas said, my Lord, my God, well, anybody can believe it then and he said, blessed... are you listening? 20th chapter John, blessed are they that believe and have not seen, so the blessing begins and faith begins when you believe because it's in the Word, and diligently seek him. So Faith is now, and it is a spiritual force. Now in 1 Corinthians 13:13, we know how that had went up, there is faith, hope and love. You notice he put the faith first. The Spirit of God had the Apostle Paul write that like that, that's the love chapter. Faith, hope and love. The greatest of these is love. But faith is first. Faith puts substance in those things we hope for. Hope... I like to put it like this, real Bible hope. Let's turn over here to the book of Philippians, and let's look in this very first chapter here. This is Paul's Partner Letter in the 19th and 20th verse. 19th, I know that this shall turn to my salvation through your prayer or you praying for me. And the supply of the Spirit of Jesus Christ according to something. It's according to something. According to my earnest expectation and my hope that in nothing I shall be ashamed, but that with all boldness as always, so now also Christ shall be magnified in my body, whether it be by life or death, for me to live as Christ and to die is gain. But if I live in the flesh, this is the fruit of my labor, yet what I shall choose I know not, for I am in a straight between two, having a desire to depart and be with Christ, which is far better. Nonetheless, to abide in the flesh is more needful for you. I believe he made that decision while he was writing that letter because he's writing it to his partners. He called them his partners. But now according to my earnest expectation, you have to earnestly expect something for your faith to work. It's that blueprint and you just keep it right out there. You find it, say it's healing. Then all... See all these tabs in my Bible? All except for that white one, all these tabs are healing scriptures. So you just go through there, and look at them and read them and meditate on them, and think about them and think about it, sometimes like I did here. I'll pull something out that's especially important to me and then that scripture in Jeremiah became very special and important to me. And here's one over here, very special and important to me in 2 Corinthians. Praise God. But we have the sentence of death in ourselves that we should not trust in ourselves, but in the God who raises the dead. Who delivered us and so great a death and does deliver in whom we trust that he will yet deliver us. You also helping together by prayer for us, that for the gift bestowed upon us by the means of many persons, thanks may be given. Those are meditating verses. Amen. You can renew your mind there and it works. Glory to God. Now, then blessed hope, Titus 2:13. Earnest expectation, Philippians 1:19 and 20. Anxious, persistent, expectation. Hope says a matter of time, faith says now. Continue letting your wants to be known Philippians 4:6-9. Love who is God will bring it to pass. So hope is beautiful thing. I hope to be healed, yet I know I fully expect to be healed. The majority of the Christians that don't understand what real hope really is. It's like, "Well, are you going to get healed over there at the healing service today"? "Well, I sure do hope so, Brother Copeland". No, that isn't hope, that's wishing. "I sure wish I would". No, that's not hope. Hope expects it. Faith is a substance. Hope gets to that point where it says, there's no doubt about it. I'm expecting to. That ministry is a healing ministry to start with. I'm expecting to get it and I believe I'm going to receive it. Hallelujah. There's a lot of people, you get here before they ever get there because of the hope. And Gloria and I will be back in just a moment.