Kenneth Copeland - The Power To Heal Is in You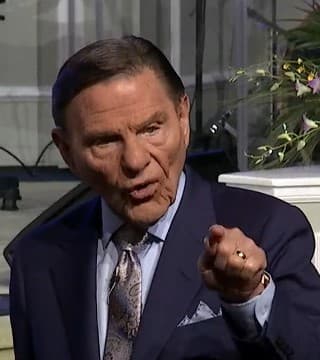 TOPICS:


The blood doesn't make faith work. Faith makes the blood work. So faith comes by hearing, and hearing by the Word of God. So I thought we'd just touch on that a little bit. Praise God. Thank You, Jesus. So what does it mean? Well, just to begin with, when you say that, you have just thrown both covenants right in the face of the devil. All of the exceeding great and precious promises right in his face. The name and the blood. So to put your eyes on it, go to the book of Revelation. It is not Revelations. It's one revelation. Chapter 12. Ooh, I love this book. Verse seven:

There was war in heaven. Michael and his angels fought against the dragon, and the dragon fought and his angels and prevailed not. Neither was their place found any more in heaven. And the great dragon was cast out, that old serpent called the devil and Satan, which deceiveth the whole world. He was cast out into the earth and his angels were cast out with him. I heard a loud voice saying in heaven, Now is come salvation and strength and the kingdom of our God and the power of his Christ, for the accuser of our brethren is cast down, which accused them before our God day and night. And they overcame him by the blood of the lamb and the word of their testimony. And they love not their lives unto death. The blood of the lamb and the word of their testimony. I plead the blood.

You remember when God said in the book of Isaiah, come, plead the case before me. Well, my case is very simple. I plead the blood. I am no longer the guilty. Why? Because of the blood. I plead the blood. Hallelujah, praise God. Thank You, Jesus. Well that ought to be enough to get you started, right? Praise You, Jesus. Now there's something else that I want to talk to you about. So open your Bibles to the book of Hebrews chapter one. God who at sundry times and in diverse manners, spake in times past under the fathers by the prophets, hath in these last days spoken unto us by his son whom he has appointed heir of all things by whom also he made the worlds, who being the brightness of his glory and the express image of his person and upholding all things by the word of his power when he had by himself purged our sins, sat down on the right hand of the majesty on high, being made so much better than the angels as he hath by inheritance obtained a more excellent name than they.

Now, what does that mean? Upholding all things by the word of his power. And since this is a word of his power conference, maybe we should talk about the word of his power. It didn't say the power of his Word. The word of his power. Words are the most powerful things known to the human family. Did you ever stop and think, we are the only animal that can speak?

Now there was a woman, well, I don't remember her name, but she raised a gorilla and taught that gorilla to sign. But he can't talk. By the word of his power. His power meant nothing until he spoke and created all things by the word of his power. And he is upholding all things by the word of his power. This universe is still expanding at the speed of light. Still expanding at the speed of light. And you and I do it at the speed of faith. Some people will say, "I'm living in the fast lane". I'm living in the faith lane. Hallelujah, life in the faith lane. All right. Upholding all things by the word of his power. I've had, not much anymore because I don't pay any attention to him much anymore, people say, "Are you a faith healer"? No. Well that faith healing. No, that's not what it is. It is divine healing. Divine healing.

Now God is a healing God. Somebody said, "I just don't believe in that healing". What happened to you when you skinned your knee? Did it just bleed forever? "Well, no". What happened? "Well, it healed up". Where you think you got that? God put healing in the body. He put the healing in there. Thank You, Jesus. Hallelujah. Well, a lot is being said about healing and well, and some people say, "Well, we just don't preach that healing in our church". Well, we're not in your church, but your church is out of line if they don't. What did Jesus say? We won't take time to look it up. But what did he say? I came to do the will of him who sent me. His Father. What is Jesus most known for? Healing, miracles. He said, well, in fact, let's turn there. 14th chapter of John. Most people don't understand this, but you read the 12th chapter of John and John is teaching right down through to the 13th chapter.

Now, before the feast of the Passover, when Jesus knew that his hour was come, that he should depart out of this world unto the Father. 13th, 14th, 15th, 16th, 17th chapters of John are all in the upper room. So look at the 14th chapter. No, I can't do that. Thank You, Lord. I have to begin... Take time. Live in these verses. Jesus in the 27th verse of the 13th. That that you do, do quickly. He had to get him out of that room. Verse 31. Therefore, when he was gone out, Jesus said now is the son of man glorified. And God is glorified in him. If God be glorified in him, God shall also glorify him in himself and shall straight way glorify him. Little children yet a little while I'm with you and you shall seek me. And as I said unto the Jews, whether I go, you cannot come. So now I say unto you, a new commandment I give unto you, that you love one another as I have loved you, that you also love one another. By this shall all men know that you are my disciples if you love one another.

That is a commandment. It is not a heavenly suggestion. It is a commandment and should be treated as such and walked in and kept at all times with his help. So as you come on over into the 14th chapter, now look at that verse there. Jesus answered in the 38th verse, would thy lay down that life for my sake? Verily, verily, I say unto thee, the cock shall not crow till thou has denied me thrice. Let not your heart be troubled. You believe in God. Believe also in me. That's a commandment. Don't be doing that. In my Father's house or many mansions and so forth. Thank You, Lord Jesus. I go to prepare a place for you. And if I prepare a place for you, I will come again and receive you unto myself, that where I am there, you may be also. And where I go you know, and the way you know. Now follow right on down. Verse 10. Believest thou not that I am in the Father and the Father in me. The words that I speak unto you I speak not of myself, but the Father that dwells in me, he does the works. He never did claim anything.

Now you take that in mind and someone says, "Brother Copeland, do you have the power to heal"? Well, yes and no. The Father does dwell within me. So the power to heal is on the inside of me because he is on the inside of me. Jesus himself by the spirit lives on the inside of us. So the healer is in here. Matthew, chapter nine. Look at the 32nd verse. As they went out, behold they brought to him a dumb man possessed with a devil. And when the devil was cast out, the dumb spake, and the multitudes marveled saying it was never so seen in Israel. But the Pharisees said he casteth out devils through the prince of devils, whoo, that's bad.

Jesus went about all the cities. He didn't pay attention to that. He went about all the cities and villages teaching. He did more teaching than anything else. Teaching in their synagogues, preaching the gospel of the kingdom, and healing every sickness and every disease among the people. But when he saw the multitudes, he was moved with compassion. They fainted and were scattered abroad as sheep, having no shepherd. Then sayeth he unto his disciples, the harvest truly is plenteous, but the laborers, are few. Pray ye therefore the Lord of the harvest that he will send forth laborers into his field or into his harvest, excuse me. And when he had called under him his 12 disciples, he gave them power against unclean spirits to cast them out, to heal all manner of sickness and all manner of disease. And it gives the name of the 12. These 12 Jesus sent forth. Are you reading with me now?

These 12 Jesus sent forth and commanded them saying, go not into the way of the Gentiles and into any city of the Samaritans enter ye not. But go rather to the lost sheep of the house of Israel and as you go preach saying, the kingdom of heaven is at hand. Heal the sick, cleanse the lepers, raise the dead, cast out devils. Freely you have received. Freely give. Provide neither gold nor silver nor brass in your purses nor scrip for your journey. Neither two coats, neither shoes nor yet staves, for the workman is worthy of his hire. That has been so misread so many times. Well you see there, Brother Copeland, now Jesus wanted them to be poor like he's poor. No, he didn't. He said a workman is worthy of his hire. They went to work for him. And I'll remind you that a poor man has no need for a treasurer. Amen.

Study the New Testament very, very carefully. And as you do, and go all the way over, particularly in the book of Romans, the gospel according to Paul, Amen. Or the 10th chapter of Mark, the rich young ruler. What must I do to inherit eternal life? And he told him. But he left. He didn't hear the rest of the message. And it came down to the point where he asked him, I mean where Jesus answered what he said. Well, let's just turn there. Mark 10. When he was gone forth, 17th verse, and the way they came running and kneel, this man ran to him and kneeled to him and asked him, good master, what shall I do that I may inherit eternal life? And Jesus said unto him why callest thou me good? There's none good but one and that is God. God is 100% good. Amen. He is total goodness.

When Moses said I want to see your glory, he said, I'll let my goodness pass before you. Thou knowest the commandments, do not commit adultery, do not kill, do not steal, do not bear false witness, defraud not. Honor thy father and mother. And he answered and said unto him, master all these things I observed from my youth. Jesus beholding him, loved him and said unto him, one thing you lack. Go your way, sell whatever you have and give to the poor and thou shalt have treasure in heaven. Come, take up the cross and follow me.

Now how many people did he say come follow me? This man left. He missed becoming an apostle. Would he not have made an excellent replacement for Judas? Wealthy young man. He was a young man. He was sad at that saying and went away grieved for he had great possessions. Jesus looked around about and said to his disciples, how hardly shall they that have riches enter into the kingdom of God? And the disciples were astonished at his words, but Jesus answered again and said unto them, children, how hard it is for them that trust enriches to enter the kingdom of God. Easier for a camel to go through the eye of an needle than a rich man to enter in the kingdom of God. And they were astonished out of measure saying among themselves, who then can be saved?

That's not the reaction of poor men. They were wealthy when he hired them. They were in the fishing business. Peter began to say unto him, Lord, we have left all and have followed thee. Jesus answered and said, verily I say unto you, there is no man that hath left houses or brethren, sisters, or father or mother or wife or children, or lands from my sake and the gospel, but he shall receive a hundredfold now and this time houses, brethren, sisters, mothers, children, and lands with persecutions and in the world of come, eternal life. Where do the persecution start? When you get money. Study through the Proverbs. I'm paraphrasing. Even though a man may be a good man, but he's a poor man, his words mean nothing. But also in the Proverbs, the blessing of the Lord, it maketh rich and he adds no sorrows. Praise God.