Kenneth Copeland - Covenant Correction Brings Direction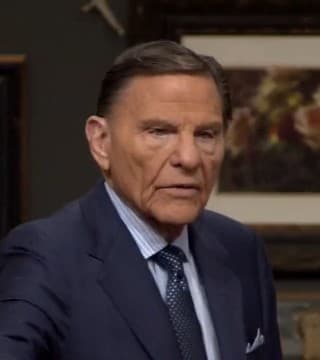 TOPICS:


First Thessalonians 5:15, "See that none render evil for evil unto any man, but ever follow that which is good, both among yourselves and to all men. Rejoice evermore, pray without ceasing. In everything, give thanks for this is the will of God in Christ Jesus concerning you. Quench not the spirit, despise not prophesying. Prove all things. Hold fast that which is good. Abstain from all appearance of evil and the very God of peace sanctify you wholly; and I pray God, your whole spirit and soul and body be preserved blameless under the coming of our Lord Jesus Christ. Faithful is he that calls you, who also will do it".

So say it with me: "I am a spirit. I have a soul. And I live in a flesh body. I am a spirit". You don't have a spirit. You are a spirit. And you can locate people just by the way they talk about that. Body, mind, and spirit. No. Most people think the soul and the spirit is the same thing. It couldn't be, because you find it right there and you also find it in the Book of Hebrews. Anyway, to settle that and make sure that we know for sure what we're talking about. Now, let's talk about correction.

Let's look at Hebrews 12. Hebrews 12:1 through four. "Wherefore seeing we are also compassed about with so great a cloud of witnesses. Let us lay aside every weight and the sin, which does so easily beset us and let us run with patience the race that is set before us. Looking unto Jesus, the author and the finisher, or the developer, of our faith, who for the joy that was set before him endured the cross, despising the shame, and is set down on the right hand of the throne of God. For consider him that endured such contradiction of sinners against himself, lest you be wearied and faint in your mind".

Stay on course. Jimmy Donaldson, are you here? Jimmy, stand up. Now, you're a pilot. When you started learning how to fly, did they teach you the E6B computer? Yeah, sure they did. There was no GPS. No GPS. Go preach somewhere, I guess. Thanks Jimmy. The E6B computer, it's a circular slide rule. And that's a picture of one. Now, here's what I wanted you to hear. Altitude correction, air speed correction. On the back of this thing is a wind computer. This goes way, way, way, way back. After December the seventh, 1941, United States Army Air Corps ordered 400,000 of these things. Correction.

Now, Jimmy, let's say you're flying 200 mile an hour airplane and you're just sitting up there, fat, dumb, and happy and just not paying any attention to anything that's going on. You didn't check anything. You look for your computer. Oh man, I left it at home. I don't know what the wind doing. So, you're 10 degrees off course. That's all. Just 10 degrees. Now, 200 mile an hour airplane for four hours. Now a 200 mile an hour airplane at four hours, that's pretty close to the range of that airplane. He's 10 degrees off course. In four hours, that fella will be off course 133 miles plus a little.

Now he has a problem. And that's not to take into consideration the storms that come along the way that he has to go around. And he can get off out there and get lost that way. If he's over the water, he's in big trouble. Just because he wasn't paying attention and making his corrections. So then now what does he have to have? He got to have some direction. Quick. Now what do I do? So I'm 10 degrees off course. Whoa. 130, nearly 134 miles. Now what do I do? Where's my chart? Oh no, where's my, I don't know where my charts are. Oh, woe is me. So do I go back this way and get on course and then go, or do I go directly from where I am now to my destination? He has to have some direction. He's in trouble. Could be bad trouble.

So stay on course. This book, this Holy Bible is a very blunt book of corrections and directions and course guidance. How do I get back on course? Now, first turn with me to Nehemiah. Now, this tells us, this gives us direction, but it also shows us the goodness and the mercy of God. Nehemiah chapter nine. Let's back up here. And 14. "Made known unto them, your holy Sabbath. Command them precepts, statutes, and laws by the hand of Moses, thy servant. Gave them bread from heaven for their hunger and brought forth water for them out of the rock for their thirst, promised them that they should go in to possess the land, which I had sworn to give them. But they and our fathers dealt proudly and hardened their necks and harkened not to the commandments, and refused to obey". They refused to listen. They wouldn't listen. They're off course.

But listen to this. "They refused to obey. Neither were mindful of your wonders that you did among them, but hardened their necks and in their rebellion appointed a captain to return to their bondage. But you are a God ready to pardon, gracious and merciful, slow to anger and of great kindness and forsook them not". He's not going to forsake you. Then how do I get back? Okay, let's go to Hebrews 2:1. Verse 13 of the first chapter. "But to which of the angels said he at any time, sit on my right hand until I make thine enemies thy footstool. Are they not all ministering spirits sent forth to minister for them who shall be heirs of salvation therefore we ought to give the more earnest heed to the things which we have heard lest at any time we let them slip". Ernest heed.

Listen. Listen, listen, listen. "For the words spoken by angels was steadfast and every transgression and disobedience received a just recompense of reward. How shall we escape if we neglect so great a salvation". They're still talking about the ministering angels. "Which at first began to be spoken by the Lord and was confirmed unto us by them that heard him. God also bearing them witness both with signs and wonders with different miracles and gifts or distributions of the Holy Ghost according to his own will". Now here we are again, listening. But we have, what did you say? What did he say? "Give more earnest heed to the things which we have heard lest at any time we should let them slip".

These are covenant words. Those are corrected words. Yes they are. And I've noticed this when you take a panorama of the Bible, this covenant book. This book of covenants. And the big deal is the blessing. That's the big deal. The blessing of the Lord. Throughout the book. And the correction is to keep one in that place of the blessing of God. First Peter 2:24, who his own self bear our sins in his own body on the tree, that we being dead, to sin should live unto righteousness by whose stripes you were healed. But now wait a minute. There are some directions and corrections. There's 23 verses before this. And nobody starts with wherefore.

Verse 25. "But the Word of the Lord endures forever. And this is the Word by which the gospel is preached unto you. Wherefore laying aside all malice, all guile, hypocrisies, envies, all evil speakings as newborn babies desire the sincere milk of the Word that you may grow thereby. If so be you have tasted that the Lord is gracious, to whom coming as unto a living stone disallowed indeed of men, but chosen of God and precious. You also, as lived lively stones are built up a spiritual house, a holy priesthood to offer up spiritual sacrifices acceptable to God by Jesus Christ. Wherefore also it is contained in the scripture. Behold, I lay in Zion a chief cornerstone elect and precious that he that believes on him shall not be confounded unto you. Therefore, which believe he is precious, but unto them, which are disobedient the stone, which the builder disallowed, the same has made the head of the corner and a stone of stumbling and a rock of offense, even to them, which stumbled at the word being disobedient".

Well, there you go. That would get you killed. "Where unto also they were appointed, but you're chosen generation, a royal priesthood, a holy nation, a peculiar, or a special people, that you should show forth the praises of him who have called you out of darkness into his marvelous life, which in times passed were not a people, but are now the people of God, which had not obtained mercy, but now have obtained mercy. Dearly beloved, I beseech you as strangers and pilgrims, abstain from fleshly lust, which war against the soul. Having your conduct, honest among the Gentiles that whereas they speak against you as evil doers, that by your good works, which they shall behold glorify God in the day of visitation, submit yourselves to every ordinance of man for the Lord's sake". Do you see that? For the Lord's sake.

"Whether it be to the king as supreme or unto governors, for so is the will of God that with well doing, you may put to silence the ignorance of foolish men, as free and not using your liberty for a cloak of maliciousness, but as the servants of God. Honor, all men. Love the brotherhood. Fear God. Honor the king. Servants, be subject to your masters with all fear, not only to the good and gentle, but also to the froward". Proper respect. "For this is thank worthy. If a man for conscience toward God, endures grief, suffering wrongfully, for what glory is it if when you be buffeted for your faults, you shall take it patiently. But if when you do well and suffer for it, you take it patiently. This is acceptable with God. For even where unto were you called".

Even where unto were you called. He's not writing to preachers. "Who, when he was reviled, revile not again. When he suffered, he threatened not, but committed himself to him that judges righteously. Who his own self bear our sins in his own body on the tree that we being dead to sins should live unto righteousness by whose stripes you were healed for we were as sheep going astray, but are now returned unto the shepherd and the bishop of our souls". So somebody just jumps from Isaiah 53 to First Peter 2:24. And then you don't get healed. Well, I don't understand that. All this correction, instructions of righteousness, in covenant. All right. Turn with me to Second Peter. "Simon Peter, a servant or a slave and an apostle of Jesus Christ to them that have obtained like precious faith with us through the righteousness of God and our savior, Jesus Christ".

Same faith. The same precious faith that this great apostle has. Well, yes. What did we just read? Dom, dom, dom, dom. Looking unto Jesus, the author of our faith. It's the faith of God. It wasn't Peter's faith, not my faith, not your faith. Jesus said, have the faith of God. Glory to God. If you just take those precious, exceeding great and precious promises. Look at that. "According as his divine power have given unto us all things that pertain unto life and godliness through the knowledge of him that have called us to glory and excellence whereby are given to us exceeding great and precious promises that by these, you might be partakers of the divine nature. Having escaped the corruption that is in the world through human desires". Now, how did Peter get his name? What'd he say over there? Simon Peter. He used to be Simon Barjona.

Now the name changed in covenant, God appeared to Abram, "Your name shall no longer be called Abram, but Abraham". The H in the middle of his name, in Hebrew, Hashem. The name, the name, the name. He changed his name. As for me, my covenant is between me and thee. So from then on, now in the King James version, it's correct in saying that Abraham was the friend of God and capitalized it. That's correct. There is a friend that sticks closer than a brother. It is a covenant friend. It is a blood joined man or woman. Because that friendship is sworn. Exceeding great and precious promises. Glory to God. That by these, you might become partakers of the divine nature, which is found in Exodus 34:6 and seven. "His name, the merciful name, compassionate, gracious, slow to anger, abounding in kindness, abounding in faithfulness, extending mercy to the thousandth generation, extending kindness, forgiving inequity". That's the divine nature. He is love. And these are love covenants.