Kenneth Copeland - How To Receive Prayer Promises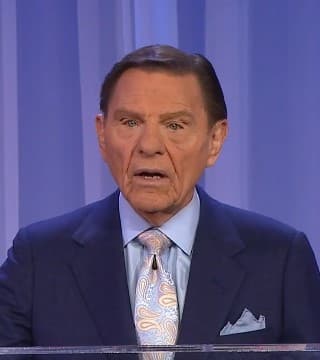 TOPICS:


Let's open our Bibles once again this morning to 2 Peter 1 where the Lord has instructed us and talked to us about exceeding great and precious promises. "Simon Peter, a servant," the Greek word is slave, "and an apostle of Jesus Christ, to them that have obtained like precious faith with us through the righteousness of God and our savior Jesus Christ". I remember many, many, many, many, many, many years ago and I read that verse and I thought, "I have the same faith as this great apostle". It astounded me the more I read and then I got into the 12th chapter of the Book of Hebrews and I found out that Jesus is the author and the finisher or the developer of our faith.

So the faith is precious. "Grace and peace be multiplied unto you through the knowledge of God and of Jesus, our Lord. According as his divine power has given unto us all things that pertain unto life and godliness". How many things? All things. Keith Moore talking about a young man if I remember right when they were students at Rhema, but anyway, he said, "I'm just going to do a word study on all". So he looked it up in the Greek, he looked it up in the Hebrew, and he looked it up in Chaldean, and he looked it up in Spanish, and he looked it up in German, and he looked it... You know what it means? All. All means completely. It didn't say He gave us 75%, not even 95%. "His divine power has given unto us all things that pertain unto life and godliness through the knowledge of him that hath called us to glory and virtue or excellence. Whereby".

Now, this at this point is the bottom line. How has He given us all things that pertain unto life and godliness? "Are given to us exceedingly great and precious promises. That by these you might be partakers of the divine nature". The divine power has given us his divine nature and all things that pertain unto life and godliness. Now this morning, we've talked about the divine promises. All things, the divine promise takes the divine and precious faith to bring it to pass, whatever that promise is. We've talked about now in several different services. Last night, if you want to turn to 1 Peter, in 1 Peter 2:24, "Who his own self bear our sins in his own body on the tree, that we being dead descend should live under righteousness, by whose stripes you were healed".

That's marvelous, but it didn't start there. Now, we're talking all this year about correction, direction, then protection, then perfection, but it starts off with correction. So here, that's wonderful, but that's the 24th verse. There's 23 in front of it. There's 23 verses there and they are divine corrections. This whole book is written like that. Amen. Let's turn to the Book of James, Chapter 5. "Is any sick among you? Let him call for the elders of the church. Let them pray over him, anointing him with oil in the name of the Lord, and the prayer of faith shall save the sick". That word save and heal are exactly the same word in the Greek text. There have been small wars fought. We only preach salvation. We don't preach healing. All you needed to do was do a little study, knot head. Excuse me. Meat head. That's scriptural. Meat head is scriptural. You ever hear about chili con carne? What is that? Chili with meat. Carnal-minded meat head. Glory to God.

Well anyway, now where was I? If you start there, the prayer of faith, how do I pray the prayer of faith? I know it's special faith, but anointing with oil in the name of the Lord, it's faith in the name. But don't start there. Go back to the first chapter of James. "James, a servant of God and of the Lord Jesus Christ, to the 12 tribes which are scattered abroad, greeting. My brethren, count it all joy when you fall into different temptations or tests and trials, knowing this".

Now, you're going to know something. "That the trying of your faith works patience, but let patience have her perfect work that you may be perfect and entire, wanting nothing. If any of you lack wisdom, let him ask of God that giveth to all men liberally and upbraideth not or doesn't find fault, and it shall be given him. But let him ask in faith, nothing wavering. For he that wavers is like a wave of the sea, driven with the wind and tossed. Let not that man think he shall receive anything of the Lord. A double-minded man is unstable in all of his ways. Let no man say when he's tempted, I'm tempted of God. Be a doer of the word, not a hearer only".

All of those instructions came before you were ready to receive your healing. You could have got into that place and just be stumbling around. Faith in what? The corrections come first and one of the most powerful things in the Book of James and we get the correct terminology, faith without corresponding action is dead. You show me your faith, I'll show you my corresponding action. That's huge. Now, that instructs this person what to do after they're anointed with oil. You receive it. You walk in it. You act like it. Faith's kind of sassy. Don't you be telling me... It isn't ugly. It just knows, it believes.

Now once again, let's put the definition of faith and just back up, turn left one book. Glory to God. In the 11th chapter, the hall of fame of faith, hall of fame, God used his faith to create the world, the heaven, and the earth. This is a faith book because it's a book of covenants and without faith, a covenant is absolutely worthless. A promise is absolutely worthless if you don't believe it or if you pay little to no attention to it. Just worthless. To a lot of people, Christian people, a lot of people are not aware because it's never mentioned in far too many churches that this is not the New Testament, it's the new covenant. Most people don't know anything about a covenant much or maybe they live in a neighborhood that has neighborhood covenants and they won't let you paint your house pink and so you go get you a lawyer and sue them because you want to paint your house pink. Amen.

We need to upgrade this covenant because it says this one doesn't need upgrading. This is not a progressive covenant. It never changes. Glory to God. Because its author never changes. This is a covenant between the Almighty God and the man Jesus of Nazareth. Amen. You and I, the moment we accepted Jesus as our Lord and savior, we received our inheritance in him. Praise God. Well while we're at it, turn with me to the Book of Galatians. Praise God. Great and precious promises. That sixth verse of the fifth chapter, precious faith works by love which is precious. Anything that comes from God is precious. It's priceless. It can't be bought with silver, gold. It can't be bought with money. It was already paid for by the precious blood of the lamb. Amen. And the moment we accepted him as Lord... Thank You, Jesus. Praise You, Lord Jesus.

That very moment that we accepted him in the, excuse me, third chapter of the Book of Galatians. Turn there. "For you are all the children of God by". By? Say it. "By faith in Christ Jesus. For as many as you have been baptized into Christ have put on Christ, there's neither Jew nor Greek, neither bond nor free, neither male nor female. You're all in Christ Jesus. If you be in Christ, then are you Abraham's seed and heirs according". Heirs according... Heirs according... Isn't it great and exceeding great and precious promise? Now this morning, we're going to talk about prayer promises. Christian failure, the failure in the lives of Christian people are by and large prayer failures, not knowing how to pray, not knowing what to pray, not knowing when to pray because you think about how many born-again just precious people that love God that cannot pray in other tongues. So they're stuck in their own mental prayer life.

That's dangerous. No wonder the devil has fought it. I mean he tried to make it look like you're just old poor trash if you speak in tongues. There have been persecutions where people have died in certain times in the United States of America because they spoke in tongues. Now, I mean they paid a darling price for that, but now, there's just so many of us the devil can't kill us all. Amen. Thank You, Jesus. The prayer promises. The first one I'll call your attention to is in 2 Chronicles if you'd turn there with me.

Verse 10, "On the three and 20th day of the seventh month, he sent the people away into their tents, glad and merry in heart. For the goodness that the Lord had shown unto David and to Solomon and to Israel, his people. Thus Solomon finished the house of the Lord and the king's house and all that came to Solomon's heart to make in the house of the Lord and in his own house, he prosperously effected. The Lord appeared to Solomon by night and said unto him, I have heard your prayer. I've heard your prayer". He what? He heard his prayer. "And have chosen this place to myself for a house of sacrifice. If I shut up heaven that there is no rain or if I command the locusts to devour the land or if I send pestilence among my people, if". See, it's conditional. "If my people which are called by my name shall humble themselves and pray and seek my face and turn from their wicked ways, then, then will I hear from heaven. Then will I forgive their sin. Then I will heal their land," but it is conditional and it has to be prayed. That is an exceeding great and precious prayer promise.

Now if you were to take a poll on how many Christian people pray for the country, most Christian people just argue with the country. "I don't like the politics". Well pray about it. "I don't pray for somebody like that". No, you need prayer. What did we read over in the Book of Nehemiah, the ninth chapter? It said they refused to listen. You have to listen to the word. I said to the Lord one day, I said, "Lord, look what you did for Moses". I said, "You just spoke to him face-to-face like a man talks to a man. You spoke to him face-to-face and you put him in this cleft of the rock and all of that. I would like for you to do that with me". He said, "Why"? I thought that would be obvious. He said, "You have everything I said to Moses. You have everything I said to Daniel. You have everything I said to all of the prophets. What more do you want"?

Well I could have brought up a lot of things that I want, but I began to appreciate what I already have. Amen. We have exceeding great and precious promises that by these... Now, let's put up once again the definition of faith from the 11th chapter of the Book of Hebrews. Now, faith is... Read it with me. Now, faith is the assurance, the confirmation, the title deed of the things we hope for, being the proof of the things we do not see, and the conviction of their reality. Faith perceiving as real fact what is not revealed to the senses. It is a powerful unseen force and it is the connector. That's the reason right there in the Book of Hebrews it is impossible to please God without faith because without that, you must first believe that He is and you must believe that He is the rewarder of those who diligently seek him by faith because you can come to that place where you have title deed to the promise that covers your situation.

When you meditate that situation long enough and you pray in the spirit long enough, you come to the place you own it. It is the title deed for what you are seeing in the spirit through hope. Hope is a wonderful thing. Now, I remember as a little boy, we lived about 300 miles away from my grandparents on my mother's side and my other grandparents were out in California so we didn't get to see them hardly at all, but occasionally Memaw and Pawpaw would come to Abilene. Now, it was occasionally because he had to get back to milk the cows and slop the hogs and feed the chickens. You had to have someone... Little kids don't understand about milking cows. You think it comes from the grocery store, but it doesn't. Back there then, there was no automatic milking machines. You had to do it.

Now, I believed that they were coming because my mother said so, my dad said so. They're coming. I believed that. Hope is expectancy. "I hope so, brother". No, that's wishing. That's not hope. Hope says that's going to come to pass. Yes. I can see it on the inside. I just see them walking up. Well I mean if I heard a sound of a car, I ran out to see if it was them. I was expecting them to be there because I had faith in what my mother said and what my dad said. That's simple, but that's really the gist of it. I had an exceeding great and precious promise.