Kenneth Copeland - If You Know It, You Own It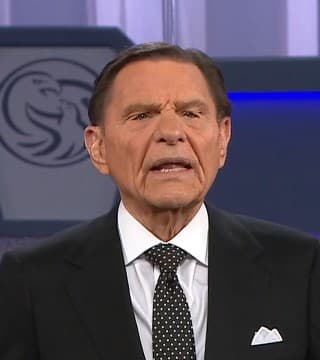 Now let's go tonight to 1st Peter. And watch how this works. "Peter, an apostle of Jesus Christ to the strangers scattered throughout Pontus, Galatia, Cappadocia, Asia. Now elect according to the foreknowledge of God, the Father through sanctification of the Spirit unto obedience and sprinkling of the blood of Jesus Christ, grace unto you and peace be multiplied. Blessed, be the God and Father of our Lord Jesus Christ, which according to His abundant mercy have begotten us again, unto a lively hope by the resurrection of Jesus Christ from the dead to an inheritance incorruptible undefiled that fadeth not away and reserved in heaven for you". Now that's the plan. "Who are kept by the power of God through faith".

Now we've injected... Let's put up the definition of faith again. Now faith is the assurance, the confirmation, the title deed. This is the title deed, you own it. If you know it, you own it. And if you know where the deed is, you can prove it. Lord I get excited about faith. That's my job. You own it. The things we hope for, hope is a powerful thing. Hope is the blueprint. You take that promise and you get that promise in your heart and in your mind. And it becomes the blueprint in the na... And that's what you hope. But faith becomes the title deed to it. You own it. And now it's yours. Hallelujah. It is the proof of things we do not see. The conviction of the reality. Faith perceiving as real fact, what is not revealed to the senses. Let's just leave that up there for a little while.

So we'll have that handy. That the trial, verse seven, of your faith being much more precious than of gold, that parishes, though it be tried with fire might be found unto praise and honor, and glory at the appearing of Jesus Christ. Whom having the not seen, ye love. In whom though now you see Him not yet believing, yet believing, yet believing, yet having faith. You rejoice with joy, unspeakable, and full of glory. Oh, verse nine. Receiving the end of your faith even the salvation of your souls. That's not your spirit, that's your soul, your mind, your will and your emotions. The salvation, the peace that He's talking about here to start with... is just the peace of mind. The easy part.

Now come on down, verse 19, with precious blood of Christ as a lamb, without blemishing and without spot, who verily was foreordained before the foundation of the world, but was manifest in these last times for you. Who by Him do believe in God that raised Him up from the dead and gave Him glory that your faith and hope might be in God, seeing you have purified your souls, obeying the truth through the Spirit under unfeigned love, and brethren see that you'll love one another with a pure heart, perfectly being born again, not of corruptible seed, but of incorruptible by the Word of God, which lives and abides forever. That's God's DNA. Born of Him. But the Word of the Lord endures forever. And this is the Word by which the gospel is preached onto you now wherefore laying aside all malice, and all guile, and hypocrisies, and envious, and evil speakings.

A lot of correction here, right? You brag on you one second and then there's something else I want to talk to you about. Now, it is... Well, I've been guilty of this myself and so I'll just put it to you like this. Well, you go to Isaiah 53:4-5. Surely He, and you say, surely He, Jesus, bore our sicknesses and carried our pains. And in 1st Peter 2:24, by His stripes you were healed. Now somebody does that over and over and over and over and over and over and over. And nothing happens and they give up and say, "I'll just die somehow". What is the problem? 1st Peter is only five chapters long. And it may be in the fifth chapter, not the second. Casting the whole of your care over on Him for He cares for you. Humble yourself under the mighty hand of God.

The Classic Amplified says, worries, concerns once and for all. That may be the problem in the first place. But you keep jumping track. You run up to the second chapter in the 24th verse, nothing happened. Well, I guess healing just not for me. No. No. Come on. We'll get there. And nobody start, I didn't come here tonight and say, "Wherefore". No, back up. The Word of the Lord endures forever. And this is the Word by which the gospel is preached unto you, wherefore laying aside all malice, and guile, hypocrisies, envies and evil speakings. Lay it aside. The Word of the Lord endures forever. You don't need that other stuff. Get out of there. There's a snake in your kitchen. Get out of there. Or kill him. I was in my mother's kitchen one time and I don't remember what we were talking about.

And now she's farm girl. And I said, "Mother, we're going to have to... Well, we're going to speak to the devil over this". I said, "Now talk to him, tell him". She said, "Now devil now in the name of Jesus". I said: Mother, now hold it a minute. If you were to walk in here in your kitchen and somehow or another, some big old sow got in through the back door and just shook herself and just throwing mud and slop all over your kitchen, and just stink. Would you say, "Pig". I said, "No, you would not. You grabbed that broom handle. You'd start beating that", she said, "Devil you"... Just a little attitude adjustment there, because James 4:7 doesn't say, resist the devil and he'll flee from you. It says submit yourself to God and resist the devil and he'll flee from you. That changes everything. That is an exceeding great and precious promise if you get the whole thing. Glory to God. That's the way this book is written.

It's not going to put you in a place where you can't receive the benefit of that promise. It is going to correct you and me and put us in a place of faith. So the devil doesn't have anything to stand on and we do. We can stand on those exceeding precious promise, exceeding great and precious promises, if we stand by faith, nothing wavering. Hallelujah. Until it becomes the title deed to it. Now notice this, laying aside, who? You. I have to do this. I can't do this for you. I have to do this for myself. Now I'm responsible for teaching this to my children. And my grandchildren and my great grandchildren, to show that they know this. You have to do this. Laying aside all malice and guile. Well, what is guile, it's deceitfulness. A deceitful, deceiving mouth. That your lips speak no guile. You want to enjoy long life? Then seek to it that your lips speak no guile, no deceit.

Now that one, being a liar is one thing. But being deceitful, deceitful is a thing that, "Oh, everything is so wonderful". Those kind of people, foul up churches. Everything is just wonderful when they get to church. Talk about the pastor all the way home and all the way to church. If you don't like the pastor, go find one that you do. Lay it aside, hypocrisies, envies, evil speakings, as newborn babes desire, the sincere milk of the Word that you may grow thereby. There is two different types of instructions right there. Get rid of this and get on the Word. Let the Word move all of that other out of your mouth and fill your mouth like a baby feeds on food. Huh? Praise God. If so be, you have tasted that the Lord is gracious. I mean, you feed on these promises until you can just taste it.

And the goodness of God just gets so real to you, that you just want more and more and more and more and more like a little baby waking up in the middle of the light. And I'm hungry for the Word. Oh, I mean, when Gloria and I found out about faith, and about love, and how it works, we just couldn't get enough of it. And as I've told you before, we didn't have anything to unlearn. We were scriptural illiterates when we got into it. And anyway, we'd listen to Brother Hagin night and day. Literally night and day. We'd go to bed at night and put that tape recorder on right there next to the bed. And it'd wake me up, going flip, flip, flip. And I got to where I could reach over there and get it, do it without turning the light on. Flip that tape over and run it through there and turn it on, and go back to sleep. But it got to the point, I didn't try to do this. It got to the point I listened to him for so long, I got to where I sounded like him. I didn't try to mimic him at all. We were at a Full Gospel Businessman's Fellowship and I've forgotten just now how the...

Anyway, this young boy, I was preaching and they had the microphone out there in the foyer where the tapes were and Brother Hagin was sitting out there. And this young boy walked in there and heard me on the thing. And he looked up there and he turned around and looked at Brother Hagin, and Brother Hagin said... But I had listened to him so much that I sounded like him. And I wasn't attempting to do that, but it got so down in me. I was so hungry for it, I could not live without it. To whom coming, as unto a living stone, disallowed indeed of men, but chosen of God and precious. You also, as lively stones are built up a spiritual house, a holy priesthood to offer up spiritual sacrifices, acceptable to God by Jesus Christ. Oh, you could spend time on that right there. A holy priesthood to offer up spiritual sacrifices. What is that? Praise and honor to glorify Him. And you come before Him as your King. Hallelujah.

Acceptable to God by Jesus Christ. Wherefore also it is contained in the scripture, "Behold, I lay in Sion, a chief corner stone, elect and precious. He that believeth on Him shall not be confounded". Oh, glory to God. I believe on Him. And you can't confound me anymore. I'm not confounded over this thing. I don't even use that word. I don't even go around anymore in saying confounded. No, no, no. It's not my vocabulary. I know, I'm not confounded. I'm not confused. Glory to God anymore. Unto you therefore, which believe He's precious. But unto them that be disobedient, the stone which the builders disallowed, the same is made the head of the corner. And a stone of stumbling and a rock of offense, even to them who would stumble at the Word. Don't stumble at the Word. Abraham stumbled not at the promises of God, giving glory to God, being fully persuaded that he was able to do what he had promised.

How did he become fully persuaded? He had a covenant of blood with him and he believed it. When you become covenant minded, you can get fully persuaded, that I own this. It belongs to me. In the name of Jesus. We're a chosen generation, a royal priesthood, a holy nation, a peculiar, or a special... That word peculiar to mean that we're weird. The proper word is special. I'm special. I'm special in the eyes of God. I'm something special. A special people that you should show forth the praises of Him who hath called you out of darkness into His marvelous light. Which in times past you were not a people, but are now the people of God, which had not obtained mercy, but now have obtained... Oh, glory to God. I have mercy. I have mercy. Oh, Lord God, I have mercy. I have mercy. Oh, God I have mercy. I have mercy dearly beloved. Oh, He called me dearly beloved. I beseech you as strangers and pilgrims abstain from fleshly lust, which wore against the soul, have having your conversation or your conduct, honest among the Gentiles that whereas they speak against you as evildoers, they may be your good works, which they shall behold, glorify God in the day of visitation.

Submit yourselves to every ordinance of man for the Lord's sake. For the who? For what? For what? For what? For what? For what? For what? For the Lord's sake. Now don't forget that phrase right there. Before you get kind of bent out of shape here. Whether it be to the king as supreme for the Lord's sake, I do not agree with President Biden's politics, but he's president. And I respect that. You understand what I'm saying? For the Lord's sake. Glory to God. Are we getting anywhere with this now? Or governors as unto them that are sent by Him for the punishment of evil doers. Well, what if they're not punishing... That's not my business. It's my business to pray. And for the praise of them that do well. For, so is the will of God...

You want to know what the will of God? For so is the will of God that with well doing, you may put to silence the ignorance of foolish men as free and not using your liberty for a cloak of maliciousness, but as the servants of God, or as the slaves of God. Honor all men, love the brotherhood, fear God, honor the king. Servants be subject to your masters with all fear. Not only the good and gentle, but also the froward. Or proper respect. Proper respect and honor. For this is thank worthy. If a man for conscience toward God, endure grief, suffering wrongfully. For what glory is it, if when you be buffeted for your fault, you shall take it patiently? But if when you do well and suffer for it, take it patiently. This is acceptable with God. For even hereunto were you called. This is a divine calling. I don't care if you're an apostle, prophet evangelist, pastor, teacher, a man in the drilling business, school teacher, car dealer, I don't care. You're born again, you're called to hear. Praise God.

For even hereunto were you called because Christ the anointed one also suffered for us leaving us an example that you should follow His steps, who did no sin. Neither was guile found in His mouth. Who, when He was reviled, revived not again. And when He suffered, He threatened not, but committed Himself to Him that judges righteously, who His own self bear our sins in His own body, on the tree. That we being dead to sin should live under righteousness. By whose stripes you were healed for we were as sheep going astray, but are now returned unto the shepherd and the bishop of our souls. There were a lot of qualifying things there. For the Lords sake, things we're called to do, and we should be well and strong. But somebody just picks that up or pulls a little promised card out of the promised box, by His strips you were healed. By His stripes I'm healed. By His stripes I'm healed. By His stripes I'm healed. By His stripes... I don't believe that. And all that other stuff is a lot of baggage. By the time you get down to there, you're ready.