Kenneth Copeland - The Key To Staying on Course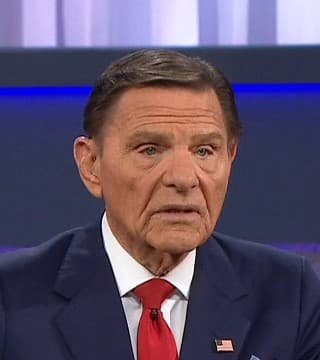 Exceeding Great and Precious Promises. Chapter one, "God, who had sundry time and in different manner, spoken time passed under the fathers by the prophets, hath in these last days, spoken unto us by his Son, whom he hath appointed heir of all things, by whom also he made the worlds; Who being the brightness of his glory, and the express image of his person, and upholding all things by the word of his power". Upholding all things by the word of his power. Is he upholding you? If you have faith in the word of his power, he is. You're going to get a chance to use it in 2022.

"When he had by himself purged our sins, sat down on the right hand of Majesty on high. Being made so much better than the angels, as he hath by inheritance obtained a more excellent name than they. For, to which of the angels said he at any time, Thou art my Son this day, have I begotten? Then again, I will be to him a Father, and he shall be to me a Son? And again, when he bringeth in the first begotten into the world, he saith let all the angels of God worship him. And of the angels, he saith, who makes his angels spirits, and ministers a flame of fire. But unto the Son, he saith, Thy throne, O God, is for ever and ever. A sceptre of righteousness is the sceptre of thy kingdom. Thou hast loved righteousness and hated iniquity".

"Therefore God, even thy God has anointed thee with oil of gladness above thy fellows. And, Thou, Lord, in the beginning has laid the foundation of the earth; and the heavens are the works of thine hands. They shall perish, but thou remainest, they shall all wax old as a garment. And as a vesture shall thou fold them up and they shall show change. Thou art the same, the years shall not fail. But to which of the angels said he at any time, Sit on my right hand until I make thine enemies a footstool? Are they not all ministering spirits, sent forth to minister for them that shall be heirs of salvation"? Amen. Thank You, Jesus. Exceeding great and precious promises that by these, we are partakers. By these, we are partakers.

Jesus perfects our faith as long as we keep our eyes on Him. This huge cloud, in the New Living says, crowd of witnesses, large dense, multitude, or throng. Let us lay aside every weight and the sin, which does so. Every weight and the sin. What is the weight? What are the problems? What are the worries and the anxieties? And the sin which does so easily besets us. And it doesn't have to be some great, huge thing. Well, I know I got to get rid of 30 pounds. I got to get this 30 pounds off of me. Oh, I got to get this 30 pounds. I got to go on a diet. No, no, no, no. Don't go on a diet. Change your life. Change your lifestyle. And you have the exceeding great and precious promises with which to do it.

Now this morning, I weighed 161 pounds. There was a time that I weighed a hundred pounds more than that. Not for long, but two days is too long. And I fought the battle of the bulge for years. And it was so simple, but I had to make a permanent decision. It was my decision. Nobody else could do it, but me. I had to make the decision that everybody knows. If you burn more calories than you eat, you lose the weight. But now they, that's not the whole answer. Somewhere down the line, you're going to have to make a decision about what kind of food you eat and all it, what are we doing here? Changing? Correcting... Start with the correction, then you get direction. Without the correction, you don't get any direction. And you know, I look at everything from... through the eyes of the pilot. And if I take off on a trip and I'm just using a slow airplane, I'm not talking about jets and that kind of thing, just a slow airplane, 200 miles an hour. And you take off and you're 10 degrees off course, and you never make a correction. For four hours.

Now, with a 200 mile an hour airplane, you're pushing the range on that thing. And you wake up, you have become 133.3 miles off course. Without any correction. Now I must have direction. The first place. Where in the world am I? Well, okay. Okay. Yeah. Okay. This is where I am, but now what do I do? Do I go directly to my destination, or do I cut across and get back on course and then go to the destination. I don't, what am I going to do? And uh oh, now there's water out there in front of me. What? Oh, me. Oh my, When just corrections along, they don't have to be very much, but the winds change. I'm talking about 2022. In life, the winds change. Storms come up and you have to go around that storm, which you had to fly farther than you thought you would when you started out. But you just didn't make any corrections. And then you catch yourself out in a mess somewhere and have no idea how to get back.

So get in the Book, find your exceeding great and precious promise. They're in there for your spirit, your soul, your body, your finance, your family, everything that pertains to life and godliness not only life, but the life of faith. Amen. It's all in there. It's not a problem when you already know the answer. I don't think I ever said that before. It's not a problem when you already know that... Well, I can tell you what that'd be like. Cause when I learned to fly GPS just meant ooh I don't know. There was no such thing as GPS. Everything was computerless. So it was all just as bare bones as you could get. But somebody had the intelligence to take a slide rule and make a circle out of it. Before World War II, and it was called the E6B computer. You could figure wind. You could figure drift, and after a while you get good enough to use it with one hand. And you could tell what the mileage was to the next fix. And you're continually checking, getting weather reports, and making corrections.

Any flight, any airplane takes for any distance is a constant continual correction to stay on course. Constant, continual correction to stay on course. And the course is laid out in the Creator's manual. That's what this book is. It is Holy Bible. Amen. I'll close with this. Let's go back over here to where we were in 2 Peter. "Divine power has given unto us all things that pertain unto life and godliness, through the knowledge of him that's called us under his glory and excellence. Whereby are given unto us exceeding great and precious promises: that by these you might be partakers of the divine nature". Now, what is that? His divine nature. We won't turn there tonight, we probably will before we're through, but it's in Exodus 34:6,7. His name Yod Hey Vav Hey, the merciful name or Jesus. This is his nature. He's compassionate. He's gracious. Gracious, that means he's disposed to show favors. He's gracious. He's slow to anger, abounding in kindness, abounding in faithfulness extending mercy, or Hesed to the thousandth generation, extending kindness, forgiving inequity.

So tonight we'll close with 1 Corinthians Chapter 13, "But covet earnestly the best gifts, and yet I show under you a more excellent way". "Though I speak with the tongue of men and angels and have not love, I become as a sounding brass or a tinkling cymbal. Though I have the gift of prophecy and understand all mysteries and knowledge; and though I have all faith so that I could remove mountains and have not love, I'm nothing. Though I bestow all my goods to feed the poor, and though I give my body to be burned and have not love, it profits me nothing. Love suffers long and is kind; love envieth not; love vaunteth not itself, is not puffed up. Does not behave itself unseemly, seeks not her own, not easily provoked, thinketh no evil. Rejoices not in iniquity, but rejoices in the truth. Beareth all things, believes all things, hopes all things, endures all things. And love, never fails".

Love. How could it? 1 John 4:15, 16. God is Love. He is love. He has faith, but He is love. The same God that so loved the world that he gave his only begotten Son so that nobody will perish, but have everlasting life. And then He hung on that cross, bore your and my sins in his own body on the tree that we being dead to sin should live under righteousness by whose stripes we were healed. Guess where we're going next in this study. Right there. Exceeding great and precious promises. Tonight if you're in this world without a Savior, I offer you my Jesus. And he said... He is so precious. He said, "Anyone that comes to me, I will, for no reason, cast him out. No reason at all. I'll never cast him out". I was in prayer and I was thinking about a situation. And I said, "Lord, I mean, I, you know, I don't understand. I mean, even him".

And he just rose up on the inside of me and He said, "Kenneth, I'm not trying to keep people out of Heaven, I'm trying to get them in here. He said, I will take a spark of faith. And that's when I heard him say about that. He said it could be no reward at all, but they can be heavenly servants". And if you have never accepted him as your Lord and Savior right now is the time. This is it. This is your night. You can go into this new year, a new creature in Christ Jesus, according to the Word of God. According to the Book, according to the Bible, praise God, Thank You, Lord Jesus. Oh, we praise You and thank You.

"Therefore, if any man, any person be in Christ, he is a new creature. Old things are passed away". What old thing? That old nature. That old ugliness. "Old things are passed away and behold, all things you become new and all things are of God who have reconciled us to himself by Jesus Christ. And given us the ministry of reconciliation to know that God was in Christ, reconciling the world unto himself and not imputing or not holding against them their trespasses. Committed unto us the word of reconciliation. Now, then we are ambassadors for Christ as though God did beseech you by us".

We pray you in Christ that you be reconciled to God. In Jesus, he's already reconciled. The moment Jesus was raised from the dead, sin was defeated. Sickness was defeated. Hell was defeated. The grave was defeated and great victory came to the human race, all nationalities, all colors. Colors only skin deep. Glory to God. Thank You, Jesus. Amen. But the heart, oh the heart, the spirit, the spirit being, the moment you accept Jesus as your Lord and Savior. Your spirit being is completely recreated in Christ Jesus. Thank You, Lord Jesus.

Now the King James Version is a little twisted. Let me change a little bit, "for he who knew no sin, was made sin for us; that we might be made the righteousness of God in him". Righteousness is just an old English word. It just simply means right with God, just right with... You get right with Him. Jesus is our salvation. He is our deliverer. He is our healer. Amen. He is our soon coming King. He's our financier. So in the name of the Lord, Jesus, those of you that will allow me the honor and the privilege of leading you to the throne of grace. Just pray this:



Oh, God in heaven. I believe with all my heart just like the 10th chapter of Roman says that you raised Jesus from the dead. I believe that in my heart, and I confess it with my mouth that Jesus Christ is my Lord and Savior, and I am now, according to the scripture, a new creature. I am a new creature in Christ, and as Jesus himself said, "You must be born again. You must be born from on high". I by faith, call myself born again. I am a new creature in Christ. I open my heart. Take my life, and do something with it. I receive that by faith. I am a believer. I am not a doubter. If I were to die tonight, if my body were to fall in the floor, I know what the Bible says, "To be absent from the body is to be present with the Lord". I receive that. And now fill me with your precious, Holy Spirit. You're our representative in the earth, Jesus. Fill me to overflowing, with your Holy Spirit. I fully expect to speak with other tongues, a language I've never learned, just like they did on the day of Pentecost. I declare myself saved. I declare myself baptized in the Holy Spirit of God, therefore, I expect that, and now I yield my tongue to my Master.



Let's just all praise him in the Spirit, and anyone in here that has not stepped over in that place. Just do it now. The easiest thing you ever did in your life, if you're born again, He's in there. It's just a matter of yielding to him in faith. Don't have any fear about this coming year because I've had this planned out for a long time, saith the Lord. I know the beginning from the end, and I understand things more than you think I understand. And I know things and understand more about you than you think because I love you more than you can conceive. And you are precious in my sight. I knew you before the foundation of the world, and I've been pressing and working and thinking about you, and working you around the problems and maneuvering you like a captain would maneuver a ship, praise God, through a stormy harbor. And tonight is the night that you've been docked into a safe place. Tonight is the night that the dream of life can come to pass.