Kay Arthur — Resting or Resisting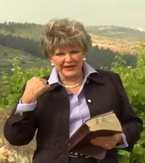 Jesus told a parable, a parable of a landowner that planted a vineyard and put a wall around it. And then he made a wine press and then he built a tower, a tower where he would store the wine, the fruit of his labors, the fruit of those that labored in his vineyard. (See Matthew 21:33-46)

What does that parable mean to you and to me today, Beloved? We're going to talk about it. We're going to talk about the importance of bearing fruit.