Kay Arthur — What Must I Do to Be Saved?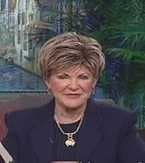 I know a doctor who was resuscitating a man who had died during a cardiac exam and he just passed out. And the doctor began to try to resuscitate him and all of a sudden the man woke up and said, "I'm in hell, don't stop."

And the doctor says, "I'm not going to stop." He lost the man again; he came back again and he says, "Tell me how to get saved." And he says, "I'm a doctor, not a preacher." What would your answer be if someone said how do I get saved?