Kay Arthur — Just How Much Spirit Does God Give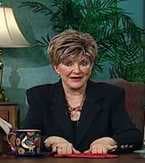 Have you ever looked at another Christian and maybe had a little bit of, what shall we call it, holy envy? Because you looked at them and you thought God, they have more joy than I have.

It seems that You're working more in their lives than You're working in my life. What is going on? Does God give the Spirit in portion to people? Oh no, Beloved; He pours Him out lavishly on all who will believe in Jesus.