Kay Arthur — Fill 'er Up! The Spirit and Its Fruit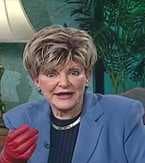 What's the first thing that you do my friend when you find yourself in a dilemma, or when you're confused and you don't know which way to go, or when you're in a desperate hurry and you need a parking place?

What do you do, how do you live? How do you handle the decisions of life? How do you know whether you're to say yes or whether you're to say no, whether you're to spend this or whether you're not to spend this?

Well beloved, this is what life in the Spirit is all about and this is what we're going to talk about today on Precepts for Life.