Kay Arthur — Victory is the Lord's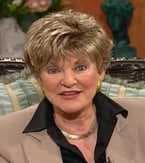 Is everything going absolutely great for you, Beloved? I mean can you feel the wind of the Spirit behind your back? Can you sense His power on your life? That is great. That is awesome. I am thrilled for you.

But be careful, be very, very careful that all of a sudden you don't forget where the wind of the Spirit is coming from, where the power is coming from, because if you forget, then you're in danger. We'll talk about it today.