Kay Arthur — The Battle is the Lord's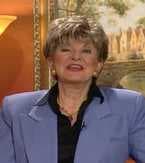 Life can be such a strain, can't it, Beloved? I mean sometimes it seems like everything is coming down on us at once and we are bent over and bent over and bent over and we think we'll never lift our head again, we'll never see the light of day.

O, Beloved, yes you will, you will if you will remember that the battle is not yours. The battle is the Lord's. And if you recognize that and you remember that, you're gonna be set free. We'll talk about it today.