Kay Arthur — The Lord Roars from on High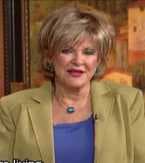 [The] lion has roared! Who will not fear? The Lord…has spoken! Who can but prophesy? (Amos 3:8)



These were the words of Amos. And as we look at Jeremiah chapter 25 and 26 we're going to look at the parallel words from the prophet Jeremiah. O Beloved, if there were ever a book for our time it is the book of Jeremiah as it speaks to the nations; your nation.