Joyce Meyer - My Favorite Scriptures - Part 4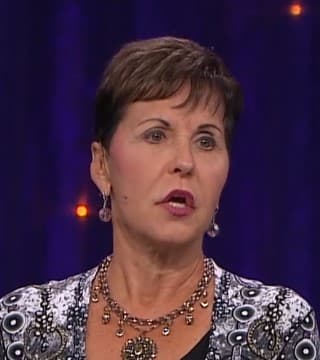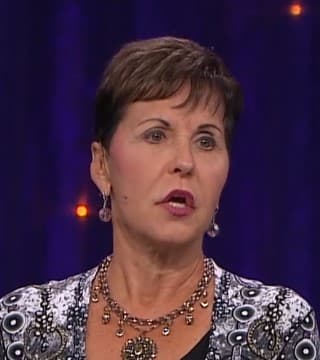 Let's start in verse 22. "But he rose up that same night and took his 2 wives, and his 2 women servant, and his 11 sons and he passed over the ford of the jabbok. And he took them and he sent them across the brook: and also he sent over all that he had". I like to kind of imagine this. It was like he had come to a point in his life where he wasn't willing to go on anymore the way he was. I wonder if there's anybody here that's not willing to go on anymore the way you are, whatever that might mean to somebody. It's like, "I've had enough of this and I don't wanna live like this anymore. I'm not gonna live without peace in my life. I'm not just gonna go through life. I'm going to learn how to enjoy my life".

Whatever it might be. Whatever victory it is you're looking for from God, you've gotta be determined that you want it. It can't be a wishy-washy, you've gotta be determined that if anybody can have the best that God has to offer, you can. And so I personally like the fact that it says he came to that riverbed, I guess, and it says he walked away from everything that he had. He was ready to confront his issue. Sometimes you've got to get like that. You've got to be, like, "I don't care what it costs me. I'm walking away from everything and I'm gonna find out what it's gonna take to get this life fixed".

I'm telling you, if you get serious enough, everybody in this room can have all the victory you could possibly want but you can't just think that you're gonna get it some drive-through breakthrough. Today we can get everything drive-through. You can drive through and get absolutely everything, but with God you're gonna have to go through. So verse 24, "And Jacob was left alone, and a Man," capital "M", which just basically means that this was an appearance of Jesus who came in the form of an angel, the angel of the Lord, and he "Wrestled with him until daybreak". Have you ever wrestled with God? Course you have. "And when the Man saw that he did not prevail against Jacob, he touched the hollow of his thigh: and Jacob's thigh was put out of joint as he wrestled with him. And then he said", so, this angel of the Lord says to Jacob, "Let me go, for day is breaking. And Jacob said, I will not let you go unless you declare a blessing on me".

Do you see that? I mean, talk about bold audacity. After the way he had lived and what he had done, he determined to get it right with God and he's wrestling with God and he simply says to God, "I am not gonna give up. I am not gonna let you go. This thing is gonna be fixed and done with. I will not let you go unless you bless me". Now listen, "And the Man asked him," the Man being the angel of the Lord, "What is your name? And in shock of realization, whispering Jacob said, his name is Jacob". And then the Amplified Bible tells us what that means: "Supplanter, schemer, trickster, swindler". So, it's kind of like at this point now God is making him face who he was and it's like a type of repentance. I mean, God already knew what his name was. He didn't have to ask him what his name was but he wanted him to say it. He wanted him to get it out of him and to face it.

You know what? You can't get beyond it if you don't face it. Otherwise, you're just gonna be running from yourself your whole life. Some of you still are so afraid that somebody's gonna find out what you did in the past. Well, if I were you, I'd find a trusted friend and I'd tell 'em 'cause it's our secrets that make us sick. It's all the stuff that we think we've got to hide from that we're afraid to talk about and tell anybody and I would have a big conversation with God about it and then I'd find somebody that I can trust and I would tell them, "I wanna tell you what I did in my past". Then you can start really rejoicing in what God has done for you. Now look what happens. The power of repentance. "And he said, your name shall no longer be called Jacob [supplanter], but Israel [contender with God]: for you have contended and have power with God and with men and you have prevailed".

And I always like to say, somehow or another Jacob got a limp out of it but he limped away with his blessing. And you know what I think that means? I think we all may have a little bit of a limp in our life from some of the sins in our past but that doesn't matter. I'll be honest with you. I believe that Jesus has completely healed me from my past but there are some things that I still deal with from time to time and there are probably some things that, you know, I just, I mean, I don't know what I'm missing from not having a father. I don't know what I'm missing from never being able to sit on my father's lap and really feel like a special little girl. I don't know what I'm missing from that but the point is, is I may have a little limp but I'm limping away with my blessings, amen? Whoo, Jesus!

Next verse. Now there's actually three verses that I wanna put together here and I wanna start by just saying I think one of the most amazing things about our relationship with God is that if you love him and you trust him... Now, I didn't say if you behave perfectly, I didn't say if you never make mistakes, I didn't say if you go to church every Sunday and never miss one, if you read your Bible through three times a year. I said, if you trust God and you love him, I don't care what has happened or what does happen, God will take it and make it somehow or another work out for your good.

Now, boy, to me, this is one of the most exciting things about our relationship with God. That doesn't mean it's gonna feel good. That doesn't mean we're gonna like some of the things that we have to go through. That doesn't mean that. And I don't know how he does it, God can take a bad thing and we may never wanna say the thing was good but somehow or another God can miraculously work in that thing and he can make us a better person. I mean, if you don't get anything else out of a problem, you get more compassion and you behave differently when somebody else tells you they've got a problem. Have you ever tried to talk to somebody about your problem that is... Doesn't have any? Oh man, they're quick to tell you, "Well, I'd do this and I'd do that," and it sounds so simple for them. And you just want somebody to say, "Oh my gosh, I know what you're going through. I know how hard it is".

And then it's fine to tell them what God can do for them but there's nothing worse than somebody who has no compassion. All they can ever give you is a scripture. Don't be that kind of a Christian. Sometimes, somebody just needs you to cry with them. Sometimes they need you just to understand. Everybody who comes to you for help doesn't always want an answer. Sometimes, they just want you to understand. Did you hear what I said? Everybody who comes doesn't want an answer. They don't want a sermon. They just want somebody to understand what they're going through. And the best way I know to get a boatload of compassion is to go through stuff yourself. And I'll be honest with you, if you're gonna be used by God very much, you're gonna have to have some compassion and that means you're gonna have to have some experience.

I'm glad you're still smiling. And I know there are tragic things that happen to people. I mean, I know you're probably thinking, "Well, you know, this happened or that happened and how can you possibly tell me God can work good out of that"? I don't know how he does it but I know if we love him and if we trust him. And obviously, that includes having a decent attitude but, "You know, I don't understand this, God, but I trust you and I believe that you can work it out for my good". Whatever you might be going through right now or whatever you have gone through in the past, if you've never done this before, I want you to start believing today that God can take that thing and he can make it work out for good in your life. This is a happy day, amen?

Alright now, Genesis 50:20. I'm not gonna tell you the whole story of Joseph. Most of you probably know it. Let's just say that he was cruelly treated by his brothers. They hated him, they sold him to slave traders, whole bunch, a series of bad things happened as a result of that. He ended up in prison for many years for something he didn't do. All that time he kept trusting God. There was a famine in the land. He was now in charge of all the food. It's amazing how this person over here can mistreat you but if you put your trust in God he can actually promote you. He is a God of justice. And so there was a famine in the land and so the brothers came to get food and they had to go through Joseph to get it but they didn't know it was Joseph. You know, God changed him so much his brothers didn't recognize him. I'll tell you what. Probably some of the people that abused me wouldn't recognize me today either, amen?

And God's doing the same thing in your life. And so when they did realize it was Joseph, then they were afraid and they thought, "Well, there's no telling what he's gonna do to us now he's got a chance to get us back". And this is what Joseph said to them, Genesis 50:20: "As for you, you thought evil against me, but God meant it for good, to bring about that many people should be kept alive, as they are this day". In other words, God used that situation, that cruel situation, to get Joseph into a place where he could actually use him then to help the whole nation when the time came around and was right. Let me tell you something, you may be headed somewhere and right now you feel like you're headed in the totally wrong direction in your life. You may have no idea that this is the exact route that you need to get where you wanna be and just don't understand how you're going this way, c'mon.

Acts chapter 7, verse 9. I love this. "And the patriarchs [Jacob's sons], boiling with envy and hatred and anger, sold Joseph into slavery in Egypt: but God", those are two of my favorite words in the Bible. "But God". Doesn't matter what anybody else does. If God be for me, who can be against me? If God is on my side, whom shall I fear? They did all this stuff to him but God was with him. And I'll tell you the truth. You don't even need to know what God's gonna do, as long as you know that he's with you. I don't know what route you'll have to take to get where God wants you to be but if you keep loving him and you keep trusting him, he is gonna get you into a place that is gonna just leave you with jaw-dropping awe.

And then, of course, Romans 8:28 would go along with this. "We are assured and know that [God being a partner in their labor] all things work together and are [fitting into a plan] for good to and for those who," what? "Love God and want his will". Simple. Love God. One of the first things, probably the first thing, that I say every morning when I wake up is, "I love you, Lord". I'll tell you what, if you just love Jesus, it goes a long, long, long, long way in taking care of everything else. "I love you, Lord. I love you". Tell him that 100 times a day, "I love you, Lord. I love you, I love you, I love you, I love you, I love you". That pretty much says it all. Now, the things that I'm sharing with you, these are some of the scriptures that have been not just like a little nice scripture but these are some of the teachings from these scriptures that have been absolutely life-changing for me. And I want them to impact you in such a way that you'll remember that God is no respecter of persons and what he does for one he will also do for you.

Alright, next thing I wanna talk to you about is Psalm 27:4 through 8. And I would probably say that maybe if I had to pick a couple of scriptures that were really life-changing for me, this would be right up there, maybe number two. Really, really, really, really, really big for me. You know, obviously when we're born again it's major in our lives. When you finally completely turn your life over to God, you're filled with his spirit, boy, that was, like, wow, hoo, man. But what this scripture says was actually even in some ways greater for me not than the new birth but I had to learn this important lesson and you have to learn this important lesson before God can do for you all that he wants to do. And this is what it is. "One thing have I asked of the Lord, and that will I seek".

Seek is a very powerful word that means go after with all your might. What is it that you're going after in life? Obviously, God. You wouldn't be here on a Saturday morning but thankfully, because of the tv ministry, I'm not just talking to this room full of people, I'm having the privilege of talking to people all over the world today. And I just wanna say, "What are you seeking with all your heart"? And so maybe you need to answer that question, "What is it that you're seeking with all of your heart"? Is it more money, a promotion on your job, more of this, that, something else? More popularity? All that stuff is fading away and it's not gonna be around for very long. When it's all over, there's only gonna be God so this is the time to make sure you've got a good relationship with him. So "One thing will I ask the Lord, and that will I seek after, inquire for, and [insistently] require: that I might dwell in the house of the Lord [in his presence] all the days of my life, to behold and gaze upon the beauty [the sweet attractiveness and the delightful loveliness] of the Lord and to meditate, consider, and inquire into his temple".

Now, I have to stop there and give you a little background on why this was so important to me. Most of us when we learn to trust God and I don't know there's any way to avoid this. Most of us when we learn to trust God we start trusting him for what we want. We start trusting him to fix all of our problems. We pray about those problems. We're always after God to change this person so we can be happy or change that circumstance so we can be happier. Give me a better job, give me more money. I need this, I need, I need, I need, I need, I want, I want, I want, I want. And for most of us, our list is probably pretty long. And so actually what we really want is we want God's presents, P-R-E-S-E-N-T-S. Yeah, you know where I'm going. And to be honest, he'll let us do that for a long time because he is establishing relationship with us. He's showing us that he's good, that he wants to take care of us, that he wants to do things for us.

It's the same way we treat our children when they're little. Mom and dad do everything, the kid just receives. They're not satisfied very long. They want another toy, a new something else, but they're kids. We get it, so. But you know, the time comes when your kids get to be a certain age where you ain't liking that too much anymore. It's like, "Hey, maybe I'd like you to do something for me". Maybe I'd like you just to stop by sometime just to see me without coming just 'cause you want something, c'mon. Is anybody in the house today? And so I'm going along, I've got my little ministry. It's pretty little but it was growing a little bit and I was unhappy most of the time and always had a problem with this, that, and something else and telling God, well, if he'd do this I'd be happy. If he'd do that, I'd be happy. If he'd do something else I'd be happy.

And actually, Dave and I went to the bookstore one day to get some books, and Dave picked out some books, and I picked out some books, and he came out with a book in it by a woman named Madam Guyon, who lived in the 16th century, and this book was about seeking the presence of God, not P-R-E-S-E-N-T-S, but P-R-E-S-E-N-C-E. And I was lookin' at his bag, and I just felt drawn to that book, so I said, "Do you mind if I read this before you do"? Boy, I should've read my own book, but actually, it was very life changing for me because through reading that, God just got this across to me. You know, first of all, we all need to spend time with God, and we know that. We need to spend regular quality time with God, and we know that. But the devil fights people on that more than anything else. He'd rather you go to church three times a week than to spend a half an hour a day with him, just you and him.

And so I'm busy in ministry and, you know, I'm doin' my thing, and, you know, I'm real happy 'cause I'm workin' for the Lord. The problem was, was I wasn't spendin' any time with him. And that has to be the foundation of any life that's gonna be really powerful and successful. You cannot stand what comes at you when you're a powerful person if you don't have a strong relationship with God to go back to all the time, 'cause I can tell you, if you think you wanna be well-known, the more well-known you are, the more the devil's gonna come against you. And if you don't know that only God is holding you up, it'll destroy you. And so, God had been dealing with me about puttin' him first and spendin' time with him, and, you know, just seeking him for who he was and not what he could do for me.

And it's a long story, and I don't have time to get into all of it, but I actually came to the point where God challenged me. He said, "I don't want you to ask me for another thing until I tell you, you can. Not one thing. I don't want you to ask me for nothin' except me". Yeah, "Wow," you got it right, sister. That was so hard. "Well, God, will you, will you change da...? Never mind, Lord, I just need you". Come on, this is good for us. "I just need you. I need more of you in my life". "Well, Lord, I didn't get the raise at work that I deserved, and will you...? Never mind, Lord, I just need you". "Well, they didn't treat me right, and I think you need to deal... Well, never mind, Lord, I just need you. Can I have more of you"? And I think it was somethin' like about 6 months before I kinda got through that thing, and I'll just tell ya what God spoke to me. He said, "If you don't put me first and seek me on a regular basis for who I am, you cannot do what I want you to do and stay alive".

Now, you can do with that whatever you want to, but that's what God put in my heart. So, you know, I guess I could say to you, most of you have asked the Lord for a lot. Do you want it or not? Really? Are you sure? Okay, then it's time to grow up. You don't get to go to God all the time just for what you want. You go to him first, and the first thing out of your mouth is, "God, what can I do for you today? What do you need? How can I serve you? Who needs a miracle, and you wanna work through me? Who needs a blessing, and you wanna...? If you're lookin' for somebody to work through today, Lord, here I am".