Joyce Meyer - What's The Point Of Difficulties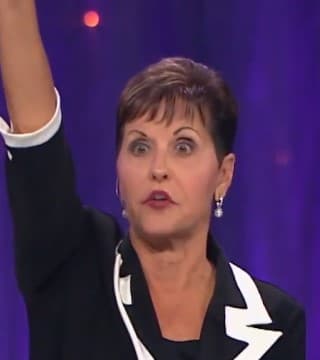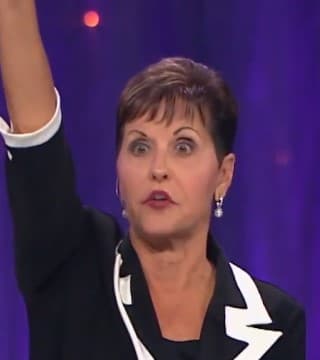 Fear not there is nothing to fear, for I am with you; do not look around you in terror and be dismayed, for I am your God. I will strengthen and harden you to difficulties. (Isaiah 41:10



You know what means? If God strengthens us and hardens us to difficulties, we'll get to the point where the things that seem so hard now don't even faze us later on. How many of you already seen that your life in certain situations?

"Yes, I will help you; yes, I will hold you up and retain you with my victorious right hand of rightness and justice". And I love verse 15, "Behold, I will make you to be a new, sharp, threshing instrument which has teeth".

No more pacifiers, no more baby bottles, no more squashed-up fruit in a dish. God's gonna give you meat and teeth to chew it with. And this weekend we're not throwing out dessert. We're putting out meat.

How many of you been around long enough to know what I mean by that? Paul told the Christians, the Corinthian Christians he said, "I have to keep feeding you with milk. I can't give you meat because you're not strong enough to take it". But I believe I got the right group at the right time that are ready to get on with what God has for your life. I got the right group at the right time. Amen, you've got what it takes and you're ready.

And let me just remind you, God will never allow more to come on you than what you can bear. When you get to the point where you're like, "God, I can't take anymore of this," God will do something special for you. He'll give you a time of refreshing in his presence. He'll bless you in some way. He'll give you a break and then you'll go for round two.

"Behold, I will make you to be a new, sharp, threshing instrument which has teeth; you shall thresh the mountains and beat them small, and shall make the hills like chaff".

And then really verse 17 is what God's trying to get to. "The poor and needy are seeking water when there is none; their tongues are parched with thirst. I the Lord will answer them; I, the God of Israel, will not forsake them".

And what is He saying here if you read all this in context? He's gonna answer them through you. See, God is trying to get us to the point where we can get ourselves off of our mind long enough that we can be what Timothy says is a vessel fit for the master's use, amen?

So, He can work through you at your place of employment, so He can work through you in your schools, so He can work through you in your neighborhoods with your unsaved family, so He can work through you. People are seeking water where there is none.

Now, we're good at praying for people, sometimes. "Oh God, help them. God, please help them. God, would you provide whatever for so and so"? The Lord interrupted my prayer a few years ago and said, "Stop praying for things that you could easily do for people and just don't want to. Stop asking me to do stuff that I've anointed you to do".

Well, it's the truth, isn't it? What if every time somebody has a problem we say, "God, show me if there's anything you want me to do in this situation".

Now, let me say that trials are not evidence of God's displeasure and anger. When you're already having a trial, the last thing you need is condemnation heaped on top of you that you have some big sin in your life that has now caused this problem.

And isn't that the first place sometime over the past year and she had an autistic son. And actually, God just gave me a word of wisdom in a meeting. I didn't know the woman but I saw a child about 9 years old with brown hair and I knew that his mother felt guilty like it was her fault that he was autistic.

And so, I just shared that and sure enough within hours, the woman got ahold of Mike and said, "Well, here's my 9-year-old son with the brown hair and that was exactly right, I felt guilty ever since he was born like maybe I did something wrong and it was my fault".

The devil loves to load us down with guilt and condemnation about everything, but God loves to help us. Even if through our own stupidity, we did get ourselves in trouble, which is the case a lot of times, God still will help us if we ask Him to.