Joyce Meyer - How To Love People That Are Hard To Love?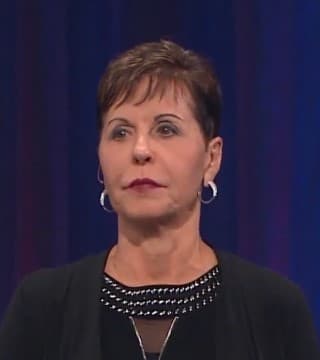 I'm gonna teach tonight on how to love people that are hard to love. Yeah, well, we just hit a home run, didn't we? Pastor Mike asked me, he said, "And what provoked that message in your heart? Did you have, like, a personal experience"? I said, "Well, I like to let other people benefit from what I go through, so". Most of our problems in life are with people. I mean really, if you get right down to it, I mean, just think how much happier you would be if all the people would just do what you want 'em to do. And just behave the way you want 'em to behave.

Now, you know, we do have other kinds of problems, but there's just a lot of people problems. And so, the first thing that I wanna tell you is one of the ways that you can just save yourself a lot of misery, a lot of hardship, a lot of heartache, 'cause I can tell you, you will have opportunity to be offended. There's no "you might," you will. You will have people that will hurt your feelings. You will have people that will say and do things, and you just might think, "What in the world is your problem"?

Now, believe it or not, and I actually believe what I'm getting ready to tell you, 'cause I've had lots of experience with lots of people, I really don't believe that there's many people, and maybe there's nobody, who gets up in the morning and thinks, "I just can't wait to see how many people I can make miserable today". I mean, I just don't think that people do that. And I think that most of the pain that we get from other people are a result of their own pain. You're not all ready to swallow that, huh? "Sounds to me, Joyce, like you're getting ready to ask me to feel sorry for 'em".

Well, no, but my father hurt me so bad, and he hurt my mom so bad, and my brother. And thank God through His grace I was able to recover and still have a decent life, but my mom never had a decent life. My brother ended up committing suicide. And just, he just hurt so many people so bad, but you know what? He was a hurting man. He was a miserable, hurting man. And when you're miserable yourself inside, it's gonna come out somewhere and it's gonna come out on somebody.

Now, that doesn't mean that it's okay for people to do that. It doesn't mean that we just let them abuse us and don't confront them or take up for ourself. To be honest, that's not even what forgiveness is. It's just not. But one thing that we are commanded to do in the Bible — it's not a suggestion. Come on, the things that Jesus said are not suggestions. They're commandments. And not all of them are things that will keep us out of heaven if we don't obey them, because we're saved by grace through faith. But the things that God tells us to do, every single one of them are something for our benefit.

Every single thing that God tells us to do, He's not trying to make it hard on us. He's not trying to give us impossible things to do. Which most people would tell you that one of the hardest things that they ever have to do is forgive somebody who really hurt them really bad, amen? And we just think it's not fair, and how could God ask us to do that, and on, and on, and on. But He's really trying to help us by doing that. And so, since we have all these people in the world and we've already established that they're not all gonna be nice to us, and then we see that there's a command that we have to love them.

Now, I wish that the Bible said, "Love the people that are lovable". But it doesn't. We have to somehow learn how to love people that are very difficult to love. So, how many of you are in tonight and you wanna go on with this? All right, so. The first point, and this has helped me and is helping me, because of what happened that provoked me to preach this message that I'm not at liberty to tell you about, and it's not about Dave. And I really believe that people don't get up every day just purposely trying to be mean and see how many people they can make miserable. I have decided that I'm actually really gonna make an effort to do what Jesus said to do in 1 Corinthians 13:5, and that is, "Love, always and is ever ready to believe the best of every person".

Okay, I guess I'll have to do that again. 'Cause I can tell when you get it and when you don't. Now, see, I can believe, well, you just did that on purpose, or I can believe maybe you must be having a bad day. I doubt you even realized how that sounded. I really don't believe you meant to hurt me. Maybe something's going on in your life and it really has nothing to do with me. Now, here again, I'm not saying that we just let people abuse us, and there's certainly a time to confront people, and I'm all over that. You know, I don't have any problem with confrontation. That is not an issue for me. I can maybe use a little bit of the other side sometimes. But it's amazing how we are relieved from having to waste a day being angry at somebody if we'll just immediately say, "Lord, help me believe the best". That's point number one. Help me believe the best.

Now, a few opening scriptures. Matthew 5:46-47 says, "If we only love those who love us back," that's nothing. It says, "Even the gentiles do that". They were the unbelievers then, so you know, it doesn't take the power of the Holy Spirit in our lives, which we have as believers. We don't need that power to just love people that are nice to us. Okay, I got one person over there that likes this. We have to get all the "I can't" thinking out of our head. It's not "I can't love you". If Jesus told me to love you, then I can love you. I may not know how to do it yet, but I have the power and you have the power of the Holy Spirit to do everything that God has commanded you to do. You can do it.

And furthermore, we are here to represent God. That's the whole reason why He left us here. If God didn't have a purpose for us here, after we're born again, He would just beam us up and we could miss the whole mess. But we're here because the Bible says that we are God's personal representatives. Now, get this. The amplified says, "He is making His appeal to the world through us". So, people are supposed to look at us and see how God is. And that's supposed to make them thirsty, we're salt, and it's supposed to pierce the darkness in their life, we are light. And so, the Bible says in Matthew that when we love our enemies and those who are mean to us and abusive to us, that we do it to show that we are like our Father in Heaven. God will never ask us to forgive somebody else for more than what He's forgiven us for.