Joseph Prince - 5 Truths To Outlast The Coronavirus Outbreak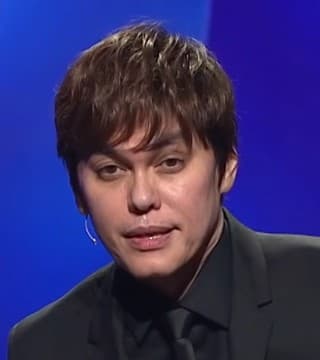 TOPICS:


You know people, we need to look at the Lord more at this time than ever. It is one thing to look at the headline news to know what to prepare for. And there's a reason why we have live streaming, because of the announcement. We have to be kept abreast of what is happening. But not the details. Not what is happening down here, and what is happening to this celebrity. What is happening to this person over here... I mean, do you have time for these celebrities? Do you have time to follow them?

It is amazing how people have time for this. People are feeling time is so slow. They want the coronavirus crisis to be over. And many people, especially those who are workaholics, some of them do not know what to do at home. Because they are such workaholics! You know? They need to do something. And when they are quarantined, it is like suffering. Amen. It is like time is moving so slow all over the world! If only they can accelerate time to the end of this coronavirus. Right? What about space? Space is definitely restricted. You can't just freely travel anywhere anymore. Can you? No, what is happening? Both time and space are being constrained! You are constricted in time and you are still taking time for things that don't really matter! Preach it, Pastor Prince. Amen?

Spend your time for things that really can feed you! Strengthen you! Bless your family, amen? Bless your community, amen? It's okay to watch dramas and Netflix and things like that, but time is constrained. And before you know it, you're tired and you have not spent time in the word, which is bread indeed! You have not spent time with the Lord, who is life and drink indeed! Amen? Labour not for things that do not satisfy. Labour for the meat, for the food that He will give to you, that endures unto everlasting life. That's real food, amen?

In John 6, we have a beautiful story here of Jesus multiplying the loaves and fishes and many of you know that story. This story is a well-known story but I just want to call your attention to something here. John 6:10-13: "Jesus said: 'Make the people sit down'. Now there was much grass in the place". Much grass. Does that remind you of something? Psalm 23: "The Lord is my shepherd. I shall not lack. He makes me to lie down in green pastures". Now, notice that the word "sit down". If you look up the greek, "sit down" here is the word "to recline".

So remember this: Position before provision. Position before provision. But what position is it, Pastor Prince? Must I really be in a place where God will be so pleased with me that He will supply me? No no no, the position is to simply rest. Jesus says: "I want to provide but I cannot provide for people that are running around. Running around stressed. Looking for answers. I can only help them if they sit down". Mary sat down. Martha was busy with her hands and feet. Nothing wrong with that, amen? But when you sit down and receive the supply, then your hands will know what to do. Then your feet will know where to go. And you will do the right thing at the right time. Because you have sat down.

And I love this in John 6:10-13, it says: "Now there was much grass in the place". The Holy Spirit had to mention that detail. If you are a sheep and you lie down in green pastures, that means you are lying down in the midst of an abundance of food. For you, it is like sitting down in the abundance of rice, ramen, chapati, bread. I don't know what's your favorite food. Burgers all around you. Amen? He makes me lie down in the midst of burgers.

I need not worry about supply. I need not rush out there with all the rest of the people like they are chickens with their heads cut off? Alright? Grabbing every toilet paper I can find. Because I'm sure He can supply me with toilet paper. If He feeds the birds of the air and clothes the lilies of the field, I'm sure He knows how to clothe me. And I'm sure He knows how to keep me clean. Amen? So what's my part? My part is to seek first the kingdom of God and His righteousness, which is a gift, and all these things, and toilet papers, will be added unto you. So let's not panic, let's not worry. Stop, shhh. Sit down. Every fresh challenge should cause you to sit down. Position before provision.

Look at Psalm 91: "He who dwells (yashav, sit down) in the secret place of the Most High shall abide under the shadow of the Almighty". So the very first thing you do is not to just claim the promises of Psalm 91. But you are doing it out of stress, you are doing it worried. It doesn't work like: "Okay, God. I have said my Psalm 91. Don't forget". It's not a matter of that. It's a relationship. I pause and ask myself: "Am I seated or am I in stress"?

Every morning if you can, spend time with the Lord and I like to say this to the Lord: "Father I thank you that my son Justin, my daughter, my wife, myself", I also pray for all of you okay? But at another time. But when I'm lacking in time and when I want to pray for protection over my family, I say that: "Thank you that every one of us is now in Christ risen. At Your right hand, Father". And then I stop for awhile. "Thank you Father that we are in Christ risen.. safe and secure".

One time, the Lord opened my eyes and I saw this in Ephesians 6. That we stand in the evil day. Singular. The evil day. Stand in the evil day. That means it is short. But good days. He that would love life would see good days. Good days are plural. Evil day. Good days. Evil day. Good days. Evil day. So this coronavirus is an evil day. Good days! But the promise is not for the world. This promise is for God's people. He that would love life and see good days! Right? It says watch your tongue. Amen? Watch your tongue. Friends, the Lord has spoken to us. He says Psalm 91: "Surely". Not maybe. Not perhaps. "Surely He shall deliver you from the snare of the fowler and from the perilous pestilence".

This is definitely a perilous, a dangerous pestilence. Right? "Surely He shall deliver you". Not maybe! Surely! Amen? In fact, of all the verses in Psalm 91, that's the one He punctuates and starts off with "surely". He shall deliver you from the snare of the fowler and from the perilous pestilence. Let's rest in that. Amen? The Lord gave me this picture of the Temple of Solomon being the church in its' glorious days. There were chambers attached to the Temple of Solomon, which is the corporate body of Christ. The priest in those days live in those chambers. And it is like all of us. We live so near the dwelling of God.

How near can you get when you are at the Father's right hand. The first floor is the store house for grain, wine and oil. And it seems like when the Lord first gave this to me, I didn't realize how much this first floor is going to be opened up in the first part of this year. Amen? The grain, the wine and the oil. And we know that for us, it is not just physical. You know, when the Lord spoke that blessing through Isaac upon His son, Jacob. Isaac thought is was Esau he was blessing. Remember that? And the blessing was this: God gave the dew of heaven and the fatness of the Earth. And then it says plenty of grain and wine.

But do you think for one moment, the verse is talking just about the physical grain? To make bread to eat? And oil? As in olive oil? Because the land is abundant of grain, wine and oil. In fact, Esau would definitely live in a place where they have grain, wine and oil! So obviously, it is something spiritual. And the father Isaac blessed him: "God give you my Son, the first born blessing". The blessing that all of us are craving for. It is the first born blessing. Can I have a good amen?

In fact, God wants His people to crave for that. God despised what Esau did. Esau despised his birthright. He despised the first born blessing. Plenty of grain and wine. Plenty of grain and wine. It cannot be natural. So that's the Communion right there. The Lord's supper. So God is opening up the storehouse and God is saying: "All these evil in the world? There's nothing that the grain, wine and oil cannot cover". Amen?

And the oil, we've touched on the oil before, the oil in the Bible always represents the Holy Spirit. The anointing of the oil is the power of the Holy Spirit applied. And we've done that, even anointing the oil, which is a symbol, don't despise the physical symbol because even in the New Testament, the Bible says: "Let him call the elders of the church and let them pray over those who are sick, anointing him with oil in the name of the Lord". Amen?

And that's New Testament. That's the church age. They still use physical oil. It's not the oil itself, it's the power of the Holy Spirit that you are trusting in. To get the job done. Amen? To bring healing to the sick. Praise God. And the oil is also representative of the power of the Holy Spirit and the Bible tells us that we are kept by the power of God. We are protected by the Holy Spirit.

In fact, the word used is "seal". Sealed with the Holy Spirit. Do you know what's a seal? A seal in those days, when you seal something... like Jesus tomb' was sealed. The rolling stone was sealed with the Roman seal. No one will dare to break that seal. That seal means it protects whatever that is inside from theft, being hurt, from injury. So a seal is a protection. And God is reviving this truth again. It's a precious truth, amen? It's something so precious to God's heart.

Jesus says: "Do this in remembrance of Me". So you know what? I got to speak God's language of love. I cannot speak my language of love. If God feels that this is how He feels love. This is how He feels respected and honored? And remembered? And appreciated? We are gonna do it. Amen? This is our first born blessing, let's seize upon it!