Joseph Prince — Live Life Loved By The Shepherd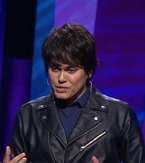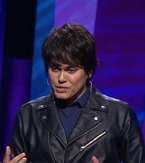 The Lord is your righteousness. You are still you. I am still I. But the Lord is my righteousness, which means that when Jesus is my righteousness, God looks at me as if I have A-plus for law keeping. So, the Shepherd's--the context tells us, the Shepherd is feeding them grace. He's feeding them the revelation of his righteousness, not their righteousness.

Salvation is nothing more than consent to be saved. They knew this truth, Psalms 23: "The Lord is my Shepherd; I shall not lack. He makes me lie down in green pastures; he leads me beside the still waters. He restores my soul; he leads me in the paths of righteousness for his name's sake. Yea, though I walk through the valley of the shadow of death, I'll fear no evil; for thou art with me; Thy rod and thy staff," all these are pictures of the Shepherd and the sheep, "they comfort me. Thou preparest a table before me in the presence of my enemies; you anoint my head with oil; my cup runs over. Surely goodness and mercy will follow me." He saw himself as a sheep, watched over, being led, being taken care of, goodness and mercy hunting him down.

Jesus' last words to Peter, one of the last words before he ascended was this: "Feed my lambs. Tend my sheep. Feed my sheep." "All we like sheep have gone astray," in the context of, "by his stripes we are healed."

Jesus said, "I come that you might have life and have it more abundantly." Look up here at John 10: "Then Jesus said to them again," let's go down to verse 10, all right? "The thief does not come except to steal, and to kill, and to destroy."

I wanna tell you something. When the Lord Jesus said these words, he was talking to and he was telling them that the thief--and here he makes the thief a singular expression as the devil. But what does the devil do? "The thief come to steal."

Every time you have your joy stolen, you have your health stolen, you have your good relationships stolen, you have your children stolen, you have your, even your good stolen, whatever it is, it's never, never God. I said, "It's never, never God."

We are not here to peddle to the denominational beliefs or some groups of people who say things like, "Oh, the day of miracles is over," all right? There has never been a day of miracles. There's always a God of miracles, all right? And he's not over, amen?

So, we want you to know that God wants you to be well. He wants you enjoying what Jesus calls, "The life more abundant." So, the thief comes to do all this, but Jesus says, "I have come that they may have life, and that they may have it more abundantly."

So, man was created to enjoy life. Man was created to enjoy everything that God has provided, amen. And then Jesus says, "I am the good Shepherd. The good Shepherd gives his life for the sheep." The good Shepherd lays down his life, gives his life for the sheep, amen?

And for a long time, when I know about this verse, that anything that steals your health, steals your joy, steals your peace, steals your relationships, steals your children, steal your well-being, it's not God. It is the devil, okay?

And God says in John that: "Beloved, I pray that you may prosper in all things and be in health, just as your soul prospers." Now, many a times, when I read this verse, I think that it's just expressing the desire of God's heart. And that's important. We need to know that God wants you well. I said that "God wants you to prosper and be well," amen. It says very clearly that "you may prosper in all things and be in health, just as your soul prospers," amen.

God's Word is God's will. But this verse says more than that. This verse says--John is writing to the well-beloved Gaius, and he's saying to Gaius, he's expressing God's desire, he says, "Gaius," he says that "I pray that you prosper in everything, in all things, He's praying that the one he's writing to be in health. Now, this is what I want to enforce real strong to all of you today.

Many a times people say, "Well, it's God's will for us to be healthy. It's God's will for us, it will happen." No, you gotta pray that it happens. "But if it's God's will, Pastor Prince, why should I pray?" Well, God's ordained way is that you pray, you pray whatever is in the heavenly realm, where all the supply is, comes "Prosper" in the Greek is in the passive voice. "Be in health" in the Greek Now, why am I saying this? You know what's passive and active, right? "Passive" means what? "You are the one receiving." "Active" means "you are the one giving or doing," right?

But "prosper" is in the passive voice, which means when your soul is prospering, many a times you see people prospering outside, in their vocation, in their business, in their ministry, and things like that. But health seems to be a challenge. Why? Because health is active. It doesn't happen automatically. You gotta pray for it to happen.

Now, something else about this. "Just as your soul prospers." John is praying for Gaius, and why is it that Gaius, he knows for sure that Gaius' soul is prospering? Because Gaius believed in the gospel of grace. How do I know? Next verse, context, always context. "For I rejoiced greatly when brethren came and testified of the truth that is in you, just as you walk in the truth." Walking in the truth is walking in the gospel.