John Bradshaw - The Hero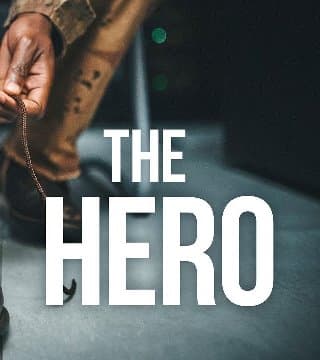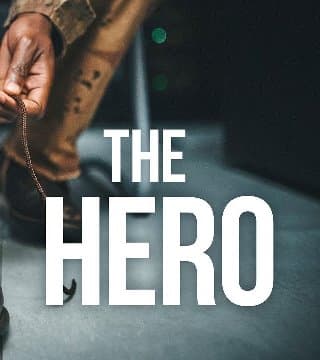 This is It Is Written. I'm John Bradshaw. Thanks for joining me. Heroes are big business today. Batman, Batwoman, Captain Marvel, Ironman, Superman, the Avengers, fantasy figures imbued with superhuman, godlike characteristics. Now, while it doesn't take a genius to figure out that this might not be the best, most spiritually healthy material for our children to watch, or adults, for that matter, people are watching. So many that one recent superhero movie grossed almost three billion dollars at the global box office on a budget of almost $400 million. But what's a hero, really? James Shaw Jr. was in a fast food restaurant near Nashville in 2018, when a mentally unstable man began shooting. Shaw was shot at twice.

When he noticed a pause in the shooting, he rushed the shooter, pulled the rifle from the man's hand, and then shoved him out of the restaurant. Without James Shaw's courageous intervention, it's almost certain that many more than the four who died would have lost their lives. At a news conference hours later, Shaw said this: "I did that completely out of a selfish act. I was completely doing it just to save myself. I did save other people, but I don't want people to think that I was the Terminator or Superman or anybody like that. I figured if I was going to die, he was going to have to work for it". He said, "I haven't had any specific combat training. I just fight my daughter every night so I can put her to bed".

He went on to say, "I'll say it again. I didn't really fight that man to save everybody else. I know that might not be a popular thing, but I'm really honest. I'm going to be honest to the core: I took the gun so I could get myself out". But that was heroic. A man put his life on the line and saved not only himself, but others as well. A 69-year-old man who saw a woman being attacked by a polar bear in Manitoba, Canada, grabbed a shovel and fought the bear off before the bear turned on him. He stayed a week in a hospital having an ear reattached and having other wounds taken care of. A hero? Sounds a lot like one. Are sports figures heroes? Well, some probably are.

Baseballer Ted Williams spent five years in the military before going on to become a Hall of Fame baseball player. Baseball's Jackie Robinson was a pioneer who changed the sporting landscape and impacted society in a huge way. Athlete Jesse Owens was born in poverty but went on not only to win a clutch of Olympic gold medals but to deliver a stunning message to a tyrant. Terry Fox wasn't a sportsman, as such, but a cancer survivor who attempted to run all the way across Canada, 4,300 miles, to raise money for cancer research. Fox's run started with little fanfare, but, running on a prosthetic leg, he ran 3,339 miles, making it all the way from St. John's, Newfoundland, to Thunder Bay, Ontario. He ran for 143 days on a prosthetic leg, remember, even as cancer was returning to his body.

The Terry Fox Research Institute reports that to date 800 million dollars has been raised in his name. Terry Fox is a hero. Society tosses the word "hero" around pretty easily, especially when it comes to sports. Now, we get it; the player does something spectacular, a team wins, maybe a championship, and we whip out that word, "hero". We get it. David Ortiz led the Boston Red Sox to a World Series title for the first time in almost 90 years. That's a big deal in the sporting world. Evidently a great guy, an outstanding player. He brought a lot of joy to a lot of people. But hero? I mean, in a certain context, sure. It, it, it's a bit like loving your spouse and loving your dog and loving ice cream. It's "love" every time, but it's not the same love. Tom Brady wins a slew of Super Bowls.

Michael Jordan wins a collection of NBA titles. Serena Williams dominates tennis for more than 20 years. Usain Bolt wins eight Olympic track-and-field gold medals and sets two world records. Michael Phelps and his outrageous 23 Olympic gold medals. They're all freakishly talented and outstanding in their chosen fields, but as a general rule, being really good at hitting a ball with a bat or throwing a football or running fast doesn't qualify you as a hero. And I'm pretty sure each of the sports people I've named would agree with that. Great achievements, they've redefined their sports, they've made a lot of people happy and done historic things, and we call them heroes because, well, that's the best word we can think of when someone does something really remarkable.

The United States military has a special way of honoring people we would classify as heroes. The Medal of Honor is the United States' highest award for military valor in action. Those who receive the Medal of Honor have demonstrated bravery, courage, sacrifice, and integrity. More than 3,500 Medals of Honor have been awarded to 3,511 individuals. Five sets of brothers have received the award and two father-and-son pairings; Theodore Roosevelt, the 26th president of the United States, and his son Theodore Jr., and Arthur MacArthur and his son General Douglas MacArthur.

Once upon a time the Medal of Honor would be sent through the mail, but more than 100 years ago, regulations were changed, stipulating that the medal must be presented in a formal ceremony. There are more than 60 Medal of Honor recipients alive today. The first Medals of Honor awarded were presented to the six Union Army volunteers who commandeered a train, known as The General, in northern Georgia and took it towards Chattanooga in the north, damaging train lines and cutting telegraph wires as they went. More than 1,500 Medals of Honor were awarded for valor during the Civil War. Almost 500 for World War II, 261 for Vietnam, a 146 for the Korean War, 132 for World War I, 28 for the War on Terror, and 965 for campaigns, conflicts, and for peacetime.

More than 2,400 have been awarded to U.S. Army personnel, 746 to those who've served in the Navy, 297 for the Marine Corps. 17 for the U.S. Air Force, 8 civilian, 5 foreign, and 1 U.S. Coast Guard. More than 90 African Americans have been awarded the Medal of Honor. That's a comparatively small number, best explained by African Americans' place in society up until the 1970s. In fact, no African Americans were awarded the Medal of Honor during World War I and World War II. Those who were eventually honored were honored decades after the fact, in most cases posthumously.

Historian Glenn Knoblock wrote, "It was not until the Vietnam War that black servicemen not only served on an equal footing with whites, but were also awarded the Medal of Honor in the same proportion". So who do you think is the greatest hero of them all? And who are some of the remarkable people who have received the Medal of Honor? To find out, we're going to go together to the National Medal of Honor Heritage Center in Chattanooga, Tennessee. And we'll do that in just a moment.

Thanks for joining me on It Is Written. The National Medal of Honor Heritage Center in Chattanooga, Tennessee, is a remarkable place. It's a jewel, a must-visit location. It is here that Medal of Honor recipients have been recognized for their heroism, their bravery, for what's often referred to as "deeds of conspicuous gallantry" or "intrepidity". But behind it all is the reminder that Medals of Honor were awarded amidst the turbulence, the turmoil, and the tragedy of war. The Medal of Honor has been awarded by the United States government more than 3,500 times. Some remarkable acts of heroism have been recognized. Among them that of Henry Johnson, who served during World War I and was awarded the Medal of Honor in 2015.

His citation reads, in part, "Private Henry Johnson distinguished himself by extraordinary acts of heroism at the risk of his life above and beyond the call of duty. During combat operations against the enemy on the front lines of the Western Front in France. In the early morning hours, Private Johnson and another soldier were on sentry duty at a forward outpost when they received a surprise attack from a German raiding party consisting of at least 12 soldiers. While under intense enemy fire and despite receiving significant wounds, Private Johnson mounted a brave retaliation resulting in several enemy casualties. Displaying great courage he continued to hold back the larger enemy force until the defeated enemy retreated, leaving behind a large cache of weapons and equipment and providing valuable intelligence. Without Private Johnson's quick actions and continued fighting, even in the face of almost certain death, the enemy might have succeeded in capturing prisoners and the outpost, without abandoning valuable intelligence".

James Anderson Jr., Vietnam War, U.S. Marine Corps: "Private First Class Anderson found himself tightly bunched together with the other members of the platoon only 20 meters from the enemy positions. Suddenly, an enemy grenade landed in the midst of the marines and rolled alongside Private Anderson's head. Unhesitatingly and with complete disregard for his personal safety, he reached out, grasped the grenade, pulled it to his chest and curled around it as it went off. Although several marines received shrapnel from the grenade, his body absorbed the major force of the explosion. In this singularly heroic act Private Anderson saved his comrades from serious injury and possible death. He gallantly gave his life for his country".

There was Alvin York, who during World War I in northeastern France, near the border with Belgium, assumed command of his platoon when others were killed or wounded, then overran a machine gun nest, capturing four officers, 128 soldiers, and several weapons. It was a phenomenal feat. He was a humble man and, after the war, turned down offers to profit from his name. Instead, he donated his influence to support a number of charitable causes.

Alwyn Cashe, War on Terrorism, Iraq, U.S. Army: "After extracting himself from the vehicle, Sergeant First Class Cashe set about extracting the driver, who was trapped in the vehicle. After opening the driver's hatch, Sgt. First Class Cashe and a fellow soldier extracted the driver, who was engulfed in the flames. During the course of extinguishing the flames on the driver and extracting him from the vehicle, Sgt. First Class Cashe's fuel soaked uniform ignited and caused severe burns to his body. Ignoring his painful wounds, Sgt. First Class Cashe then moved to the rear of the vehicle, to continue in aiding his fellow soldiers who were trapped in the troop compartment. At this time, the enemy noted his movements and began to direct their fire on his position. When another element of the company engaged the enemy, Sgt. First Class Cashe seized the opportunity and moved into the open troop door and aided four of his soldiers in escaping the burning vehicle".

And then you find these very short citations: "Therefore Robert Augustus Sweeney...", the only African American to receive a Medal of Honor on two separate occasions, one of just 19 individuals to do so. Interestingly, both medals were awarded for acts of valor committed during peacetime. "First award: Serving onboard the U.S.S. Kearsarge at Hampton Roads, Va., 26th of October 1881, Sweeney jumped overboard and assisted in saving from drowning a shipmate who had fallen overboard into a strongly running tide". And then this: "Second award: Serving onboard the U.S.S. Yantic at the Navy yard, New York, 20th of December, 1883, Sweeney rescued from drowning A.A. George, who had fallen overboard from the U.S.S. Jamestown".

There's not an awful lot known about Robert Augustus Sweeney. He was born in Montserrat, which at the time was part of the British Leeward Islands. Located in the Caribbean, Montserrat is close to Antigua, St. Kitts and Nevis, and Guadaloupe, and it's 250 miles or so from Puerto Rico. We don't know what became of Robert Augustus Sweeney. He died in 1890 and is buried in the Calvary Cemetery in New York City, just three miles from where he and J. W. Norris saved A.A. George from drowning in the East River. So what makes a hero? Kicking a Super Bowl-winning field goal? Some would say so, but you're not going to rate that up there with disarming a murderous gunman on a shooting spree or falling on a grenade and saving the lives of your fellow soldiers. Was it heroic of civil rights figures to jeopardize their lives in order to bring equality to all? You'd have to say it was.

Was Desmond Doss a hero? The famed Medal of Honor recipient who became the subject of the movie "Hacksaw Ridge," Doss saved the lives of 75 American soldiers during fierce fighting on the Japanese island of Okinawa during World War II, with complete disregard for his own safety. Desmond Doss was awarded the Medal of Honor by President Harry S. Truman in 1945. It was the first time the medal had been awarded to a conscientious objector, although Doss preferred the term "conscientious cooperator". Anyway you look at it, the humble Desmond T. Doss was a hero.

You could add teachers, firefighters, the police, doctors, nurses, and others to a list of heroes. They mold lives, save lives, protect our communities; they heal us and our loved ones. There's something very heroic about that. If that's you, thank you. So what about someone who healed the sick, raised the dead, and offered life to every person who ever lived? Someone who had power over nature, someone who fed the hungry, a person who lifted up others, encouraged the discouraged, a person who exemplified the very best of humanity at all times? Would you call that person a hero? I think you would. We're going to look at the greatest, truest, more real hero that ever lived in just a moment.

It's not often you hear Jesus referred to as a hero. But how else could you describe Him? To begin with, He had supernatural abilities. He could walk on water. He entered a room by passing through a wall. He altered the very nature of water, transforming it into grape juice. He took a small boy's lunch and, for the benefit of others, turned it into a meal that satisfied the hunger of thousands of people. He healed people, and not just His own friends or countrymen. He healed the servant of an enemy soldier, He healed the demon-possessed daughter of a foreign woman. In fact, that same passage in Matthew 15 says that "great multitudes came to Him, having with them the lame, blind, mute, maimed, and many others; and they laid them down at Jesus' feet, and He healed them".

That's Matthew 15, verse 30. He healed them all. He worked to combat racism. When His own followers wanted to incinerate a Samaritan village, He rebuked them, saying, "You do not know what manner of spirit you are of, for the Son of Man did not come to destroy men's lives, but to save them". This Man was merciful in a way that no one had ever seen before: interrupting a funeral to raise a dead body and reunite the young man with his mother, a widow, a woman with no apparent means of support. He was incredibly gracious. When a tax collector who was short of stature climbed a tree in order to get a glimpse of Jesus, Jesus recognized the desire of the man's heart and invited himself into the man's home, something that really wasn't done in that culture at that time.

That act scandalized the people, who said, "He has gone to be a guest with a man who is a sinner". But instead of rejecting the man, who set himself up as an enemy of his own people by collecting taxes on behalf of an occupying power, Jesus uttered these remarkable words: "Today salvation has come to this house, because he also is a son of Abraham". And then He said, "For the Son of Man has come to seek and to save that which was lost". I mean, it goes on and on, right? He touched lepers, people who hadn't experienced meaningful human touch in years. One suffering man said to Him, "If You are willing, You can make me clean". Listen to what the Bible says next: "Then Jesus, moved with compassion, stretched out His hand and touched him and said to him, 'I am willing, be cleansed.'"

So you have Someone who is all-powerful, compassionate; He was merciful, choosing to forgive sinners and lift them up. He was a healer, and even though He could have, He never used His power for His own benefit. He might have spent His time impressing people, but His mission was to reveal to the world what His Father was like. He said He "did not come into the world to be served, but to serve, and to give His life a ransom for many". Matthew 20, verse 28. To serve and to give His life, that's Jesus. He was meek, but meekness is not weakness. As He was dying on the cross, wicked men taunted Him. They said, "Save Yourself! If You're the Son of God, come down from the cross". And He didn't. Because if He had, He'd have turned away from His mission to save the world.

Notice: not to save people who were wearing His uniform. Jesus came to the world to save His enemies. He said in Matthew 5:44, "Love your enemies". He advocated lending and not expecting to receive anything back in return. He said if someone needs your cloak, give that person your tunic as well. Paul wrote that "when we were enemies, we were reconciled to God by the death of His Son". Romans 5:10. In everything that He did, Jesus was seeking to lift up fallen humanity. And the same is true today. He answers prayers. He shows you the wonders of creation so you can witness the goodness of God. He showers the world in blessings and carries us through our trials. No, He doesn't take away all of our pains and griefs and struggles, but better than that, He pledges to keep us, hold us, comfort us in the midst of them, because God is love and Jesus is only good.

So what do you do with a hero like that? What do you make of an historical figure such as Jesus? He's as real an historic figure as, as Genghis Khan or Napoleon or William Shakespeare. How did He live His life? He lived His life selflessly, for the benefit of others. What kind of example did He leave? To love others. He's just what the world needed then, and He's exactly what the world needs today. So where does He feature in your life? And how can He feature in your life? Paul quoted the prophet Joel when he wrote, "Whoever calls on the name of the Lord shall be saved". The same man told a repentant sinner, "Believe on the Lord Jesus Christ and you will be saved, you and your household".

Soldiers have followed military leaders into battle. People rally around political leaders. Kings and queens have inspired the loyalty of millions. But Jesus is greater than them all. He's the Creator of the world, the Savior of the world. And He's coming back to this earth soon. Is the Creator your Re-Creator? Is the Savior your Savior? Are you looking forward to Jesus returning to the world to take His people home? Long ago Jesus died on a cross, demonstrating the love of God for the world. He died on the cross giving you assurance that your sins may be forgiven. He's a hero you can follow, surrender to, trust, really believe in. There's no one else like Him. There's only one Jesus. Surrender your life to Him now and let Him be your Jesus.



Father in heaven, I thank You today for Jesus. We don't often think of Him as a hero, but He's the one person ever to have lived who's given His life for this sinful world. I thank You we can trust Him, love Him in return, and experience His presence in our lives.



Friend, how is it with you? Can you accept Jesus into your heart now? Ask Him to take your life, and He'll make it His own. He'll do it. He'll flood your life with His peace and assurance if you'll let Him. Tell God with me that you believe:



Lord, we accept Jesus as Savior and Lord, and we pray in Jesus' name, amen.