John Bradshaw - Camp Hope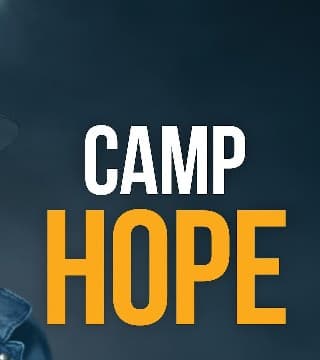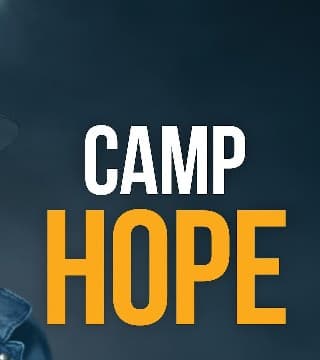 TOPICS:


This is It Is Written. I'm John Bradshaw. Thanks for joining me. We're going to go together to Camp Hope, a unique camp with a lifesaving difference. It was established in 2010 for the families of 33 Chilean miners who were rescued after a near disastrous mining accident. There's a lot we can learn from the harrowing experience that almost resulted in tragedy, and the incredible rescue that saved their lives. Thursday, August the 5th, 2010 was not a happy day for many people. Life took an unexpected turn for many wives, mothers, children, grandchildren, uncles, cousins, nephews, friends, neighbors as they learned, from news reports, that their loved ones were trapped 2,300 feet, that's 701 meters, below ground. That's basically the distance from the ground to the top of the Empire State Building, twice.

Can you imagine being trapped that far, below ground? The day began for the miners as any other typical work day would, expecting to see each other again for supper that night as usual, but supper time came and went and feelings of desperation and fear and uncertainty and the desire to stay close took over their minds. They gathered in the Atacama Desert and set up tents and began the long wait for whatever might eventuate. On the outskirts of the San Jose Mine over two-and-a-half thousand people gathered in what was called Camp Hope. It was an improvised community established by relatives. There were over 200 national and international media reporters there, as well as rescue teams and doctors and psychologists and teachers and volunteers, spiritual leaders and visitors from other parts of Chile who came together to wait for the miners, to give encouragement to the families, and to share a message of hope.

Every evening at six o'clock relatives gathered to receive daily reports on the physical and psychological condition of their loved ones. Schools were set up so the children could attend class. And families gathered together to pray for a miracle. Despite the intense heat during the day and the extreme cold during the night, they waited, at Camp Hope. For 17 days the earth remained silent and with each failed rescue attempt, despair increased. Time after time rescuers dug holes in the ground looking for signs of life. But the drills repeatedly missed the right spot. Rescuers didn't have an updated map indicating where the miners might be, sheltering underground. It wasn't known for certain if they'd even managed to make it to those potentially safe zones. And then there was some pretty obvious issues.

If the miners weren't found soon, if they were still alive, they'd die of thirst, or hunger, or from another collapse, or from a lack of oxygen. Anything could happen. Meanwhile, the families couldn't do anything except, wait. Maybe right now you find yourself in the same situation. Maybe you've had to pitch your tent at your own Camp Hope waiting for the outcome of your situation. Maybe you're like those relatives, you're watching helplessly as a child has fallen prey to drugs. Maybe you have a spouse who's addicted to alcohol. Maybe you have a daughter who's a victim of domestic violence. Maybe you have a sick father or mother and you don't have the means to pay for their treatment. Maybe a loved one has departed from God. You're watching now that person slowly destroying himself or herself and you feel trapped, not knowing what to do.

As time goes by you become desperate. You may have got on your knees for many years even, begging God to perform a miracle, a rescue. Maybe now you're about to lose hope. Has the silence of God made you think that God's not listening to you? Well listen. God has a promise for you. It's found in the Book of Psalms, Psalm 27 and verse 14. "Wait on the Lord; be of good courage, and He shall strengthen your heart. Wait, I say, on the Lord". Don't grow weary, wait on the Lord. Wait on the Lord and the miracle will come. After 17 seemingly endless days, on August 22, 2010, the first miracle finally arrived. One of the drills being used for the rescue miraculously deviated toward the refuge where the miners were holed up. The drill was christened "La Milagrosa," the miraculous one. Another name that was given to it, it's one that I like the most, is "the Hand of God".

As soon as the drill reached the refuge, the rescuers felt two blows on the drill. That was the, the trapped miners down there banging on the drill. They realized that meant there could be life underground. It took some time to bring the drill back up, but when they pulled it out of the ground, on the tip, connected to the drill, was a handwritten message from one of the miners. It said, "We are fine in the shelter, the 33". You know, experts said that if that drill had taken just one more day to reach those trapped miners, some of them would likely have been dead. The conditions in which they were found were totally unstable. They didn't have much light. They had little food. The cans of tuna they shared were almost gone. There wasn't enough oxygen. Fungus had begun to cling to some of the miners because of the humidity where they were. Others were sick to their stomachs because of the water they drank. But the Hand of God reached them just in time.

So again, listen. Don't grow weary, wait on the Lord, the miracle will come. You know, one reason I want to share this story with you is because it's inspiring. Because if you apply it in your own life, it'll give you courage in times of despair. Even if you feel that your situation is lost, if you think yours is an unsolvable case, the miraculous hand of God can reach the deepest place to work out a rescue for you or for your loved one. Hold on to the promises of God, and the promises of God will sustain you. And as your problem is solved, God will fill you with peace. Isaiah 26 and verse 3, "You will keep him in perfect peace, whose mind is stayed on You, because he trusts in You". I'll have more, in just a moment.

Thanks for joining me today on It Is Written. Camp Hope was the name given to the tent community set up for the relatives of the 33 Chilean miners who were trapped underground, 2,300 feet underground, in a copper and gold mine after a collapse in the mine in August of 2010. Volunteers and the media also gathered at Camp Hope. After receiving a note that proved that the 33 miners were alive in a shelter deep below the surface of the earth, rescuers designed a plan to bring the men up to the surface one by one. In the meantime, a pastor, Carlos Parra, who pastored the Seventh-day Adventist congregation, understood that the men needed spiritual support and so he searched for 33 Bibles small enough to fit into a probe and he had them delivered to the men, highlighting special promises for the miners to read.

Now, this is what we can do. This is exactly what you and I can do. In moments of discouragement and darkness, we can go to the Bible. And in the Bible we find hope and assurance. The first promise Pastor Parra assigned them to read was Psalm 103, verse 4, "Who redeems your life from destruction, who crowns you with lovingkindness and tender mercies". And so every day Pastor Carlos Parra would share promises for the trapped miners to read from the Holy Book. They'd be sent down 2,300 feet underground in that special probe. Many people, many religious groups, came together to help these families and Pastor Parra became a virtual chaplain to the miners underground and to the families above. Six men were chosen to descend into the heart of the earth and help the miners out back to the surface.

Imagine volunteering for that job. It was a huge risk. Not only did the six men risk their lives, they did it of their own free will and out of love for their fellow man. No one forced them to descend to the depths of the earth. It was duty that called them to be more than spectators. And sometimes duty also calls us to do a, a little more than to pray for those who suffer around us. Sometimes we have to go in search of the lost sheep. Sometimes you have to participate in the rescue of those who need it most. Just as Jesus came to our rescue, as is written in John 15 and verse 13, "Greater love has no one than this, than to lay down one's life for his friends".

So I ask you, what are you willing to do for your lost child? What are you willing to sacrifice for your sick father or mother? Maybe you need to spend more time with your family. Maybe it's necessary to seek counseling to save your marriage. It might be required for you to stay up all night to take care of your sick family member. You may have to cook some extra food to help out your neighbor who lost his or her job. Maybe that you should ask for help on behalf of the person who can't speak out because she's afraid. There are many ways in which you can get involved in bringing relief to someone who's going through a difficult moment.

And Jesus will say this when He returns, "I was hungry and you gave Me food; I was thirsty and you gave Me drink; I was a stranger and you took Me in. I was naked and you clothed Me; I was sick and you visited Me; I was in prison and you came to Me. Then the righteousness will answer Him, saying, 'Lord, when did we see You hungry and feed You, or thirsty and give You drink? When did we see You a stranger and take You in, or naked and clothe You? Or when did we see You sick, or in prison, and come to You?' And the King will answer and say to them, 'Assuredly I say to you, inasmuch as you did it to one of the least of these My brethren, you did it to Me.'"

Remember something, an act of kindness is much more valuable in the vast majority of cases than the most eloquent or powerful sermon. And you and I have been called to be the hands and the feet of Jesus, bringing love and encouragement to people who need it most. And make sure you don't miss the opportunities brought to you by God to present to others the love of Jesus. Days turned into weeks, the weeks turned into months, 69 days and the men were still trapped underground. Around the world, people had their eyes glued to TV screens following the progress of the rescue. Ultimately, millions of people witnessed what could be called the most incredible mining rescue in history.

One by one the miners came out of the ground. First, Florencio Avalos, second, Mario Sepulveda who brought stones from underground in a bag and began to distribute them as souvenirs. Third, Juan Andres Llanez, fourth, Carlos Mamani, until the hours of the day passed until the last man, Luis Urzua, was received. As each miner emerged, tears of joy flowed, shouts of celebration were heard. The first reaction of, of several of the miners as they reached the surface was to kneel down and thank God for a new opportunity of life and for reuniting them with their families. Can you imagine how Heaven celebrates when a person surrenders his or her life to Jesus. It says this, I want to read it to you, in the gospel of Luke 15 and verse 7: "I say to you that likewise there will be more joy in heaven over one sinner who repents than over ninety-nine just persons who need no repentance".

When a person surrenders to Jesus, Heaven rejoices. Heaven says, it was worth Jesus leaving Heaven to go to the earth for you. Now the cost of rescuing those miners was huge. Twenty-two million dollars. But your rescue costs Heaven much more. First Peter 1:18 gives us a total value: "Knowing that you are not redeemed with corruptible things, like silver or gold... but with the precious blood of Christ, as of a lamb without blemish and without spot". Heaven gave up its most precious treasure for your salvation. Heaven emptied itself for you. It gave up everything for that loved one who suffers. It gave up everything for that prodigal son who left the home. And if God gave all that and more, won't He care for you; His most valued possession? How could God forget about you? How could He stop listening to your prayer? Don't be discouraged. Wait on the Lord. Trust in Him. Keep praying. I'll be back in just a moment.

Thanks for joining me on It Is Written. Have you ever wondered where Jesus is now, what Jesus is doing? Have you ever wondered what Jesus is doing while people struggle with pain and misfortune and sickness and death? Well, listen to this. As soon as our first parents were kidnapped and deceived by the father of lies, humanity was buried in a hole much deeper than the one in which the 33 miners find themselves. We lost our home, we lost our health, we lost our happiness. We lost our eternal life. We lost our immortality by listening to the lies of the devil. He said that we wouldn't die if we disobeyed God. But as soon as we were condemned, the Father, the Son, and the Holy Spirit established Camp Hope, the heavenly sanctuary, from where the greatest rescue of all time is in operation seeking to save every person who's lived on this planet.

So, whoever believes in Him should not perish, but have everlasting life. Jesus is now in the heavenly sanctuary and when you and I, from the bottom of the abyss of despair and anguish cry for help, He's there to comfort us, to give us hope and help at all times. When in desperation we cry out for a miracle, He pours out all of the resources of Heaven so that we can endure as we wait for our final rescue. That's why our safety is in Jesus and what He can do and is doing from up there to finalize the rescue. It's what the Scriptures say. There's an entire book in the Bible that talks about it.

I want to read to you from the fourth chapter of the Book of Hebrews starting in verse 15. "For we do not have a High Priest who cannot sympathize with our weaknesses, but was in all points tempted as we are, yet without sin. Let us therefore come boldly to the throne of grace, that we may obtain mercy and find grace to help in time of need". God's not unaware of our needs. God's in Camp Hope seeking for ways to help us daily, moment by moment, providing encouragement and assurance, and the promise that things are going to end okay. Just a little more. Just a little more. And soon this time of pain and death and separation and anguish will be over forever. God saw that we were in trouble. He knew there's no human solution available to any of us.

In the same way that a specialist was sent to the 33 men to help them into the rescue capsule, Jesus encapsulated Himself; He became like one of us. He left His glory. He descended to the depths of darkness in this lonely planet to show us the way back to eternal life, to our heavenly home. This operation didn't cost a million dollars or $10 million or $22 million. A much higher price was paid so that you and I could live forever and not die. Now think of this, now think of this, what if, I'm going to suggest something to you, what if one of the miners after that complicated, expensive rescue operation decided to stay down there 701 meters, 2,300 feet, two Empire State Buildings high or low, under the ground? What would the world think if somebody made a decision like that? I think the world would think he had lost his mind. We would know that there was something awfully wrong with that man.

But sadly, tragically, that's what many people are doing today with the rescue Jesus offers them. They've become too acquainted with the darkness. They say, the darkness is good enough for me. They prefer to be buried in the abyss of sin, while there awaits a better world. When the last miner was rescued in that cold, long night in the desert, people all around the world rejoiced. Millions. In fact, it was said one billion people watched, many of them celebrating in front of the TV or computer screen. It was over. The operation came to an end and Camp Hope was finally closed. Those 33 men? They returned to their homes. In the same way, when the gospel reaches every person in the world, everyone's had the opportunity to accept or reject the salvation offered by Jesus, the largest and costliest rescue operation in the universe will be over, and Jesus will forever close Camp Hope, and will come to earth with billions of angels to take us home.

We'll live with Him forever. That's your destiny and mine. Don't allow the devil to continue stealing more than he's already taken. Maybe he's stolen your health. Maybe he's taken your happiness. Maybe he has your loved ones. We've lost everything by listening to his voice. But we'll gain everything by listening to the voice of Jesus, Who will restore everything back to us. I want to ask you, where are you now? Do you feel trapped by problems that seem to have no solution? Or are you a concerned family member waiting for the miraculous rescue of a loved one? Are you the one who needs to be rescued? Maybe you need to lend someone a hand right now, or maybe you need someone to lend you a hand. Perhaps you've ignored God's voice in the past and now you find yourself trapped in a pit with no way out. You realize that you need God's powerful hand. It's you I'm addressing.

Look up to the only place and the only One who can rescue you. There's no other. There's no other way out. If you think there's no solution to your problem, think of the empty tomb, because if God was able to overcome death, He can also overcome the daily problems in your life. Today is a decisive day. Today is the day of rescue. Today is the day of your salvation. You can take a step of faith now. Ask yourself if you want to continue in a pit or if you'll enter the capsule that will take you from the depths to a new life with Jesus. Are going to allow Christ to rescue you. Are you willing to accept the sacrifice made by Jesus on the cross? I don't want to be alarmist, but this could be your last chance. Don't overlook it. If at this moment you're willing to say, "Yes, I want to be rescued," then open up your heart to God.

If right now you recognize the seriousness of your situation, that God's not the center of your life, let's change that now, shall we? It just takes a decision. Oh, you say, "I'm not good enough". No, that's true. There's no one who's good enough, only God. You say, "I'm not deserving". Well, well, of course you are not. There's no one who deserves salvation. Jesus didn't die for people who deserve to be saved. He died for people who are in a desperate situation and just couldn't save themselves.

You say, "God wouldn't forgive me". Oh, come on. You're forgetting all the case stories all the way through the Bible, of sinful people that God forgave. Jesus came to seek and to save those who were lost. Christ died for our sins. So what are you going to do? Stay because you choose to, 2,300 feet below the surface of the earth, and refuse to come out? Friend, Jesus died for you so you could live forever. Jesus died for you so that before eternity you can have hope in this life, you can live with dignity and confidence. You can live knowing that you are a child of God. If you'd like to be a child of God, I'm going to pray for you in just a moment, but right now if you can open your heart up to God and say "Yes, that's what I want," and you can live with hope in this world and then, beyond this world, in the world to come.



Our Father in Heaven, we're thankful that You set up Camp Hope in Heaven so that from there You could launch the most incredible rescue mission in the history of the cosmos. And Lord today we want to be rescued. I pray for each one now, someone living without confidence, someone living in desperation, someone filled with anxiety, someone far from You, but now we say, "we want to come home". We admit we can't turn our own lives around. We say, "God, You must turn our lives around because that's what You do". So, Lord would You do that right now? Well, let me change that. Lord, thank You for doing that and we believe You've done so.



So now, friend, claim new life in Jesus. Invite Him into your heart. Believe that He comes in. Believe that He forgives your sins because you confess them to Him. Believe that everlasting life is yours and now we live in connection with God.



Father, we thank You for the hope that we have. We thank You that You are the greatest rescuer of all and we pray in Jesus' name, Amen.