John Bradshaw - Great Chapters of the Bible, Psalm 23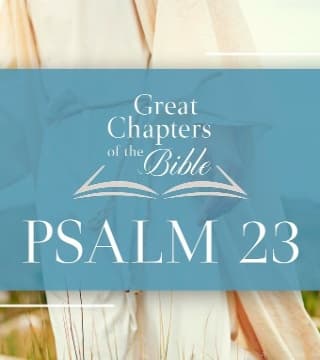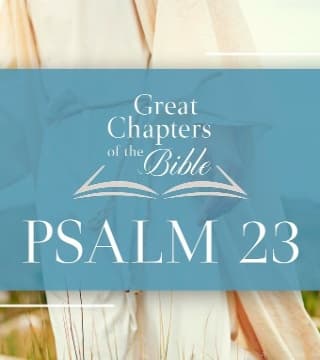 TOPICS:


This is It Is Written. I'm John Bradshaw. Thanks for joining me. I was raised around sheep. Now, where I lived it was dairy farming that was dominant, but sheep were common. One day my father came home with a lamb. It was a little bit yellow so he named him Sweet Corn. We had a large yard, so there was plenty of room for the lamb, but we kept him tethered on a long line, at least as I remember it. From time to time we'd let him off to wander and roam. Sweet Corn loved seeing us. He'd come to greet us, typically because he thought we had food for him. Sweet Corn grew, as lambs grow, and one day I came home from school and noticed the lamb was gone. As soon as Dad came home from work I asked him about Sweet Corn.

Now, Dad explained that Sweet Corn was getting a little too big, so Sweet Corn needed to go. A farmer was looking after him. Everything had been taken care of and I thought, okay, well, fair enough. He was getting big. We missed Sweet Corn, but it's not like he was a cat or a dog, so we got over it before too long. And, and then one day, I'm helping my mother getting something out of the chest freezer and I noticed, I noticed all this meat in the freezer. I asked my mother, "Mum, where did all the meat come from"? And the look in her eyes said it all. She didn't even need to answer. I said, "Sweet Corn"?

Sweet Corn, it seems hadn't really left after all. At least, he did leave for a while, but then he came back in a rather different form. And that's the grim reality, really, for most farm animals or farm-type animals. They're raised to be slaughtered, ultimately. And one, you can choose to debate the morality of that or the health implications of that, that's not where I'm going right now. Instead, we are continuing with our series, "Great Chapters of the Bible" and we're looking at a chapter that deals with sheep, or, more specifically, it deals with a shepherd.

It's Psalm 23 where God is described as being a Shepherd who has much different plans for His sheep than my father had for Sweet Corn. God wants the best for us and Psalm 23 makes that clear. It's one of the most well-known passages of the Bible, often recited or read at funerals. It's just a short Psalm, only six verses, and it's easy to miss the power and the depth it contains. So, let's look together at Psalm 23, and then we'll go back through it and see what we can learn from it in our time together.

Psalm 23, starting in verse 1. The Bible says, "The Lord is my Shepherd; I shall not want. He makes me to lie down in green pastures; He leads me beside the still waters. He restores my soul; He leads me in the paths of righteousness for His name's sake. Yea, though I walk through the valley of the shadow of death, I will fear no evil; for You are with me; Your rod and Your staff, they comfort me. You prepare a table before me in the presence of my enemies; You anoint my head with oil; my cup runs over. Surely goodness and mercy shall follow me all the days of my life; and I will dwell in the house of the Lord forever".

The 23rd Psalm was written by David. It might just be the most well-known and well-loved of all of the 150 Psalms. You could say it's divided into three parts. It deals with God's provision and loving kindness, the protection God gives, and then it presents God as a gracious Host showering blessings on His people. Notice with me how the Psalm starts. In fact, if all you had was verse 1, you'd have just about all you need for anything. It says, "The Lord is my Shepherd; I shall not want". Now think about that with me. "The Lord is my Shepherd; I shall not want". Who is my shepherd? The Lord. The Lord is what? The Lord is my Shepherd. And, therefore, what? I shall not want.

It's interesting that this Psalm is written by a shepherd. Or at least someone who was a former shepherd. A shepherd, just so we can be clear, is a sheep herder, a guardian, a protector, a guide of sheep. Sheep were important to the owner of the sheep and so the shepherd was tasked with protecting them. Not only that, the shepherd had to find food for the sheep, something that wasn't always easy in Israel. Israel is dry, rocky, brown for the most part. It's not an easy place to raise and provide for sheep. It's difficult to find good supplies of food. The shepherd's job was important. Without the shepherd, the sheep would perish. They'd be at the mercy of predators. Sheep aren't equipped to fight back. They can be taken by dogs or by coyotes. Little lambs can be picked up by large birds.

And back in David's time there were bears and lions that would harm the flock. No shepherd meant no sheep, or dead sheep before very long. Sheep are vulnerable creatures. They don't run fast. They don't have sharp teeth or claws. Rams may have horns, but that just raises another point about sheep. They can be really hardheaded. The role of the shepherd was absolutely vital to the survival of the sheep, especially in an area where the sheep weren't behind fences. Usually they roamed in search of food. The land wasn't fenced off when David wrote this, and David understood all of this when he wrote the 23rd Psalm. Verse 1 again. "The Lord is my shepherd".

Now, let's leave it there for now. Who is the shepherd? It's important to understand that David wrote that Yahweh was his Shepherd. "Yahweh is my Shepherd; I shall not want". In the Bible there are many names for God used. Genesis 1, verse 1, "In the beginning Elohim created the heaven and the earth". Psalm 91, "He who dwells in the secret place of the Most High shall abide under the shadow of the Almighty," which is El Shaddai, God Almighty. Genesis 22:14, Abraham called the name of that place Jehovah Jireh, the Lord with provide. Exodus 17:15, "And Moses built an altar and called the name of it, Jehovah Nissi, The-Lord-is-my-Banner". But Psalm 23 starts by saying, "Yahweh is my Shepherd". The Self-Existent One. The Eternal God. The Supreme God. He is the Great I Am.

So David is saying, the Self-Existent God is my Shepherd. How do you think that knowledge encouraged David? David the shepherd boy goes into battle against Goliath and he goes confident. He offers to fight against Goliath and the king says in First Samuel 17:33, "You are not able to go against this Philistine to fight with him; for you are a youth and he a man of war from his youth". But David recites his experience as a shepherd. He explains he defended the sheep against lions and bears, killing those fierce predators. He knew God was with him then, and that God would be with him now, because David's God was a big God. He even says, it was Yahweh that delivered me out of the hand of the lion and the bear, and that same Yahweh will give me victory over this Philistine.

Now King Saul offers David Saul's own armor, but David chooses to go into battle with just a sling and five stones, one stone for Goliath and four extra stones for whoever came at David next. He wasn't expecting the Philistines to flee, after all. He said to Goliath, "This day Yahweh will deliver you into my hand," and that's what happened. David wrote Psalm 23 knowing his God was a big God, the Self-Existent God who cannot be limited, whose power is without measure. David's God was big. He says, "I have a Shepherd, I have someone watching over me, caring for me, and that Shepherd is the God of the universe".

So, let me ask you. How big is your God? Big enough to help with small things, but not big enough to trust with big things? Big enough to forgive, but not big enough to transform and to change? Big enough to work for others, but not big enough to work for you? This famous Psalm reminds us that God is God. There is no limit to His power or to His mercy or to His love. David says, "Yahweh is my Shepherd". So?

Thanks for joining me on It Is Written as we look at Psalm 23 in our ongoing series, "Great Chapters of the Bible". These are famous words, powerful words. The Psalm starts with David saying, "The Lord is my Shepherd; I shall not want". David says the Self-Existent Eternal God is my Shepherd, my Protector, my Guide, my Provider. Knowing God is all that to me, David says, "I shall not want". I have all I need. I have no lack. And you've got to notice how David phrased this. He didn't say, "I have most of what I need," nor did he say, "I shall not want much". He said, "I shall not want". I shall not be wanting. This is complete, total, utter trust. In fact, this is expectation because God is my Shepherd, He will provide everything I need and I can anticipate that that will be so.

So, does the Bible bear that out in other places? Well, yes it does. Paul wrote to the Philippians that, "My God shall supply all your need according to His riches and glory by Christ Jesus". In Psalm 81, verse 10, God says, "I am the Lord your God, who brought you out of the land of Egypt; open your mouth wide, and I will fill it". Jesus said in Matthew 6:33, "But seek first the kingdom of God and His righteousness, and all these things shall be added to you". "I shall not want".

Now, you don't want to take this to mean that God is going to give you everything you want. It doesn't mean you won't have to endure the occasional hardship or maybe even the frequent hardship. It doesn't mean you won't have lean times or struggle to pay the bills at times. That can happen. Especially if we don't follow sound practices or follow God's leading. But what a statement! David's encouraging us to go through life trusting that God will provide, that we won't lack. That's big trust. It's like the child who jumps into his or her father's arms and just knows, "Daddy will catch me".

Are you trusting God like that? You can. In fact, you should. David's trying to get through to us that God is God. He created this massive universe. He designed intricate patterns in nature, in plants. Instead of creating just one flower, or two or three, He created what seems like an endless variety of beautiful flowers for the purpose of impressing upon us that He is good and great. He created animals, short and squat animals, really big animals, really small animals. Animals with long necks or long hair. He created cute animals and not so cute animals. Some He created were really just kind of funny looking. He's God and He loves you and He wants the very best for you.

Now let's look together in Psalm 23 and verse 2. "He makes me to lie down in green pastures; He leads me beside the still waters". You know, in Israel, especially then, not a lot of green pastures. The Israeli shepherd has to keep his or her flock of sheep or goats on the move to find whatever grass or plant life can possibly be found. Now it's true when you look at one of those arid hillsides, there's often more there than meets the eye. There'll be little sprigs of grass here or there that the sheep can find. But don't get sidetracked from the main point.

In Psalm 23, David says, "God makes me to lie down in green pastures". I'm sure when David wrote this he thought of the many times he struggled and labored to find good grass for the sheep in his care. Not God though. He doesn't turn us out into a rocky, arid field and then worry that He'll has enough to sustain us. God makes us to lie down in pastures of new, fresh grass. What do sheep need? Food, grass, or something very much like it. David says, "God gives me that". And further, "He leads me beside the still waters". I mentioned that I was raised around sheep, sort of, and we had sheep at times. I was also raised beside a river. And from time to time we would see dead sheep floating down the river, being carried along by the current. A shaggy sheep doesn't want to get close to fast flowing water. One wrong move and that sheep gets wet and waterlogged and carried away to its death.

What God does is lead His sheep beside still waters. He refreshes us in a place of safety. And notice, David's view of God is that God provides for us, looks after our wellbeing, and has the best in mind for you and me. Now let's look in Psalm 23, verse 3. "He restores my soul; He leads me in the paths of righteousness for His name's sake". In other words, He restores me. That word soul is "nephesh" in the Hebrew. He restores me, my life, myself. That's what God does. You know, the whole plan of salvation is about restoration. We were created in the image of God, but sin intervened and ruined that. Now God is restoring us. Big picture, restoring us to Himself. Smaller picture, He restores us daily.

As Paul wrote in Second Corinthians, Chapter 4, "Though our outward man perish, yet the inward man is renewed day by day". And He restores us why? Let's find out. "He leads me in the paths of righteousness for His name's sake". Just as a shepherd leads the sheep, God leads us in paths of righteousness. And notice why. So that He, so that God, can be glorified. Jesus taught a parable showing us the extent to which God is willing to go in order to do that. He spoke of a shepherd who had a 100 sheep. One of them became lost. What did the good shepherd do? He left the 99 and ventured out into the wilderness to rescue the one lost sheep. When he found it, he rejoiced. He carried it home on his shoulders. Which tells you how God feels when someone lost is found.

Now, I want you to think about this. The parable is not about a lost alpaca. It's not about a lost cow or a lost horse. It's about a lost sheep. You know, you can pay millions and millions of dollars for a horse. Thousands and thousands for a cow. Sheep, on the other hand, they're relatively inexpensive. Oh, for sure they're valuable to the subsistence farmer eking out a living in a barren tract of the Middle East. But at the end of the day, they're sheep. A farmer with a lost sheep could easily decide that going after one simply isn't worth it. And you'd understand that. But there's something about the shepherd. He cares for the sheep. They are valuable to him. They are more than just animals.

And there's something about the Good Shepherd. Even if there are billions and billions of people on this planet, God loves every one. What are we worth, really? David asked in Psalm 8, verse 4, "What is man that You are mindful of him, and the son of man that You visit him"? Human life is pretty lightly regarded in many places, but God considers you so valuable that the Good Shepherd left heaven to come and search for you. I sure hope you let Him find you. In a moment, we'll go walking in the valley of the shadow of death. I'll be right back.

Psalm 23 is one of the most loved and most well-known chapters of the Bible. "The Lord is my Shepherd," it starts and then it offers hope and assurance and an insight into the loving character of God. Verse 4 says, "Yea, though I walk through the valley of the shadow of death, I will fear no evil; for You are with me; Your rod and Your staff, they comfort me". Undoubtedly there were some dangerous places out in the wilderness as the shepherd cared for the welfare of His sheep. This world is full of dangerous places. Some people walk in the valley of the shadow of death when an accident threatens to take their life. The ICU can be that kind of valley. The emergency room.

Some people walk in dark valleys when relationships come apart, when divorce comes from out of nowhere. Grief or financial loss, or job loss, or disability. These can be dark valleys. David himself went through numerous dark valleys. After killing Goliath, David was hunted by King Saul. He lived as a fugitive. His sin brought catastrophic consequences. There was dysfunction in his family. The rebellion of his son. The death of his son. But was God with him? Yes, He was. And you can know that God is with you in your dark valleys. God says in Scripture, "I will never leave you nor forsake you". And that's the truth. Trust less in what you can see and accept by faith that God is with you. He is.

Even right now in the midst of your challenges. David adds that God's rod and staff comfort him. The shepherd's rod was used to protect the sheep. You can understand why David would speak of this as a comfort. While the rod was more like a club, the staff is that long, slender stick with a crook or a hook on one end. The shepherd might lean on it. He might use it to reach out to lambs or sheep, move them one way or the other, or draw them back to himself. These were tools of the shepherd's trade that were used for the care and the nurture of the flock. And it's here that David shifts his emphasis a little. He says in verse 5, "You prepare a table before me in the presence of my enemies; You anoint my head with oil, my cup runs over". He's speaking of the great God who lavishes His blessings upon the sheep of His flock. God provides. He cares and He cares for.

Clearly, the plans of David's enemies come to nothing here. They cannot prevent God from blessing David so richly that David says, "My cup runs over". It reminds me of the promise in Malachi that God makes to those who tithe. Where He says that He'll bless people so much that there won't be room enough to receive the blessing. Now, we've got to be careful here because God's not simply talking about financial or material blessings. In fact, the next verse might help us to see just what God is majoring in here. Look at it with me. "Surely goodness and mercy shall follow me all the days of my life; and I will dwell in the house of the Lord forever".

Now here's the blessing. Trust in God, resting in God's care brings goodness and mercy flooding into your life. Now it does not mean we'll avoid all trouble or care. It does mean that even in the midst of challenges, we can enjoy God's goodness and mercy. In John, Chapter 10, Jesus picked up this thing from Psalm 23 and He elaborated on it. Jesus spoke of the sheepfold, which in Bible times might have been an enclosure with rock walls around it, or it, it might have been something more like a cave, or an enclosure made from sticks and thorns. Often, instead of an actual door, there would be simply an opening and the shepherd would sleep in that opening. He'd literally be the doorway to the sheep.

And so we read in John 10 and verse 7 where Jesus said, "Most assuredly, I say to you, I am the door of the sheep". And then in verses 9 and 10, "I am the door. If anyone enters by Me, he will be saved, and will go in and out and find pasture. The thief does not come except to steal, and to kill, and to destroy. I have come that they may have life, and that they may have it more abundantly". That's why Jesus came to the world, to give life. Jesus says, "My kingdom is built on love and grace, and I'll give you everlasting life completely free if you'll just take it". It's that easy. Jesus says, "I am the Good Shepherd. The Good Shepherd gives His life for the sheep". That's exactly what Jesus did. He gave His life for the sheep, for me and you. And in verse 16 of John, Chapter 10, "And other sheep I have which are not of this fold; them also I must bring, and they will hear My voice, and there will be one flock and one shepherd".

Jesus is calling to you to trust in Him implicitly. To allow Him to lead you beside green pastures and still waters, to be restored, and to follow Him in paths of righteousness. To not fear, even when things look ominous. To enjoy the blessings He offers because He wants the very best for you. Isaiah wrote that we all, like sheep, have gone astray. What gets us back on course? The love and the leading of God, who will make it so that your cup runs over. And what's the final result? Well, David said, "And I will dwell in the house of the Lord forever". And that's God's plan for you. People are like sheep. We're followers. If you'll make a decision today to follow the Good Shepherd, then you can look forward to eternal life with hope and certainty.

Let me pray with you now:



Our Father in heaven, we thank you that we can say with David, "The Lord is my Shepherd; I shall not want". Would you give us grace to remember just who You truly are, and where we stand in relationship to You through Jesus? We thank You that You would restore our souls and lead us. We thank You that You prepare a table for us in the presence of our enemies. We thank You that we can say our cup runs over. And we are grateful that we can know that through faith in Jesus, we will dwell in the house of the Lord forever.



How is it in your heart, friend? Is the God of heaven your Shepherd? Is Jesus your leader, your defender, the door for you? If you've not accepted Jesus as your Lord and Savior, would you do it now? If you need to recommit your life to Jesus, if the fire is burning dim, would you do that now?



We thank You that there is a Good Shepherd and that we can say of Him, He is my Shepherd. Let it be so we pray in Jesus' name. Amen.



Thanks so much for joining me. I'm looking forward to seeing you again next time. Until then, remember: "It is written, 'Man shall not live by bread alone, but by every word that proceeds from the mouth of God.'"