Joel Osteen — A Flood Is Coming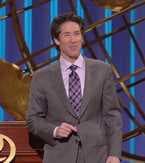 I want to talk to you today about how a flood is coming. Sometimes on the news the weather person will announce that we're under a flash flood warning. That means conditions are right for possible flooding. Water could get out of its normal boundaries. It could overflow and increase in such a way that drainage and bayous are overwhelmed.

Just like that weather person, I'm here to announce to you today, you're under a flash flood warning. Conditions are just right. You've honored God, you've been faithful, you've passed the test, now God is saying, there's about to be a flood. But not with water, you're going to see a flood of my goodness. A flood of opportunity. A flood of healing. A flood of good breaks to where you're overwhelmed with God's favor. It's beyond your expectations, puts you into overflow.

Now, you may have experienced a lot of negative things in the past: bad breaks and disappointments, heartache. It's easy to get discouraged and let that overwhelm you. The negative thoughts will tell you, "You'll never get well, you saw the medical report. You'll never rise any higher and accomplish your dreams. You've gone as far as you can go."

No, you need to get ready, things have shifted. You're about to come into this flash flood where suddenly you meet the right person. You qualify for that new home. You get accepted in that college. Your chosen as the lead role that new program. Your song hits the radio and your career takes off.

You're going to see the surpassing greatness of God's favor. It's going to take you beyond your normal boundaries. It's going to supersede what the medical report says. It's going to supersede your talent, your education, your experience. It's going to thrust you to a level that you could have never gotten to on your own. It's not going to be a little drizzle, a little sprinkle. It's going to be a flood of favor, a flood of talent, a flood of ideas, a flood of opportunity. Why don't you get this down in your spirit, a flood of God's goodness.

Well, you say, "Joel, you're just getting people's hopes up. I don't believe I'm going to see this flood. I don't' believe that anything good's going to happen to me just 'cause you're saying this." Then this is not for you. This is for believers. This is for people who know things have shifted in their favor. People who know God can do exceedingly abundantly above and beyond.

This is for people who get up in the morning and say, "Father, thank you for a flood of your favor today. Lord, thank you for a flood of wisdom. A flood of healing. A flood of your goodness in my life." This is what David did. 1 Chronicles chapter 14, he was facing an impossible situation. He and his men were up against a huge army, the philistines. They were greatly outnumbered.

In the natural, they didn't have a chance. But God gave David the promise that he would go with them and they would defeat this army. David went out and God did just that. God gave them the victory. David was so overwhelmed with God's goodness, he tried to describe it in verse 11. He said, "God has broken through to my enemies like the breaking forth of water." One translation says, "Like a raging flood."

Notice, David likened God's power to a flood. He was saying when God shows up it's going to be like a flood of favor, a flood of strength, a flood of good breaks. Think about how powerful water is. Three or four feet of water can pick up a car that weighs thousands of pounds and move it all around. You've seen on these news reports during a huge flood, whole houses being swept away.

Nothing can stop the force of that water. In the same way, you may have obstacles that look insurmountable, dreams that look unattainable, but let me encourage you; when God releases a flood of his power, nothing will be able to stop you.

That sickness may look big, but when God releases a flood of healing, it doesn't stand a chance. Your opposition may be stronger, better financed, better equipped, but when God opens up the floodgates, they'll be no match for you.

Or how about in your dreams? You may not have the connections. You don't know the right people. You don't have the funding, but when God releases a flood of favor, people will come out of the woodwork to help you out. You won't have to look for them, good breaks, opportunity, the right people will search you out.

You need to get ready, not for a trickle, not a stream, not a river, but a flood of God's favor, a tidal wave of God's goodness, a tsunami of his increase. God is going to take you to a level that you've never been before. It's going to be unprecedented. You're going to go further, quicker than you ever dreamed of.