Derek Prince - You Can Become A Home For The Almighty God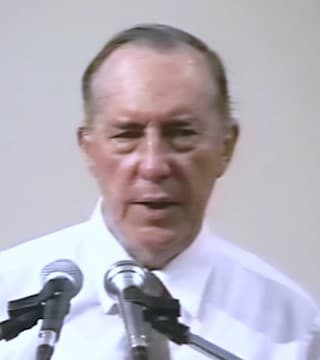 And then I'd like to sum up this teaching on the effect of God's word by one Scripture from John 14. John 14:23. I think this is one of the most amazing verses in the Bible. I tell people if you've never been surprised by what the Bible says you've never really heard what it's saying because it's a very surprising book. Jesus is speaking to His disciples and He says: If anyone loves me, he will keep my word. What's the mark of loving Jesus? Keeping His word. It's not the church we go to, it's not the denominational label. It's keeping His word. That's the proof of our love. And then He says on that basis: My Father will love him and we will come to him and make our home with him. What an amazing statement!

There are very few places in the Bible where the Bible uses the plural pronoun for God. There are a few. In Genesis the Lord says the man has become as one of us. And there are other passages but they're very few. But here Jesus doesn't say I of Himself. He doesn't say He of the Father. He says we. Father and Son- will come to him and make our home with him. What an astonishing statement! Almighty God, the Creator of the universe the Father and the Son want to come to us frail unworthy human beings and make their home with us. Isn't that astonishing? But what's the condition? Keeping His Word. Hearing it, doing it, applying it, living it. And on that basis each of us can become a home for Almighty God.

See, one of the amazing things about the Bible is that really the purpose of the gospel is not to get us to heaven it's to get heaven to us. The last chapter of the Bible doesn't have us all going up to heaven. It has the New Jerusalem coming down to earth. And then it says the tabernacle of God is with men. This is something our minds can never fully comprehend. God wants to live with us. When I consider what kind of creatures we are I'm amazed, but the Bible's message is consistent. And God said we will come and make our home with you if you will keep my word.