Derek Prince - Do You Realize What It Means To Be A Soldier of Christ?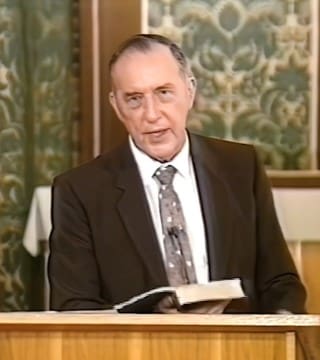 We're going back to Revelation 13, we'll look a little further on, verses 6-7. Then he [this is the antichrist] opened his mouth in blasphemy against God, to blaspheme His name, His tabernacle, and those who dwell in heaven. I am being a little self indulgent this evening, I'm offering you some speculations which you are free to consider. Where it says those who dwell in heaven, the Greek word means to tabernacle in heaven. And it's the same word that's used of keeping the Feast of Tabernacles.

So, I consider the possibility that there will be a Feast of Tabernacles in heaven where the redeemed will celebrate. But Satan on earth will be talking against them. You don't need to indulge that thought, just bear it in mind. He opened his mouth in blasphemy against God. to blaspheme His name, His tabernacle, and those who tabernacle in heaven. And it was granted to him to make war with the saints and to overcome them; and authority was given him over every tribe, people, tongue and nation.

Here is a hard objective scriptural fact. This evil person is going to have authority over the entire human race. His supreme aim will be to be worshiped because when he is worshiped the one who empowered him will be worshiped through him. That's the purpose in the mind of Satan. We have to face the fact that his supreme enemies will be who? The followers of the true Messiah. It'll be true against false. I suspect it will be the beast against the Lamb, the beast nature against the Lamb nature. See, I don't think that we Christians in the west sufficiently appreciate the seriousness of the issues. I think it's going to be a matter of life and death. Just how soon these issues will emerge, I wouldn't undertake to say but I think very, very quickly. And there are going to be those who will have to lay down their lives.

It says about those who overcame him in the 12th chapter, the 11th verse: they did not love their lives to the death. It was more important for them to be true to the Lord Jesus than to stay alive. Faced with that issue, that was the choice they made. You see, Jesus went home by way of the cross. I wonder whether the church isn't going to go home by way of the cross. Victoriously, triumphant, undefeated; but conquering by laying down our lives. Does your theology make room for that? You know, I was called up into the British Army in World War II in 1940. And they never told me we'll give you a guarantee you won't be killed. No soldier is ever called up on that basis. I smile sometimes when I hear Christians talk about being soldiers of Jesus Christ. I wonder if we really understand what's involved in being a soldier.