Derek Prince - How Do We Purify Ourselves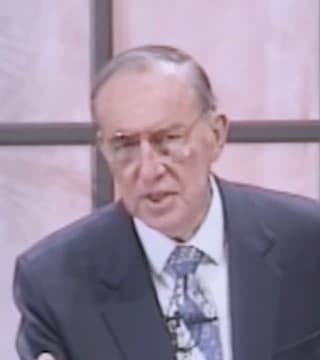 Now the third thing that God wants. Number one was, He wants His kingdom to come to earth. Number two, He wants the gospel to be preached to all nations. Number three, it's very logical He wants a people for His kingdom. Come up here, sweetheart and we'll make a proclamation. Your favorite one, Titus 2:11–14: Titus 2:11–14: Are you there? The grace of God that brings salvation has appeared to all men, teaching us that denying ungodliness and worldly lusts, we should live soberly, righteously and Godly in the present age, looking for the blessed hope and glorious appearing of our great God and Savior Jesus Christ, who gave Himself for us. That He might redeem us from every lawless deed and purify for Himself His own special people, zealous for good works. That's what God is waiting for His own special people.

You might wonder why God tolerates the awful wickedness, the agony, the suffering, the poverty, all the terrible things that are going on in the earth. God could speak a word and stop it. But He won't stop it, until He has a people for Himself. Jesus wants a bride to share the throne. That is a main purpose of God, a people. And they have to come from every people, nation, tribe and tongue. A holy people, a purified people, whom He has purified from every lawless deed, from all self will and self ambition and self seeking, zealous for good works. That's what God is after. Concerning that, John tells us in 1 John 3 - We could say this together again, too. Shall we say that? Now you see how I preach, I preach from our proclamations. Because you see, I've absorbed them. They've become part of me, I think in terms of them.

First John 3:1–3: Behold what manner of love the Father has bestowed upon us, that we should be called children of God, and we are. Therefore, the world does not know us, because it did not know Him. Beloved, now we are children of God. And it has not yet been revealed what we shall be, but we know that when He shall be revealed, we shall be like Him, for we shall see Him as He is. And everyone who has this hope in Him purifies himself, just as He is pure. So what's the mark of those who really are waiting for the revelation of Jesus, what are they doing? They are purifying themselves. How pure? Just as He is pure.

God has only one standard of purity, it's Jesus. You may say, Well, I'm looking forward to the coming of the Lord. But if you are not purifying yourself, it's not true. Because that's the evidence in the life of every person who honestly and sincerely looks for the coming of the Lord. Everyone that has this hope in Him purifies himself, just as He is pure. How do we purify ourselves? Peter tells us, 1 Peter 1:22: Since you have purified your souls in obeying the truth through the Spirit unto sincere love of the brethren.

So how do we purify ourselves? It isn't a mystical experience. It's obeying the truth. What truth? The truth of God's Word. That's what purifies us, obeying the Scriptures. What is the goal? It's sincere love of the brethren. Now the brethren, believe me are not always easy to love. You acknowledge that? As Bob Mumford used to say, God has got some strange children! And then he would add, And you may be one of them! But that is the mark of purity. Sincere love for the people of God. That's what will make us ready for the coming of the Lord.