David Jeremiah - The Joy of Victory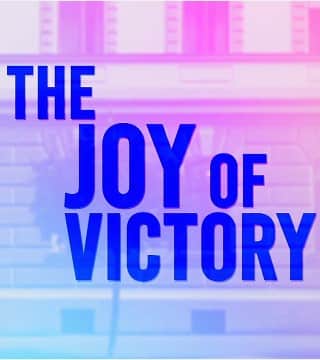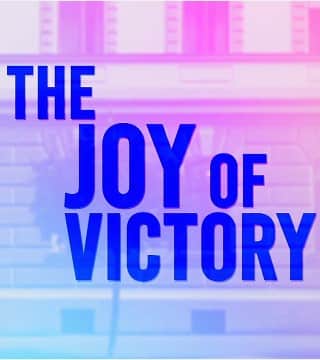 TOPICS:


Here in this section, Paul is gonna let us in on the secret. He's gonna tell us what it takes to win, what it takes to reach the goal, the goal that he had in his heart. As he looks over his shoulder, Paul is gonna tell us how he appraised the past. As he looks forward to the future, he's gonna help us understand his lofty goals. And as he moves back to the present, he'll help us with a strategy that, not only worked for him, but will work for any of us who will apply it to our lives. Let's begin with his liabilities of the past. In verse 7 and 8 he says this about what his life used to be. He said, "What things were gain to me, these I have counted loss for Christ. Yet indeed I also count all things loss for the excellence of the knowledge of Christ Jesus my Lord, for whom I have suffered the loss of all things, and count them as rubbish".

I don't know about you, but that's what happens to a lot of people when they come to Christ. All the things they made fun of and didn't want anything to do with, now become so precious to them. And all the things they thought were worthy of their time, and money, and experience, they no longer had any interest in them at all. When Jesus Christ comes to live within your heart, he doesn't just forgive you of your sin. The Bible says old things begin to pass away, and all things become new. That's what happened to Paul. It all changed one day when he was confronted by the Savior.

As Paul evaluated his life, remembering that day on the road to Damascus, he used a word that is really interesting. He said that everything that he had before that that he thought was worthy, all of his gains, all of that now had become loss to him. And the word that he uses for "loss" from the language of the New Testament is an amazing word. It's only used twice in all the Bible here and in Acts 27. Paul said that, "When I became a Christian, everything that I thought was good before, I realized was not important. It was loss".

The word in the Greek language was used in Acts 27 of a very interesting moment in Paul's life. If you read the 27th chapter of Acts, you will discover that it records the story of a shipwreck, which Paul participated in. He was aboard the ship. And the story pictures how this ship was on its way for Italy and it was loaded with cargo. This was their gain. This was their way of doing business. They had wheat and other things aboard the ship. On the way to Italy, the ship hit a terrible storm, and the captain of the ship knew if he didn't offload the cargo, the passengers wouldn't live. The ship was broken apart, they offloaded the cargo. The passengers were able to make it and no one was lost, but the whole concept of taking all that was gain on that ship and in offloading it so that the passengers could be saved is the word that Paul uses here in this text.

What he's saying is, "When I became a Christian, all the cargo that I thought was so good for me, I had to offload that. I had to get rid of it, so that I could become a Christian". Jesus said it this way. He said, "Whoever desires to save his life will lose it, but whoever loses his life for My sake will find it. For what profit is it to a man if he gains the whole world, and loses his own soul? Or what will a man give in exchange for his soul"? How many of you know that when you meet Christ, you get a whole new set of values? You get a whole new set of things, a whole new set of loves, and a whole new set of stuff that doesn't matter to you all that much anymore. That's what happens when Jesus Christ comes into your life. So, he looked at his past, he has a good understanding of his past.

Now he's gonna talk about the possibilities of the future. Notice in verse 8 Paul says, "I do all of this. I see all of this. I understand this because I have some new goals. My new goals are that I may gain Christ and be found in Him, not having my own righteousness, which is from the law, but that which is through faith in Christ, the righteousness which is from God by faith; that I may know Him and the power of His resurrection, and the fellowship of His sufferings, being conformed to His death, if, by any means, I may attain to the resurrection from the dead". When Paul said he wanted to gain Christ, he is helping us understand that his new goal in life, which should be our goal, as Christians, this is how we should think. This is what we should be looking at.

Now that Jesus Christ has dealt with our sin and we are in the family of God, our goal should be the goals that Paul set out here. First of all, he said that in his own life as he looked to the future, the one thing that he wanted to do more than anything else was to know the person of Jesus Christ. Many who consider themselves Christians have a knowledge of Christ, but it's just a head knowledge. The knowledge Paul is talking about here it goes deeper. It's the surpassing knowledge of Jesus Christ. In verse 3 of John 17, this is the Lord's Prayer for us. "And this is eternal life, that they may know You, the only true God, and Jesus Christ whom You have sent".

This is the prayer Paul prayed for the Ephesians believers in Ephesians chapter 1. He said, "That you may know what is the exceeding greatness of His power toward us who believe, according to the working of His mighty power, which he worked in Christ when He raised him from the dead". The knowledge of the person of Jesus Christ is what sets Christianity apart from all the other religions. A relationship with Jesus Christ is the key ingredient that makes Christianity different than any religion you have ever heard about. It's not enough for us just to know about a leader and subscribe to his agenda but when you become a Christian, you enter into a relationship with the living Son of God and you deepen that relationship. Paul said, "My goal is to know Jesus better". That's a wonderful goal to have in your life this year, "I want to get to know Jesus better". Then he said, "I want to know the power of Christ, and the power of his resurrection".

As believers, we have known the power of Christ when he saved us, but Paul tells us that as we walk the Christian life, that power, that resurrection power that brought Jesus out of the grave right through the grave clothes and brought him back out alive and the same person he was before but with his glorified body, that kind of resurrection power, says the Scripture we have available to us. And I have to ask myself, and I'm sure you ask yourself, "Have I ever accessed that power? Have I ever in my life been at a place where there was no hope, but the power of God broke through? Have I ever had anything in my life that can only be explained because of God"? Paul wanted to see this in his life. He didn't want to just live a normal, natural Christian life. He wanted to live a supernatural life. He wanted to live a life that the power of God that was resident in the resurrection became his own personal power.

Read his story and see if he didn't see that happen along the way. And then he said not only did he want to know the person of Christ and the power of Christ, he wanted to know the passion of Christ and the fellowship of his sufferings being conformed to his death. This is heavy stuff. This is not low hanging fruit. This is like I need to get up on the ladder and grab hold of this because the imprisoned apostle is actually praying for the opportunity of identifying with Christ in his suffering. The suffering that we go through is to bring us into the realm of the suffering of the Lord Jesus, as he went through his passion on the cross, his death, his burial, his resurrection.

Peter wrote this about suffering to his readers, he said, "For to this you were called, because Christ also suffered for us, leaving us an example, that you should follow His steps," hmm? And did you ever stop and think about what the Lord Jesus said about all this? He said, "Blessed are those who are persecuted for righteousness' sake, for theirs is the kingdom of heaven. Blessed are you when they revile and persecute you, and say all kinds of evil against you falsely for My sake. Rejoice and be exceedingly glad, for great is your reward in heaven, for so they persecuted the prophets who were before you". Paul wrote in verse 29 of chapter 1 of this very epistle, "For to you it has been granted on behalf of Christ, not only to believe in Him, but also to suffer for His sake".

I don't know if you need it now, I don't know if you need that now but sometime you're gonna need it because it's just a part of life. Suffering isn't wasted activity. According to the New Testament, there is a tremendous advantage that comes to us when we suffer because Jesus Christ suffered for us. Romans 8:17 puts it this way, "If we suffer with him, we also will be glorified together". Paul wanted to know the person of Christ, the power of Christ, and the passion of Christ. One more, this was a little bit obscure in the text, but this is what the text says, "If by any means I may attain to the resurrection from the dead".

Well, Paul's already attained to the resurrection from the dead through salvation. But the word "resurrection" here is an interesting word for resurrection, it actually means that, "I may attain to the out resurrection from the dead," and it's a veiled expression talking about the time when Jesus Christ comes back at the Rapture. When the dead in Christ shall rise at the time of the Rapture, the next event is the rewarding of the saints at the judgment seat of Christ. And Paul is speaking of that moment and he's saying, "one day I'm gonna stand before the Lord after the resurrection in heaven, and he's going to give out these trophies, and I don't want to be empty handed".

How many of you know that when we get to heaven, the Lord Jesus Christ at the judgment seat of Christ, is gonna give rewards for those who have run the race as Christians? Not about salvation, this is about how we have lived as believers. And Paul says, "I don't want to be left out at that moment". You say, "Well, that's gonna be hard, all these Christians running around heaven with their trophies in their hands". No, that one last. The Bible says when we get these trophies, we're gonna catch them at the feet of Jesus. Oh, well, then it's not so important. Oh, yes, it is. I don't want to be left out of that ceremony. I don't want to be standing in the back watching everybody else as they worship the Lord with the trophies that were theirs because of their walk.

You see, Paul has this all hinged together in his view of the future, to know Christ, to know his power, to know more about his suffering, ultimately, to stand with him in glory at the time of reward. Paul's vision for his life has jumped over everything and landed in eternity. And you say, "Well, that's not very good. What is he gonna do with the rest of his life"? That's a good question because that brings us to the third major point in this text. Here are the responsibilities of the present. Listen carefully, "Not that I have already attained, or am already perfected; but I press on, that I may lay hold of that for which Christ Jesus has also laid hold of me. Brethren, I do not count myself to have apprehended; but one thing I do, forgetting those things which are behind and reaching forward to those things which are ahead, I press toward the goal for the prize of the upward call of God in Christ Jesus".

I don't know what you say about that paragraph, but let me tell you what it is, it's aspirational. It's a guy who's got a whole lot of juice left in his veins. He's at the end of his life, and he writes this statement, which would be ambitious if you were just starting out in your 20s. He's lived this life. He's written these epistles. He spent time in jail. He's traveled the world. He's been the spokesman for Christianity. Is he satisfied with where he is? Absolutely not.

Look at these words. This paragraph maybe has more athletic terminology in it than any other paragraph in the Bible. Let me point them out to you. Here is his breakdown of this. First of all, he says, "If you're going to live a life that's worthy of the calling to which you have been called, and will put you in the right place when you stand before the Lord, number one, you have to develop the discipline to focus". Verse 12, "Not that I have already attained or I'm already perfect, but I press on that I may lay hold of that for which Christ Jesus has laid hold of me".

Paul is clear eyed about what he's supposed to be doing. He's not in doubt. He's got it focused. In the athletic world, the name of the game is concentration. If the athlete cannot concentrate, if he cannot teach himself to focus, he will not be able to compete. Players talk about being in a zone where their concentration is so intense that it blocks out the rest of the world. They don't hear the crowd noises. They don't feel the pain of injury. They're focused and that same kind of concentration is a requirement for those who would gain Christ. We can't allow other things to divert us from this goal. We must not run on certainly. Our language must be that of the psalmist who wrote, "Whom have I in heaven but You? And there is none upon earth that I desire beside You".

See, the problem with us isn't that we don't want to know Christ. The problem isn't that we don't want to be rewarded - we all want that. But it never quite seems to get to many of us that if that's gonna be true, there's a different kind of way to live than the way we live. Our lives are so filled with so much activity, so much stuff going on, children, grandchildren, all kinds of sports events, all of this. So, what happens? Let's be honest, what happens is our spiritual goals kind of just get pushed off the table.

And so, we come to church every week and thank God for that 'cause that's important, but how many you know you can't live the kind of life Paul's talking about off of what you can get in a one-hour service on Sunday? Paul's talking about a different way to live, a different way to think, a different way to focus, a different way to prioritize the things in our lives. Such concentration doesn't come naturally. It has to be developed through training and effort. And when we focus our lives like this, then the routine work of each day, the moments we spend in relaxation, even the trials and sufferings we experience, all of them seem to fit into the picture. Here's maybe the most important thing about our current strategy. This one we'll all resonate with. This is in reach of every one of us.

Not only do we need develop the discipline to focus, but we need to develop the discipline to forget. Verse 13: "Brethren, I do not count myself to have apprehended; but one thing I do, forgetting those things which are behind". Let's just stop for a moment. How many of you know that for a lot of people who call themselves followers of Christ, they want to go forward, but they're still living in the past? They can't get over the things of the past that have so messed up their lives. They became Christians, but how many of you know the enemy of your soul wants to keep reminding you of every failure you've ever had in your life. He wants to keep bringing it up. He wants to keep reminding you every time you try to do something for God, he flashes it across the screen of your mind, almost to intimidate you and say you're not worthy.

Here's what Paul said, "I'm doing one thing, I'm forgetting the past". What did you have to forget? Well, let's stop for a moment. He had a few things to forget that, I mean, I don't think I would have want to go and preach and be reminded, as I was going to the pulpit, of all the Christians I'd put in jail before I was a Christian. You're getting up to give a testimony and the enemy flashes across your mind that you were standing at the feet of those people who were stoning Stephen and you were holding their coats.

As you see how passionate Paul was as a preacher, you have to understand he was exactly that passionate as a persecutor. As good as he was as a preacher, he was that good as a persecutor. As good as he was at bringing hope and love to people, he was that good at bringing harm and hurt to people. And all of that was in his memory bank, and all of that could have destroyed him, just like the things that we've done in our past that we've been forgiven of them, but they haven't been erased from our memory bank. So, the enemy, if we're not careful, grabs hold of those things. And when we're trying to go forward with Christ, when we're trying to win this race, he brings them all back and they intimidate us and make it hard for us to go forward.

Let me tell you something, you have to come to the place like Paul, where you make a conscious effort to say, "That's it. I'm drawing a line in the sand. That stuff is past. It's under the blood, it's forgiven. God has said he's no longer holding me accountable. If God can forget it by his grace, I'm gonna forget it. Devil, you can't have my past, it's over". Unless we do that, we will always be, always be feeling defeated when we want to be victorious. Let me tell you one other thing Paul had to forget. He not only had to forget his failures, he had to forget his successes. Remember that list. He was a Hebrew of Hebrews of the stock of Israel. He was a persecutor of the church, all those things that, according to his old life, would hold him up to a high level of achievement. Those things were worthless and Paul said it right in this passage.

"What things were gain to me, those things I had to count loss". He forgot his failures and he forgot his successes. God wants us to be able to come to him with no baggage. He died on the cross to get rid of the baggage. Now, we stand just compliant and ready to go forward. That's what Paul is talking about. Don't get caught up in the things that have already happened, over which you have no control. Don't even get so caught up in the future that you haven't yet experienced. Live in the present every day knowing that God is with you. He's forgiven you. He's got a plan for your life. If you will walk with him every day, you can know what the Apostle Paul is talking about has victory.

Well, we develop the discipline to focus and the discipline to forget. The final one is you have to develop the discipline to follow. Verses 13 and 14 have three athletic phrases in the verse, the word "apprehended," the word "reaching forward," and the words "pressing toward". Paul's desire is presented in these words as a foot race. First, reaching forward refers to a race that you're in and you're stretching forward to win the race. And then the word "apprehended" is another word which means to complete.

Paul said, "Here I am at the zenith of my life. All these things that I have done, all these churches I have founded, all these epistles that I've written, all of these people that have come to Christ, all these attributes that I've stood before," and here's what he's saying, "I don't consider myself to have arrived. I'm not there yet". Instead of being proud of what he had accomplished in his life, he's still on the hunt. He's still hungry. He's still humble. Listen to me, Paul took his spiritual growth seriously. He didn't use it as something, "If I get around to it, I'm gonna try to develop my spiritual life a little bit this week".

It was his focus. It was his drive. It was the thing that meant more to him than anything else he ever did. He was looking for a prize, the crown of righteousness, which God gives to those who walked with him. You know, I feel so honored that even talk about this. I'm so far out of the league of Paul, I only can tell you about him with admiration. But my goal, and my heart, and my vision, and my drive is to follow the pattern that he has sent for us so that I can be more like Christ and serve him with my heart.

You say, "Well, Pastor Jeremiah, I'm not even there, man. I'm a Christian. I know I'm going to heaven. That's good enough for me". All right, if that's good enough for you, fine, but don't expect the joy of the Lord in your life 'cause that's not how you get it. The Lord Jesus Christ didn't just come to this earth and die on the cross so he could forgive your sins and let you go on living like you always did, and then somehow jerk you into heaven at the last minute as a second thought. He saved you so that you would become like him. He saved me, so that every day that I live, I grow in my faith and develop the qualities that are in the Scripture that describe Christians.

Let's don't give up on ourselves. Let's don't just mail it in. Let's don't just show up on Sunday and go to church and say, "Oh, well, that's enough spirituality for me. See you next week, Pastor". Let's get serious about it, that's what this is about. If nothing else comes out of it, it's this, if you want to know Christ, if you want to grow in Christ, get serious about it. Carve out some time to make it happen and then you can know the victory that Paul is talking about.