David Jeremiah - Christmas on Broadway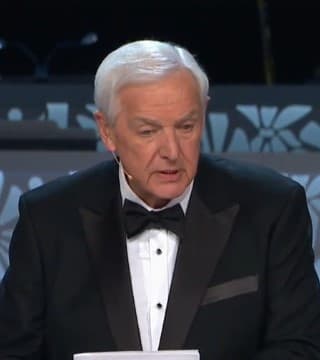 David Jeremiah: Hey, welcome, thank you, thank you. Thank you all for bein' here. We're so delighted that you chose to spend this time during this season with us.

Donna Jeremiah: You know, honey, Christmas really is the most wonderful time of the year, and tonight's show is our gift to you. We hope you will sit back, relax, enjoy the music, sing along, clap, do whatever. Just have a great evening with us.

David Jeremiah: You know, we've been comin' to New York, Donna, for, we think, more than ten years in a row. It's almost like if we don't come to New York at Christmastime, we can't have Christmas. And we bring our kids and our grandchildren, and there's just somethin' special about this city. Usually, during the week, if we're having an event, before we have the event, we walk around the city and just try to absorb the ambience of this great place, and all the beautiful lights. And we actually did that last night.

Donna Jeremiah: We did, one of our favorite places to stop is at the Christmas tree, and I think this year they outdid themselves. I think it's more beautiful this year than it has ever been. And just walking around Rockefeller Plaza there, it's such a gorgeous sight. It's something we enjoy every time we come.

David Jeremiah: This year, it really seems to me... maybe because it's so much blue, and I love blue. Can you tell? Our special guest is a woman that we've come to love a great deal. She's been on with us recently quite a bit. If you've watched some of the interviews that we have done when we've come out with a new book, you've noticed this woman, and she's a great interviewer, but she's also great in a lot of other ways. She's a great vocalist. She's a great teacher, a Bible teacher. And the thing we love about her the most is her Scottish brogue.

Donna Jeremiah: Ladies and gentlemen, please help us welcome Sheila Walsh.

Sheila Walsh: Good evening, and welcome. Isn't this great that we get to do this? It's gonna be a fantastic night. And you know what I love? When you begin to feel that first chill in the air, and then the leaves start to change colors. They go burnt orange and gold and suddenly, they begin to fall, and we have this beautiful autumnal carpet. And then, sometimes that very first snow comes at midnight like a silent midnight blanket that falls on the earth. Other times, it's maybe snow flurries or icicles or chill in the air. But no matter how it comes, when it finally arrives, we have a winter wonderland. And I think there's something about snow that brings out the child in all of us.

You know, perhaps this year you'll throw a snowball at someone you haven't thrown one at for quite some time. Or if you're gonna be a little more adventurous, maybe you'll even lie in the snow and do your very own snow angel. Or dig a little ice cabin for your grandchildren. But however we celebrate, snow brings us something of the magic of Christmas, the house lights glistening in the snow. Now, for some of us, Christmas and snow always go hand in hand. And for others, not so much. So we have to dream about it. But if you're going to have a dream about snow, surely there's not a better one than dreaming of a white Christmas.

Dennis Swanberg: Man, was this good already so far? You like it? It's Christmastime, people. I'mma tell you what, when I think of Christmas, I go back to my grandma and grandpa's house. They were the first one in our family to have a television, ma'am, a television. And I can still see that television that Grandma had crocheted a doily on top of the TV, a doily. You know what I'm talkin' about, honey, a doily? Do you crochet? Do you embroidery? Do you quilt? You know, television was huge, and I loved television as a kid. I'd watch, you know, all the time "Andy Griffith Show". I was raised on Barney Fife: "Has anybody seen Thelma Letter"? "Oh, this body is a lethal weapon".

I watched it so much that at Christmastime, I remember, in our little church, I'm in the back, and the preacher was talkin' about what she would do with sin, and I just stood up and in the voice of Don Knotts, Barney Fife, I went, "Nip it in the bud". And that's when I got nipped in the bud. And I remember they would have specials back then on television, and I'd watch Billy Graham over and over as a young boy. Remember, he was strong. His voice was strong, and he would preach over and over, and there's time for you to make a decision. Christ has come. And I would pick up on Billy, you know?

I loved Billy Graham, and, you know, this Christmas, he's enjoyin' it in heaven. And I just loved Dr. Billy Graham. He has been good to me. You know what I'm saying? And I remember the first time I was with Dr. Graham over there at The Cove. And it's, you know, before Christmastime, and it was our special, and I was gonna be with Billy Graham. And I just said, "Dr. Graham," I said, "I hope you don't mind me imitatin' ya". And he leaned over and said, "You could take over". And when you're ADD, I mean, I thought, "I guess I'll be in charge," you know?

My grandpa, my grandpa, who lived to be 95, born in that house, died in that house. He always would say, "There's somethin' else on the tree". We'd go up there, and we knew what it was, a little envelope. We'd act like we were excited every year. Open the envelope, be a silver dollar in there. Next year, same thing. Next year, my mother, "Now, you go up to Grandpa and act excited". We'd go, "Thank you, Grandpa". "Don't spend it all in one place".

You know, I'm 60-plus years old, and I've been given a lot of Christmas gifts, but the only Christmas gifts I still have are these silver dollars. Here's five of 'em. I have 17, 17. I brought five of 'em with me here to New York City. You know why they're so special? Because it was the best that he had to give. And aren't you glad that God gave his best, he gave himself through Jesus Christ? Merry Christmas, good to be with you. Thank you very much, thank you.

Dr. David Jeremiah: What a wonderful night this has been. Oh, my goodness. You know, this is an incredible city to come to during the Christmas season. Did you know that between Thanksgiving and Christmas, 5 million people visit New York City? And every year, at that other theatre called Radio City Music Hall, over 1 million people go to see that show, which features the nativity story at the end. And you know that tree where we're talkin' about that we saw in Rockefeller Center? Every day during the holiday season 800,000 people visit that tree. Is it any wonder that when you come to New York, it's beginning to feel like Christmas?

And I wanna talk to you about that feeling part of Christmas that often gets overlooked. The Bible doesn't call it that, but really, that's what it's all about. You begin to sense it in your own heart as the season descends upon you. I had an experience last week that illustrated it. At Shadow Mountain, during the month of December, we celebrate Christmas every Sunday. We used to have a big production during the month, and we'd work real hard on it. It'd burn everybody out, and nobody had any left for Sunday. So we just decided we're gonna celebrate every Sunday.

We had our first celebration last week, and it was amazing. I went to the rehearsal the week before, and Donna and I went and sat in the middle and listened and watched, and we were so blessed. And we got home, and I'm sure none of you ever have this experience. I was all ready to lock the door, and I realized I didn't have my phone. I had left it back there somewhere, and I had a pretty good idea it was at the seat where we were sitting. So I went back, and by the time I got there, the entire campus was empty. There was not one single person on the campus. All the lights on the campus that were put there for Christmas were lit.

And all of a sudden, I found myself standing on Main Street in the middle of Christmas. And something descends over you when that happens. You know what I'm talking about. You have a moment of wonder, a moment like what it says of Mary, who, when she heard that she was to be the one to bring the child into the world, the Bible says, "She pondered those things in her heart". You know, if there's anything we've lost about Christmas, men and women, I think we've lost the wonder of it. We've become so busy in the execution of it, we've forgotten the wonder of it. And if you go back to the first Christmas, you will discover, everywhere, there is wonder.

Do you know that 700 years before Jesus was born, Micah the Prophet made a prophecy concerning the birth of Jesus that's truly amazing? Micah said that Jesus would be born in Bethlehem of Ephrathah. And he said the one who would be born is one, "Whose goings forth are from everlasting". He said that there was coming a child who would be born, and he would be born in a special place. Did you know in the Bible there are two Bethlehems? He singled out the right one, and he said that that child would be born in Bethlehem, and that child would not begin his existence there, but he would be a child who had existed forevermore.

If Mary had conceived Jesus six months earlier, Jesus would have been born in Nazareth of Galilee, and Mary would have carried him to Bethlehem for the census. If he had been conceived six months later, she would have already been to the census, and carried him back to Galilee. But the Bible says that at the very right moment, there was a decree that went out that everyone should go for a census. It happened at exactly the right time so that Mary, who did not live in Bethlehem, would be in Bethlehem as Micah the Prophet said 700 years before. Is that not something to wonder about? Is that not something to pause and just let the truth of that wash over your system?

The humble birth of our Savior in a town predicted by a prophet 700 years before it happened. And then there's the wonder of his human parents. Most people are surprised when I tell them that Mary wasn't probably more than 16 years of age, and Joseph couldn't have been more than 19. Both of them were peasants, peasants. And yet, to this humble couple, Almighty God determined to send his Son to be the Savior of the world. I'd like to give our hymn writers a little bit of credit for helping us determine that we should wonder. You see, the reason we don't wonder very much, men and women, is wondering takes time. And who has any time at Christmas?

But listen to these words, you've sung them: "I wonder as I wander out under the sky, how Jesus, the Savior, did come for to die". And this most famous one you probably don't even remember these words to be important: "He rules the world with truth and grace, and makes the nation prove the glories of his righteousness, and the wonders of his love". Listen to me, we say, and my wife said tonight, "Christmas is wonderful". And that's true, but do you know what that means? That means Christmas is full of wonder. And the story is so overwhelmingly unique and so overwhelmingly from God that all you can do in response to it is to wonder. We wonder at the humble birth of Jesus, we wonder at his human parents, and we wonder at his heroic worshipers.

Do you know that when Jesus was born, he was first announced to a group of shepherds? And that loses some of its meaning for us today 'cause we don't do shepherds. We don't know what shepherds are all about. But the wonder of it is so intense when you understand the background. Because, you see, in that particular time, shepherds were the outcasts of the world. Shepherds were not allowed to worship in the temple because they were considered ceremoniously unclean. They could never be called as a witness in court because everybody thought they never told the truth. Probably didn't smell very well, used language you wouldn't want your children to hear, the least among all people, and God chose to reveal himself first of all to them.

Do you ever wonder what God was up to in all of this, in a humble manger, to humble parents, worshiped first by humble shepherds? I watched the funeral proceedings of George Bush, and I heard a statement I will never forget. I don't even know who it was that said this, but he said, "He who chooses to travel the high road of humility will not meet much traffic". And isn't that the truth? Humility is almost a lost art of our day, and yet to the humble Almighty God revealed himself to humble parents in a humble place, worshiped by humble shepherds. And all of that is a bigger story because it's a part of the humble mission that Jesus came to perform.

Jesus did not come to rule the first time. Oh, there will be a day when he returns as King, and he will rule the nations, and he will be King of kings and Lord of lords. We know all about that. That'll come, but he didn't come the first time to rule. He was very clear about his purpose. He said that he had come to be the Savior of the world. "He did not come to be served, but to serve and to give his life a ransom for many". It is a truth, and a very challenging one, men and women, that when Jesus was born, he had only one purpose for his life, and that was to die.

The only person like that I've ever read about in history, he was born for one reason, so that he could die. His whole life was geared toward one moment, that moment when he would die on the cross. He became just like you and me, just like the person sitting next to you. Look at the person sitting next to you and know that Jesus Christ came into this world to be a person just like the person sitting next to you. And I know you think God should be better looking than that, but that's true. He was a real physical person, not some spiritual personality, but a real physical person, like the person sitting next to you. He became one of us.

The Bible says, "He became like men". He didn't become men in the sense that we are men, because he was sinless. He was perfect. He came in the likeness of sinful man". Philip Yancey, who is one of my favorite writers, put it this way: "In Jesus something new happened. God became one of his own creatures, an event unparalleled, unheard of. In fact, in the fullest sense of the word, unique. The God who fills the universe imploded to become a peasant baby who, like every infant who has ever lived, had to learn to walk and talk and dress himself.

In the Incarnation, God's Son deliberately handicapped himself, exchanging omniscience for a brain that had to learn Aramaic. Stroke by stroke, he had to learn that language. He exchanged his omnipresence for two legs and an occasional donkey. He exchanged his omnipotence for arms strong enough to saw wood, but too weak for self-defense. Instead of overseeing 100 billion galaxies at once, he looked out on a narrow alley in Nazareth, a pile of rocks in the desert, and a crowded street in Jerusalem. I don't know what you think when you hear something like that, but it stretches my mind to the breaking. It causes me to wonder. It causes me to stop and worship because, you see, wondering and worship go together.

It is only when we contemplate something that is beyond our ability to totally put it together that we just stop and say, "Lord, this is too wonderful for me. How can I ever understand a God who would love me so much in spite of my many failures and sins that he would give up his only begotten Son that I might have life everlasting"? God did that, and we celebrate it at Christmas. I tell our people at Shadow Mountain, almost every time we have Communion, that Communion is a celebration of Christmas and Easter. When we take the bread, we celebrate that Jesus Christ became human flesh. And when we take the cup, we celebrate the fact that he went to the cross and paid the penalty for our sin. The bread is Christmas and the cup is Easter.

During these days here in New York, or wherever you live, you will walk by a manger scene, and you will look at the baby. And if you have a child with you, you will probably hear that child say, "Oh, look at that cute baby. Oh, look at baby Jesus," and certainly that's a part of our celebration. But when you look at that baby Jesus in the manger, remember that baby Jesus is the Lord God of glory who came down to be born as one of us, and, my friends, that is the wonder of Christmas, that God should love us so much. That's why we love all of the music that celebrates the Lord Jesus.

I love the song the Gaithers sang, the lyric that says, "When you kiss the face of the baby, you kiss the face of God". Jesus is God, God in the flesh. If Jesus were not God, men and women, his death on the cross could mean nothing to us. It would mean no more than my death. I can die once for one person, but Jesus, who was the infinite Son of God, who lived an infinite life, died an infinite death on the cross so that his death is equal to the death of all who will put their trust in him. And he took our place on the cross so that we would not have to die. The Bible says that "the wages of sin is death," and Jesus stepped up to the plate and paid the penalty for us so that we can go to heaven.

And that's really what Christmas is all about. If you do not draw a line between the cradle and the cross, you miss everything. If all you see is a baby in a manger, and you don't understand why he came to be that baby in a manger, Christmas cannot ever be what it ought to be in your life. And it all begins, does it not, when we do what the innkeeper of Bethlehem refused to do. He had no room for Jesus in his inn, and sometimes, is that not true of us as people? We don't have any room for Jesus in our inn, in our heart. And we have to make room for Jesus in our hearts by inviting him to come and live within us.

We have to say, "Lord Jesus, as you came to this earth to be my Savior, I believe that you came to be my Savior, that you died on the cross, and I personally want to get in on that. Lord Jesus, I want you not just to be my Savior of the world, I want you to be my personal Savior. So I'm going to open the door of my heart and invite you to come in and to be my Lord and Savior. Jesus Christ, hear me when I ask you to come into my heart".

When you ask Jesus to come into your heart, he immediately responds, and he takes up his life in your life. And from the inside out, he starts to create in you the person he made you to be in the first place so that you become an ambassador for him in the world in which you live. The first takeaway from the wonder of Christmas is you can't wonder at what you don't possess. So if you're here tonight or you're watching this on television, let me suggest to you that the greatest celebration of Christmas you will ever know is when you receive the Christmas gift that comes from the Father God and take Jesus Christ into your life and let him be the Savior of your soul.

But then there's a takeaway for all of us who are Christians, and many of us who have been Christians for a long time. We need to take a little time during this season to wonder. We need to write down in our schedule: "Wonder time". I don't know where it is, or how it works, or what your schedule looks like. Maybe it's early in the morning before everything starts or late at night after everything is over. Somewhere, somehow, if Christmas is to be special, we have to learn to wonder. And when we do that, something happens that's almost as magic as what happens in New York and the external.

In the internal part of our life, the lights go on, the music begins, and we look around and we say, "So, this is what Christmas is all about". Whether you're inviting Christ into your life or humbling yourself to wonder after the message, let me give you a little story that will help you formalize what we have talked about tonight. Each year that we have an opportunity, Donna and I go to Israel. When we go to Israel, sometimes we get to go to Bethlehem. Haven't always been able to go there, but recently we have been able to go to Bethlehem. And in Bethlehem, there is a church called the Church of the Nativity. It's a very old church. It used to have a wide-open door, but in the 1500s, because people were pushing their carts into the church, the architects got together and they closed the door down of the church so that it's only 4 foot high.

And to go into this church, you almost have to get down on your knees and kneel, and kneel through the door to get on the inside. It's an amazing experience when you go there. It's a beautiful building. What a strange entrance. And I've often wondered if God didn't allow that to happen on purpose so that we would know that to have a relationship with Jesus Christ, whether to accept him as our Savior or to begin to enjoy him as we should as believers, it all begins when we kneel down and acknowledge that he is Lord and we are not. The Bible says that, "when we humble ourselves before him, he will exalt us".

Sometime during this season, maybe tomorrow or next week or the week of Christmas, you will have a moment when you know God has reached out to you for your wondering experience. Stop whatever you're doin', embrace it, thank God for it, and you will never forget it. Christmas is too amazing for us to let the years roll by and it becomes just a routine that never makes a difference in our lives. Every Christmas we experience as believers oughtta be a brand-new experience of the joy of salvation and the gift of eternal life. And I pray for you tonight in New York City, and wherever you are listening to this message, that this will be the best Christ-honoring Christmas you ever experienced, and that you will learn what it means to wonder after the Savior, hallelujah.