David Jeremiah - Call His Name Immanuel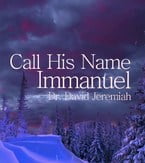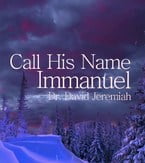 I love everything about Christmas. But as a pastor, what I love about Christmas more than anything else is that it gives me the opportunity to share the ministry of Jesus Christ in a more pure and focused way than any other time during the year. As pastors, we should always preach Christ and I try to do that. But when you come to Christmas, it's all about Christ. It's not anything added into it. It's Christ and him only. So during these days, as we prepare for the celebration of Christmas, I want to take the privilege that God has given me and tell you everything I can work out a way to tell you about Jesus Christ and what Christmas means because Christmas is about Christ.

Today, I wanna talk with you about one of the names that was given to Christ and that name is the name Immanuel. I want you to read with me from the screen, Matthew 1:23. I'd like for us to read this out loud together: "Behold, the virgin shall be with child, and bear a Son, and they shall call His name Immanuel, which is translated, 'God with us.'" Hundreds of years before the birth of Christ, approximately 700 years, Isaiah the prophet predicted that the name of Jesus would be Immanuel when he was born. They would call his name Immanuel. Matthew 1:23 is quoting Isaiah 7:14. And Isaiah predicted that they would call his name Immanuel, which being translated is "God with us". What a name. God with us. Can it really be true that God himself became a man and, if it is true, who would ever dare to ignore him?

If Jesus is really the Creator, and he came to this earth, then as his creatures we should be drawn to adore him. At the very least, we should be curious enough so that we would want to know who he is and what he wants. God had a love for us that was so incredible and the message of his love was communicated to us so many times. He sent his prophets, but now he was going to do something far more shocking. He was going to leave the throne of heaven, a King in disguise, and the Lord of the universe in human scale and the Creator would come to be among his creatures. He would pour his Godhead into flesh and blood and visit the earth as a man himself, and he would walk among his people as a full-fledged human being in every respect, yet be fully God at the same time. Then, the nature of God would be clear to everybody. People on earth would be able to see what God was like. They would behold his perfect love and his faithfulness. They would see his devotion even to those who were sick or small or dark-hearted people. They would know the things that mattered to God and, in that incarnation, they would see a perfect model of what life could be if they would put their trust in God himself.

All of this had to happen if humanity were ever to be reconciled to God. So the Lord of the universe invaded this world. He entered our world through a doorway called Bethlehem and the world was changed forever. And John tells us that the Word became human and made his home among us. And he was full of unfailing love and faithfulness and we now have seen his glory, the glory of the Father's one and only Son. The coming of Jesus Christ into this world at Bethlehem is more than a pageant, more than a picture, more than something to celebrate. It is the most incredible thing that has ever happened on this earth, apart from the death of that One who came and his Resurrection. So if we are to prepare our hearts for Christmas, we must spend some time contemplating the incredible truth that God became a man, Immanuel, God with us. And I'd like to unpack this concept today in two ways. I'd like to talk with you for just a moment about the mystery of all of this. And then I'd like to share at the end the meaning of all of this.

First of all, the mystery. John the apostle wrote about it this way. He said: "And the Word became flesh". The Word means the Lord. "The Word became flesh and dwelt among us, and we beheld His glory, the glory as of the only begotten of the Father, full of grace and truth". In what some considered to be a hymn from the early church, we read of this great mystery in the book of Philippians. Philippians chapter 2, verses 5 through 8: "Let this mind be in you which was also in Christ Jesus, who, being in the form of God, did not consider it robbery to be equal with God, but made Himself of no reputation, taking the form of a bondservant, and coming in the likeness of men. And being found in the appearance as a man, He humbled Himself and became obedient to the point of death, even the death of the cross". And writing in more formal tones to the Galatians, Paul put it this way: "But when the fullness of time was come, God sent forth His Son, born of a woman, born under the law".

God sent forth his Son to be born of a woman. God became man. In his gospel, we come back to what Matthew wrote: "Behold, the virgin shall be with child, and bear a Son, and they shall call His name Immanuel, which is translated, 'God with us.'" Almost as if he were overcome by this truth, Paul writing to Timothy kind of blurts out what I'm about to read. Do you know, Paul in his letters often blurts stuff out. He's going along and then all of a sudden he has this moment of ecstasy about who Jesus is, and what happened in his life because of Jesus. And in 1 Timothy 3:16, he blurts this out: "And without controversy, great is the mystery of godliness: God manifested in the flesh". If you really get into the story of the Coming of Jesus Christ, you will have moments of ecstasy like that. When it suddenly dawns on you the incredible mystery of God coming down from heaven to be one of us.

Over the years, as I have preached on Christmas, I have collected the statements of people that I greatly respect who have written little paragraphs about that moment when God became one of us. These men who have written far more voluminously than I have and have a far greater intellect that I have, have spoken about this moment. Let me share just a few of them with you, as we contemplate the mystery of God becoming a man. C.S. Lewis, in his classic "Mere Christianity" writes: "The second person in God, the Son, became human himself and was born into the world as an actual man, a real man of a particular height with hair of a particular color, speaking a particular language, weighing so many pounds. The eternal being who knows everything and who created the whole universe became not only a man but, before that, a baby and before that, a fetus in his mother's womb".

A.W. Tozer was overcome by this thought. He wrote: "The coming of Jesus Christ into this world represents a truth more profound than any philosophy. All of the great thinkers of the world together could never have produced anything even remotely approaching the wonder and profundity disclosed in the message of these words: 'He came.' The words are wiser than all learning. Understood in their high spiritual context, they are more eloquent than all oratory, more lyric and moving than all music. They tell us that all of mankind, sitting in darkness, has been visited by the light of the world". More recently, Max Lucado wrote this: "When God chose to reveal himself, he did so through a human body. The tongue that called forth the dead was a human one. The hand that touched the leper had dirt under its nails. The feet upon which the women wept were callused and dirty. And his tears, oh, don't miss his tears. They came from a heart as broken as yours or mine has ever been".

And finally, Frederick Buechner wrote these words: "The claim that Christianity makes for Christmas is that at a particular time and place, God came to be with us himself. When Quirinius was governor of Syria, in a town called Bethlehem, a child was born who, beyond the power of anyone to account for, was the high and lofty One made low and helpless. The One who inhabits eternity came to dwell in time. The One whom none can look upon and live is delivered in a stable under the soft indifferent gaze of cattle. The Father of all mercies puts himself at our mercy".

So let me ask you a question today. Is that the way you would have done it? I don't think we should often consider what we would have done if we were God. That probably might not lead us in a good direction. Some folks I met are already there, so we don't wanna take them any further toward thinking they are God. But if you were God, is that how you would have delivered the message of love from heaven? Why do you think God did it that way? Would you have sent your Redeemer in a manger and wrapped him in strips of swaddling cloth? Would you have had him born in a stable built for cattle? Would you have had his first visitors be the hated shepherds of the hillside? I doubt it. But God did it. And in doing it, he gave us the Creator in a crib, the Ancient of Days becoming a baby in Bethlehem, the One who thunders in the heavens crying in a cradle, the One who supplies food for the world of men feeding at his mother's breast, the One who made all flesh now himself made flesh. The Mighty God, a helpless child. The mystery of it. Do you get it?

It's beyond our ability to comprehend. We just stand back and bow down and worship the God in heaven who loved us so much that he would send his own Son into our dark sinful world with the message of hope that we so desperately need. The mystery of it. Well, what is the meaning of it? How can I take this home with me this week and make it work in my life? What does it mean, Immanuel? What does it mean, that God is with us? What Christmas reveals to us is that we have a God who has condescended to come into the midst of our suffering and help us and share it with us, to face it with us and to conquer it with us, and the Christmas name of our Lord that reminds us of this wonderful truth is the name Immanuel. Immanuel means God with us. I'd like to share with you three things that we can take away from this that will help us every day in these days ahead. First of all, because God is with us, we can endure the difficult circumstances of life.

Let me just give you four passages of Scripture that underscore this truth. "For He Himself has said, 'I will never leave you nor forsake you.' So that we may boldly say: 'The Lord is my helper; I will not fear. What can man do to me?'" Psalm 27:1 says: "The Lord is my light and my salvation; whom shall I fear? The Lord is the strength of my life; of whom shall I be afraid"? Psalm 118, verse 6, says: "The Lord is on my side; I will not fear. What can man do to me"? And Isaiah 43 says: "When you pass through the waters, I will be with you," the words of the Lord, "and through the rivers, they shall not overflow you. And when you walk through the fire, you shall not be burned, neither shall the flame scorch you". The first and most important truth to me about Jesus Christ coming to this earth to be our Redeemer is that after his redemption on the cross, his presence with us is overwhelmingly encouraging.

We all go through stuff and feel so alone sometimes. We all experience the difficult circumstances of life and if we aren't careful, we forget that we are not alone. We remember that Jesus came to be in us, first of all, in his Son Jesus Christ. But he also came to be with us, to encourage us with his very presence and we who know Jesus know that we are not ever alone, that no matter what we experience, he is with us. In fact, your testimony to me so often through all these years that we've been together is that when you're in the most difficult of times he seems to be more with you than at any other time. Now, we know theologically that God is never more with us at one time than in another, but when we go through difficult times we are made aware of his presence so that we can walk away and say it was almost worth going through that just to feel the closeness of God in my life. When God is with us, he is with us to help us in those difficult circumstances.

And sometimes, we ask ourselves where is God and then God shows up. How many of you know God always shows up? One of the stories that came out of 9/11 was the story of the cross. On September morning in 2001, as he was searching for bodies amid the wreckage of the Twin Towers, Frank Silecchia stumbled across a 22-foot tall steel beam cross. The collapse of Tower 1 on Building 6 created a chamber in the clutter and through the dusty sunrise, Frank spotted the cross. No winch had hoisted it. No cement had secured it. The iron beam stood independent of human help. You see, several days later, engineers realized the beams of the large cross came from two different buildings. When one crashed into another, the two girders bonded into one, forged by the fire. And people were asking, all through that experience, "Where is God in all of this rubble"? And those who knew what had happened, pointed in the middle and said, "He's right there". The cross in the midst of the crash.

Once again, Max Lucado writes that when all these things happened, God gets into things. He gets into Red Seas, he gets into big fish, he gets into lion's dens and furnaces. He gets into bankrupt businesses and jail cells, into Judean weddings and funerals and Galilean tempests. Look and you'll find what everyone from Moses to Martha has discovered: God in the middle of our storms. When God came to be one of us, he came to be with us in the middle of our storms. He came to walk with us and be with us. I know some of you have shared with me some of the things you've been through this year and some of the things you're still going through. I want you to know that you came to church today so you could hear your pastor say, "God is with you". He is Immanuel, God with you and God with me. Because God is with us, we can endure the difficult things of life.

Have you ever thought about this? Because God is with us, we can expect direct answers to prayer. In that same context of Hebrews that we looked at a few moments ago, we read these words: "For we do not have a High Priest," reference Jesus Christ. We do not have a Christ "who cannot sympathize with our weaknesses, but was in all points tempted as we are, yet without sin". The writer of Hebrews is reminding us that when Jesus Christ came down to be one of us, he literally became one of us. And he was tempted in all points as we are tempted, without sin. And he experienced all the things that we experience, to the nth degree. I'm gonna prove that to you in a moment but I want you to take it by faith until I get there. When Jesus Christ became a man, when God was poured into flesh and became one of us, he then began to experience everything that we experienced.

And the Bible tells us that because of that, he can sympathize with us. And the word "sympathize" is a compound word made up of two Greek words meaning "to suffer with". This word expresses not simply the compassion of somebody on the outside who is watching others suffer, but the feeling of one who enters into the suffering and makes that suffering his own. Christmas reminds us that Christ chose to enter into our suffering. He sympathizes with us. He is in the midst of it with us. He's not just saying, "I see what you're going through". He goes through it with us. He's in the middle of it with us. He sympathizes with us, suffering with us. And then the word "weakness" is also in this statement. It says: "Who can sympathize with our weaknesses," and the word "weakness" is another interesting word. It means without strength. It can refer to any of the limitations that we have as human beings.

Jesus experienced our human weariness. Jesus experienced human disappointment. Jesus experienced the feeling of desertion and all above the rest, Jesus experienced intense pain. There is nothing that we experience that he has not experienced at a far deeper level than we could ever imagine. And the Bible teaches us that one of the very reasons for the Incarnation is that we might have someone like us who has experienced our experiences and knows how to help us when we need help. It's back to that old adage that you don't want anyone ever coming to you and saying, "I know what you're going through," when you know they don't know what you're going through. There is nothing you're going through that you can ever bring to the Lord Jesus that he doesn't know what you're going through. He's experienced it all to the nth degree. And the Bible tells us that we can come to him as our High Priest and we can find encouragement because there's nothing that we have ever known that he has not known in the very depths of knowing it. The Bible teaches that one of the reasons for the Incarnation is that we might have someone who's experienced our experiences and knows how to help us.

Some of you are gonna say, "Well, that always has been kind of an empty argument to me, Pastor Jeremiah. I mean, how could the Lord Jesus know what it's like to be tempted when the Bible teaches us he never sinned? I can't honestly say that's my experience". And you may be reasoning that only those who have gone through temptation and have failed to stand up, who have yielded, only those can understand what it's like to be tempted and I wanna disabuse you of that thought today. Because only those who do not yield to sin are those who know the full intensity of temptation. Because having not given in, they have felt the full extent of its force. Jesus felt the extent of temptation's force like an immoveable rock on a raging sea's shore. Walk down the shore with me. Notice the houses that are in wreckage. Notice the stands where the lifeguards usually present themselves, all on the shore, wreckage. And then you walk by this incredible rock. It's where it always has been. It hasn't moved.

Let me ask you this question. Of all those things that we see on the shoreline, which of them has felt the full force of the storm? The crushed homes? They don't feel it anymore. They're gone. The stands where the lifeguards positioned themselves? They're not feeling it anymore. They're gone. But the rock has been there and every one of the waves that comes ashore hits that rock with a full blast and it stays. And that's what the Bible teaches us about Jesus Christ. How do we know that we can encourage ourselves through him who was tempted as we are yet without sin? Because Jesus is the only one who has ever felt the full impact of the temptation of Satan and never yielded. You see the problem that we have, we usually say yes to Satan before he's thrown all his weapons at us. Jesus said no to Satan and every arrow continued to be thrown at him. He resisted until he broke the power of Satan.

That's what the Bible says. Jesus did not sin. Jesus could not sin. Had no capacity to sin. Yet, his temptations were all the more terrible because he would not fall and he endured them to the extreme. His sinlessness increased his sensitivity to sin. When the Bible says that Jesus has been tempted in every way, just as we are, it means that he faced the full reigns of temptations which we face. In other words, Jesus was made like us in all things so that he could be tested like us in all points. Yet, he was apart from sin. There was no evil within him that could attract sin. He was perfect and yet he was human. And everything that happened to him happened all the way to the nth degree and still he did not yield.

I hope you will never let anybody use that argument against you again. It is true that Jesus is the one that we go for encouragement in temptation but it is not true that because he never sinned, he cannot know what it's like for us. He knows what it's like for us and he knows far more. He knows what all of the force of that temptation ultimately is and yet he did not yield. Therefore, he's the one I wanna talk to. He's the one I wanna tell my troubles to. He's the one I wanna go for sympathy and help in the time of need. The Bible teaches us that one of the reasons the Lord Jesus came into this world was to walk before us in this way of trouble and show us how we are to live.

Now, let me give you the takeaway from all of that. In verse 16, having explained all of this, the writer of Hebrews gives us our marching orders. Are you ready for this? Here they are: "Let us therefore come boldly to the throne of grace, that we may obtain mercy to help in the time of need". The Bible says that because I know Jesus has felt it all, that he has never not felt anything that I feel, that there's no experience I could ever have that he has not had, I am then to come boldly to the throne of grace and ask for help. And the word "boldly" is a wonderful word. Confidently. It means to say it all, to come to the Lord and say it all. Is that how you pray? Or are you praying pious, proper, Christianese prayers? "Dear Lord, bless me in all my difficulties".

God wants us to say it all. Come boldly before him and tell him what's going on in our lives. Don't leave anything out. Pray your prayer in living technicolor. And if you don't know how to do that, read the Psalms. David was so gifted at that. David didn't pray proper prayers in the Psalms. He questioned the Lord. He asked the Lord. He poured his heart out to the Lord. Someone once told me that all the Psalms began with a sigh and end with a song. We often think about the song, we forget about the sigh. I learned a lot about how to pray by just reading the Psalms. The Bible says because he has come down here to be one of us and has experienced everything we've experienced to the nth degree, we can come boldly to him and we can tell him everything that's on our heart. We don't have to leave anything out.

Oh, you say, "Well, Pastor, I don't think it's proper to say that to God". Well, listen to the passage. The word "boldly" means confidently and continually. It changes everything about the way we pray. You don't have anybody to tell your troubles to? Now you do. And the person you're to tell your troubles to is the person who's been through all your troubles. And so notice in this passage of Scripture three things to take away from that one verse. Number one, how we should pray. We should come boldly. What we should pray, that we may find mercy and grace. Mercy for the things we've done in the past and grace for the things we're doing right now. And not only does it teach us how we should pray and what we should pray, but it teaches us why we should pray. That we may obtain help in our time of need.

Could it get any more practical than that? You need some help? Got some issues? Some problems this Christmas season? Some kids that are going south instead of staying on the straight and narrow? Some business things that didn't turn out the way you thought they would? Some physical issues that you didn't know about until you got a phone call from your doctor? Where do you go? God said, "I sent my Son Jesus down to be one of you so he could know everything you're gonna know in life and now you got somebody to talk to. And you can go to him in your prayer and you can ask for help in the time of your need". Christmas tells us that the primary interest of our Lord is always to help us. He is always about encouragement. He's always about grace. He's always about mercy. He is there to help us. He was touched with the feeling of our infirmities and he wants to help us.

Listen, God isn't somebody you have to talk into helping you. The Lord Jesus isn't somebody you have to pressure into hearing you. He stands ready just waiting for you to come and he wants you to come full-throated with your request. And when you do that, you will find grace and mercy and help for your time of need. Let me just add one last thought about the Incarnation and what it means, how we can take it practically into our life. You'll have to pardon me if this is a little bit more about what I do than what some of you may think you do. But one of the things I've been so blessed by over the years is the realization that Immanuel is with us to help us in the challenges that we have as we serve him. Because God is with us, we can embrace the demanding challenges of ministry.

Let me just confess to you, ministry's hard. I'm not complaining 'cause I love what I do but what I do is a hard thing to do. And there are often times when I, like many others who are in ministry, almost feel crushed beneath the load of what it means. And then I'm reminded as I reminded you that I do not serve alone. I told you earlier that we don't suffer alone. But I want you to know now we don't serve alone. And I am impressed that in many of what we call the narrative passages of the Bible where people are called in to service, as a part of the call is the promise of the presence. When Moses was being commissioned to lead the children of Israel out of Egypt, the Lord said to Moses, "Now therefore, go, Moses, and I will be with your mouth".

Remember, Moses had said he couldn't talk. God said, "Just go ahead and do what I told you to do. I'll be with your mouth. I'll help you". When Joshua was being commissioned to lead the Israelites into the Promised Land, he was told: "Have not I commanded you be strong and of a good courage and don't be afraid, nor be dismayed, because, listen to me, Joshua, the Lord your God is with you. The Lord your God is Immanuel. He's God with you". When Jeremiah the prophet was commissioned to go to a stubborn people, I've always such an amazed moment when I read this. And he was told to go with a message of judgment and then he was told in advance that they would not listen to him and they would not do anything he told them to do. That's not an assignment anybody signs up for. But the Lord spoke these words to his faint heart. He said, "Do not be afraid of their faces, Jeremiah, for I am with you to deliver you".

And to all of us and the disciples, the Lord Jesus reminds us that when we go into all the world to preach the gospel, he is with us always, even to the ends of the earth. Are you doing something that God has called you to do and it's frightening, it's intimidating, and you wonder if you can do it? I wanna assure you that if God called you to do it, he's obligated to equip you to do it but, more than that, he has promised to be with you in the process of doing it. I preach from this pulpit but not alone. And you serve the Lord in your position, whatever it may be, but never alone. I personally believe there is a special kind of incarnation presence that goes with those who give their lives to service.

So let's review. Because Jesus has come to be one of us in the mystery of Immanuel, we know that we will never endure any difficulty that he won't be with us in the midst of it. In a hospital bed at 3 o'clock in the morning, or on a mission field someplace where you've lost all hope of recovering. And because Jesus Christ has come to be one of us, he understands our prayers like no one else you can ever imagine. And because he has come to be one of us, he walks with us when we serve him in a special and unique way. Oh, the blessing and the mystery of Immanuel, God with us.

I remember many years ago when I was a pastor in Fort Wayne, Indiana, it was Christmas Eve and I think I was listening to the radio. I may have been watching television. It's a long time ago, but I remember that night that I heard Paul Harvey tell a story on the radio that never has ever left me. I remember that night and the impact that it had on me, how it opened my eyes to understand the Incarnation as I had never understood it before. I kind of lost track of the story. I didn't write it down. I didn't have a recording of it, but it surfaced some years later in a book by Philip Yancey and here is the story that Paul Harvey told that night. He said:



One raw winter night, a man heard an irregular thumping against the kitchen storm door. He went to a window and he watched as tiny, shivering sparrows, attracted to the evident warmth inside, were flying into the window, thinking that they could come inside, and they would hit the window and they would fall down. The farmer was a very compassionate person and he was touched so he decided to help these helpless birds and he bundled up and trudged through the fresh snow to open the barn for the struggling birds. He turned on the lights, tossed some hay in a comer, sprinkled a trail of saltine crackers to where the birds were. But the sparrows, who had scattered in all directions when he emerged from the house, hid in the darkness and didn't come to the barn. So he tried some other things. He circled behind where the birds were and tried to drive them into the barn. He tossed cracker crumbs in the air toward them, retreating to his house to see if they'd flutter into the barn on their own. Nothing worked. Because he was a huge alien creature and he had terrified these birds, the birds could not understand that he actually wanted to help them. So he withdrew to his house and watched the doomed sparrows through a window. And as he stared, a thought hit him like lightning from a clear blue sky: If only I could become a bird, if only I could be one of them just for a moment, then I wouldn't frighten them so much. I could show them the way to warmth and safety. At the same moment, another thought dawned on him. He had just grasped the entire principle of the Incarnation. A man becoming a bird is nothing compared to God becoming a man. The concept of a sovereign being as big as the universe he created, confining himself to a human body was and is too much for us to understand.



But it's what really happened. He came down to be one of us. The Godhead was poured into human flesh so that he could lead us out of the darkness into the light. That's why I love this story. Christmas is not just about a little baby in a manger with some shepherds and wise men. Christmas is about God loving me so much that he came down here to be just like me, so that one day I could be just like him. That is the meaning of Christmas.