Creflo Dollar — Manifesting Supernatural Response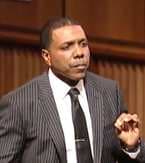 And the last three words Jesus said before He left:It is finished. And what we kept doing is, I'm gonna use my faith to get it done. And God says you're not supposed to be using your faith to get it done.

You're supposed to be using your faith to get what has been done. See, we keep responding in the most likely manner based on the natural situation, and He said, "I want to change your response. Instead of you responding naturally to the circumstance, I want you to have an unnatural, unlikely response."

In the presence of the almighty God, who's running away from God? Who's running? I'm telling you right now, don't you dare think about killing your life or running away from something! Just get in the presence of God and be of good cheer!

Sometimes you've got to learn how to shut your mouth up until you know how to respond. That's an unusual response. It shall be well.