Creflo Dollar — Focusing on Jesus Produces Change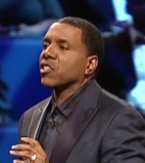 If you don't start believing right about who you are, then changed behavior won't last long. This is where the devil's been defeating people. He keeps telling you you are something based on what you do. And you are not that based on what you do.

You are who you are based on what Jesus did. The Bible calls itself "the mirror." if you want to know what your born-again spirit looks like, look in the mirror. So what you read in this book is a perfect description and a reflection of what God made you on the inside.