Creflo Dollar — Experiencing Real Life Transformation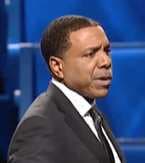 You got saved. There's a new you. Now, you were not perfect when you got saved, you were not flawless when you got saved, but there is a new you. On the inside of you, your spirit man is brand-new. Your spirit man is new. Glory be to God.

We've got to choose to let this new nature be the one who dominates the whole you. That's a choice. God's not gonna make you. You've got to choose to allow the new nature, the new you, to dominate all of you.

Real repentance is not changed behavior. Real repentance is a change of mind about what you believe. You are not holy when you start doing holy. You're holy the day you made Jesus the Lord of your life. Jesus made you holy, Jesus made you righteous, Jesus made you redeemed.

So when you receive Jesus, you are everything He made you. Quit trying to become something that you can't become without Him. You got Him, so you are everything He made you.