Creflo Dollar — The Balance of Faith and Grace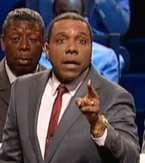 TOPICS:


Your spirit already possesses all of the finished works of Jesus Christ. You're like a man who's talking about being thirsty, but you're leaning against a water well.

Every time you walk around talking about, "I need soundness, I need deliverance, I need prosperity, I need to be healed," you're walking around carrying it. You are a carrier of the blessing.

There's life in the Word. Every time-- You're getting stronger and younger, and all kinds of things are taking place because you're sitting here listening to the Word. Faith is coming right now.

Demonic influence is dwindling away right now, sickness is dwindling away right now, your bones are becoming stronger right now, the immunity in your body is being built up right now because of what happens when you hear the Word.

The devil has a daily strategy to bring you down, he has a daily strategy to try to get you dead and to kill you. He wants to destroy you. The devil ain't your friend. Don't him "Mr. Devil." He don't care nothing about you, your mama, Shaquita and 'em, Pookie and 'em.

He don't care nothing about none of y'all. He just wants y'all out the way. The Word is medicine, it's healing, it's joy. It's all the things you wish you had. Everything born--is born out of a seed, and the Bible calls the Word of God incorruptible seed.