Creflo Dollar — When Love Hurts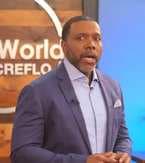 God thought enough of us to fashion us in His Own image (Genesis1:26, 27) even though He knew, way back in the very beginning before we were even born, that we would make mistakes.

He knew exactly what He was doing when He made each and every one of us, and He doesn't make mistakes! His love is unconditional; we're always on His mind, and He wants the very best for us.



For I know the thoughts that I think toward you, says the Lord, thoughts of peace and not of evil, to give you a future and a hope (Jeremiah 29:11, NKJV).



Far too many people fail to value themselves because of their poor self-image. A lack of self-respect puts us at risk of entering into unhealthy relationships. Remembering how much God values us keeps our focus on Him, and increases our belief in our self-worth.



Are not five sparrows sold for two farthings, and not one of them is forgotten before God? But even the very hairs of your head are all numbered. Fear not therefore: ye are of more value than many sparrows (Luke 12:6, 7).



God knows everything about us, yet He still accepts and loves us for who we are.